Kaoru Hayashi
Representative Director,
President Executive Officer and Group CEO,
Digital Garage, Inc.
CEO Comment "Establishment of Global Settlement Platform Forming Base of Incubation Ecosystem"
Digital Garage, Inc. (henceforth DG) reached an agreement with SBI Holdings, Inc. on DG's acquisition of SBI VeriTrans Co., Ltd., SBI Holdings' wholly-owned subsidiary engaged in the settlement service business. Combined with our settlement service e-context business, our business will become one of the largest in Japan's online settlement service industry, with annual transactions exceeding 300 billion yen, more than 50,000 corporate affiliates and annual settlement sales totaling 11 billion yen.
DG's settlement infrastructure business, which started with e-context launched in 2000, has steadily contributed to DG's profit, despite its low profile, as the "Enabling Platform" together with the advertising/promotion business. It has become DG's business model to invest in and foster cutting-edge services such as Twitter and Path using this profit foundation.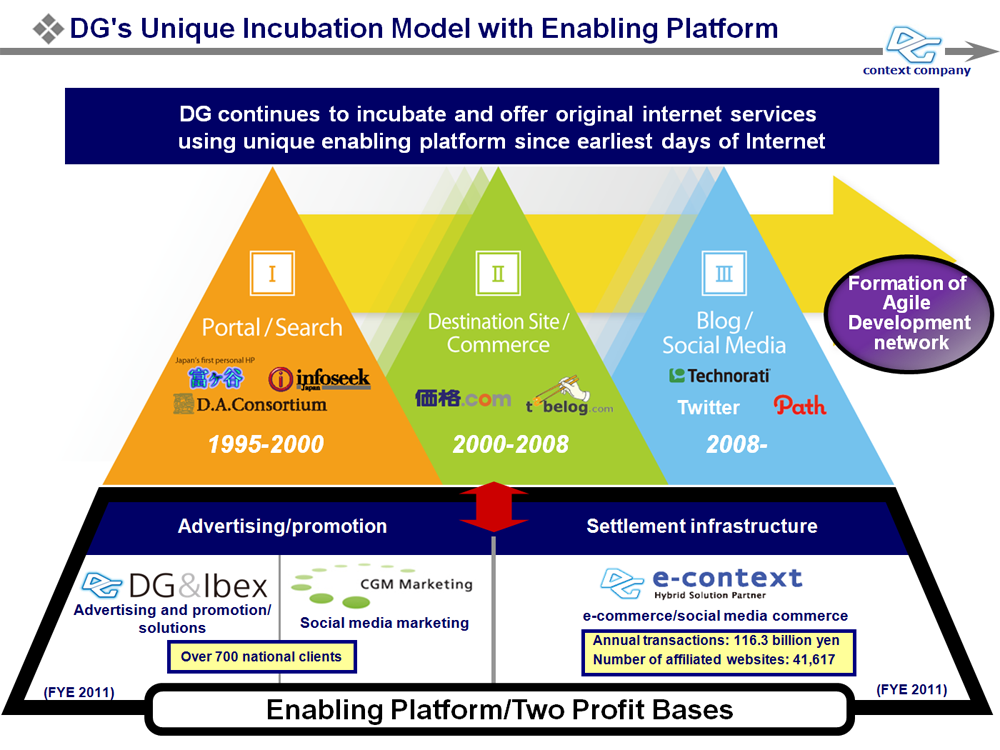 We decided to take over VeriTrans as we were convinced that having VeriTrans in the DG Group was the best way to expand our settlement infrastructure business, which is making a major contribution to DG's profits, as well as facilitate the global development of DG's business model at the same time.
Lying behind our decision is the changes in the settlement service market, which was triggered by factors including the quick penetration of smartphones. The market is on the verge of shifting to a period that can be referred to as "the Age of Settlement Exploration," where not only settlement service operators, credit card companies and mobile phone carriers, but also semiconductor manufacturers and global platformers such as Google and Apple are struggling for supremacy, as settlement services in real space and cyber space are increasingly fused and grow seamless primarily through electronic money and credit cards.
Our business integration with VeriTrans, which is in a supplemental relationship with e-context in terms of business, was optimal to continue to expand the settlement infrastructure business amid such circumstances. Specifically, VeriTrans has a state-of-the-art system that boasts overwhelming price competitiveness in the industry and has driven the Internet settlement market in Japan with its innovative services. VeriTrans is also an outstanding player as a settlement transaction information service operator, which mediates settlement data between credit card companies and their affiliates. On the other hand, e-context, which started business from a settlement service targeting convenience stores, is a cash settlement pioneer and has abundant experience and knowledge in transactions. By combining these two businesses, we can ride on the wave of the Age of Settlement Exploration and get ready to further expand our business.
As VeriTrans entered China and other parts of Asia earlier than its industry peers, it can become the dynamic force to globally develop our Enabling Platform, which is the heart of DG's business model. We can maximize earning opportunities by preparing our own settlement platform when investing in a promising startup, and run its business in Asia while fostering it, for example.
On both wings of Japan and Asia/U.S., DG will expand and deliver its incubation business through this global settlement platform. Through collaboration with SBI Holdings, which has a broad network in Asia, DG, which has a strong network of investors in North America, will consider jointly establishing a global investment fund with SBI Holdings.
DG will endeavor to establish a global incubation ecosystem. I sincerely ask our shareholders and investors to continue their guidance and support.