Kaoru Hayashi
Representative Director,
President Executive Officer and Group CEO,
Digital Garage, Inc.
CEO Comment "econtext ASIA Becomes Listed on the Hong Kong Stock Exchange and the "East Meets West" Incubation Stream Concept"
Today, econtext ASIA, the DG Group's Hong-Kong-based settlement business headquarters established in September 2012, became listed on the Hong Kong Stock Exchange (SEHK). We are thankful that we were met with an overwhelming interest from many investors during our pre-listing roadshow and received significantly more orders than the offering size we expected. I believe this signifies that the future prospects for our settlement platform business operated by econtext ASIA's subsidiaries, ECONTEXT, INC. and VeriTrans Inc., is being recognized by the Asian market. I would like to pay my respects to all of our external supporters who provided their professional services as well as to our shareholders around the world. Last, but not least, I would like to applaud the effort of our staff that prepared the company's listing process in the short, one-year period that we had.
Upon this public listing, Dentsu Digital Holdings, Inc. and IT Holdings Group's TIS Inc. have decided to invest in econtext ASIA. With these added to the existing shareholders represented by the three major Japanese credit card companies, our structure for rolling out our payment solutions to Asia has become stronger than ever.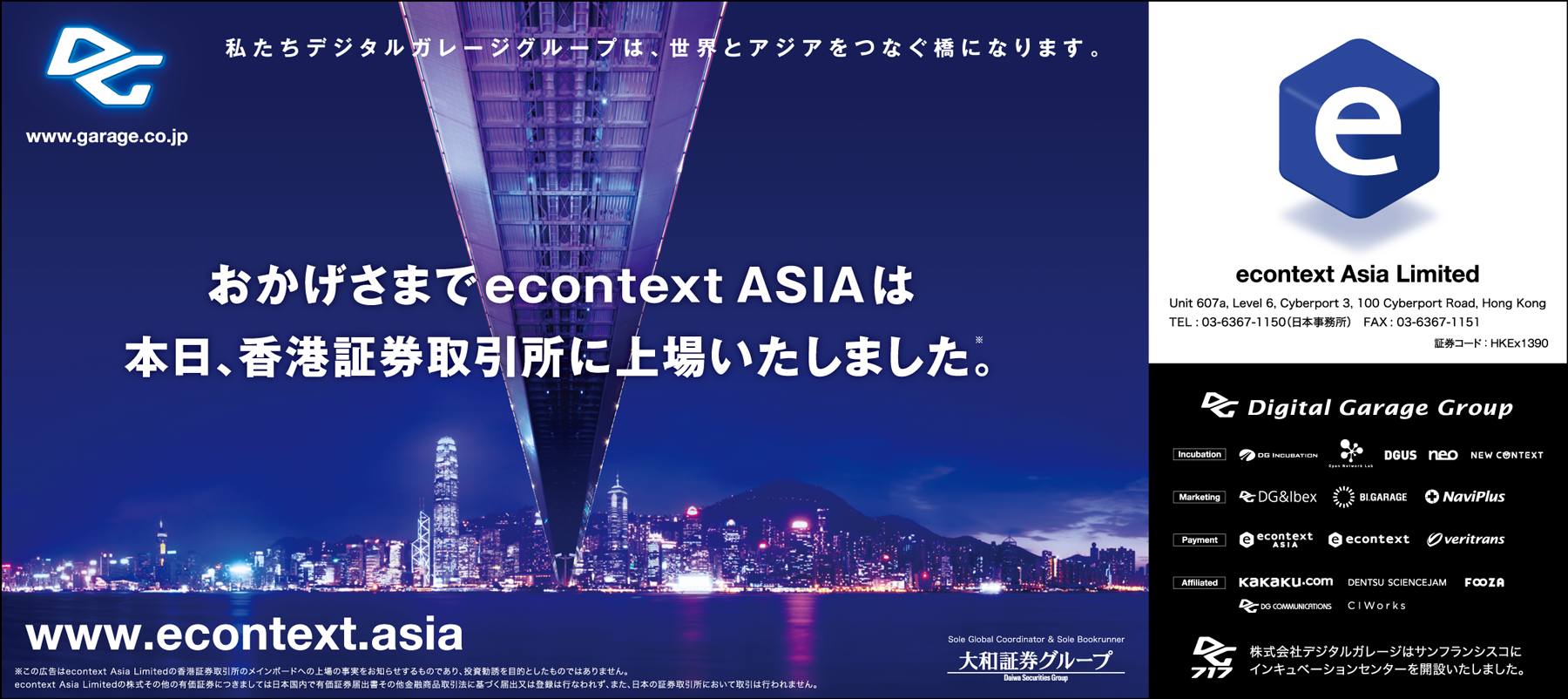 I have heard that this is the first time in history that a Japanese company's subsidiary has a spin-off IPO into the SEHK. Our company compares the attitude to challenge such unprecedented tasks to the courage of the first penguin that jumps into the dangerous waters before the rest of its flock, and we refer to it as the "First Penguin Spirit" – our company motto. Hence, in order to recognize the challenge of doing something that no Japanese company had ever done before, we called this IPO preparation project the "First Penguin Project."
Our ecosystem is ready for global expansion.
econtext ASIA's Hong Kong IPO was how we ended 2013, but it was also a busy year for Marketing and Incubation, as well. Under the slogan of "Lean Global," this year we finished setting up our headquarters in Hong Kong, Japan and the United States, completing our ecosystem for global expansion.
As for our Marketing Segment, we have strengthened our collaborative efforts with Dentsu initiated by the business and capital alliance announced November, 2012. Our entry into the data science business, announced in this past November, symbolizes this well. The newly-founded B.I.Garage, Inc. takes the data accumulated by DG's payment system, along with purchasing behavior data amassed at Kakaku.com, Inc. (one of our group companies), and the advertisement-related data held by the Dentsu Group to fuse, process, and analyze them in order to advance our marketing efforts towards communicating with our customers. In September, we also founded Dentsu ScienceJam Inc., a joint venture that aims to capitalize on the experimental results of cutting edge science. We plan to continue creating new businesses that fuse advertising and technology through our collaborations with Dentsu.
This year turned out to be prosperous for our Incubation Segment, too. DG717, our incubation center in San Francisco and the entrance into the incubation stream that will connect Silicon Valley to Asia, has officially opened. In celebration of this launch, a world-renowned composer Ryuichi Sakamoto wrote a theme song for the space under the concept of "East Meets West" while film director, Nakano Hiroyuki, made a music video to Sakamoto's piece which we premiered at the DG717 opening ceremony in November.
DG717 consists of two floors: The first floor is a co-working space shared by the startups we discovered from around the world, and the second floor is an office space for our U.S. subsidiaries as well as strategic partners. Currently, the second floor is occupied by Neo Innovation, a subsidiary company specialized in UI/UX consulting via agile development, and New Context Services, a data-security business geared towards securing global-scale companies. The two companies will also be mentors to the startups entering the co-working space.
DG717 marks the completion of our streamlined incubation structure, allowing us to find promising startups, support their development, and mature their operation to a global scale. We look forward to seeing the day when talented entrepreneurs from Asia use our Hong Kong gateway to reach and prosper in the U.S. market through DG717.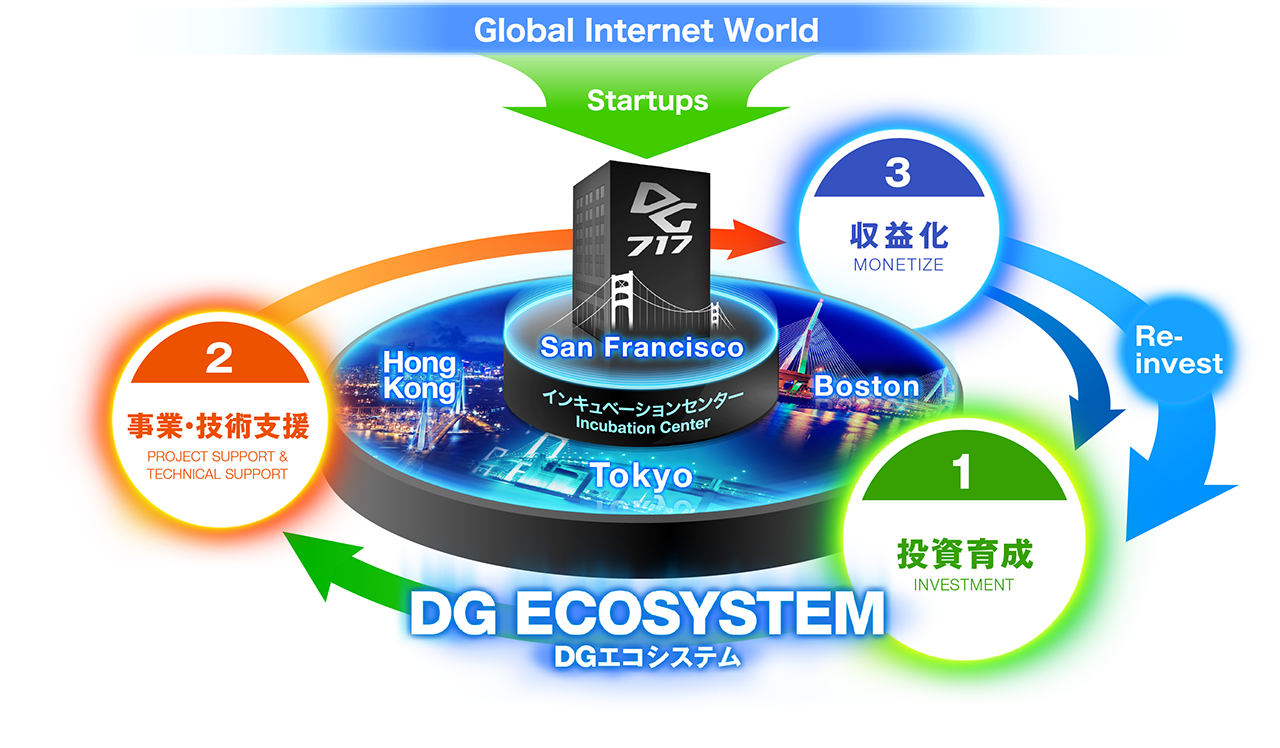 In our Incubation Segment, 2013 marked the year of many successful public listings of our investments. Aucfan went public in June, while Twitter and MediaDo had their respective IPOs in November. We also discovered and invested in a number of promising startups domestically and internationally.
DG will celebrate its 20th anniversary in 2014. As we project our course for the next 20 years based on the global headquarters system we have set up, our company will continue to create practical services that help build a better tomorrow. We are confident that 2014 will be an even more prosperous year than ever before.
To all our shareholders and investors, we look forward to receiving your continued support and contribution towards the betterment of Digital Garage.