Kaoru Hayashi
Representative Director,
President Executive Officer and Group CEO,
Digital Garage, Inc.
CEO Comment "FYE June 2016 Second Quarter Financial Report Summary and Overview of Plans for DG Lab"
Following board approval, today we announced our FY2016.6 second quarter financial results (PDF in Japanese only). At the same time, in order to unearth the technological seeds that will underpin new business, we hereby give notice of the establishment of the practical research and development organization "DG Lab." As part of this process, we have sold our US subsidiary Neo Innovation, which engages in business related to agile development, to Pivotal Software, Inc., the industry's largest provider; we hereby give notice of the completion of our business restructuring.
FYE June 2016 Second Quarter Financial Report Summary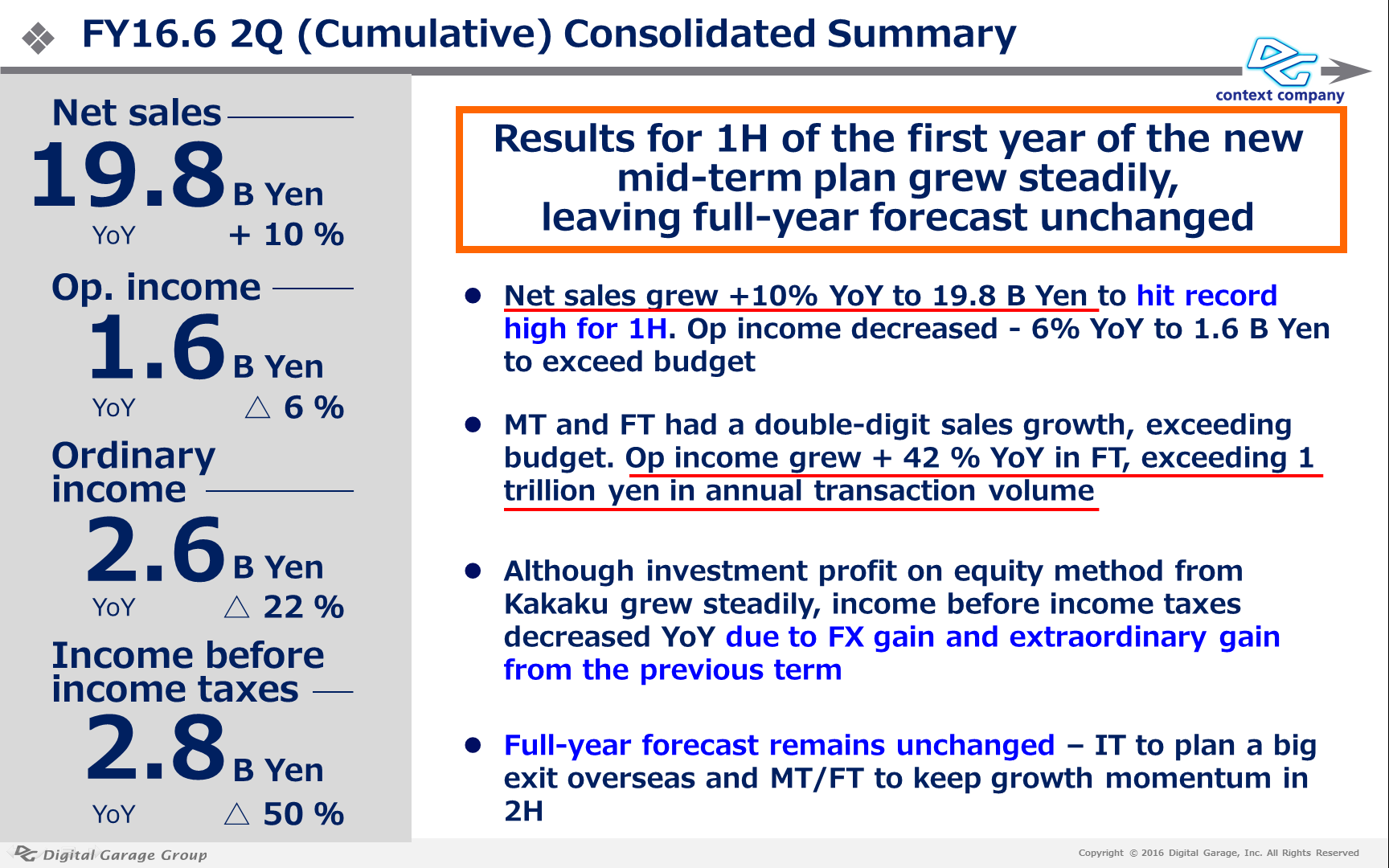 In the second quarter cumulative of FY2016.6, we recorded 19.843 billion yen net sales (+10.9% YoY), 1.626 billion yen operating income (-6.4% YoY), and 2.694 billion yen ordinary income (-22.2% YoY); net income for the quarter was 1.796 billion yen (-48.8% YoY), thus marking an increase in sales but a decrease in income. The fall in net income is due to the fact that, last year, sales of part of our shareholding in an affiliated company provided extraordinary income which is absent this year. In addition, the characteristics of our incubation business (in particular, profit from sales of shares) dictate that the timing of share sales can result in volatility to our profits when viewed on a quarterly basis. However, the second quarter of FY2016.6 has exceeded company estimates, and there is no change in our earnings forecast for the financial year as a whole.
Incubation Technology Business (IT)
While the internet industry undergoes change at a remarkable rate, we recognize that the wave of technological change is set to expand further. Consequently, we are investing aggressively particularly in the fields of FinTech, AI and VR. As of the end of this quarter, the investment balance stands at 13.1 billion yen, of which 8.7 billion yen has been invested overseas. Our previously announced investment in Blockstream Corp., which is engaged in the development of blockchain-related technology, is the first step of our investment strategy.
(Link to News Release: "Digital Garage Invests in Blockchain Developer Blockstream, Collaborating Toward the Verification Testing of Financial Technology Products")
In addition, having sold Neo Innovation, our US agile development subsidiary, to Pivotal Software, Inc., one of the leading players in the US agile development industry, we are in the process of optimizing our group's development resources. This is part of our plan for DG Lab—which will be covered in greater detail below—and has allowed us not only to reduce costs by 400 million yen per year but also to focus on the development of next-generation open-platform internet services.
(Link to News Release: "Digital announces the sale of one of its US subsidiaries to Pivotal, a Silicon Valley-based cloud software company")
Marketing Technology Business (MT)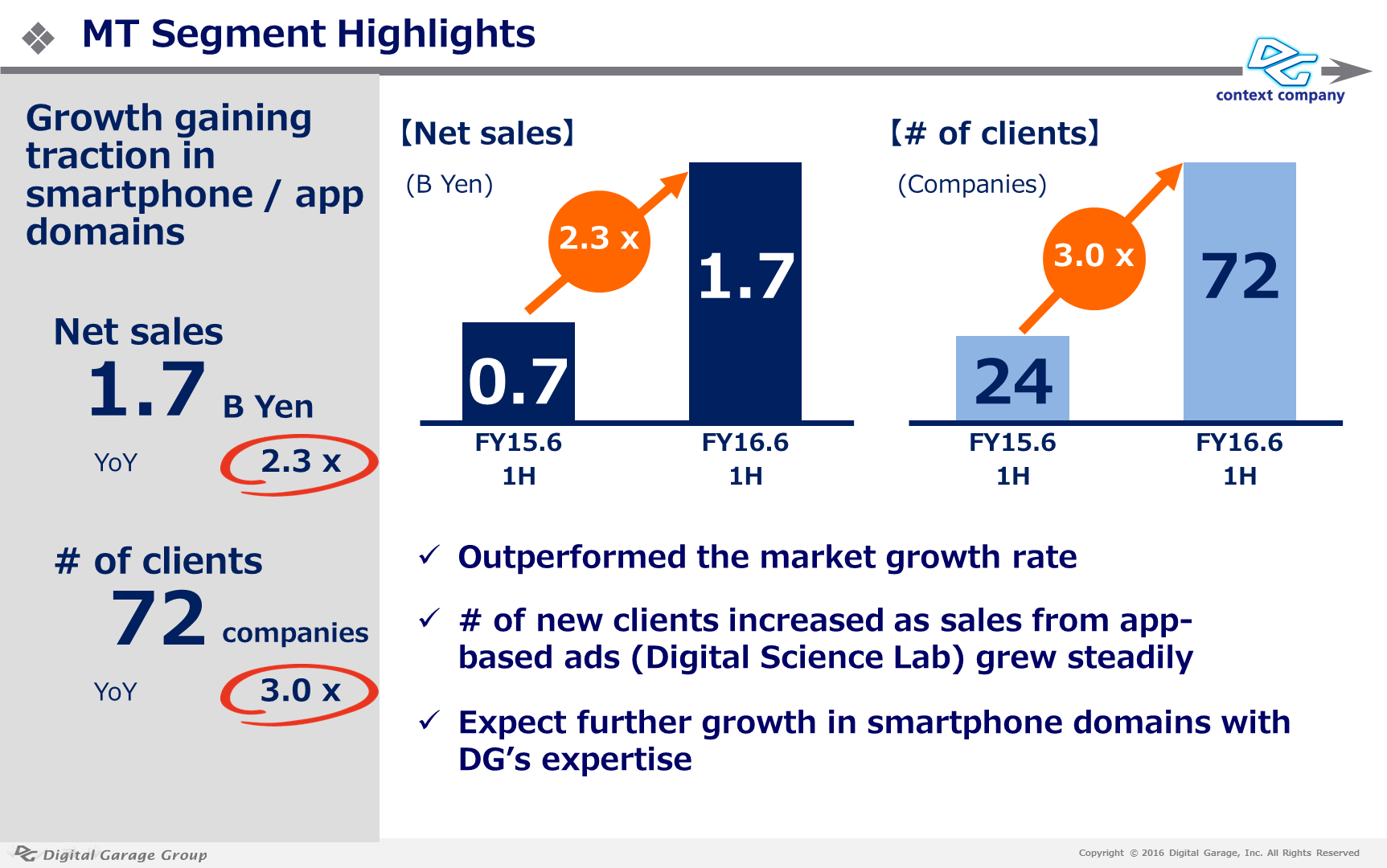 Our specializing fields of advertising, especially the performance advertising business, continues to show strong results. The striking shift towards smartphone devices has resulted in our revenues from smartphone advertising—primarily in-app advertising and in-feed advertising—rising 2.3 times compared to the same quarter of the previous year; revenues now stand at 1.7 billion yen, and are beginning to contribute significantly to our consolidated business results. We are also accelerating development of our big data-related business, which we see as a central pillar of our business in the future. In addition to our Data Management Platform (DMP) business, based on our alliance with major card companies, we intend to provide a next-generation marketing solution that utilizes our tie-up with Customer Communications, Ltd., operator of one of Japan's largest purchase-behavior databases.
(Link to News Release—in Japanese only)
Financial Technology Business (FT)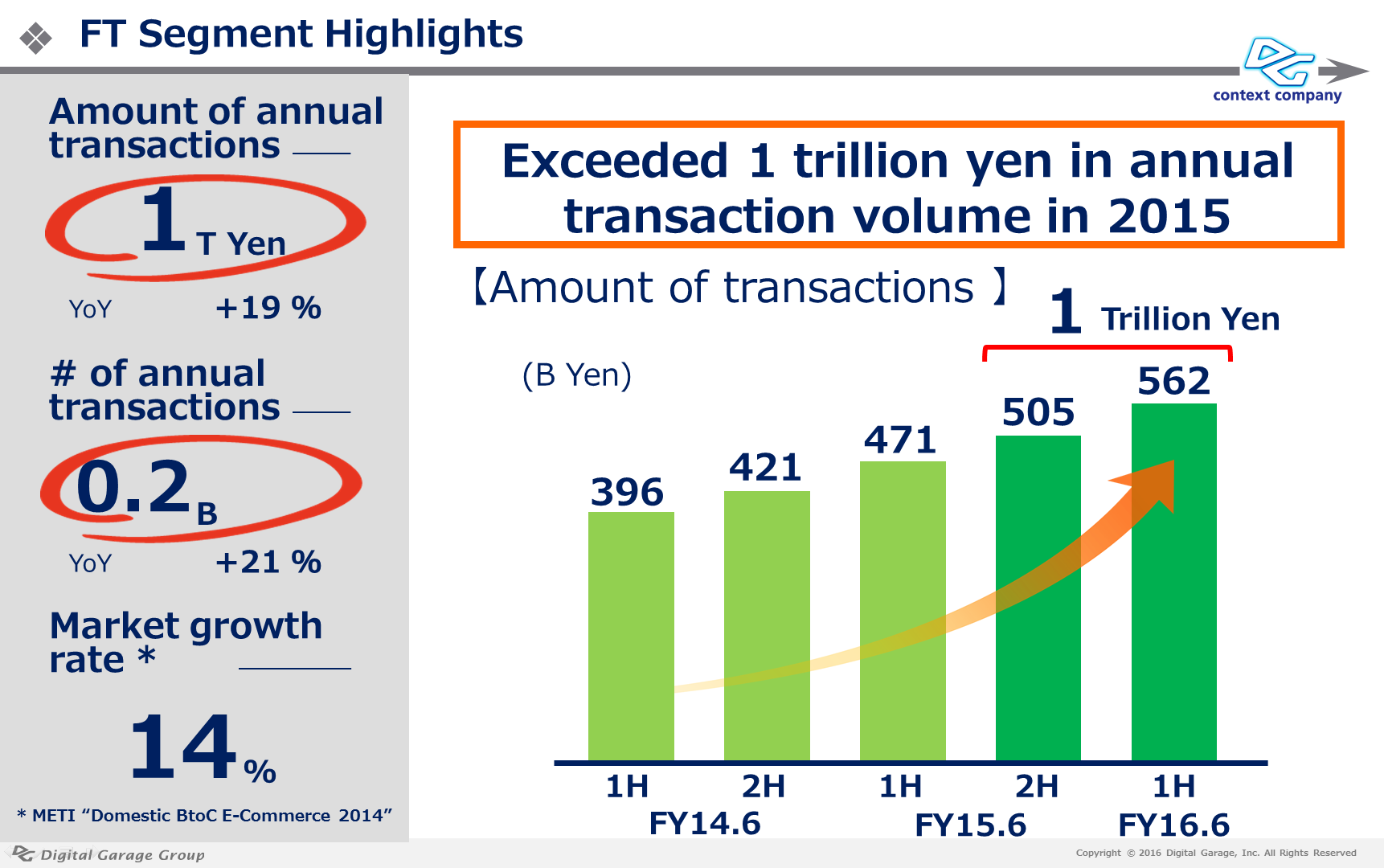 FT was the driving force behind our second quarter consolidated results. Last quarter, we made econtext ASIA Limited, our segment headquarters in Hong Kong, a wholly owned subsidiary; consequently, we are beginning to see the fruits of both acceleration in the speed of our decision-making as well as optimization of our resource allocations. Payment transaction volumes for the first half of this year—a key performance indicator—rose 19.3% year on year to 562.2 billion yen, making 2015 the first calendar year in which we broke through the 1 trillion yen barrier. Our operating income for the quarter was up 42.4% year on year to 843 million yen—a significant increase. FinTech is set to continue to be a key segment going forwards, and we intend to implement a technology drive to create next-generation financial services.
DG Lab's Grand Design
As noted above, the pace of technological development across all fields in the future is set to accelerate. Consequently, it is becoming increasingly important to engage in research and development that incorporates the latest technological trends, while anticipating business developments that will take place a few years down the line. The internet has generated a wave of open innovation that has encompassed even the hardware and biotechnology sectors, and this has led us to review our research and development methodology: traditional modes of research and development would have us develop technologies in-house and aim to commercialize them; however, an open platform style of research and development, in which we are freed from formal internal/external boundaries and, instead, aim to uncover outstanding technologies as soon as possible and build businesses around them, provides us with greater flexibility to respond to the wave of technological development.
Having recognized these changes in the present-day business environment, the DG group has established DG Lab, a new research and development organization, whose aim is to nurture nascent technologies into businesses that will underpin the future of the group. DG Lab prioritizes five fields which are expected to form the foundation of a variety of future businesses: blockchain, AI, VR/AR, security, and biotechnology. By collaborating with domestic and overseas portfolio companies which have a high level of technological expertise in these fields, we intend to generate products and services that will become new pillars for our business.
In the field of blockchain, for example, by utilizing the technologies of the aforementioned Blockstream Corp. and by collaborating with Bengo4.com, Inc., one of our portfolio companies, we are considering developing a smart contract system that is optimized for Japanese business practices. We are also planning to set up a consortium of banks and credit card companies and develop a next-generation payment platform that allows the use of digital currencies and various types of point services. In the field of VR/AR, we are again considering using the technologies of our portfolio companies to develop new services, while in the field of security we are already engaged in the development of smartphone tools.
Finally, in the creative field, in February 2016 we became the lead investor in Inamoto & Co., a company that supports global brands established by the famous creator Rei Inamoto, which has intimate links to the technologies outlined above. While it is rare for a Japanese to work on the frontline of the global marketing industry, Rei Inamoto was chief creative officer at the major digital agency AKQA Inc. from 2004 to autumn 2015, and contributed to the rapid growth of the company. In the future, through close cooperation with Inamoto & Co., and by combining DG Lab's technological development with our data science business, we intend to establish new businesses based on the theme of "Design x Data x Technology."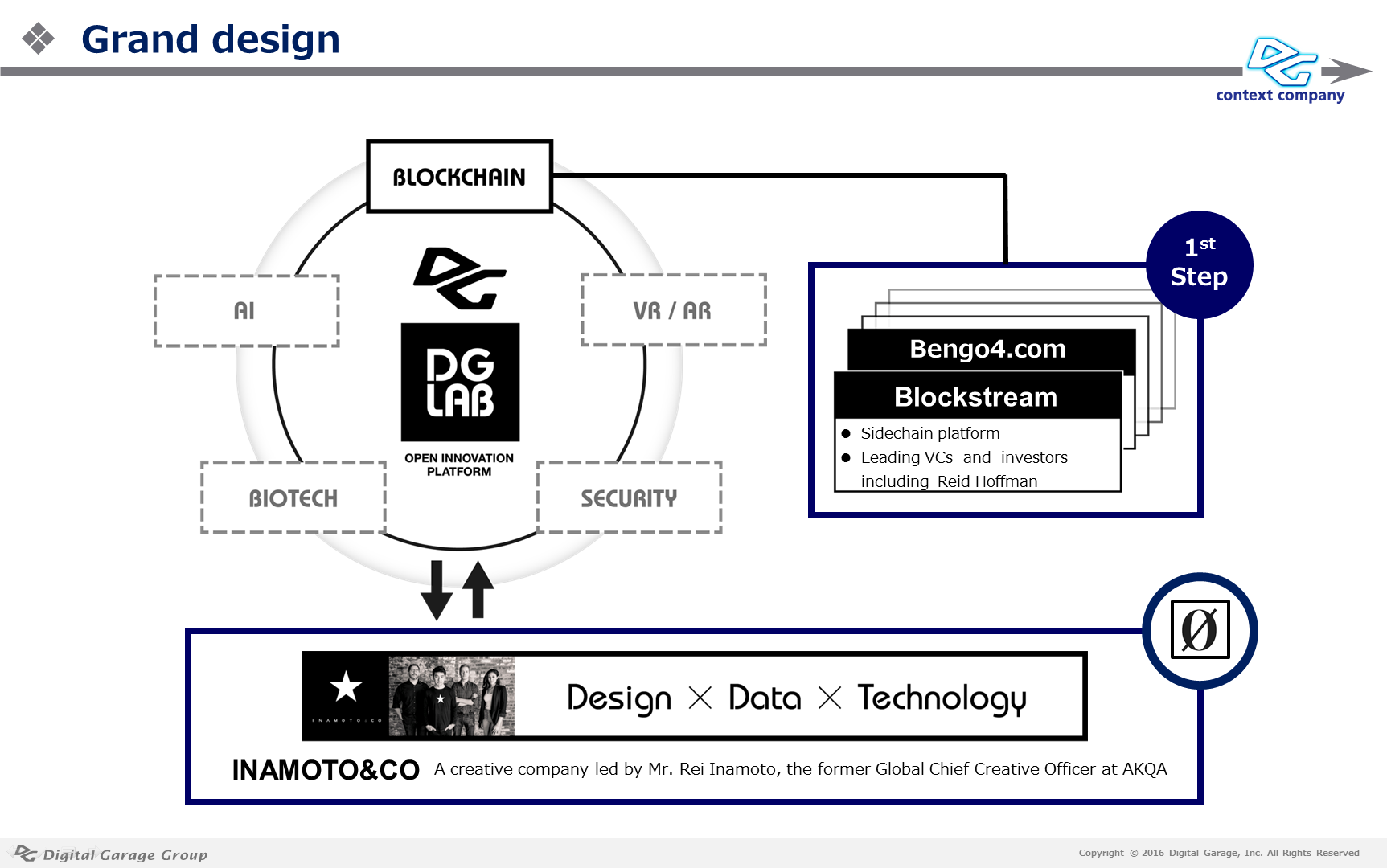 We look forward to your continued kind support and encouragement.