Kaoru Hayashi
Representative Director,
President Executive Officer and Group CEO,
Digital Garage, Inc.
CEO Comment "FYE March 2017 Financial Report Summary and Digest of New Medium-term Management Plan"
Today we announced our FY17.3 financial results (PDF in Japanese only) and a new medium-term management plan after the board's approval. The following is the summary of financial results for FY17.3.
I. FYE March 2017 financial report summary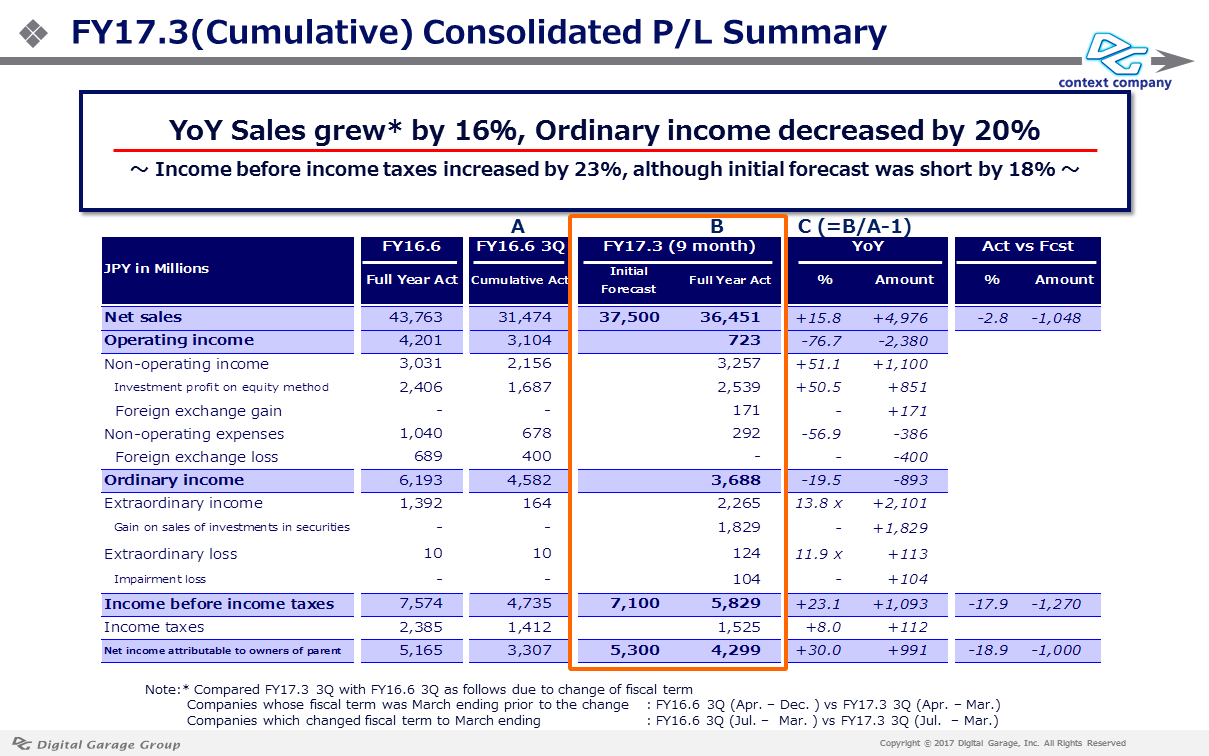 ■Overview
In FY17.3, we posted net sales of 36,451 million JPY, current net income before income taxes of 5,829 million JPY, and net income attributable to parent company shareholders of 4,299 million JPY. We have not presented comparisons with the previous year because the fiscal year under review had irregular nine month results due to a change in the fiscal term. Net sales for the current year were 2.8% lower than forecasted at the beginning of the year, and current net income before income taxes, which we have focused in our management approach, was 17% lower than forecasted. These were attributable to the fact that current net income before income taxes from the incubation technology (IT) segment stood at 588 million JPY, compared to the initial forecast of 2,500 million JPY. This resulted from the review of our initial plan to sell stocks in several companies, which had been initially expected to generate capital gains of around 1.2 billion yen as we judged that incorporating these investments as medium- to long-term business profits would contribute to the expansion of shareholder value, and conversely turned them into our group companies by increasing our equity interests. We considered it important to generate long-term, continuous business profits as we did through our investment in Kakaku.com and support of the development of its business, in addition to obtaining short-term incubation results (capital gain from the sale of shareholdings) to create new business, thereby achieving one of our missions as an Internet incubator. We plan to establish new criteria going forward to distinguish medium to Long-Term incubation (LTI) more strategically from short-term "exit" issues. Note that we posted stock valuation losses of roughly 700 million JPY in a conservative manner to eliminate the impact of impairment loss in the first year of our next medium-term business plan.
Along with these changes in strategy, we have renewed the structure of our investment business. The new structure adopts an investment steering committee form where I concurrently serve as a Representative Director of DG Incubation, a core investment subsidiary, and make investment decisions jointly with officers in charge of respective segments. In terms of overseas investment, a person currently residing in San Francisco who has a wealth of investment experience is scheduled to become a Chief Investment Officer (CIO) soon. We believe that these structural changes will help to stabilize the earnings of the IT segment, which have fluctuated more widely than those of other segments, and contribute to the segment's transition to a more sustainable growth phase.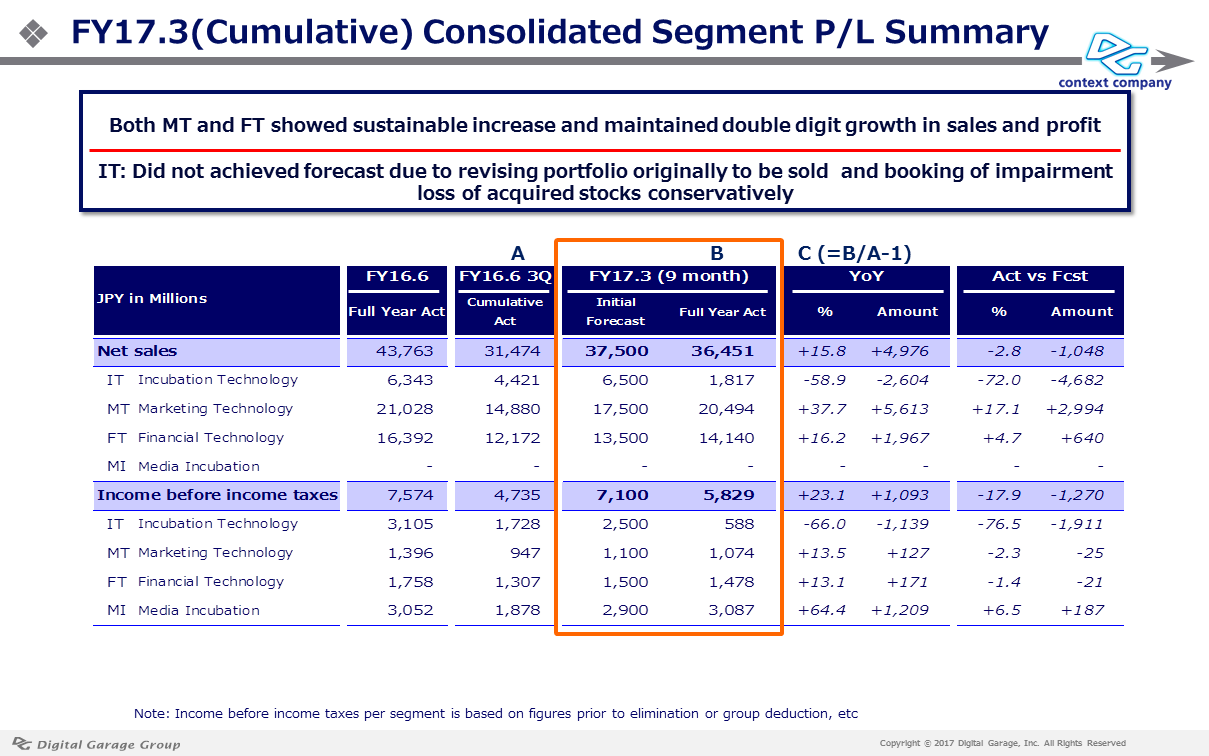 ■Summary by business segment
In the Marketing Technology (MT) segment, revenues rose 38% YoY (comparison of cumulative results in 3Q of FY17.3 with those in 3Q of FY16.3 for convenience) and operating income rose 25% YoY, led by performance-based ads in the smartphone/app fields. These results underscore continuous growth in the segment. The Financial Technology (FT) segment also continued to grow faster than the overall e-commerce market, with its billing, the KPI of the segment, increasing 16% YoY to 995.5 billion JPY. Performance is beginning to improve not only in the mainstay e-commerce field but also in the C2C field, an area of focus for us, as well as in face-to-face settlements and public-interest settlements. The Media Incubation (MI) segment has so far mainly involved equity-method investment profit from Kakaku.com and media development. However, it will be renamed the Long-Term Incubation (LTI) segment from the FY18.3 and will include DG Life Design, a business providing lifestyle support announced today, and DK Media, Inc., a joint venture firm established with Kodansha for the operation of "compilation media" which combines the high-quality content of women's magazines with social media in an organized manner. Through these businesses, we will pursue continuous business profits (cash inflows) that include investment development-type and alliance-type profits. In particular, DG Life Design is our first case of investing in and developing an already profitable business group with the collective efforts of our group and strategic partners. We anticipate that we will be able to turn the company into a business group with a larger growth potential by raising funds for business growth at an early stage through an IPO. (I will be the company's Representative Chairman) and other measures.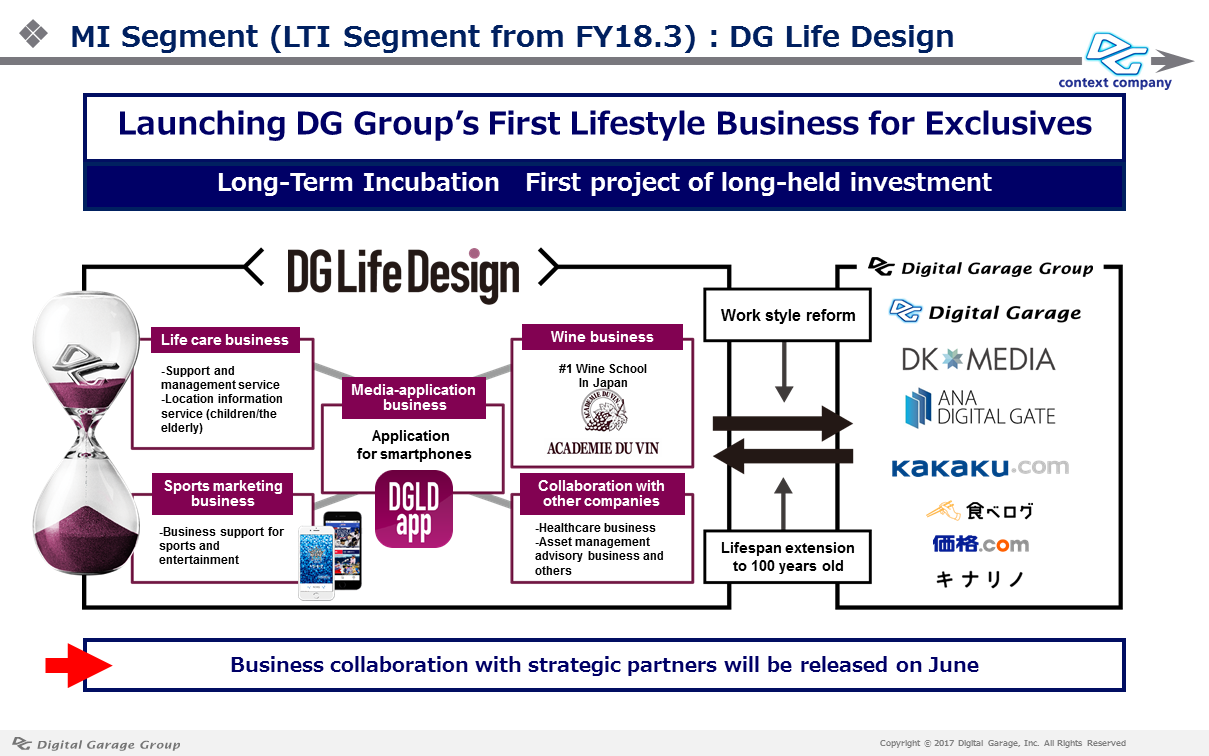 DG Lab, an open platform R&D organization jointly launched with Kakaku.com and Credit Saison in July 2016, has fully started the development of advanced technologies including Blockchain and Artificial Intelligence, which are among the five fields that it has focused on, with an eye toward commercialization. We plan to report specific results obtained in some of these projects as early as this fiscal year. Please see the digest video that summarizes the activities of DG Lab (Captioned in Japanese only).
II. Forecast for FYE March 2018 consolidated results
~Forecasting record net income for the first time in nine years~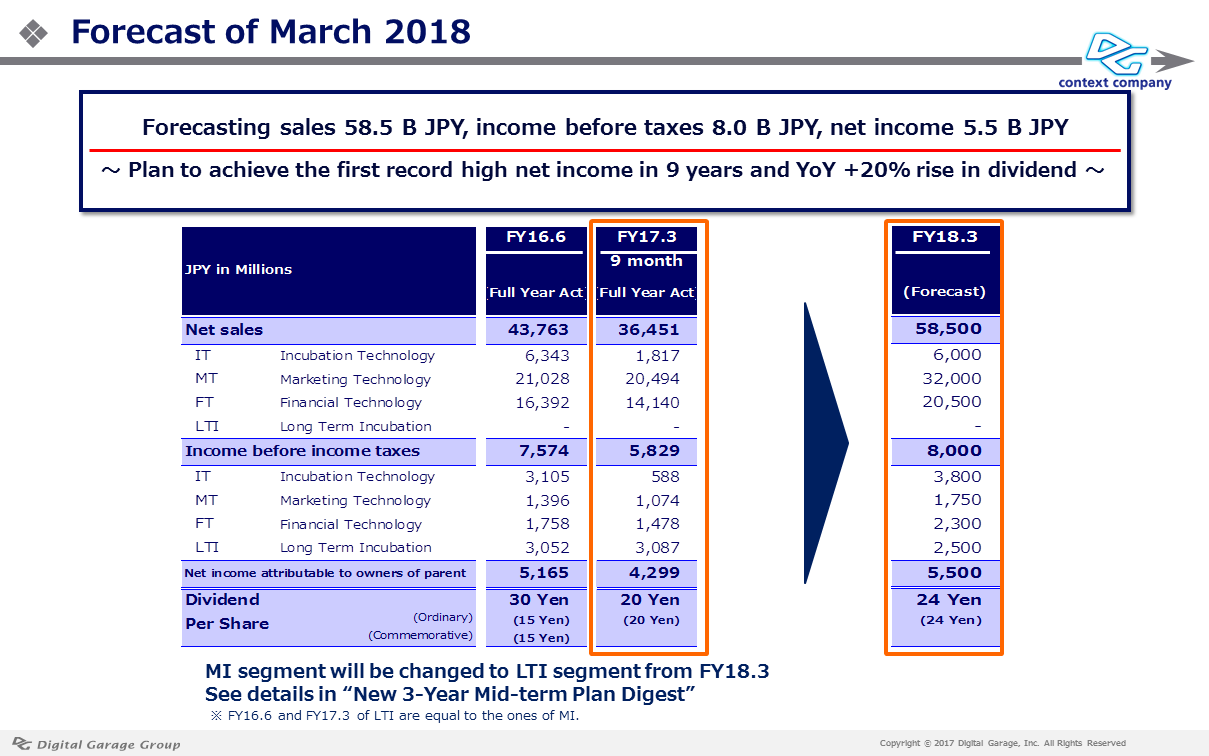 We forecast net sales of 58,500 million JPY, current net income before income taxes of 8,000 million JPY, and net income attributable to parent company shareholders of 5,500 million JPY in FY18.3. These projections mark a 20% increase in revenues and a 30% increase in current net income before income taxes compared to the figures of the previous FY17.3 when translated on a 12-month basis. Moreover, net income attributable to parent company shareholders is forecasted to renew a record high for the first time in nine years since FY09.6, when gain on sales of subsidiaries and affiliates' stocks totaling 16 billion JPY was booked as an extraordinary profit. Regarding dividends, based on the policy of targeting a dividend payout ratio of 20%, we forecast a dividend of 24 JPY per share, up 4 JPY, or 20%, from the previous year.
III. Digest of medium-term management plan
This fiscal year, we started a new three-year medium-term plan under the slogan of "Open Incubation toward 2020" with the aim of expanding earnings in a more stable manner than previously. The phrase "Open Incubation" encompasses the meaning of taking a step forward in "Open Innovation," the advancement of technological innovation in collaboration with a variety of companies, and nurturing the germ of a promising business in an open ecosystem together with group companies and third-party companies while leaving unchanged the fundamental policy of the previous three-year medium-term plan with the slogan of "IT/MT/FT x Open Innovation." To realize this, the DG Group will steadily implement the six actions shown in the chart below.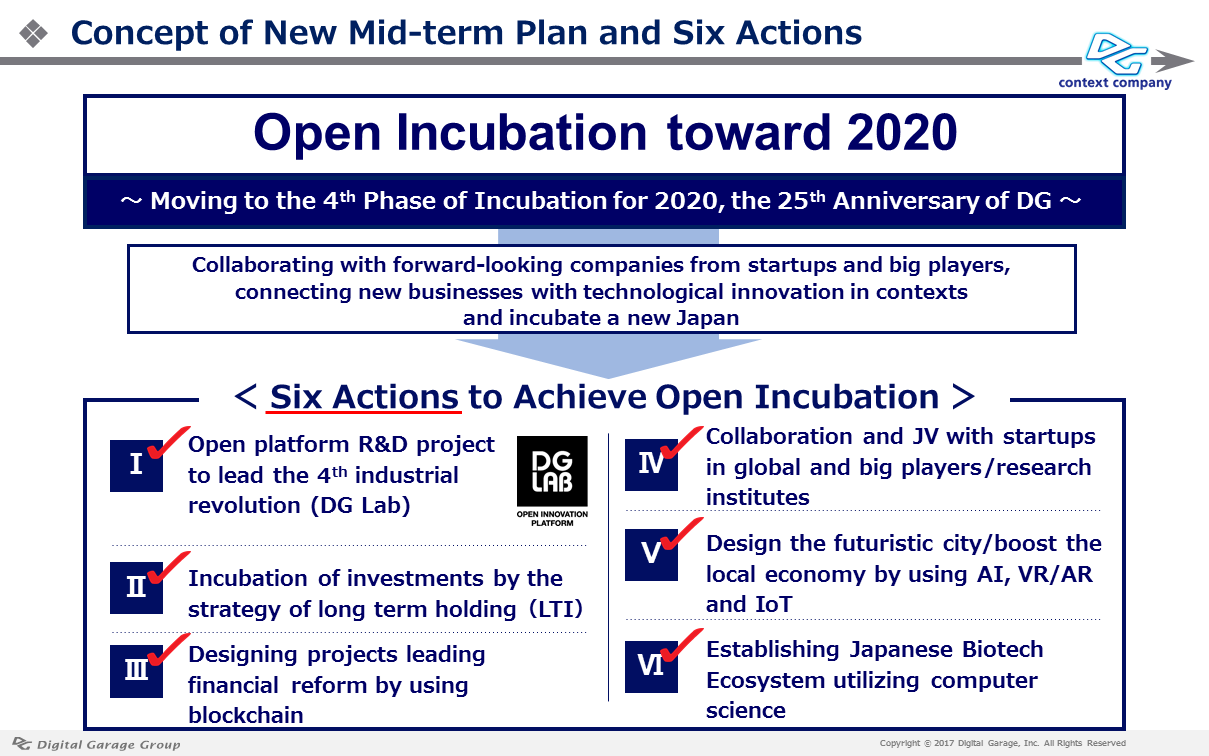 We have drawn up the three-year medium-term plan against the backdrop of expectations that over the next three years through 2020, when the Tokyo Olympics is scheduled to be held, increasingly rapid technological innovation will bring about the destruction and creation of business environments even more than before. That is because it is clear that the consumers' lifestyles and the industrial structure will be revolutionized mainly by the continuous improvement in the function of semiconductors according to Moore's Law, the implementation of the 5G mobile network that will increase transmission speed more than 10-fold from the current level, the user interface evolution starting with smartphones and voice interfaces, and the commoditization of genetic analysis/synthesis.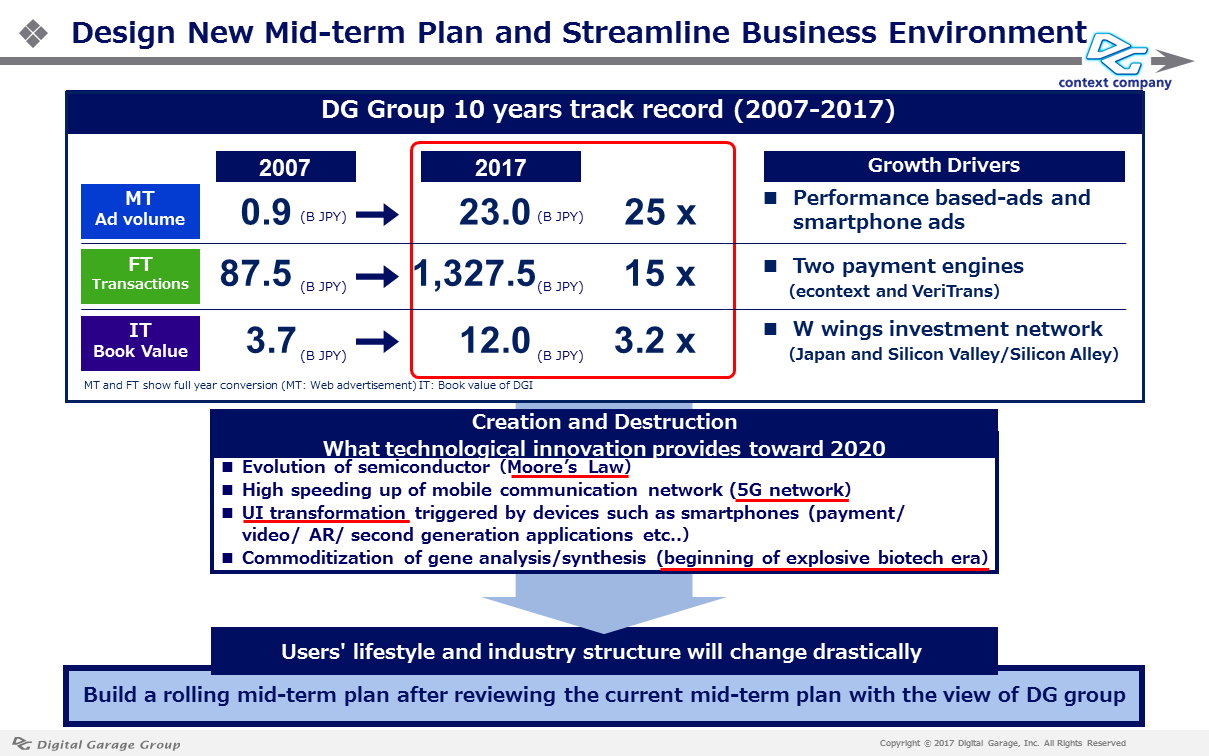 To expand business while viewing such revolution as a once-in-a-century opportunity, we believe that it will be vital to promote open incubation—connecting the germs of new businesses resulting from technological innovation in context and nurturing them as pillars of business by collaborating with various companies engaged in cutting-edge efforts, from start-ups to major companies. We will also optimize the direction of business operation (pivot business operation) in business segment units with the aim of flexibly adapting to changes in business environment and continuously expanding earnings.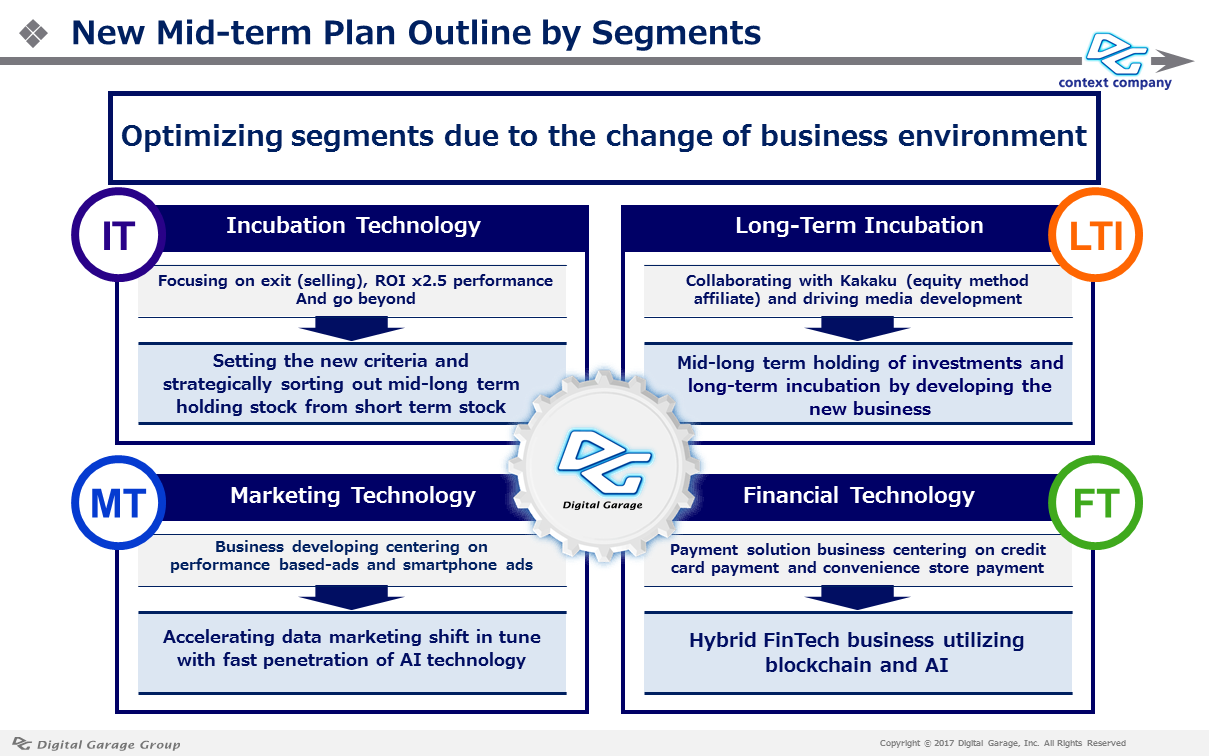 Under the new medium-term plan, we have set the goal of achieving annual average growth of 15% in income before tax in the MT and FT segments and a 2.5-fold increase in ROI in the IT and LTI segments over three years towards FY20.3. We also aim to achieve a 20% ROE, which measures the profitability of capital, and a dividend payout ratio of 20%. We would like to ask for continued support and encouragement from our shareholders and other stakeholders.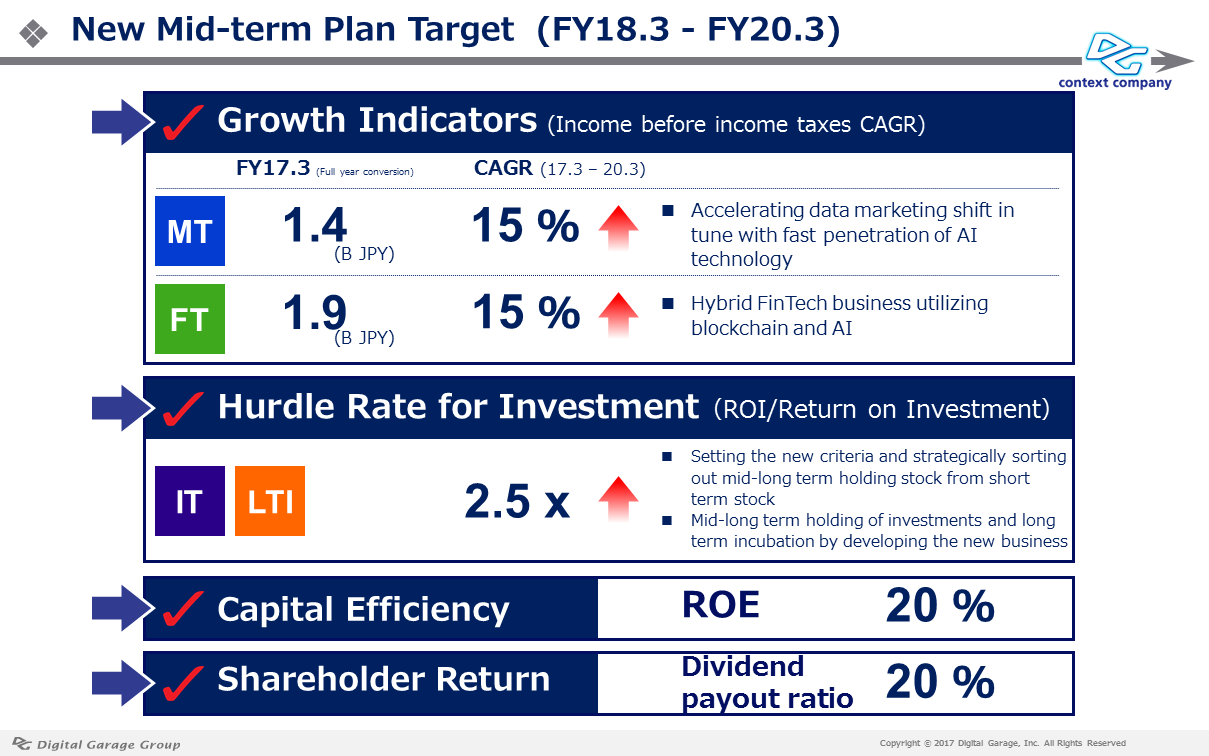 Postscript: On May 15, 2017, we disclosed the slide below regarding the forecast of FY18.3.