Kaoru Hayashi
Representative Director,
President Executive Officer and Group CEO,
Digital Garage, Inc.
CEO Comment Vol.64 "FYE March 2018 Second Quarter Financial Report Summary"
With the approval of the Board of Directors today, we have announced FY18.3 second quarter financial results.
The following is a report of the financial summary and the latest update of DG Group with business policy.
I. Financial Summary
The cumulative results for the 2Q of FY18.3 showed sales of 28,719 million JPY (cumulative total of 23,817 million JPY for the 2Q YoY), operating income of 1,416 million JPY (as above, 906 million JPY), income before income taxes of 3,494 million JPY (as above, 4,702 million JPY) and net income attributable to owners of parent of 2,490 million JPY (as above, 3,693 million JPY). The rate of progress against our full year forecasts is going well, with sales at 49% and income before income taxes at 44%.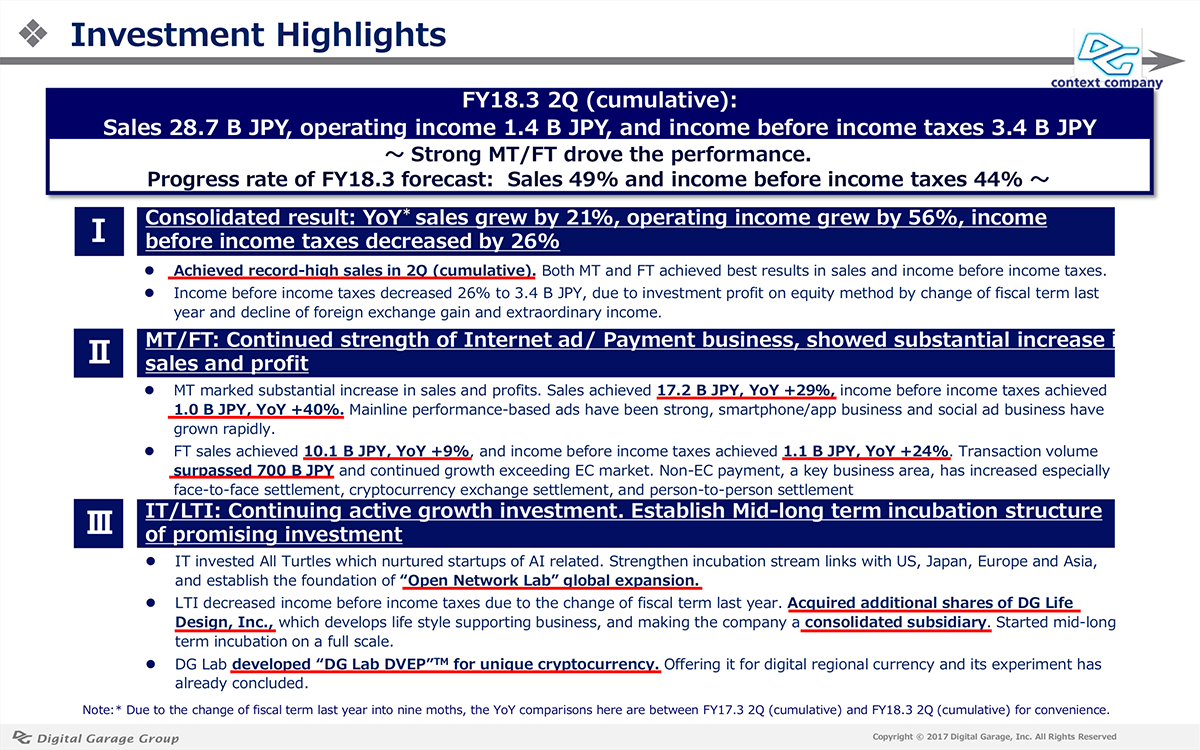 With the previous March 2017 fiscal year, settlement was changed from June to March, making the annual settlement just nine months, and since the period of year for each quarter also differ, a simple comparison is not possible, but for the sake of convenience, the cumulative results of 2Q saw an increase in sales of 21%, and an increase in operating income of 56%, and a decline in income before income taxes of 26%. The decline in income before income taxes was due to adjustments in the previous period (decline in foreign exchange gain and extraordinary income, and investment profit on equity method of Kakaku.com only being accounted for 9 months in the previous term), and we see this as an increase in operating income over the same period in the previous year.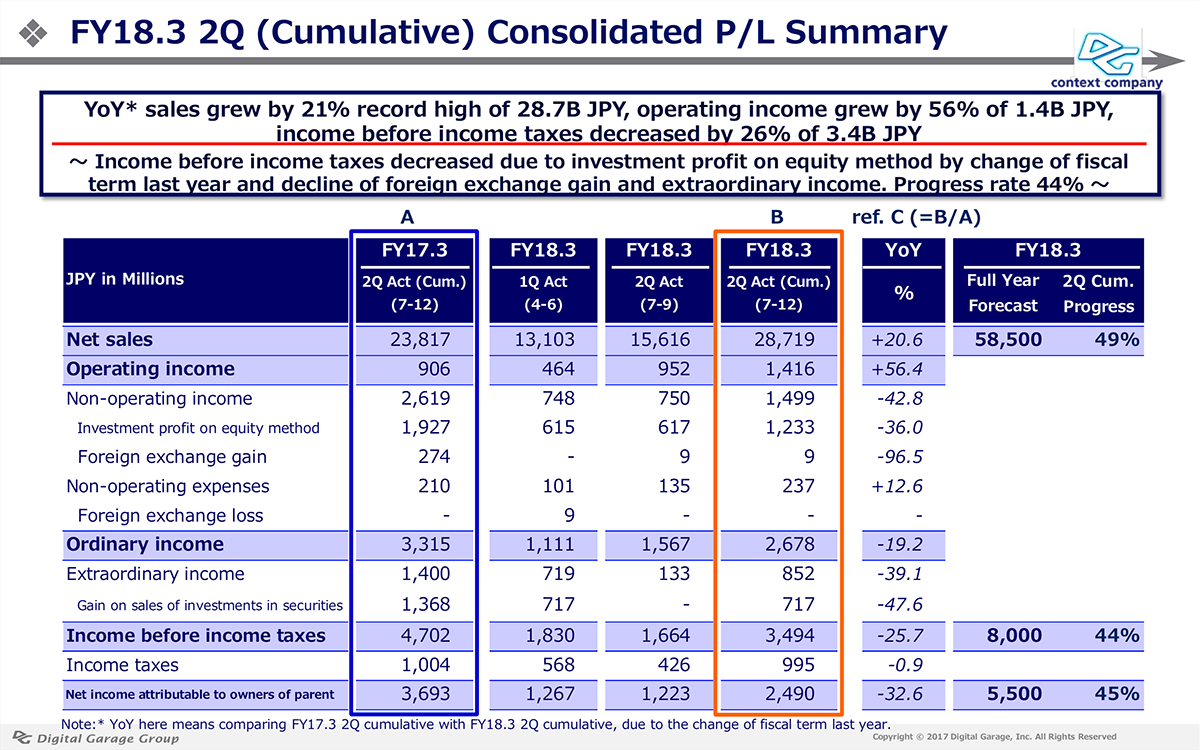 By business segment, the Marketing Technology (MT) segment achieved a substantial increase in sales and profits, with sales of 17,299 million JPY (as above, 13,394 million JPY, up 29%), and income before income taxes of 1,098 million JPY (as above, 784 million JPY, up 40%). Our major performance-based ads are in the areas of smartphone/apps and social media advertising such as on Facebook etc., and we have registered record high performance in this segment. In the Financial Technology (FT) segment, we have achieved sales of 10,159 million JPY (same period 9,329 million JPY, up 8.9%), and income before income taxes of 1,157 million JPY (931 million JPY, up 24%), and we have also registered record high performance in this segment. In terms of the major KPI of transaction volume handled, we have continued to exceed the growth of the EC market with more than 700 billion JPY in half a year for the first time. In the areas of non-EC and face-to-face settlements, where we have focused on as strategic areas, mobile settlements and individual settlements are increasing significantly, and settlements in new fields such as bitcoin exchanges and cash charging etc, are rapidly expanding. In the Incubation Technology (IT)/ Long-term Incubation (LTI) segment, DG Life Design, Inc. has become a consolidated subsidiary (consolidated B/S for end of 2Q FY18.3). We have begun working on medium and long-term business development for lifestyle support businesses.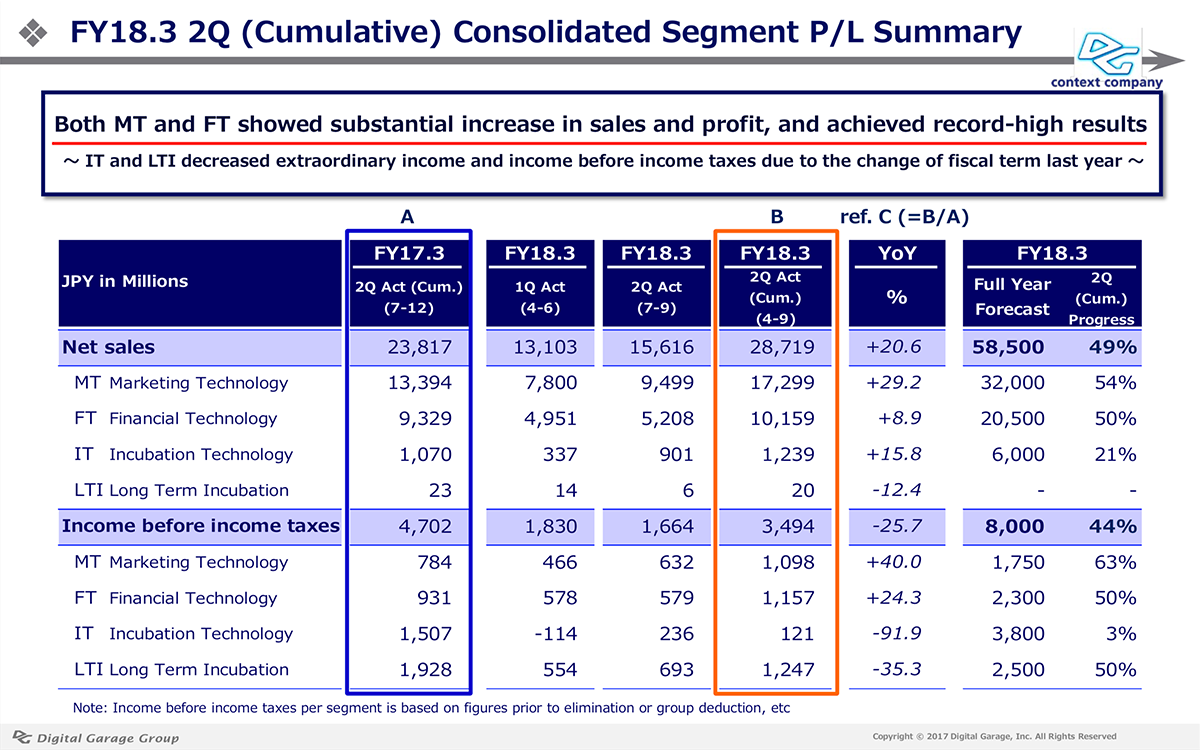 Here I will describe recent developments and future directions that are milestones for the DG Group.
II. Highlights of Business segments and strategy projects
<Accelerating the Globalization of our Investment Development Business>
We are accelerating the globalization of our investment development business in the IT segment. In order to strengthen our investment business in North America and Asia, in October we welcomed a leading investor Brian Yeh, who has been an active investor in Silicon Valley, New York, Japan, and Hong Kong, to lead our overseas investments as an Executive Officer. Brian will oversee our investment business in North America and Asia as the Chief Investment Officer (CIO) of our investment development business and wholly-owned subsidiary DG Incubation, Inc. With the appointment of Brian, we will further strengthen our incubation stream by connecting North America and Asia, which will further evolve our DG overseas investment business.
Regarding our accelerator program for promising startup companies, we will accelerate the globalization of our Open Network Lab, to develop the "Seed Accelerator Program", which has received such high praise as Japan's leading entrepreneur support program. More specifically, we will begin collaboration with All Turtles Corporation, which announced its DG incubation investment in June of this year. All Turtles is a startup support studio that was founded as an incubation project for an AI startup company that joined the three bases of San Francisco, Tokyo, and Paris (Station F), run by Co-Founder and former CEO of Evernote, Phil Libin. Under this collaboration, the Open Network Lab will provide startup companies participating in the Seed Accelerator Program with advice from mentors like Phil Libin. All Turtles also plans to have opportunities to share know-hows and have exchanges with startup companies located in incubation studios in San Francisco, Tokyo, and Paris.
We will also develop an incubation network with hubs in Hong Kong, China, and the UK, in cooperation with AI related startup support company Mind Fund (Founder and CEO: Adam Lindemann), who has invested in and operates a startup support studio in Hong Kong, and is also an investor in DG Incubation. We will also focus further on supporting the Asian expansion of startup companies fostered within the Open Network Lab, and the joint development of Asian startup companies that aim to expand globally. In addition, we are planning to cooperate with a fund which is being prepared for the participation of founders of leading Northern European startup companies. We will also actively cooperate with the "Sapporo AI Lab", established for the purpose of developing new businesses that utilizes AI related technologies in Sapporo, to gather together AI-related companies.
Through such cooperation, we will develop a Global Incubation Stream connecting Japan, the US, Europe and Asia, to discover the next generation of startup companies as quickly as possible, and further strengthen investment and business development systems.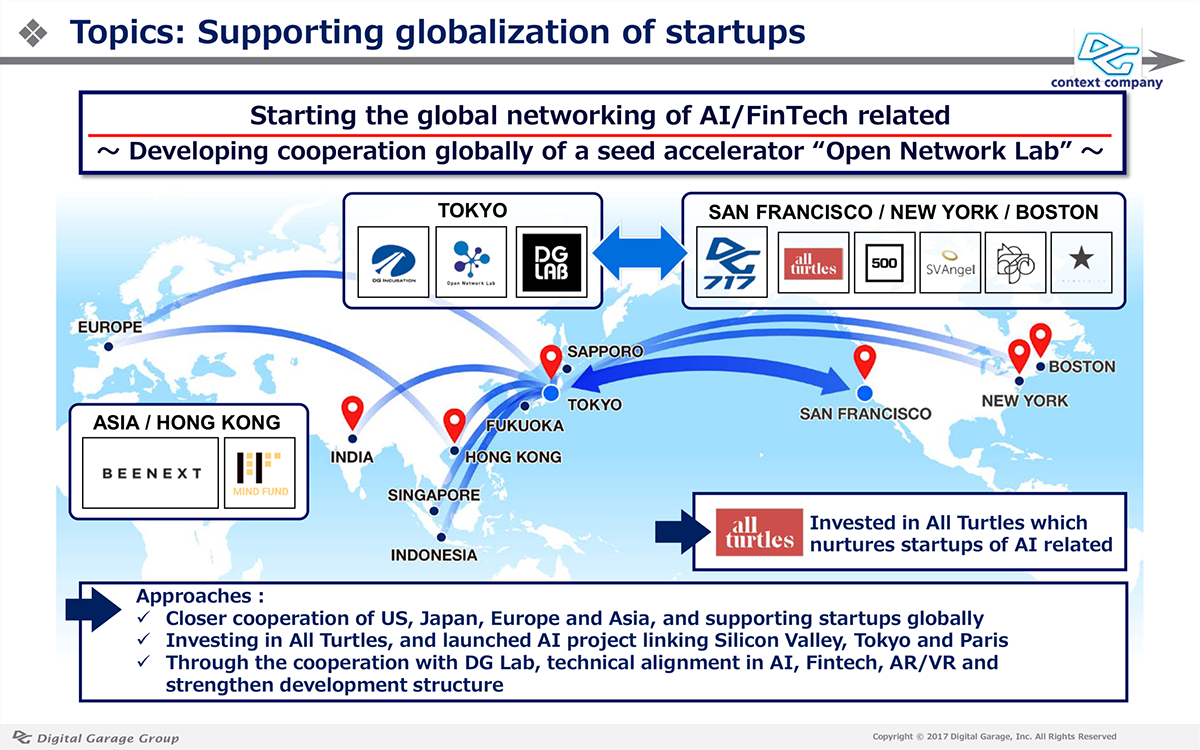 <Highlights in FinTech Business>
◼︎With regard to the FT segment, we will fully enter the settlement business for the handling of payments such as taxes and insurance premiums. VeriTrans began offering card payment services from October 2017 for National Pension Insurance Premium card payments to the Ministry of Health, Labour and Welfare. Under the "Japan Revitalization Strategy" promoted by the Japanese government, the improvement of the convenience and efficiency of settlements through the development and spread of a cashless environment by 2020 was raised, and it is expected that Ministries and local governments will expand the introduction of electronic payment for various taxes, insurance premiums and fees and charges. As a leader in the payment services industry, which has now grown into a basic social infrastructure, DG Group's FT Segment will continue to support efforts in improving the efficiency of government collections, as well as the convenience of those paying, by promoting settlement solutions in the area of public funds.
◼︎In the MT segment, while the foundation is based on performance to drive growth, we are also beginning to work in the area of FinTech. The first step in this direction is the start of a joint project with Chinese Internet company Tencent. We have begun developing official "QQ Outing Japan (QQ Departure Japan)" content targeting Chinese visitors to Japan that use Tencent's multi-function chat app "Mobile QQ", and began offering an inbound marketing service through this content from October 2017. We are planning global expansion in the future through collaborations with overseas companies.
◼︎In our cloud-based FinTech strategy business, we have developed Japan's first cloud service which began operating in October, where by concluded a contract with "Cloud Sign"which was developed together by our Group company VeriTrans, along with Bengoshi.com, and Credit Saison. We can provide "Cloud Sign Payment" to settle payments associated with the contract, unifying the process from contract to settlement. VeriTrans supports the Cloud Sign Payment service by providing a deposit service as a settlement agent. Through the integration of legal and technology aspects with finance, focused in the FT segment, DG Group will look to provide services with even greater efficiencies.
<Developing an All- Purpose Framework for Virtual Currencies>
In October 2017, DG Lab (founded in July 2016 with Kakaku.com and Credit Saison), a strategic R&D organization developing the pillars of next generation business, has developed the "DG Lab DVEPTM (Digital Value Exchange Platform)" as an all-purpose framework payment system which can be used to create a proprietary virtual currency based on the blockchain used by bitcoin. The demonstration experiment DG Lab DVEPTM, carried out in cooperation with regional financial institutions, has already received a number of inquiries from financial institutions, local governments, digital money operators, and more. Based around the DG Lab DVEPTM high level security applied to the latest function of "Confidential Assets" of the bitcoin-based blockchain technology elements provided by Blockstream, we are planning to develop new businesses utilizing blockchain technology in various fields in the Japanese market, including not only the financial technology market, but also business in cooperation with local governments and agencies aimed at regional revitalization.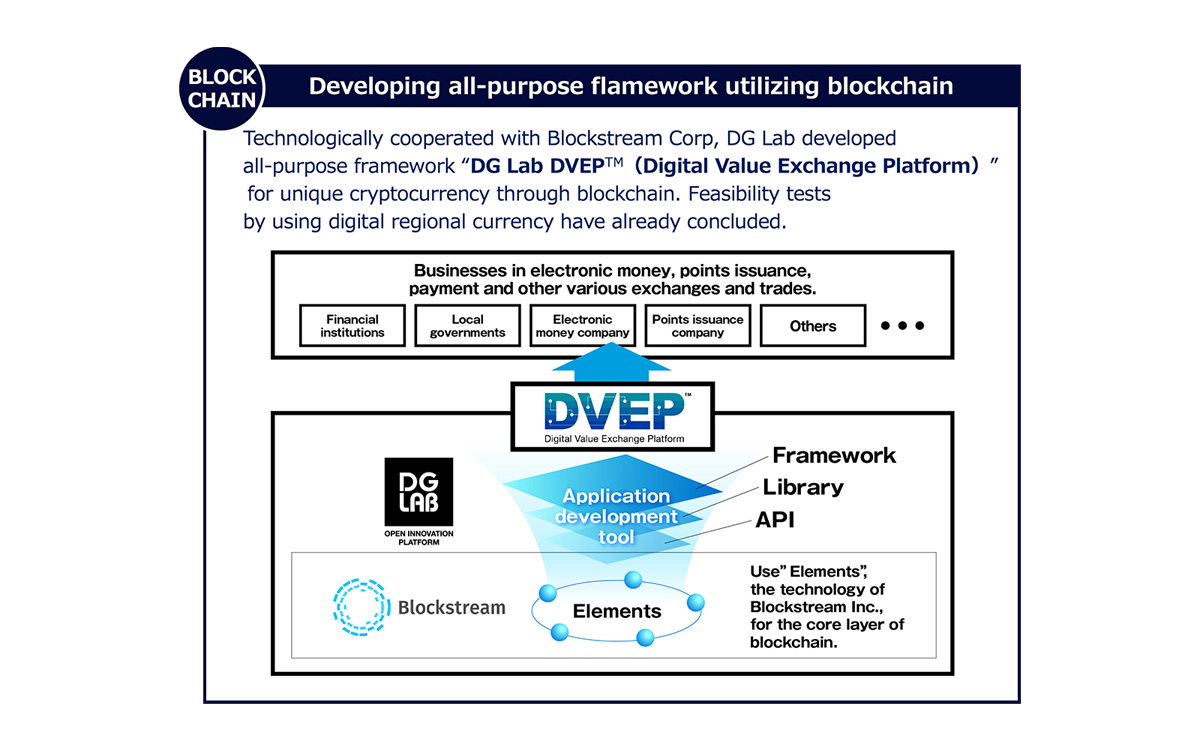 <Highlights of DG Lab Related Business>
DG Lab Fund has invested in 14 start-ups with next-generation technology in blockchain, AI, and biotech fields. Through DG Lab, DG will promote technological development in cooperation with certain investment companies. DG Lab Fund has finalized investments not only in IT, but also in mass media, finance, megabanks, leading regional banks and real estate. DG Lab Fund 1 will plan to close at the end of December.
Below is the updated DG Lab video.
<Start of the Smart City Project>
We will proactively work to demonstrate the effectiveness of various business ideas developed by DG Lab. As part of this, we have established the Smart City Project Planning Office to promote the development of cities and office implementing next-generation technologies. The aim is to revitalize regional communities in various areas throughout the country. Through the Smart City Project, and the utilization of technologies in fields developed by DG Lab, we will work together with various regions, beginning with the base of the DG Group in Shibuya, as well as Fukuoka and Sapporo, to develop business which can contribute to regional revitalization with a smart city. Examples include area money utilizing blockchain technologies in areas where 5G is scheduled to be introduced, VR/AR project demonstrations, and incubation projects to provide the expertise of experienced entrepreneurs and investors to young entrepreneurs and engineers, through the DG global network and venture capital.
DG has already concluded an agreement with the Fukuoka Directive Council (FDC) in September 2017, to support startups in Fukuoka City. DG and FDC will cooperate as part of the newly established "FDC Launch Program (FLaP)", with DG organizing entrepreneurial education activities and operational support for startup companies in the Fukuoka region, contributing to employment and economic development in the regional economy. As the first project of Fukuoka City's Startup Support Program, in October DG Lab Fund invested in Skydisc, a cloud service employing AI/IoT. Going forward, through collaborations with infrastructure companies etc. developing nationwide financial and logistics operations, DG plans to accelerate the promotion of the Smart City Project to contribute to job growth and the development of regional economies.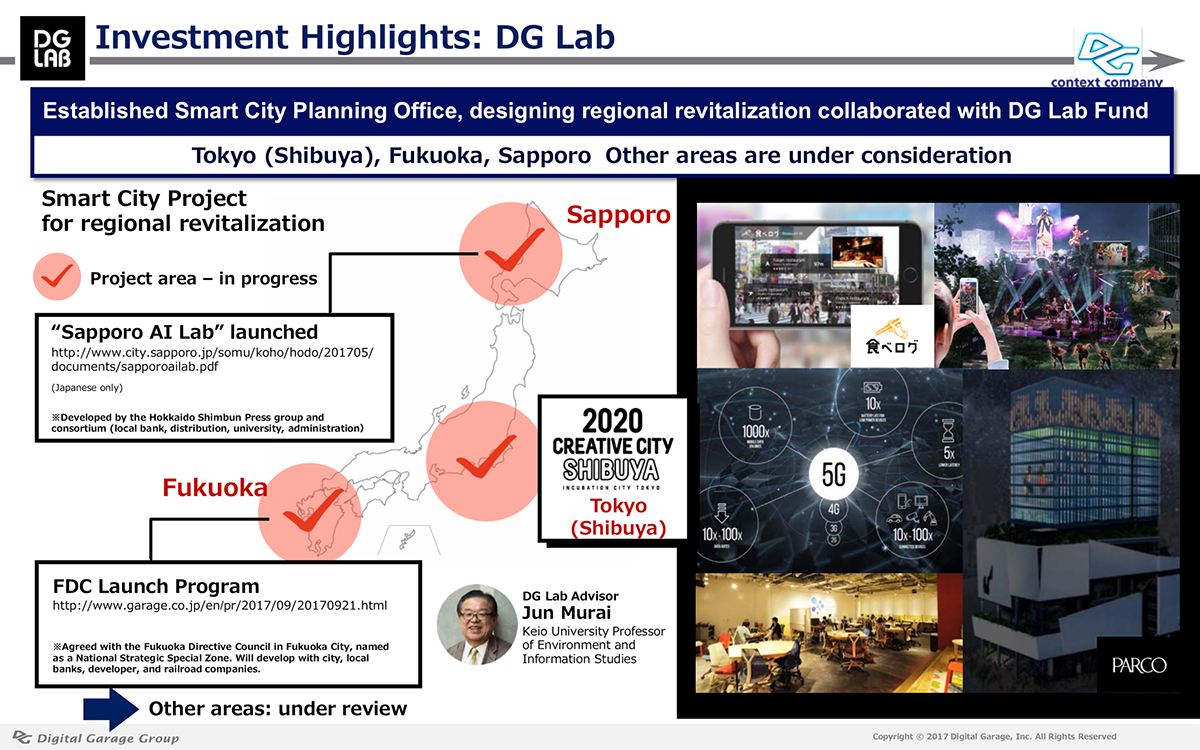 As we head into 2020, we anticipate the destruction and creation of the business environment brought about by rapid technological innovation, and we believe that Open Incubation is essential to developing the pillars of business and connecting the sprouts of new businesses brought by technical innovation with context, by collaborating with various companies with advanced approaches. The company will continue to challenge itself to create "context" which is of value to the world, as it flexibly adapts to changing business environments to maintain profit growth.