Kaoru Hayashi
Representative Director,
President Executive Officer and Group CEO,
Digital Garage, Inc.
CEO Comment Vol.67 "FYE March 2019 Second Quarter Financial Report Summary"
With the approval of the Board of Directors today, we have announced FY19.3 second quarter financial results.
The following is a report of the financial summary of FY19.3 second quarter.
I.FYE March 2019 Second Quarter Financial Report Summary
■ Overview
In Q2 of FY19.3, net sales increased 16% YOY to 33,356 million JPY, operating profit rose 24% to 1,758 million JPY, profit before income taxes increased 41% to 4,929 million JPY, and net income attributable to the shareholders of the parent increased 26% to 3,140 million JPY, surpassing forecasts. In the first half of the fiscal year under review, the Company achieved 55% of its annual profit before income taxes forecast of 9,000 million JPY, which is the focus of DG's efforts.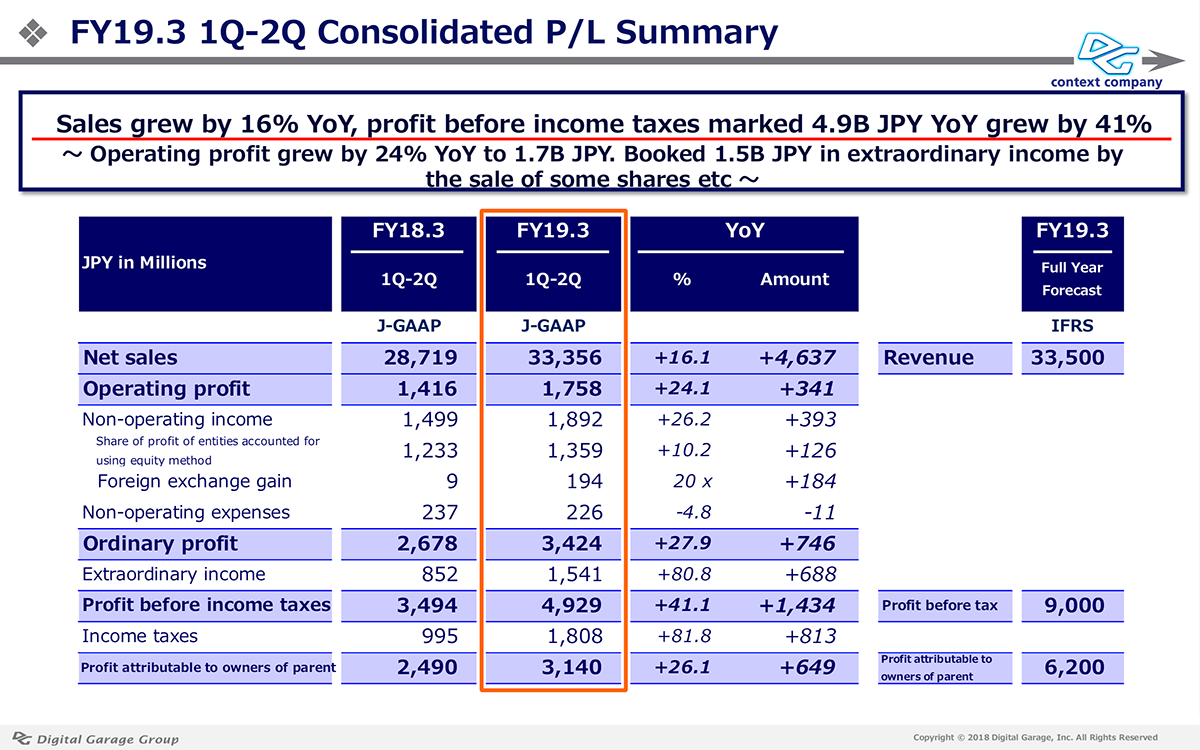 ■Summary by business segment
In the Financial Technology(FT) segment, net sales rose 9% YOY to 11,063 million JPY, and profit before income taxes rose 22% to 1,411 million JPY, marking a record-high segment performance.
Transaction volume, which is a major KPI, increased 39% year on year to over 970 billion JPY. Non-EC/face-to-face payments in the strategic field and public funds field increased drastically, and sales continued to outperform the industry.
In the Marketing Technology(MT) segment, net sales increased 8% YOY to 18,702 million JPY, and profit before income taxes decreased 40% to 653 million JPY. This is due to the ending of large game app promotions in the previous fiscal year, the expansion of the Tokyo office floor with the aim of optimizing operation, and the deployment of near-shore bases in cooperation with Sapporo City.
We are also making forward-looking investments in new projects. ①We are steadily advancing strategies ahead of changes in the business environment, such as the management of the Japan Premium Media Consortium, which develops optimal advertising indicators and advertising values for leading premium media, ②the investment in the development of next-generation payment apps linked to FT, ③and the launch of Resi-Tech(Residential Technology) projects.
In the Incubation Technology(IT) segment, the strategic sale of shares triggered by the sharp rise in valuation in overseas markets, especially in Asia, resulted in a significant increase in profit before income taxes of 1,483 million JPY from 139 million JPY in the previous fiscal year. In the Long-term Incubation(LTI) segment, Kakaku.com, an equity-method affiliate, continued to post favorable results in Tabelog and favorable performance in new media, and profit from the sale of certain shares was realized, resulting in a significant increase in profits.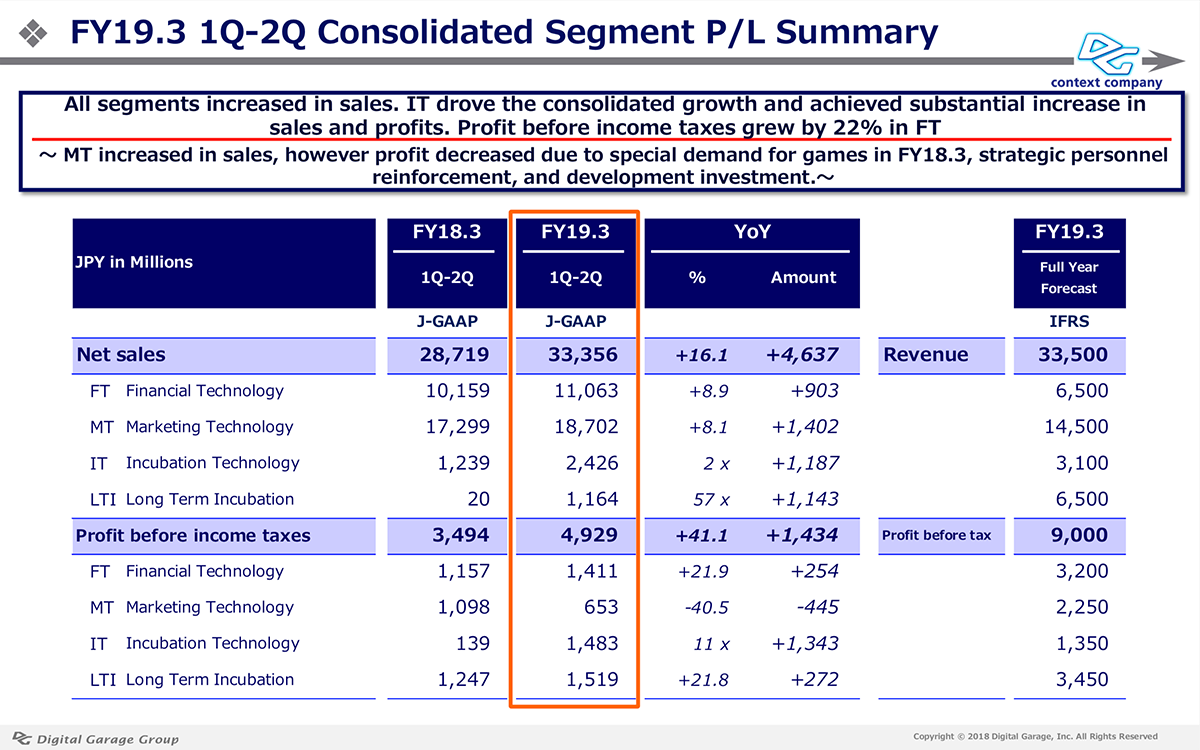 II. Recent business highlights
The following is an overview of the major projects recently announced and their objectives.
<Payment and Settlement Businesses Achieve Growth Beyond the Market>
The FT segment, one of the largest payment service providers in Japan with annual transactions exceeding 1.5 trillion JPY, is expanding its business base, driven by the government's cashless policy. In particular, we are focusing on gaining market share in Non-EC payment markets such as public financing sector.
ECONTEXT, for example, has begun providing convenience store payment services for a variety of administrative fees that the Osaka Prefectural Government commenced on October 1, 2018. In November, ECONTEXT started to provide a Comprehensive Service for New Online Application System of Hiroshima Prefectural Board of Education. The measures taken by the Government of Japan to promote the cashless system include "further dissemination of electronic payments in the public sector, such as public payments." In addition to Osaka Prefecture, the Tokyo Metropolitan Government and Hiroshima Prefecture will continue to diversify payment methods for various fees and user fees, and in particular, the introduction of electronic payment is expected to proceed. Therefore, the DG will continue to actively provide payment solutions to the public fund sector in order to contribute to improving the efficiency of administrative agencies' collection operations and the convenience of payment by citizens.
We are also working to diversify earnings in the area of electronic commerce, which is the foundation of our settlement business. Specifically, we entered the "post-settlement payments" market, which has recently attracted attention among EC users because it is possible to make payments after receiving products. In September 2018, Veritrans and Nissen established a joint venture company called SCORE Co., Ltd.. SCORE will promote the development of Fintech services that incorporate marketing factors such as new credit scoring and purchasing promotion by combining the expertise of the payment and settlement businesses cultivated by the two companies.
On November 5, 2018, ECONTEXT completed its registration as an electronic payment service provider (registration no. Kanto Financial Affairs Bureau Chief [Electronic Payment Service Provider] No. 6) on November 5, 2018. This registration of ECONTEXT is the first case as a payment service provider. Since June 2018, the new system regarding electronic payment service has been started with the Act Partially Amending the Banking Act, etc. executed on June 1, 2018. Domestic business operators providing two types of services must register with the financial affairs bureau: business operators transmitting instructions on behalf of the depositor for transfers, etc. from his or her bank account to another bank account (update type), or business operators obtaining balances, usage history, and other information related to the depositor's bank account from the bank, and providing it to the depositor (reference type). ECONTEXT has been promoting connectivity with banks through the provision of econtext Gateways, a multipayment solution that includes bank payments. To help develop the electronic payment service, ECONTEXT has become a registered electronic payment service provider and an official member of the Japan Association for Financial APIs. ECONTEXT will fulfill its responsibilities to appropriately provide information to users, conclude contracts with partner banks, and disclose information. Going forward, ECONTEXT will continue offering safe, convenient financial services to business operators and consumers.
<Developing financial services using the public blockchain>
The development of financial services using the blockchain, which is expected to become a pillar of the settlement business in the near future, is also proceeding smoothly.Crypto Garage, Inc., a joint venture established by DG and The Tokyo Tanshi Co., Ltd. for the purpose of R&D and commercialization of blockchain financial services, will further accelerate R&D on advanced financial services and use cases using blockchain technology and cryptographic technology, while utilizing basic technology developed by Blockstream, with the aim of providing service launches in fiscal 2019.
Through the use of open-source, public blockchain technologies that enable everyone to participate in networks, we will develop innovative financial infrastructures that are unparalleled in the world. By doing so, we will make full-scale preparations to create leading financial services from Crypto Garage in Japan and to establish new markets in the blockchain industry.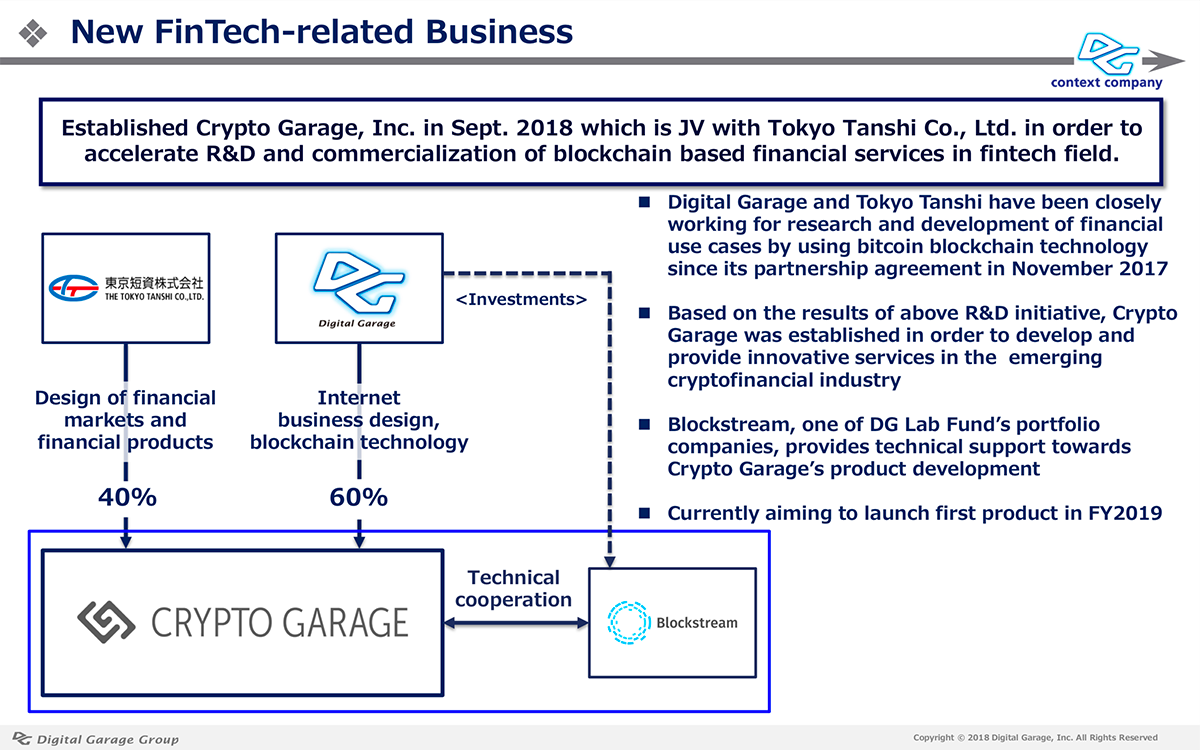 In the blockchain field, we are continuing our activities from the perspective of contributing to the industry. On October 6 and 7 at Keio University, DG participated as an LSO (Local Support Organization) in the management of the Scaling Bitcoin, an international conference in which Bitcoin developers and academics gathered together.
Scaling Bitcoin is one of the biggest conferences in which more than 300 engineers and scholars gather from around the world each year to discuss the latest technologies in the blockchain, eliminating business, financial, and political speculation. Through these activities, DG will continue to contribute to the growth of the blockchain industry from every aspect.
<Start project for next-generation Internet advertisements>
In the Marketing Technology(MT) segment, we have embarked on a project to fundamentally change the way Internet advertisements are conducted in Japan. In October, we established the Japan Premium Media Consortium in collaboration with 32 major media companies that produce, edit, and provide news information, articles, and video and audio content for the purpose of verifying the value of media and content and improving the value of advertising. As the secretariat, DG cooperates fully in the operation.
This consortium is to raise the quality of Internet advertisements and disseminate new advertising value indicators that reflect the value of content media through the study results of the consortium. The aim of this consortium is to revise the disparity in the distribution of advertisements that should be sent to quality media because the advertising unit price in Japan's Internet media is classified as relatively cheaper than that in developed countries.
I hope that this will help underpin the Japanese content industry by instilling a system in which journalists post valuable articles and quality media that attract high-quality advertisements, rather than a site that collects fake news.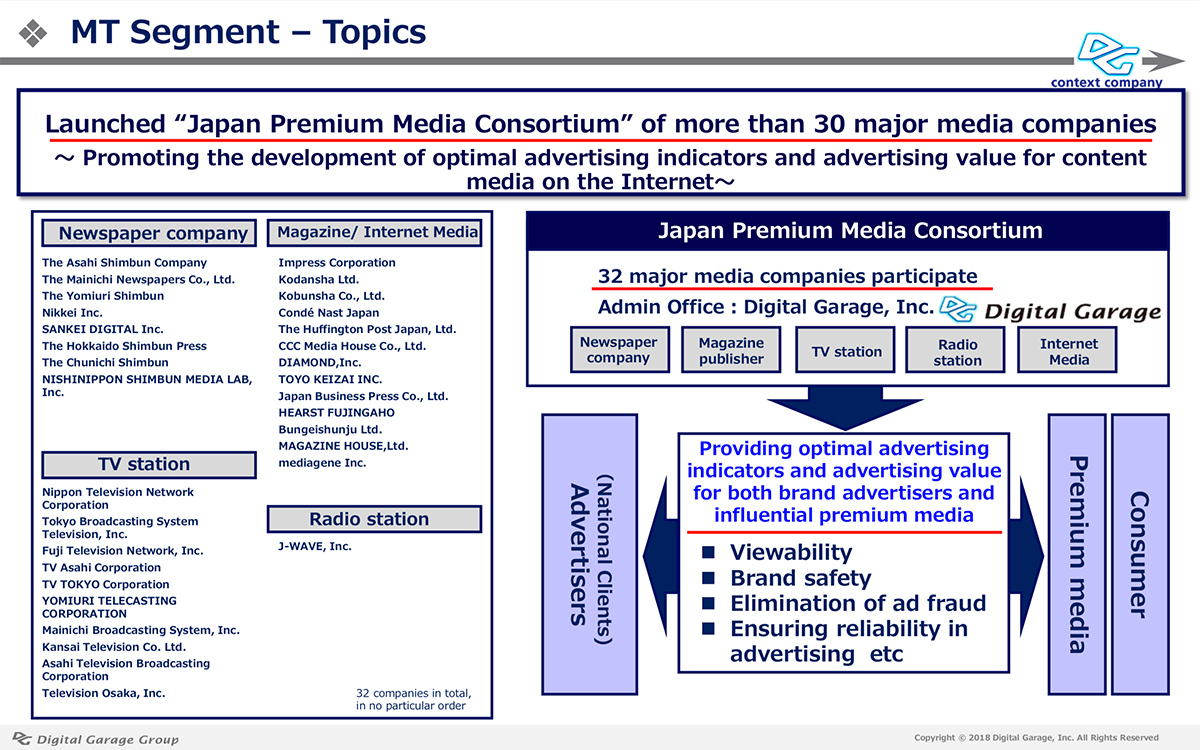 <Fusion of Real Estate and Advanced Technologies into New Businesses>
We are also implementing measures to expand our business into new domains based on the know-how we have cultivated in existing businesses. We will begin to explore new fields in the IT and MT segments, and in collaboration with major real estate developers and architectural firms, we will develop our Resi-Tech(Residential Technology) to enrich our homes and livelihoods with cutting-edge technologies. Yesterday,On November 8 we have launched Open Network Lab Resi-Tech, a global accelerator program for real estate-related startups.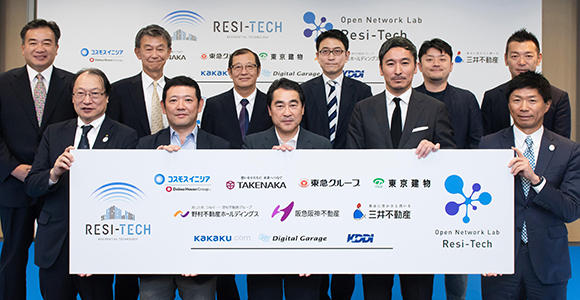 At the NEW CONTEXT CONFERENCE 2018 San Francisco, which will be held in San Francisco on November 15, we will hold a "Global Pitch Session" in which we will start up a highly selected Resi-Tech field from around the world. In addition to the AI-related startup support studios All Turtles, which connects three bases in San Francisco, Tokyo, and Paris, and the startup support company Mind Fund, which is based in Hong Kong and has networks in Asia, we plan to collaborate with byFounders, a fund formed by founders of leading startup companies in Northern Europe, to bring together the right startups from the Global Incubation Stream of the DG-Group, which connects Japan, the United States, Europe, and Asia.
The "Resi-Tech" domain of housing/real estate and daily life services, integrated with the IoT, is undergoing simultaneous evolution across the world. It is my great pleasure to be able to promote open innovation throughout Japan's leading real estate, construction and lifeline industries. In an era where more than 1 trillion IP addresses are allocated to a variety of objects and the number of IoTs connected via fifth-generation communications networks is increasing explosively, we are confident that technological advances will rapidly expand into digital home appliances, smart cities and biohealth based on the Resi-Tech domain. I am delighted to be able to support the Resi-Tech startups from around the world by the Japanese industry as a whole through this project. With Open Network Lab Resi-Tech as our first business in this area, we will continue to accelerate the IT innovation in Resi-Tech areas.
We look forward to the continued support and encouragement of our stakeholders, including our shareholders.