Kaoru Hayashi
Representative Director,
President Executive Officer and Group CEO,
Digital Garage, Inc.
CEO Comment Vol.68 "FYE March 2019 Financial Report Summary"
[Profit before tax for the first year of application of the IFRS increased 60% YoY to 13.4 billion JPY, a record high]
Ⅰ. Summary of financial results for FY19.3. and Voluntary Adoption of International Financial Reporting Standards (IFRS)
Following the upwardly revised earnings forecast announced yesterday, we have announced our FY19.3 results (IFRS) (PDF) upon approval by the Board of Directors today.
The following is a summary of financial results for FY19.3.
In FY19.3, we achieved record-high earnings. Revenue increased 39.9% YoY to 35.6 billion JPY, profit before taxes increased 60.3% to 13.4 billion JPY, and profit attributable to owners of parent increased 52.4% to 9.8 billion JPY. In the fiscal year, all businesses posted double-digit revenue growth, while the recurring business, centered on the FT/MT segment, posted a 25% YoY increase in revenue. On the earnings front, the fair value of securities held in the IT/LTI segment increased, resulting in a significant increase.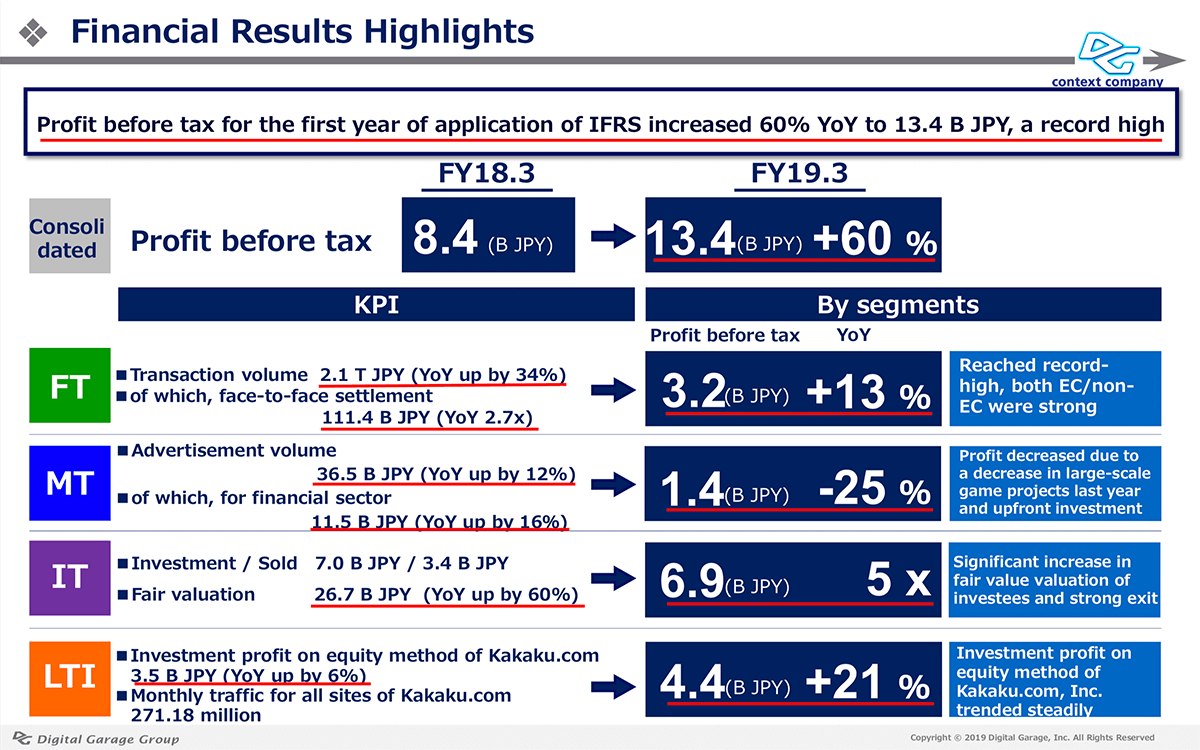 < Voluntary Adoption of International Financial Reporting Standards (IFRS) for FY19.3 >
We voluntarily adopted IFRS from the consolidated financial statements for FY19.3. IFRS has been applied in the consolidated financial statements for FY18.3 and FY19.3. The background and objectives of the application of the IFRS are to accurately reflect the actual revenue structure of the recurring business, MT (Marketing Technology Segment) and FT (Financial Technology Segment); to appropriately present the equity values of investee companies in IT (Incubation Technology Segment) by fair value assessment; and in turn, to provide important guidance for the valuation of DG's corporate value.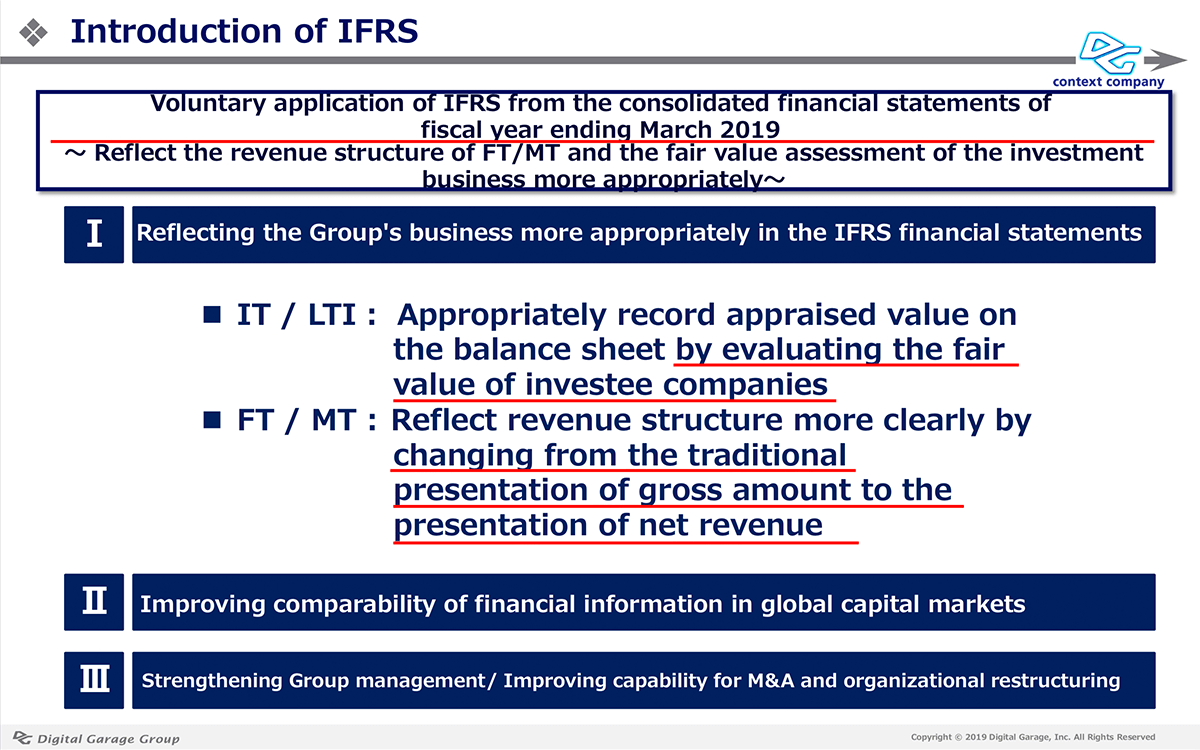 Ⅱ. Business Segment Overview
In the Financial Technology(FT) segment, revenue increased 12.9% and profit before tax increased 13.0% to 3,174 million JPY. Transaction volume continued to expand, rising 34% to 2.1 trillion JPY and the number of transactions increased 33% to 390 million JPY. Non-EC settlement/face-to-face settlement, which is a focus area, is growing rapidly by approximately three times, driving overall segment growth.
In the Marketing Technology(MT) segment, revenue increased 37.6% YoY, while profit before taxes decreased 25.1% YoY, resulting in an increase in revenue but a decrease in profits. Revenue of our mainstay advertising business increased due to strong demand from the financial industry, in addition to the real estate industry. On the other hand, profits declined due to the strengthening of consulting capabilities for clients, which are expected to grow in the future, and the upfront investment for brand advertising and video advertising.
In the Incubation Technology(IT) segment, revenue increased 3.1 times YoY to 8.0 billion JPY, and profit before taxes increased 5.2 times to 6.8 billion JPY, which boosted Digital Garage's overall performance. Fair value assessments of financial instruments (valuation of investee stocks) specific to IFRS increased significantly compared with the previous fiscal year. This is attributable to a significant increase in the corporate value of the companies in which we invest, particularly in the Asian region. Welby Inc.(TSE's Mothers Section: 4438), a strategic investee in the BioHealth field in Japan, also went public on April 1, and is expected to contribute to an expansion in our corporate value in the next fiscal year.
In the Long Term Incubation(LTI) segment, revenue increased 13.2% YoY, and profit before taxes increased 20.9% to 4.3 billion JPY. Kakaku.com, an equity-method affiliate, also contributed to segment results, with healthy performance despite spending on TV advertising for Tabelog.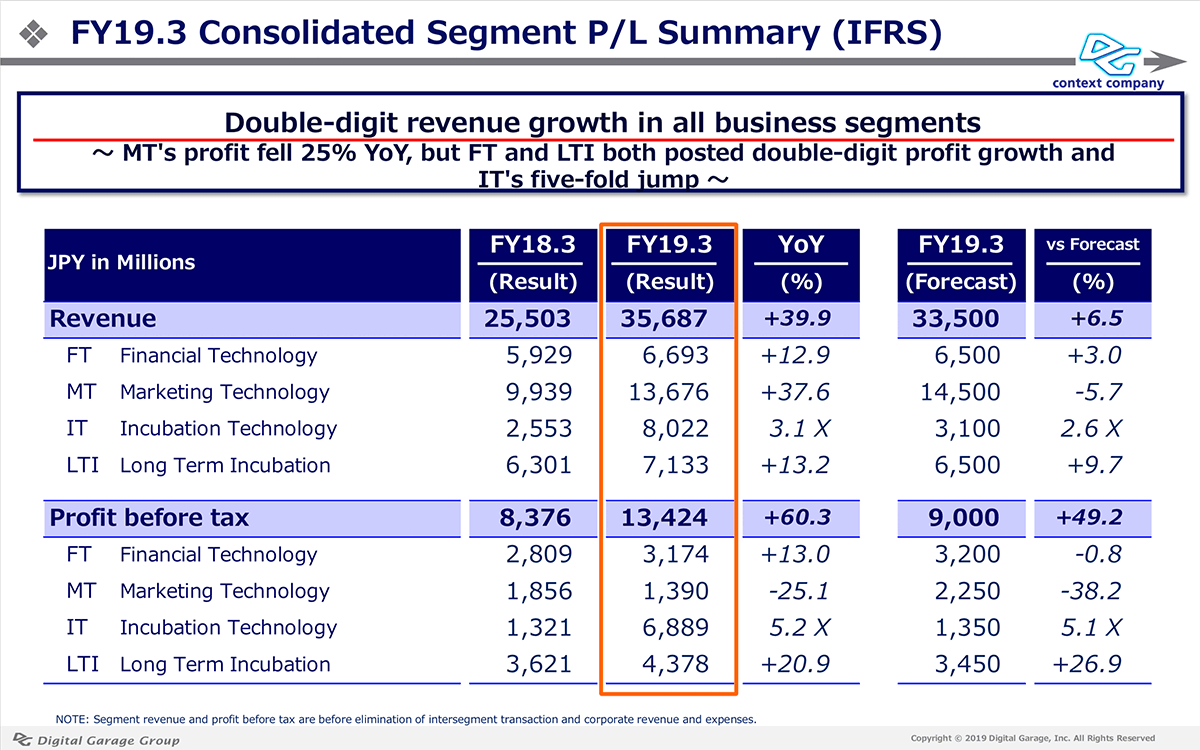 < Establishment of Targets for KPIs and the Non-disclosure of Consolidated Earnings Forecasts for FY20.3 (IFRS) >
For FY20.3, Digital Garage has not disclosed its consolidated earnings forecast as it is difficult to estimate the fair value at the end of the fiscal year due to the IFRS valuation of securities in the IT segment. However, based on the Mid-term plan targets, we aim to achieve 15% earnings growth in the recurring business (FT/MT).
In the Incubation Technology(IT) segment, we will aim to achieve ROI of 2.5 times through investment and exit and increase the value of our securities holdings.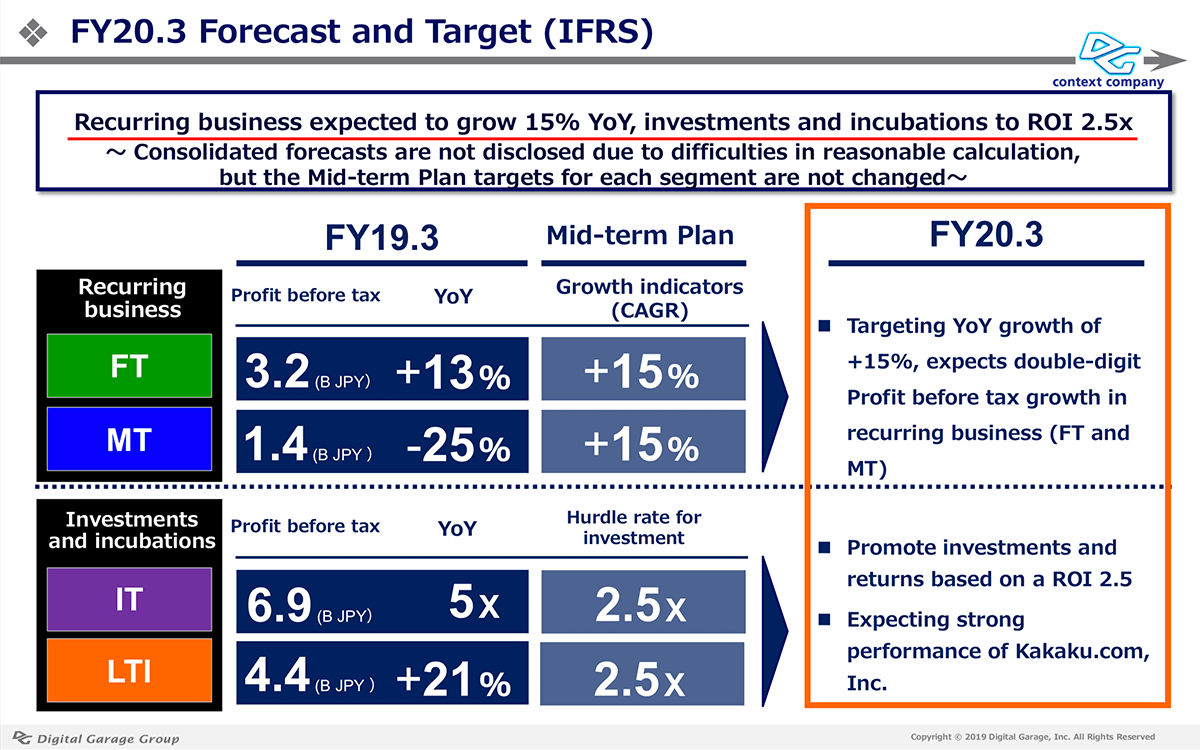 III. Highlights of Each Business Segment for the Fiscal Year under Review
The following is a description of our major projects and business highlights for the fiscal year under review.
< Supported by the Expansion of the Cashless Society >
In the Financial Technology(FT) segment, one of Japan's major payment and settlement businesses, we are steadily expanding our multi-payment services, which provide a diverse range of payment methods, and expanding our market share in non-EC markets, such as the civil fee collection, in response to the strong growth of the e-commerce market and the rapidly expanding cashless society.
In November 2018, Veritrans established TD Payment Corporation, a joint venture with TOSHIBA TEC CORPORATION, which holds the largest share of the POS market in Japan and overseas, to develop multi-payment solutions for POS system users(press release). TD Payment will rapidly provide solutions to meet the increasingly introduction needs for diverse cashless payments as the number of inbound customers increases. First, Toshiba TEC provides multi-payment solutions to businesses that currently use its POS systems. The solutions can be easily introduced a variety of payment services, such as the non-retention of credit card data in order to strengthen security, domestic QR/barcode payments such as "LINE Pay" and "d PAY", QR/barcode payments for inbound customers, and various electronic money payments.
In the public funds field, ECONTEXT was commissioned to handle the collection of national taxes at convenience stores using the QR Code in 2018. As a result, ECONTEXT began providing FamilyMart, Lawson, and Mini Stop convenience store payment services to the National Tax Agency on January 4, 2019. Veritrans has also begun offering credit card payment services in response to the credit card payment collection system for patent and other fees launched by the Japan Patent Office on April 1, 2019.
As a provider of settlement services that have grown into social infrastructures, we will continue to contribute to the realization of a safe, secure, convenient cashless society and further expand the scope of our services; one of which is providing payment solutions to the public funds field such as supporting the efficiency of various collection operations of administrative agencies and improving the convenience of payers.
< Integrating Payments and Marketing >
Our growth strategy has also begun to bear fruit by combining the two pillars of DG's recurring business [the FT and MT segment] with the aim of realizing synergies. This is symbolized by the provision of a CRM and payment platform to Kyushu Railway Company (JR Kyushu) announced in March 2019(press release). We jointly developed the smartphone app based on the JR Kyupo point system of JR Kyushu, so that customers can easily use the "JR Kyupo" for shopping and meals, also enhancing engagement between users and the JR Kyushu Group. The app integrates the marketing functions that DG has provided to date and the cashless payment functions offered by Veritrans, and is scheduled to be released within 2019: the app includes a QR/barcode point-sharing function, a coupon-sharing function, and a QR/barcode payment function. By offering this CRM and payment platform to a variety of businesses, we aim to continue business development across the payment and marketing businesses and to become a new earnings pillar for the DG Group.
< Leading Financial Reform by Blockchain >
We are steadily developing new businesses that will become new pillars of our financial technology business in the near future. Established as a joint venture with The Tokyo Tanshi Co., Ltd. and Blockstream Corporation to develop blockchain financial services, Crypto Garage obtained certification under the Regulatory Sandbox in Japan of the Cabinet Secretariat of Japan, and became the first company in the Fintech sector in January 2019(press release). Under this Sandbox system, Crypto Garage has begun proof of concept project of settlement services in collaboration with several business partners to issue JPY-Tokens for simultaneous exchange of crypto assets.
In April, we also announced the P2P protocol "P2Pderivatives," which realizes Crypto asset derivative transactions for bitcoin payments(press release). This protocol eliminates counterparty risk between trading parties and reduces contract costs, enabling more players to participate in crypto assets derivatives transactions. The markets for crypt assets have mostly been invested for speculative purposes, but recently Square and other global financial institutions have adopted aggressive policies for the use of bitcoins. We are confident that Crypto Garage, by providing risk management tools through the implementation of the protocols developed this time, and therefore contributing to stabilizing the crypto asset markets, will be able to drive the expansion of the use of bitcoins as a means of settlement for international transactions and more.
The following are the conceptual movie of the Crypto Garage.
< Strategic Investment in Emerging Countries, Japan and the U.S. Harvesting Period >
Companies in Incubation Technology(IT) segment, which identify promising startups around the world and provide business support, have invested in the Asian region over the past five years and a number of startups have grown significantly. They are now entering a period when we can recoup our investments. GO-JEK Group, Indonesia's largest ride-hailing service has grown into a prominent unicorn company in the nation. Droom, India's largest online marketplace for automobile transactions, and Sendo, which operates a marketplace for C2C and B2C marketplaces in Vietnam, has also grown significantly since the DG Group invested. Investment activities in Silicon Valley are also being revitalized, with a view to providing business support in Japan, where DG is strong. In March 2019, we invested in Lime, a leading provider of ride-sharing services for electric scooters. As a leading investor, we invested in GrubMarket, which is a marketplace linking agricultural producers and restaurants.
In terms of investments in Japan, a growing number of startups are becoming the leaders of the next generation: WHILL of graduation teams from Open Network Lab to develop and provide new personal mobility worldwide, Idein with a reputation for its edge computing technologies, and Panair providing power retail platforms. We will further strengthen the global incubation stream linking North America, Japan, Asia and Europe by investing in promising overseas startups for supporting Japanese and Asian expansion, and the global expansion of Japanese startups.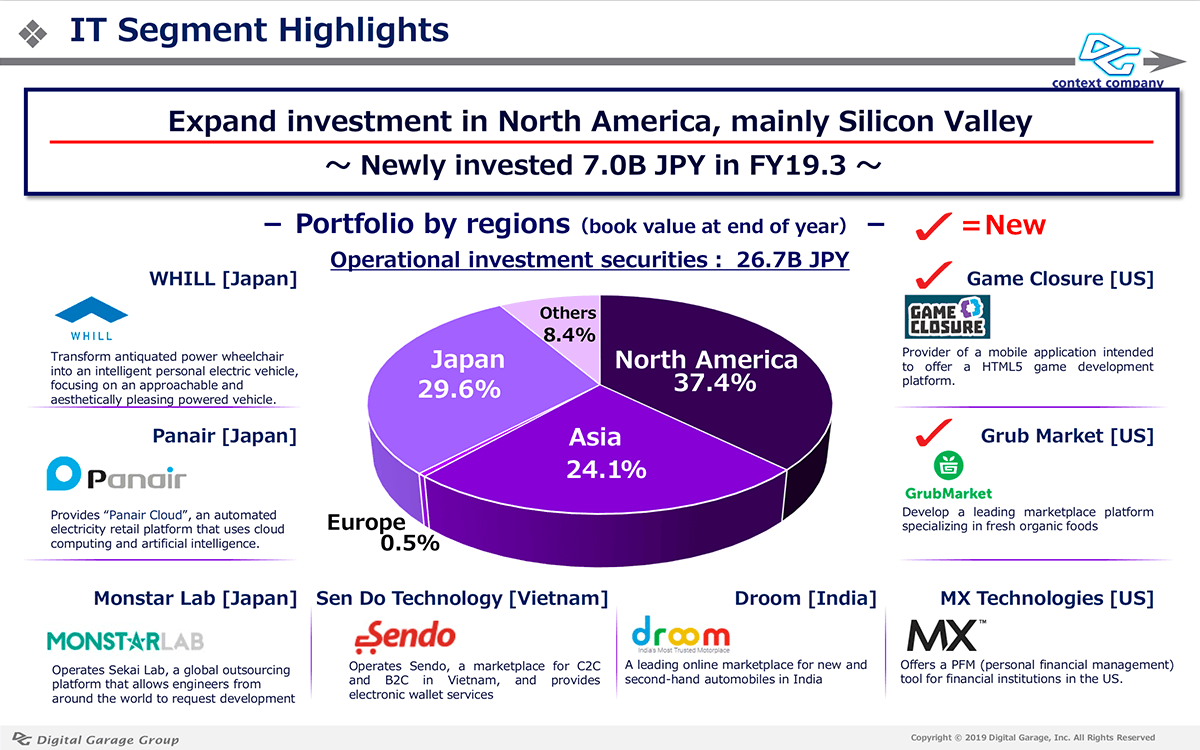 < Expanding Incubation Ecosystem Around Japan's First Acceleration Program: Expansion of Specialized Fields and Areas >
Since 2010, we have been operating incubation programs with the aim of fostering global entrepreneurs. We are accelerating efforts to develop Open Network Lab, which has become recognized as one of Japan's leading seed accelerator programs, by specializing in specific fields and regions. By utilizing platform technologies such as cloud computing, 5G networks, IoT, and blockchain, it has become easier to construct ecosystems involving startups and large corporations in industries and regions where open innovation has been difficult to advance.
Open Network Lab Resi-Tech, which was launched in November 2018 for real estate-related startups as a specialized area program, consists of a three-month program and will enter a demonstration in July during which the participating teams appeal their results to potential investment and business partners. The program has formed a consortium with major domestic real estate, construction and lifeline companies and operates with nine partners. We look forward to seeing Resi-Tech startups that offer housing, real estate, and lifestyle services as a cluster of IoT on the demo day.
In the area of specialization, Open Network Lab BioHealth, which was launched in the previous fiscal year aimed to foster startups in the biotechnology and healthcare fields and promote open innovation, continued to attract strong interest from major pharmaceutical manufacturers and healthcare-related companies. Following the first demo day in January 2019, we have begun preparations for the second batch of the program, which has expanded the content of its program.
For the first regional specialization program, D2 Garage, a joint venture between DG and the Hokkaido Shimbun Press, conducted a second batch recruitment for Open Network Lab Hokkaido, which was implemented in the previous fiscal year. Based on the results of first batch, we plan to select participating teams mainly from startups that will engage in businesses that utilize the assets of Hokkaido, such as primary industries, tourism, and rich nature. We will continue to collaborate with other major Japanese cities to launch regionally focused seed accelerator programs aimed at regional revitalization.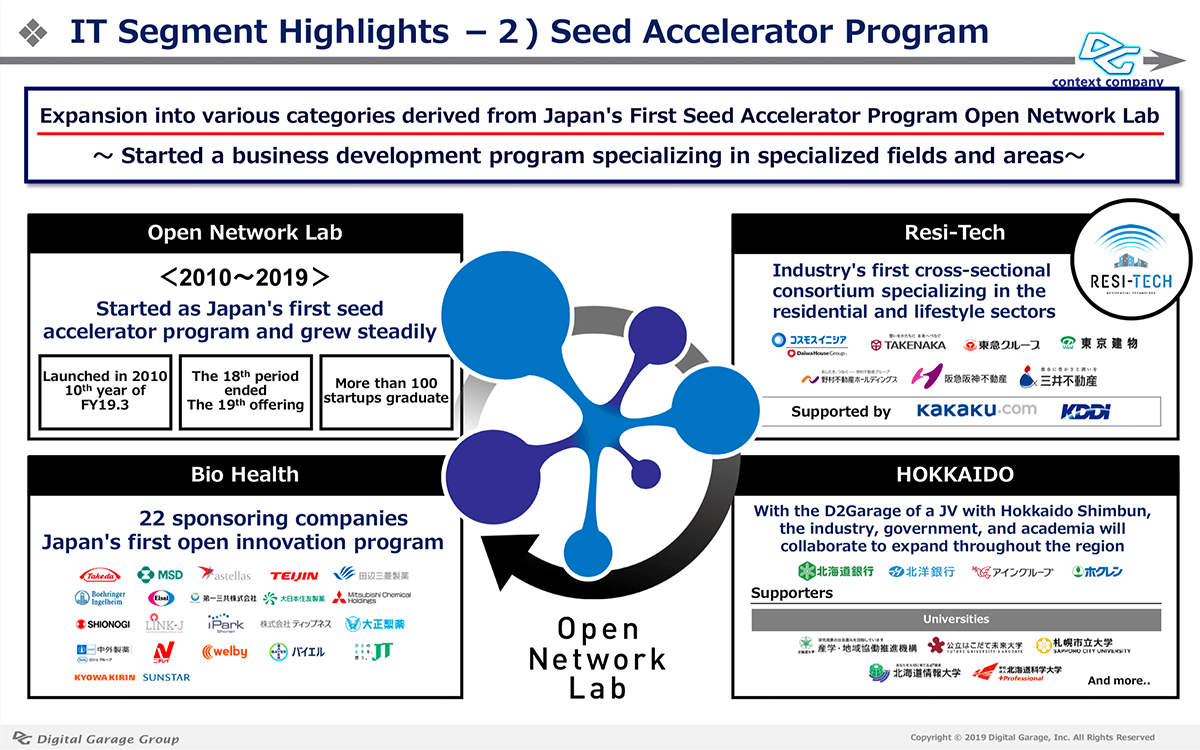 < Collaboration with Two Strategic Partners in the BioHealth Field >
In the area of biotechnology, which attracts attention as a new keyword after digital, we are developing new businesses centered on collaboration with two strategic partners.
Welby is a provider of apps for recording blood glucose, blood pressure, meal content, and other data to help individuals manage their health. DG positions Welby services as a gateway to PHR (personal health record) services. DG will build platforms that utilize big data on health and medical information mainly for individuals by linking PHR with local governments, national health and health insurance, medical institutions, pharmaceutical companies, health-related businesses, and other entities nationwide (press release).
Another strategic partner in the biohealth field is PureTech Health, with whom DG entered into a business alliance in 2017. The company has provided startup support with the cooperation of Nobel Prize Winner and other strong advisors through hands-on in the field of biotechnology, just like DG has been involved in the Internet field. There are a number of promising startups under the umbrella of PureTech Health. Among them, DG is strengthening its collaboration with Akili Interactive Labs, which is achieving results in the field of so-called Digital Therapeutics(DTx), which uses digital technologies to treat diseases instead of pharmaceuticals. Looking ahead, we plan to increase the recognition of DTx in Japan by launching industry-leading consortiums and cultivate new markets with Akili Interactive Labs.
< Full-fledged Launch of Group-wide Data Science Business >
We will launch a data science business that utilizes proprietary data across the DG Group.
Two leading data scientists in Japan have joined in our projects to launch the data science business in earnest. One of them, as a director of the data science business, BI.Garage, develops new advertisement platform with close coordination of the Japan Premium Media Consortium. The other, as Chief Data Officer, is responsible for the creation of new businesses beyond advertisement field, based on data science that cut across DG Lab's areas of focus including Blockchain, BioHealth, and data and next generation technologies of AI team, with the cooperation of strategic partners as part of open innovation initiative.
In the data-related area, we will encourage the entire industry to improve the marketing use of personal information, as a company involved in the marketing business ourselves, and also because of emerging issues from marketing platforms, notably GAFA. To seek an ideal data ecosystem that allows users and businesses to both benefit from personal information, we will hold THE NEW CONTEXT CONFERENCE 2019 TOKYO in June on the theme of "How to build a Data Ecosystem," hosted by Joichi Ito, co-founder of DG and director of MIT Media Lab.
Next year, we will celebrate the 25th anniversary since the establishment of DG. DG was founded as a company that tackles issues such as: how to create the "context" of the internet; how to link marketing and technology, Japan and overseas, the present and future; and creating contexts that are useful to the world. Digital Garage has been working on a "first-ever project in Japan" while continually driving the edge of internet ecosystem. We are confident that the history of Digital Garage is the history of the internet in Japan. We will continue to make the DG Lab as a field for proof of concept projects, accurately grasping the latest technological trends, and striving for the next stage.
We look forward to the continued support and encouragement of our shareholders and other stakeholders.