Kaoru Hayashi
Representative Director,
President Executive Officer and Group CEO,
Digital Garage, Inc.
CEO Comment Vol.74 "FYE March 2022 Second Quarter Financial Report Summary"
〜Profit before tax increased by 4.5x YoY to 27.4 B JPY, renewed record high profit 〜
With the approval of the Board of Directors today, we have announced FY22.3 second quarter financial results (IFRS).
Ⅰ.Summary of FY22.3 Second quarter Financial Results
For the first six months of the fiscal year ending March 31, 2022, consolidated revenue was 40.109 billion JPY (up 108.2% YoY) and profit before tax was 27.425 billion JPY (up 354.3% YoY), we significantly renewed record high profit. In addition, we were able to achieve a year-on-year increase in profits in all segments. In the Incubation Technology (IT) business, the fair value of investee companies increased significantly, and the transaction volume of the Financial Technology (FT) business continued to grow steadily. In the Marketing Technology (MT) business, the mainstay digital promotion business continued to expand, mainly in financial-related. In the Long-term Incubation (LTI) business, the business performance of Kakaku.com was on a recovery trend.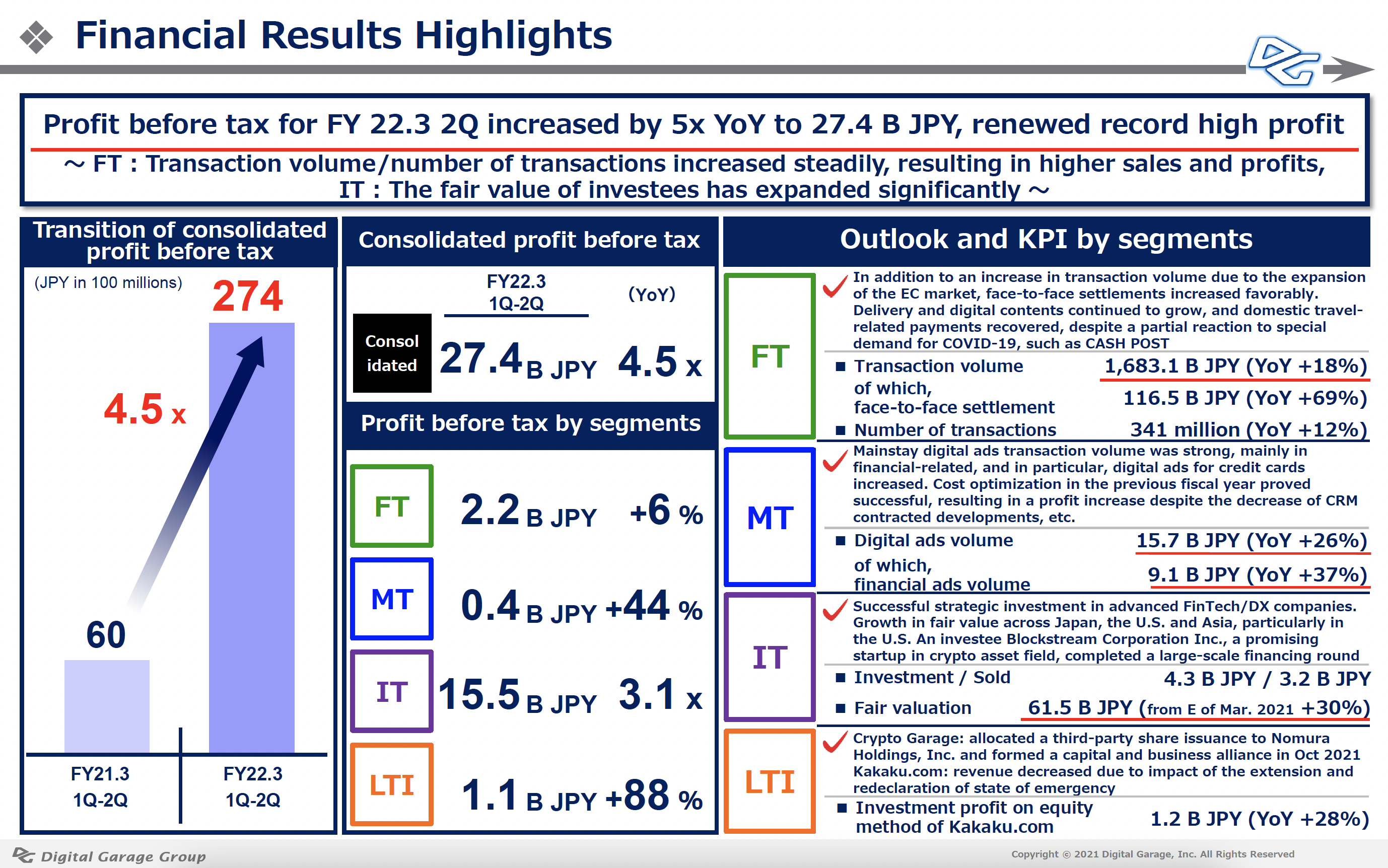 Below is a review of Segment.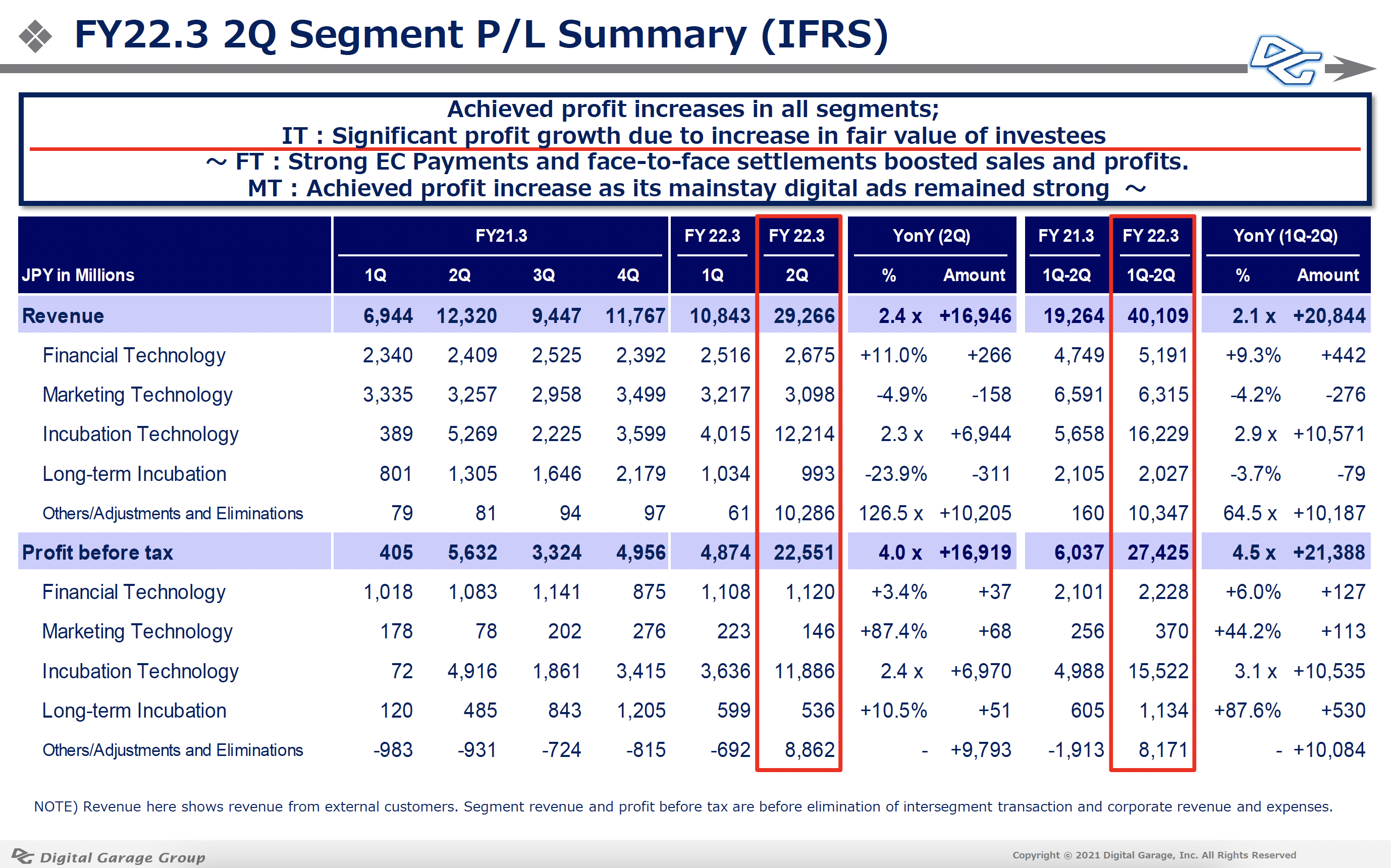 <FT>Financial Technology Segment
~ Transaction volume increased by 18% YoY, continuing high growth ~
In the FT segment, 1Q-2Q (April-September) revenue was 5.191 billion JPY (up 9.3% YoY) ,among them, the Payment Service Provider (PSP) business performed well, up 14% YoY. We continued investment for stable system operation and expansion, 1Q-2Q (April-September) quarterly profit before tax was 2.228 billion JPY (up 6.0% YoY).
Transaction volume was 1,683.1 billion yen (up 18% YoY) and the number of transactions was 341 million (up 12% YoY), both KPIs continue to grow in double-digit. In addition to continued expansion of payments for digital contents and e-commerce etc., payments for travel-related and eating out increased. The transaction volume of face-to-face settlements, which is our focus area, increased significantly to 116.5 billion yen (up 69% YoY). 
On the other hand, as a payment infrastructure development from a long-term perspective, we have built a state-of-the-art database system and continue to respond to the rapidly increasing payment processing traffic as various industries rapidly advance into EC.
Please see the FT Segment Highlight of P/ L and KPI slides below.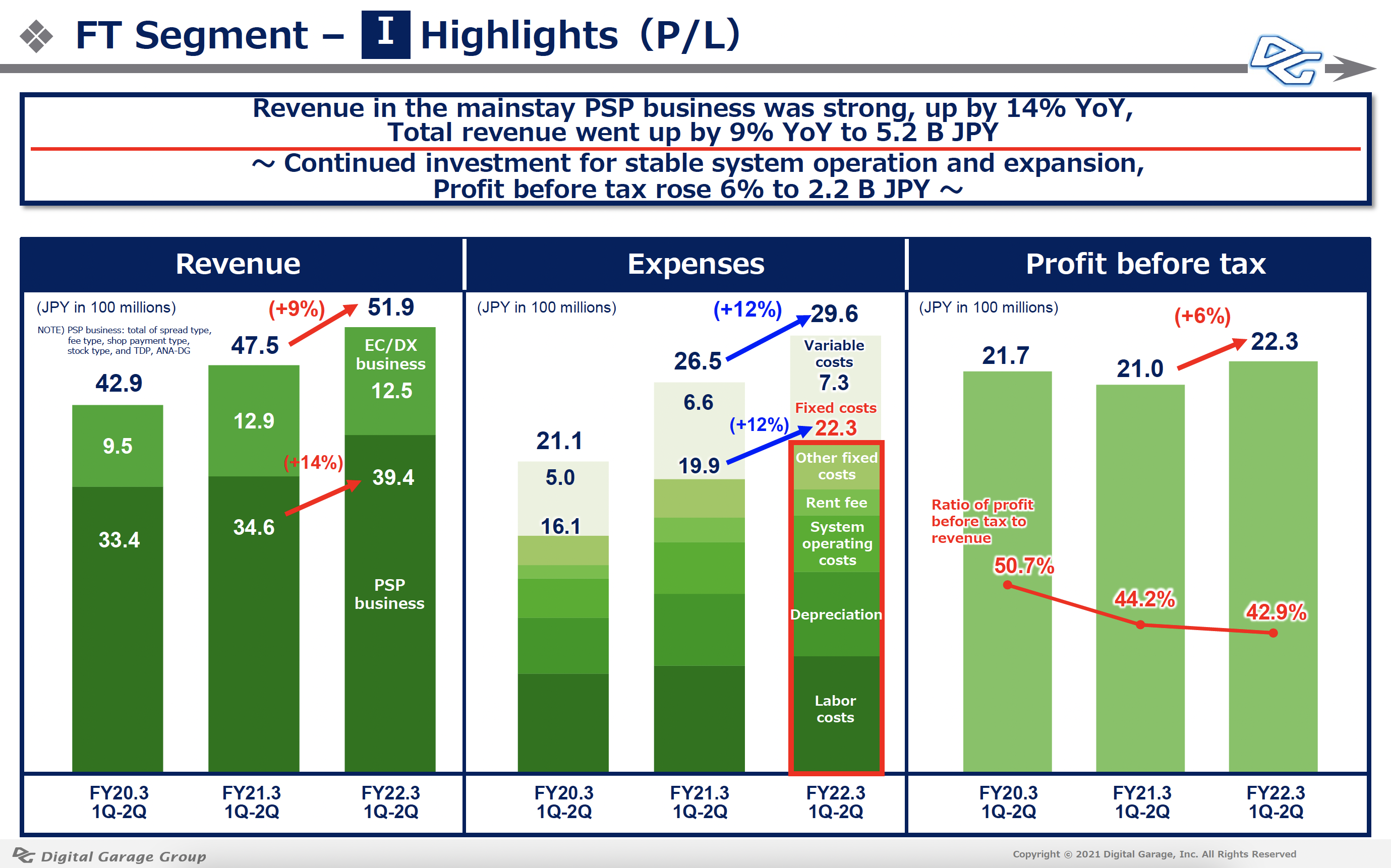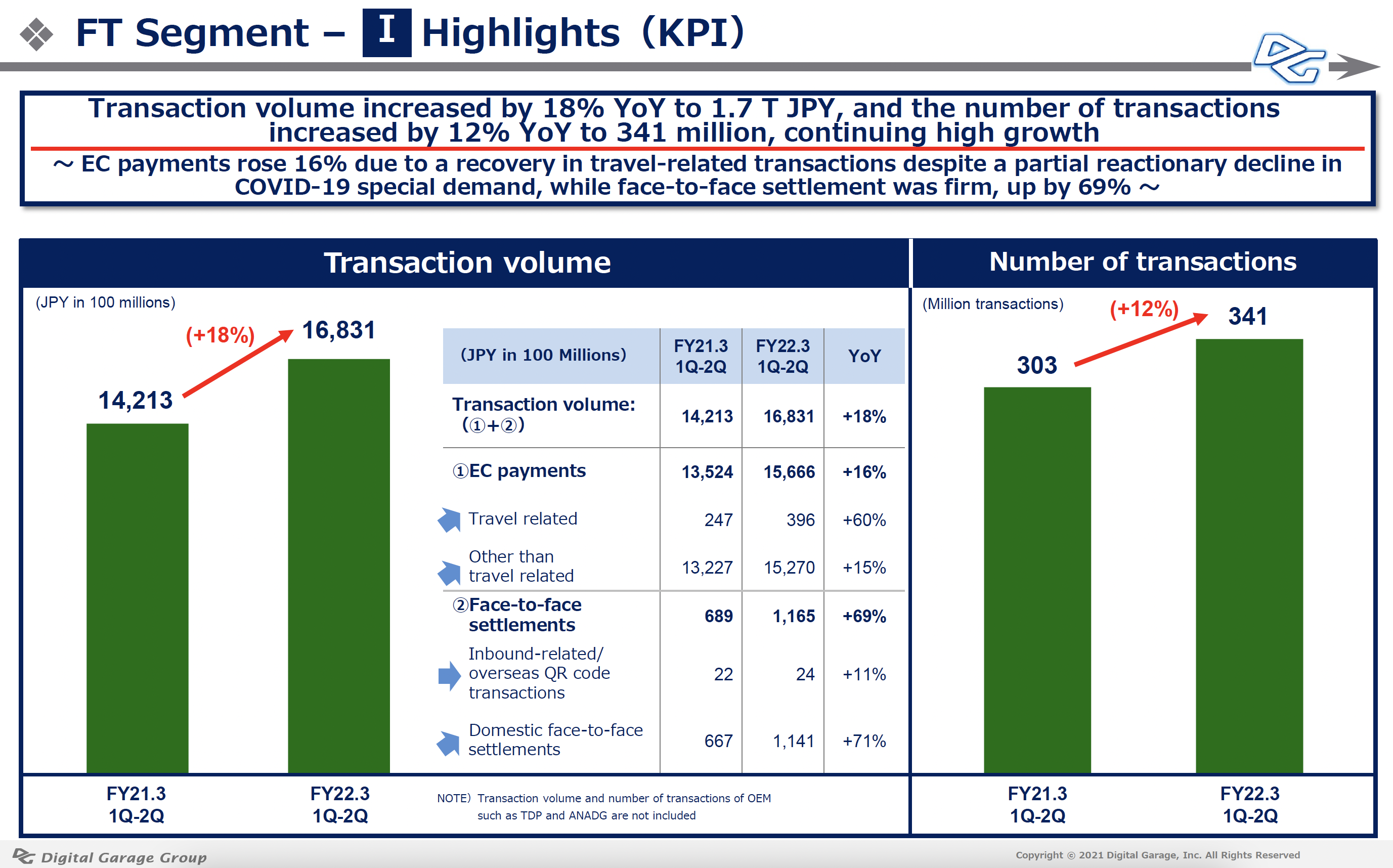 We feel that both the movement in the 3Q, which has already begun, and the economic activity, which had slowed down due to the COVID-19, are rapidly returning to the same level as before.
Finally, we picked up the transaction volume trends of the four growth fields (major overseas EC, utility charges, crypto assets, healthcare) in the past three years. We would like to continue to support growth in these fields with the Digital Garage group.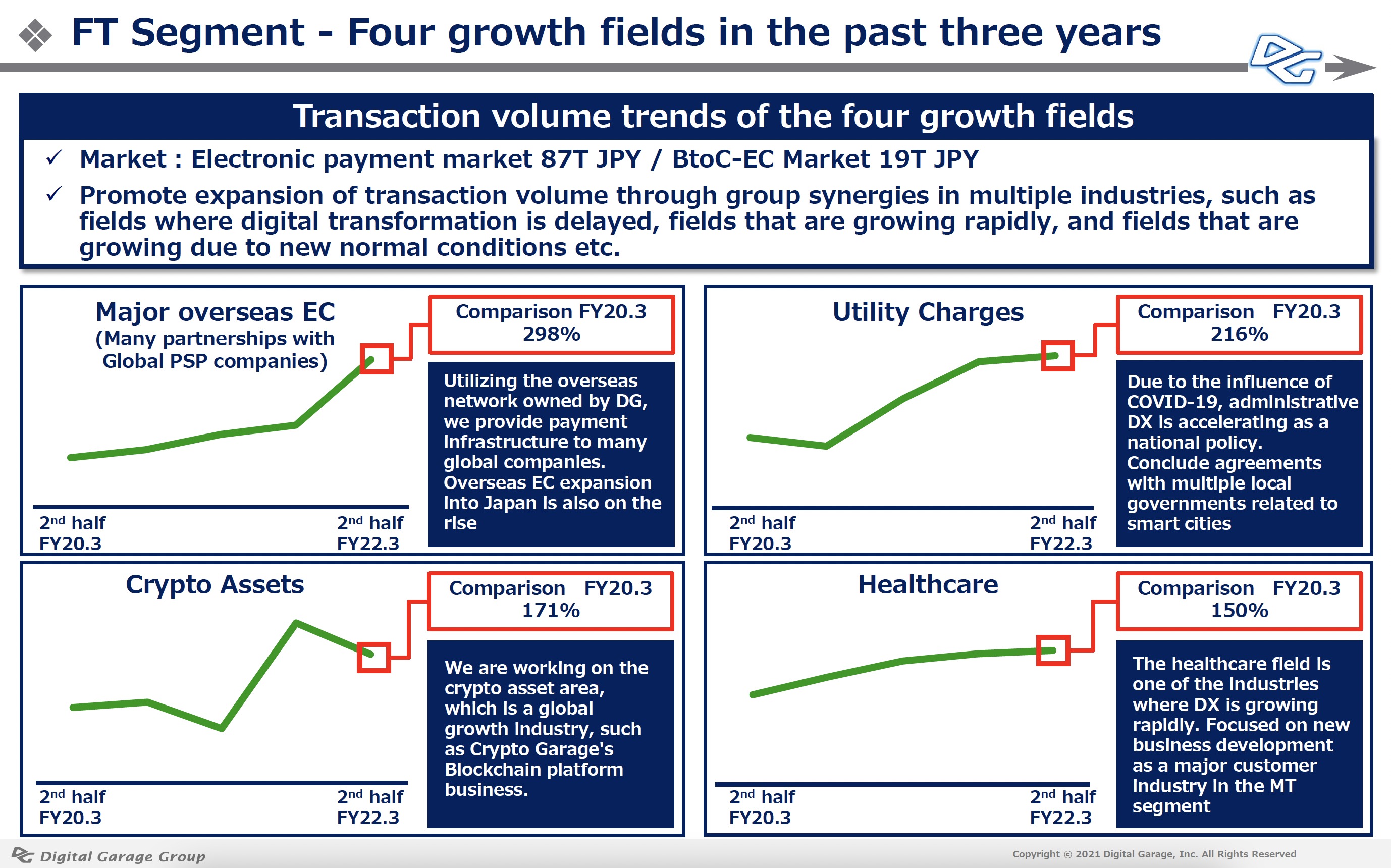 <MT>Financial Technology Segment
~ Advertisement volume of Digital ads increased by 26% YoY, remained strong ~
In the MT segment, 1Q-2Q (April-September) revenue was 6.315 billion JPY (down 4.2% YoY) and quarterly profit before tax was 370 million JPY (up 44.2% YoY). Advertisement volume of our mainstay digital ads increased steadily to 15.7 billion yen (up 26% YoY), and in particular, financial-related advertisement volume, which is our strength, increased steadily to 9.1 billion yen (up 37% YoY).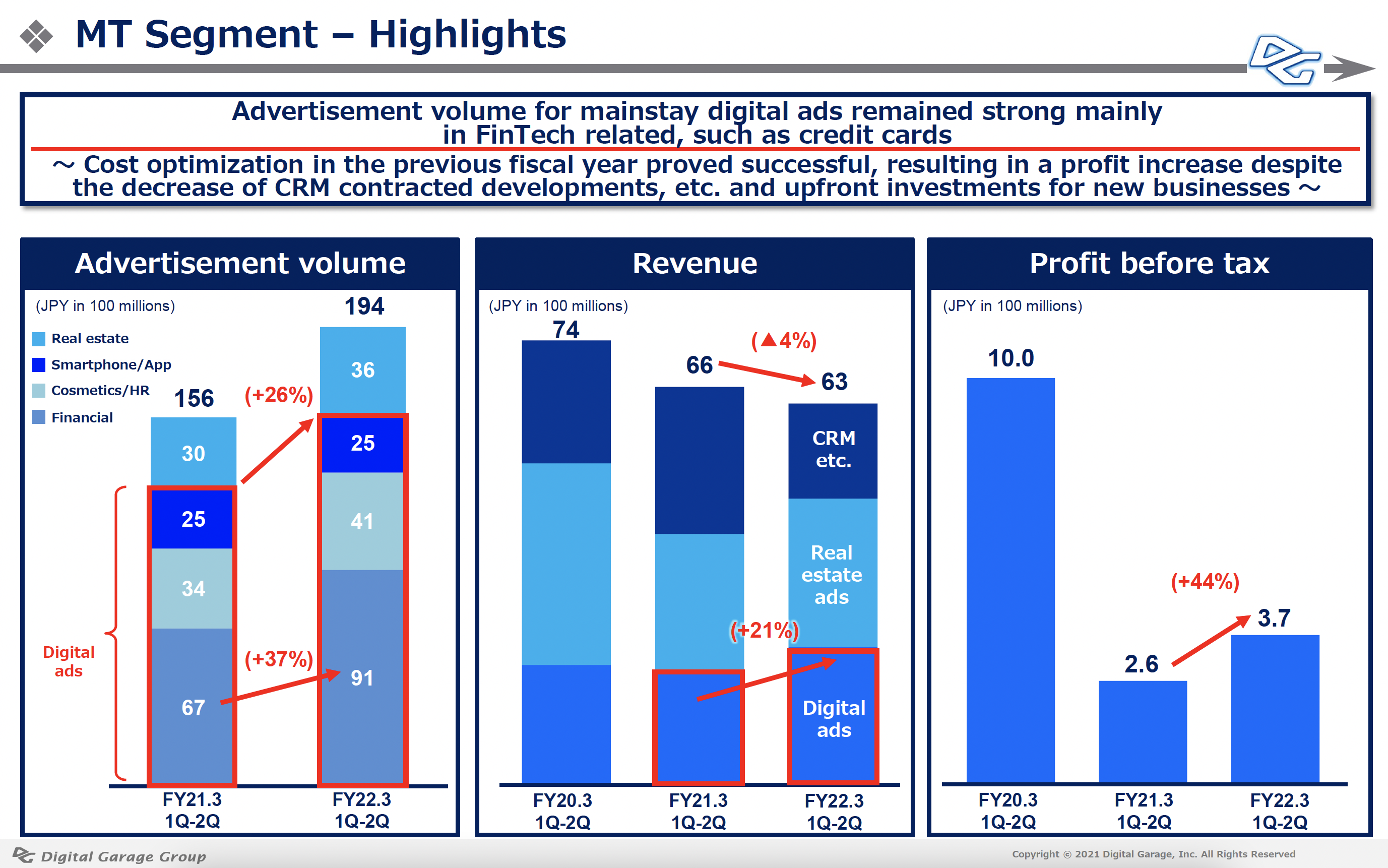 <IT>Incubation Technology Segment
~ Fair value increased largery by 30% to 61.5B JPY ~
In the IT segment, 1Q-2Q (April-September) revenue was 16.229 billion JPY (up 186.8% YoY) and quarterly profit before tax was 15.522 billion JPY (up 211.2% YoY).
Due to a significant increase in the fair value of investee companies, including Blockstream Corporation Inc., a promising startup in the crypto asset field that announced 210 million dollars in funding in August 2021, the balance of operational investment securities, which is an important indicator for the IT segment, was 61.493 billion JPY, an increase of 30% from the end of the previous fiscal year. We have invested based in Japan and Silicon Valley in the United States, but in recent years we have accelerated investment in India, the emerging growth Asian region excluding China, and the United States.
As the US-China conflict becomes clearer, we are continuing our investment strategy of not investing in China.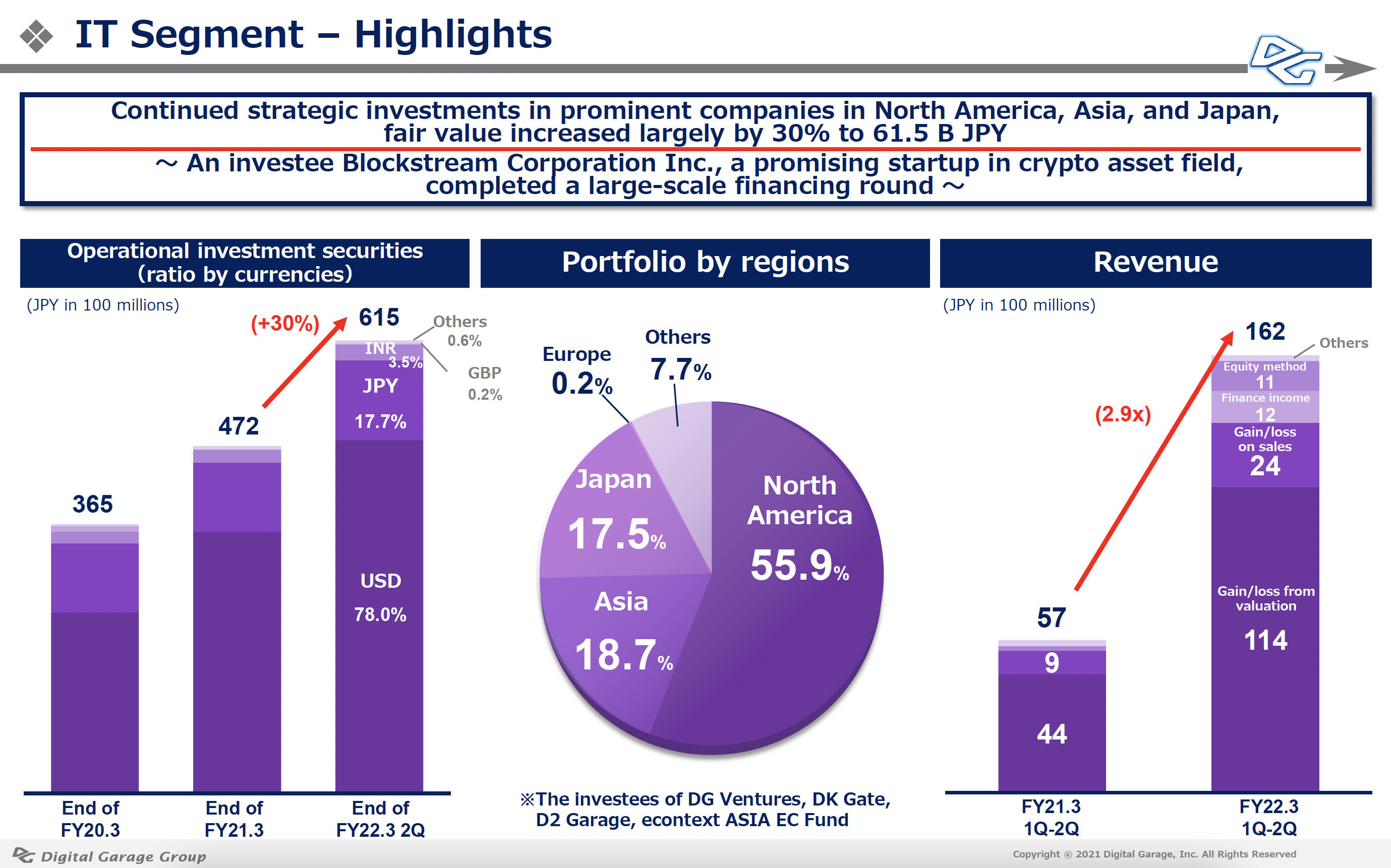 <LTI>Long-term Incubation Segment
~ Kakaku.com is on a recovery trend, crypto asset business formed a capital and business alliance with Nomura Holdings, Inc. ~
In the LTI segment, 1Q-2Q (April-September) revenue was 2.027 billion JPY (down 3.7% YoY) and quarterly profit before tax was 1.134 billion JPY (up 87.6% YoY).
Kakaku.com, Inc., which is an equity-method affiliate, is performing well in the tabelog business and the new media & solutions business such as job information websites.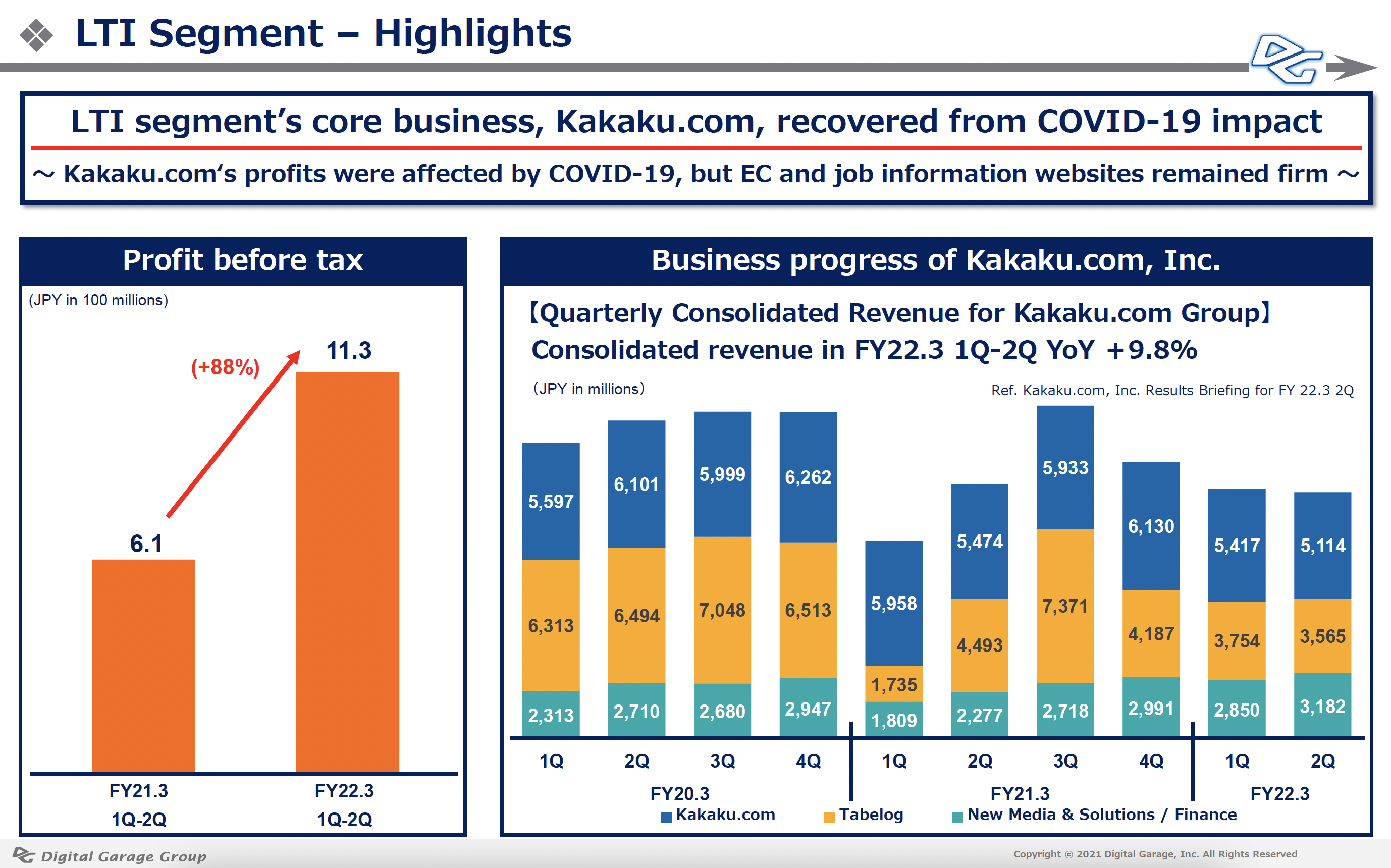 Fundraising and business growth of our strategic partner Blockstream
In August 2021, Blockstream raised Series B funding, increasing its valuation to $3 billion. Blockstream is making successful progress not only with its side-chain technology, but also with its bitcoin mining business and related financial business. Blockstream expects to grow further as a comprehensive solution provider in crypto assets, including entering the green mining business using renewable energy with Square.
Next, please take a look at the business highlights of the crypto asset business (Crypto Garage).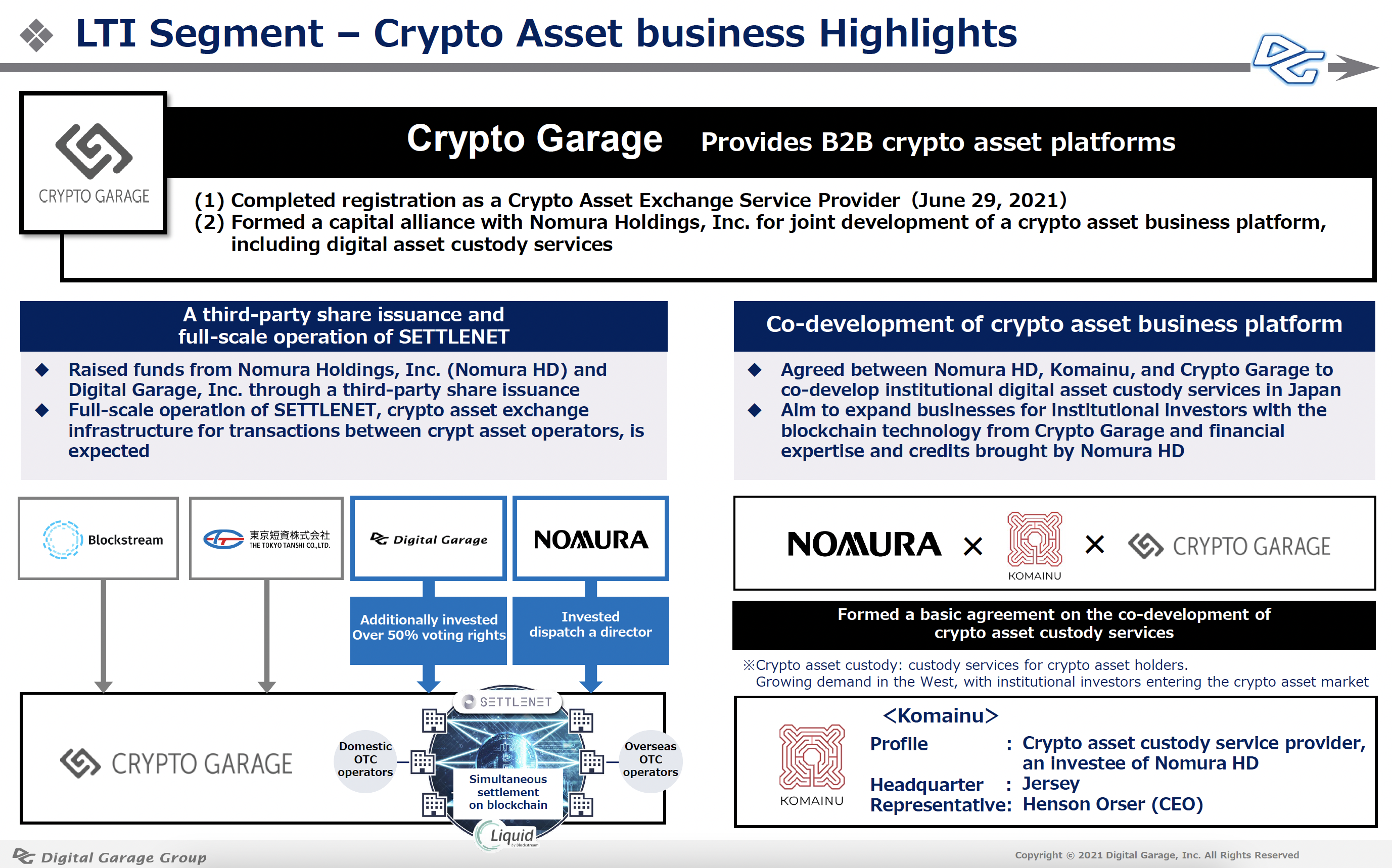 (1)Completed registration with the Kanto Local Finance Bureau as a crypto asset exchange service provider
We invested in Blockstream in February 2016 and launched DG Lab in July 2016. Since then, we have positioned Blockstream as an important strategic partner in the blockchain field and have been working together to develop businesses that contribute to the further growth of crypto assets. In September 2018, DG, Tokyo Tanshi and Blockstream together established Crypto Garage as a strategic subsidiary of DG. Additionally, we participated in the crypto asset settlement business utilizing Blockstream's bitcoin sidechain technology. Also, Crypto Garage completed the crypto asset exchange service provider registration, according to the Payment Services Act, at the Kanto Local Finance Bureau on June 29, 2021, and is currently preparing for full-scale development of the settlement business among corporations.
(2)Capital Alliance with Nomura Holdings
In October 2021, Crypto Garage raised funds from Nomura Holdings. The aim of this capital alliance is to accelerate the crypto asset settlement business using Blockstream's sidechain technology, and to launch a digital asset custody business (crypto asset storage business) in collaboration with Komainu, a Nomura backed company based in Jersey. While crypto assets are banned in China due to the introduction of the digital renminbi, the United States and other Western countries are strengthening various laws and regulations to incorporate crypto assets as a new asset class, and this trend is expected to accelerate. Through the alliance with Nomura Holdings and Komainu, we will support the healthy growth of the crypto asset market globally, with a focus on Japan, by realizing a world view where institutional and corporate investors can safely and quickly invest in crypto assets, which are expected to grow in the future.
II. Promoting ESG initiatives from an earth-centric perspective ~"Moonshot" to "Earthshot"~
This year, DG Group has decided to promote ESG initiatives from an earth-centric perspective under the concept of "Earthshot." In August of this year, THE NEW CONTEXT CONFERENCE 2021 TOKYO was held for the 21st time since its initial holding in 2005. We invited Stewart Brand, the founder of the Whole Earth Catalog, a legendary publication that became the philosophical foundation for the IT revolution, as the main guest to declare "Earthshot." The concept is "the dawn of the ESG era, where the Great Reset will take place, switching the pendulum of humanity from a centrifugal force toward the moon to a centripetal force toward the irreplaceable Earth." Please watch the concept video below.

DG Group has been supporting the startup ecosystem and entrepreneurial culture through Open Network Lab, Japan's first seed accelerator program. We will introduce our efforts to support ESG-related startups through "Earthshot."
(1)Earthshot TV + Web
Earthshot TV is a new initiative that crosses over between TV and the Web, covering ESG-related startup companies in Japan and around the world and creating a database of archived videos. We will widely convey the activities of ESG-related startups to society and support the next generation of ESG entrepreneurs.
(2)Establishment and management of the Earthshot Fund
We have launched a fund that enables incubation of ESG-related social entrepreneurs from a global perspective by utilizing our global incubation stream network.
Please see this website for some of the activities we have been conducting.
III. FinTech Shift and DG's Vision
Lastly, in addition to the capital alliance with Nomura Holdings in the area of cryptocurrencies, we are in discussions with various strategic partners for the next generation business in order to realize our previously announced group strategy "DG FinTech Shift." We intend to achieve "Ambidexterity" in these two wings: "Continuous Growth Wing" which aims to implement the latest FinTech Business based on the existing continuous growth of the Payment Service Provider business (PSP), and the "Non-Continuous Growth Wing" which aims to develop crypto assets utilizing non-contiguous technology as a global business from Japan. We will announce the detailed grand design when we announce our business strategy for the next fiscal year, which is scheduled for year-end. Please look forward to DG's FinTech Shift as we realize the next generation of DX business not only with our group but also with strategic partners in various fields.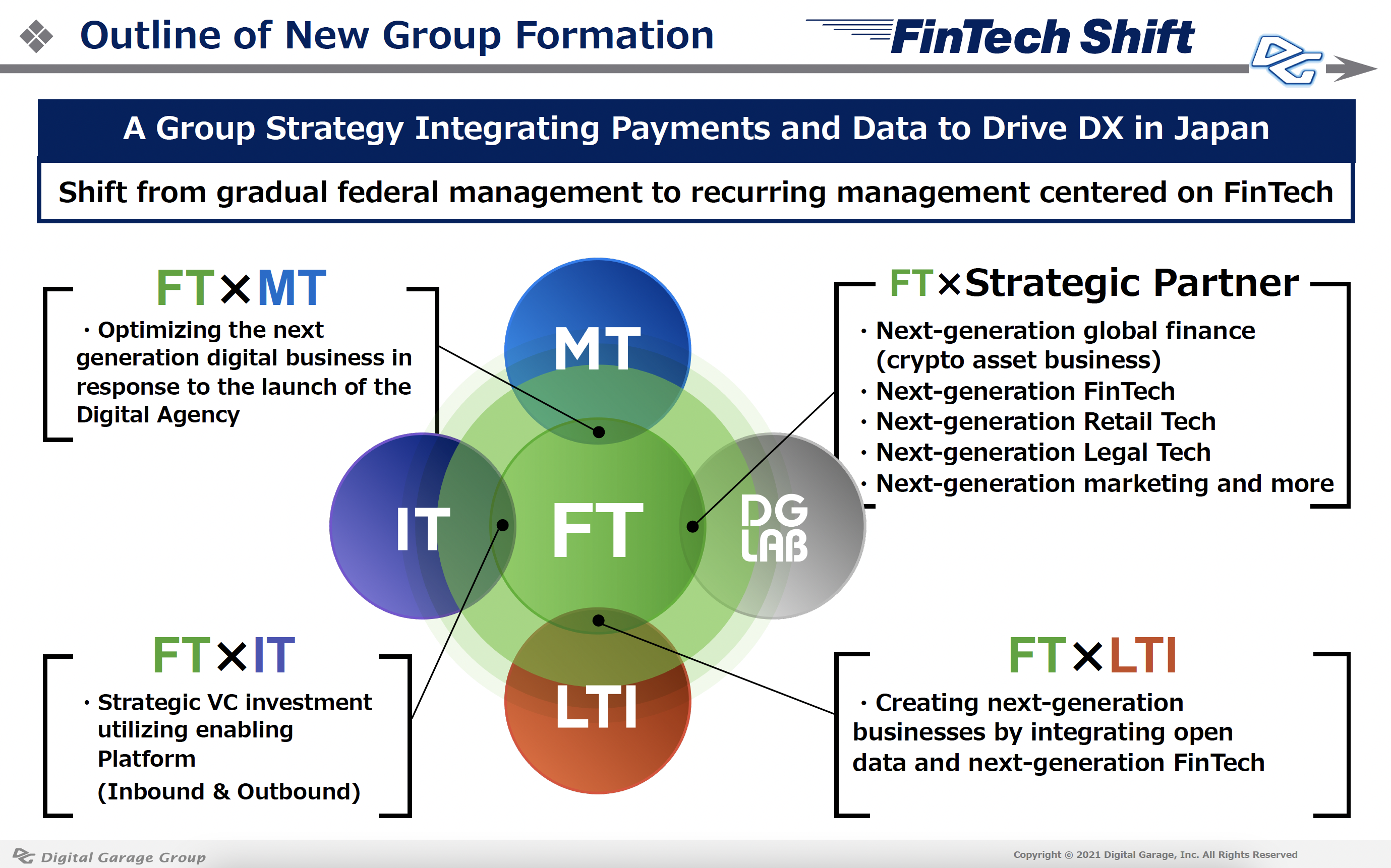 DG Group will continue to contribute to global society to realize the corporate purpose of "Designing 'New Contexts' for a sustainable society with technology."
We look forward to the continued support and encouragement of our stakeholders, including our shareholders.