Kaoru Hayashi
Representative Director,
President Executive Officer and Group CEO,
Digital Garage, Inc.
CEO Comment Vol.76 "FYE March 2022 Financial Report Summary"
〜 Profit before tax for FY 22.3 increased by 3.2x YoY to 45.4 B JPY, renewed record high profit 〜
With the approval of the Board of Directors today, we have announced FY22.3 financial results (IFRS).
Ⅰ. Summary of FY22.3 Financial Results
As for the consolidated business results for the fiscal year ended March 31, 2022, revenue was 72,955 million JPY (up 80.2% YoY), profit before tax was 45,393 million JPY (up 217.1% YoY), significantly reaching a new record high profit continuing from last year. The transaction volume of the Financial Technology (FT) business continued to grow steadily. In the Incubation Technology (IT) business, it remained strong throughout all quarters. In particular, we achieved profit before tax of over 10 B JPY in both 2Q (July-September) and 4Q (January-March). The balance of operational investment securities increased significantly by 65% (up 30.8 B JPY ) from the end of the previous fiscal year to 77.9 B JPY. In the Marketing Technology (MT) business, the mainstay digital promotion business continued to expand, mainly in financial-related. In the Long-term Incubation (LTI) business, the business performance of Kakaku.com was on a recovery trend, on the other hand profit before tax decreased due to impairment of Academie Du Vin Co., Ltd. etc.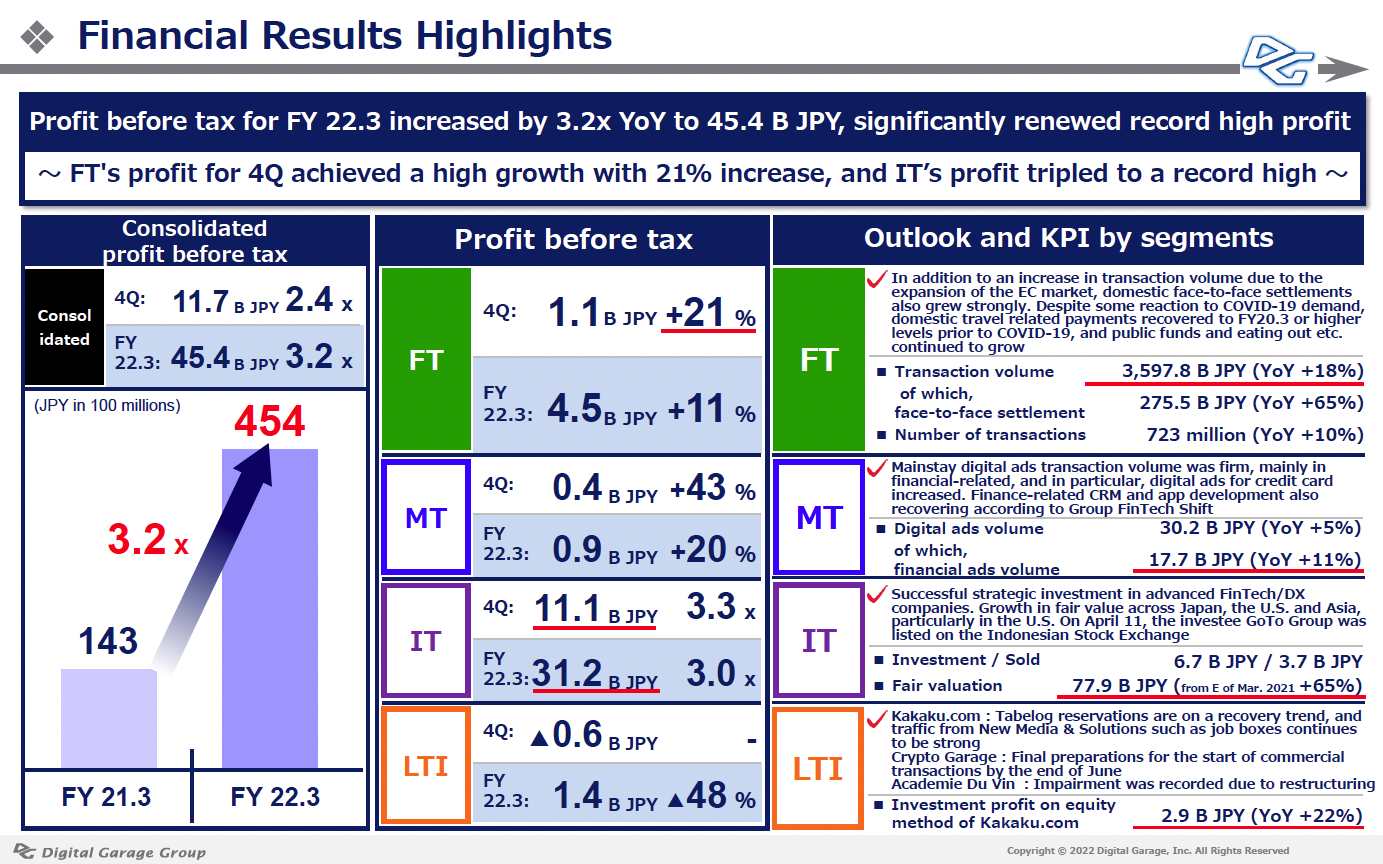 Below is a review of Segment.
<FT>Financial Technology Segment
~ Transaction volume increased by 18% YoY, continuing high growth ~
In the FT segment, revenue for FY 22.3 was 10.762 billion JPY (up 11.3% YoY) , profit before tax was 4.548 billion JPY (up 10.5% YoY), renewed record high profit. Mainstay PSP business revenue was up 13% YoY, performing strongly, absorbing the increase in fixed costs due to investment for stable system operation and expansion, etc. In addition, profit before tax in 4Q (January-March) increased 21% YoY, achieving double-digit increases.
Transaction volume was 3,597.8 billion yen (up 18% YoY) and the number of transactions was 723 million (up 10% YoY), both KPIs continue to grow in double-digit. Transaction volume of EC was 3,322.3 billion yen (up 15% YoY) , transaction volume of face-to-face settlement that we are focusing on was 275.5 billion yen (up 65% YoY). By industry, transportation/travel related payments are also on a recovery trend. In addition, eating out and public funds have steadily expanded. While the above growth continued, transaction volume of furniture/home appliances decreased by 13% YoY due to a shortage of semiconductors and a reaction to the special demand for COVID-19.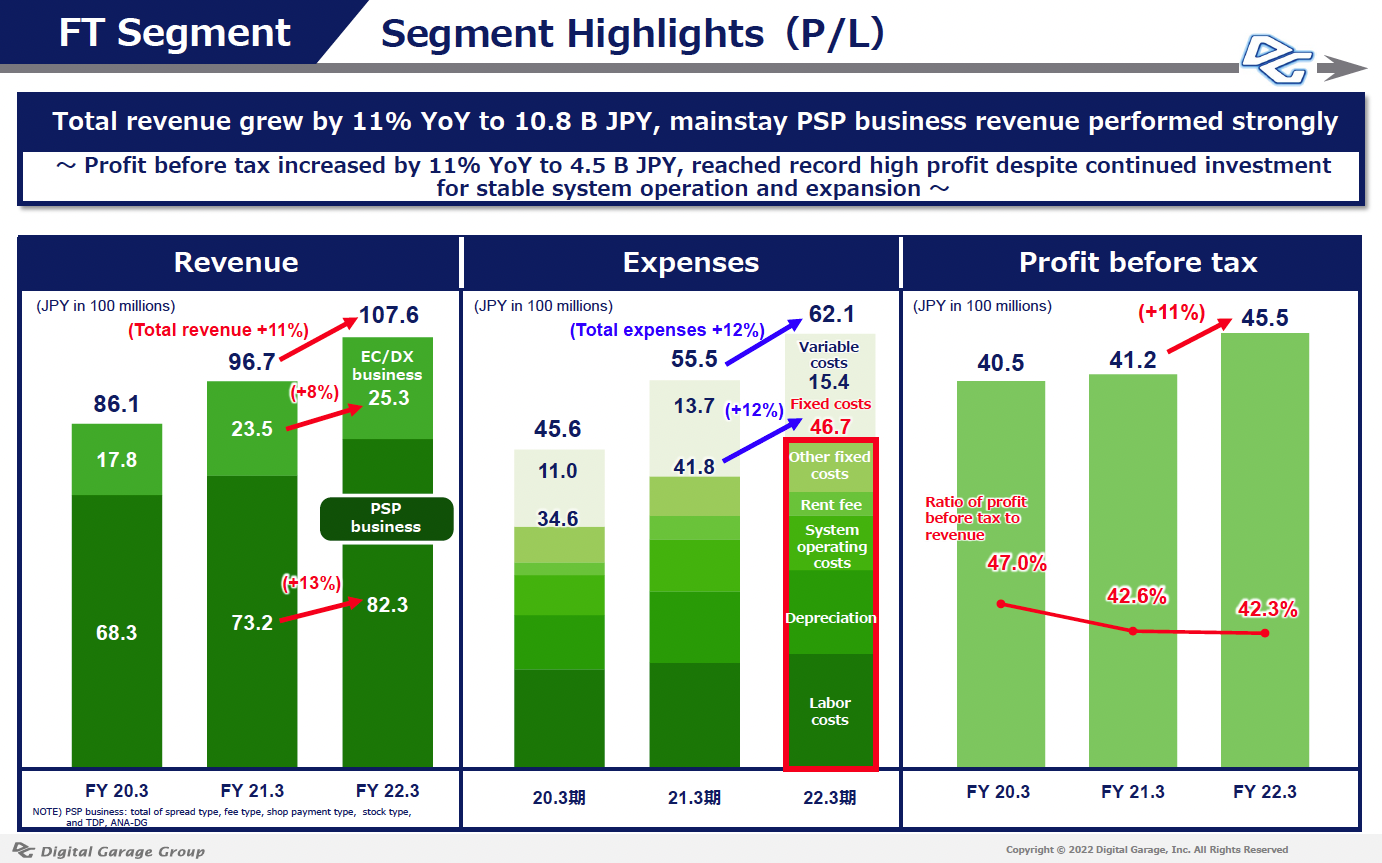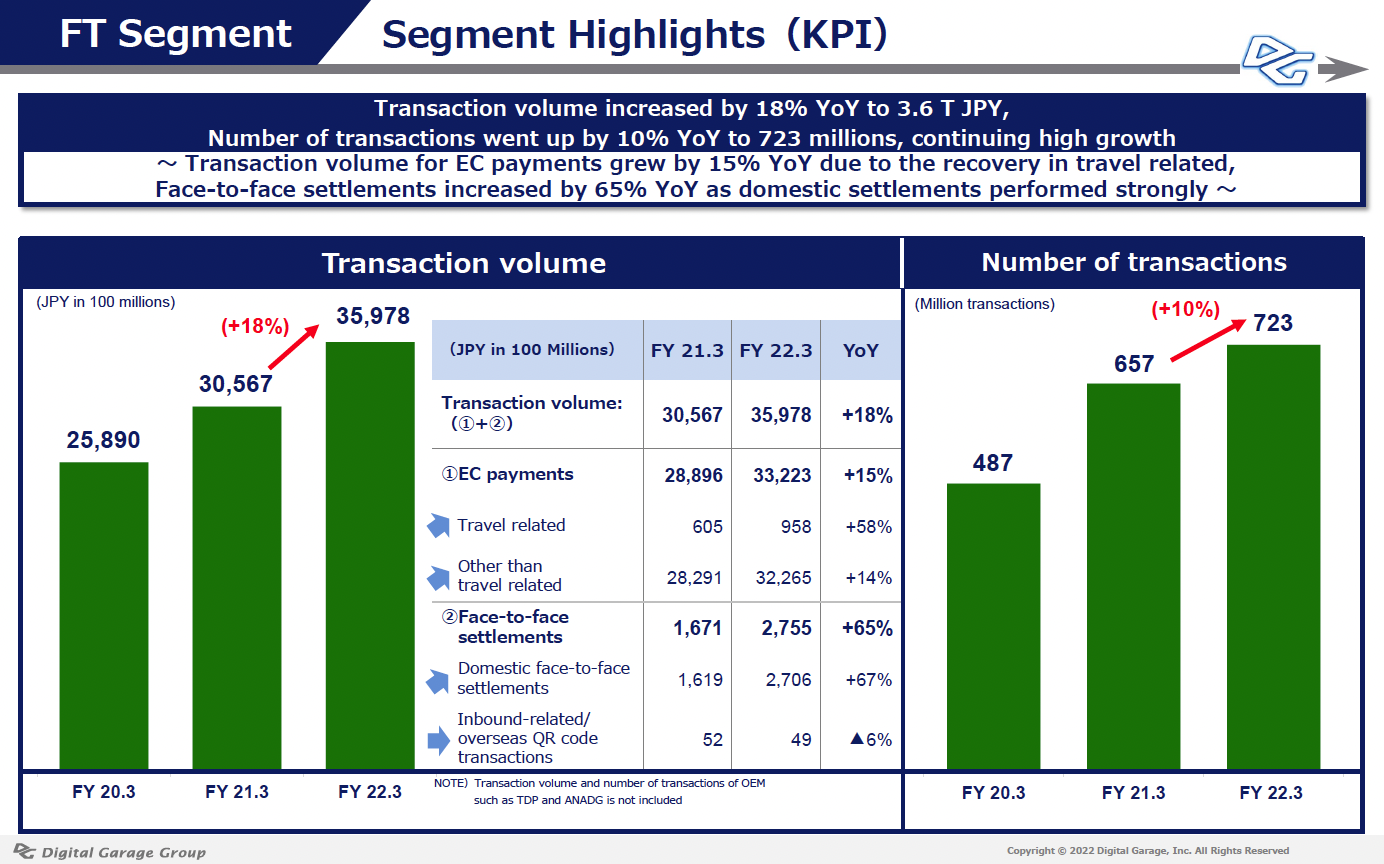 <MT>Marketing Technology Segment
~ Digital advertisement volume of financial related steadily increased by 11% YoY ~
In the MT segment, revenue for FY 22.3 was 13.031 billion JPY (down 0.1% YoY) and profit before tax was 883 million JPY (up 20.2% YoY). Advertisement volume of our mainstay digital ads increased steadily to 30.2 billion yen (up 4% YoY), and in particular, advertisement volume of financial-related ads such as credit cards, which is our main FT-linked area, grew steadily to 17.7 billion yen (up 11% YoY). At the same time, revenue was flat due to a review of the focus industries in the digital ads in line with changes in the business environment. In addition, profits increased by absorbing the cost increase due to upfront investment in the development of a new DX recurring business that utilizes data, which is a next-generation business.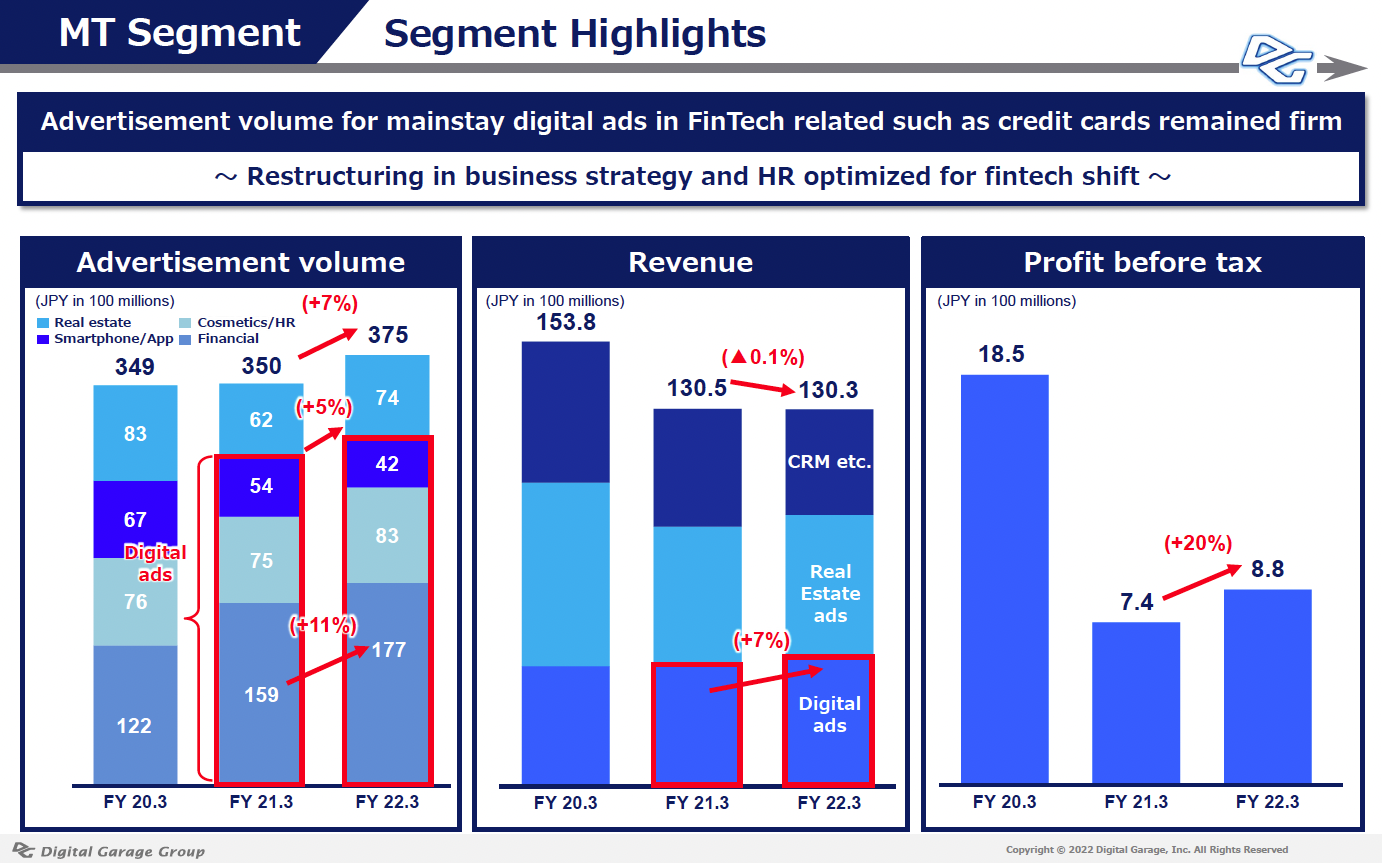 <IT>Incubation Technology Segment
~ Successful global investment strategy throughout the year, achieving significant growth in fair value of investees ~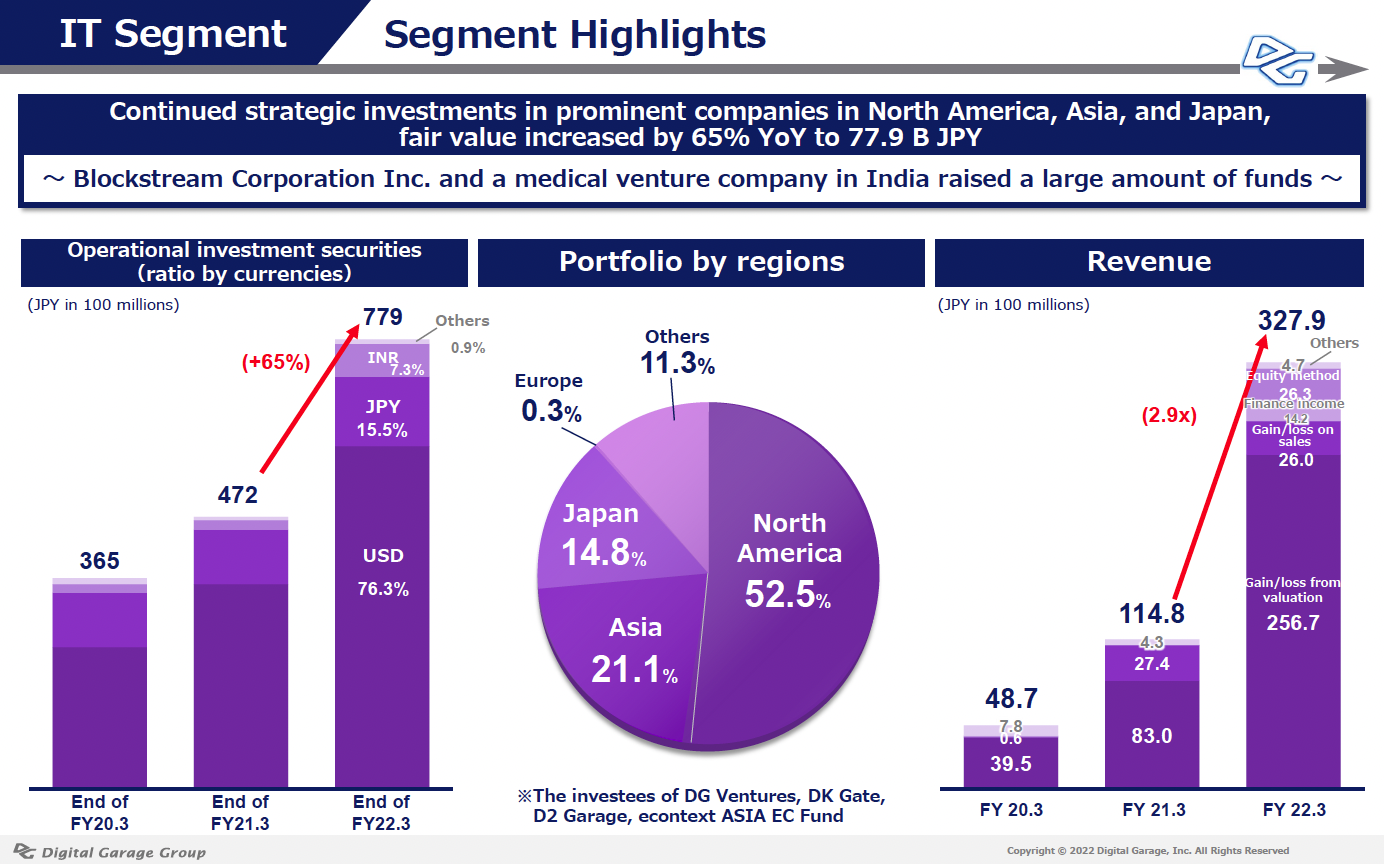 In the IT segment, revenue for FY 22.3 was 32.787 billion JPY (up 185.6% YoY) and profit before tax was 31.215 billion JPY (up 204.1% YoY).
Quarterly profit before tax was 3.636 billion JPY in 1Q (April-June), 11.886 billion JPY in 2Q (July-September), Blockstream Corporation Inc. of the United States posted a large fair value gain due to a large-scale financing of 210 million dollars, 4.593 billion JPY in 3Q (October-December) and 11.100 billion JPY in 4Q (January-March), the fair value of the investment portfolio increased throughout this year. The balance of operational investment securities increased significantly by 65% from the end of the previous fiscal year to 77.9 billion JPY.
Please see the slide below.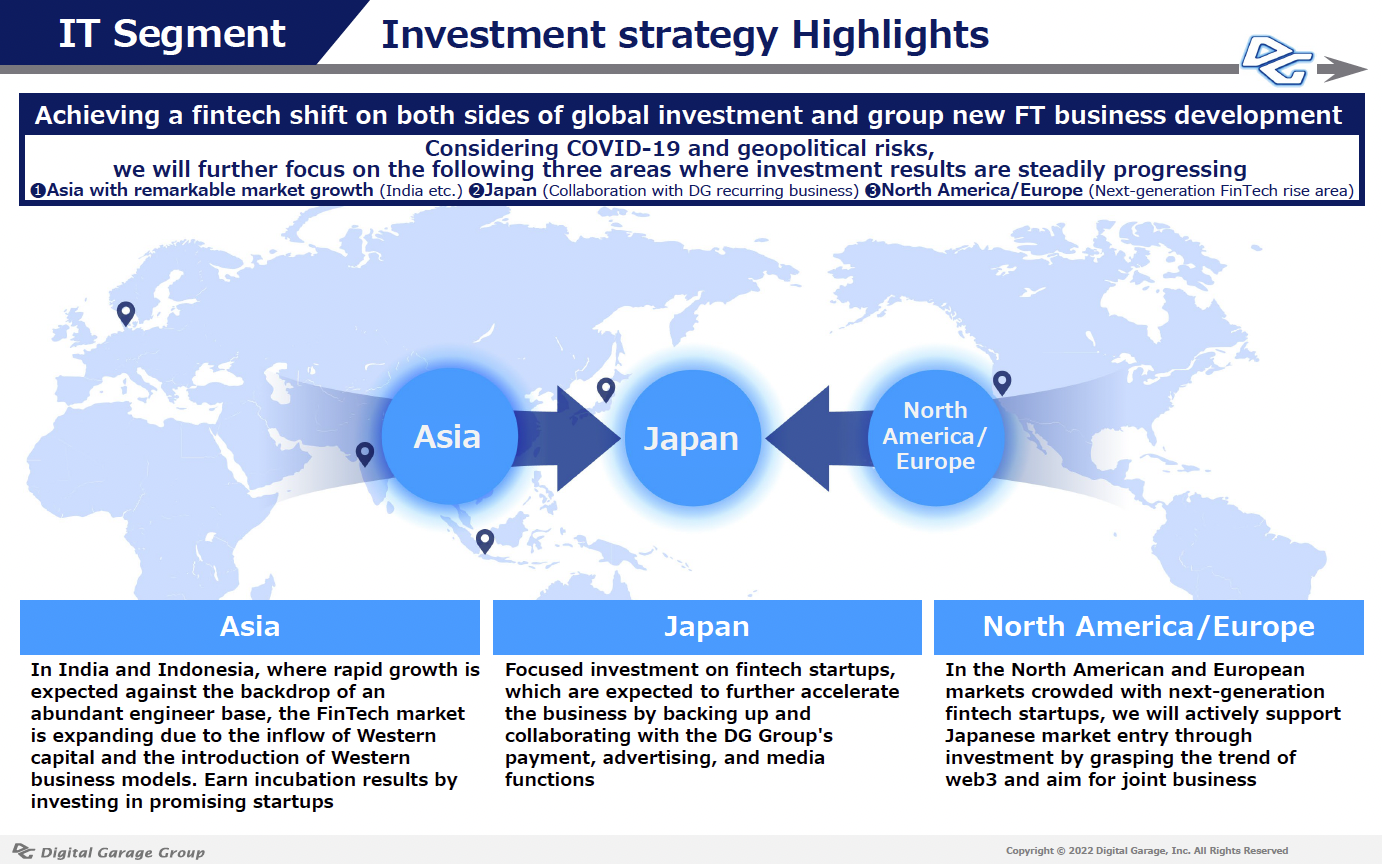 As a continuous investment strategy, we will consider changes in COVID-19 and geopolitical risks, and focus on the following three areas; 1) Asia with remarkable market growth (India and others), 2) Japan (cooperation with DG recurring business), 3) North America and Europe (the rising area of next-generation Fintech).
In addition to mere global investment, we will continue our ambidextrous investment strategy by strategically collaborating with domestic and overseas Fintech-related companies that can link with payments and data, using our FT segment as a platform. The pipeline of the three priority areas that we have already invested in is extremely substantial, and the global DX trend and web3 trend are joined by Fintech-related companies that are accelerating, forming a multi-layered next-generation portfolio.
<LTI>Long-term Incubation Segment
~ Kakaku.com is on a recovery trend ~
In the LTI segment, revenue for FY 22.3 was 4.567 billion JPY (down 23.0% YoY) and profit before tax was 1.380 billion JPY (down 48.0% YoY).
Kakaku.com, Inc., which is an equity-method affiliate, is on a recovery trend from COVID-19 impact. (Please see Kakaku.com, Inc.'s financial results)
On the other hand, revenue and profit before tax decreased due to the transfer of the U.S. subsidiary, New Context Services, Inc., business in the previous year and impairment of the subsidiary, Academie Du Vin Co., Ltd., in the current fiscal year etc.
On the other hand, in this segment, we have also started businesses that are likely to be the eyes of the next-generation Japanese DX typhoon in the medium to long term, such as the crypto assets business area and the digital health area.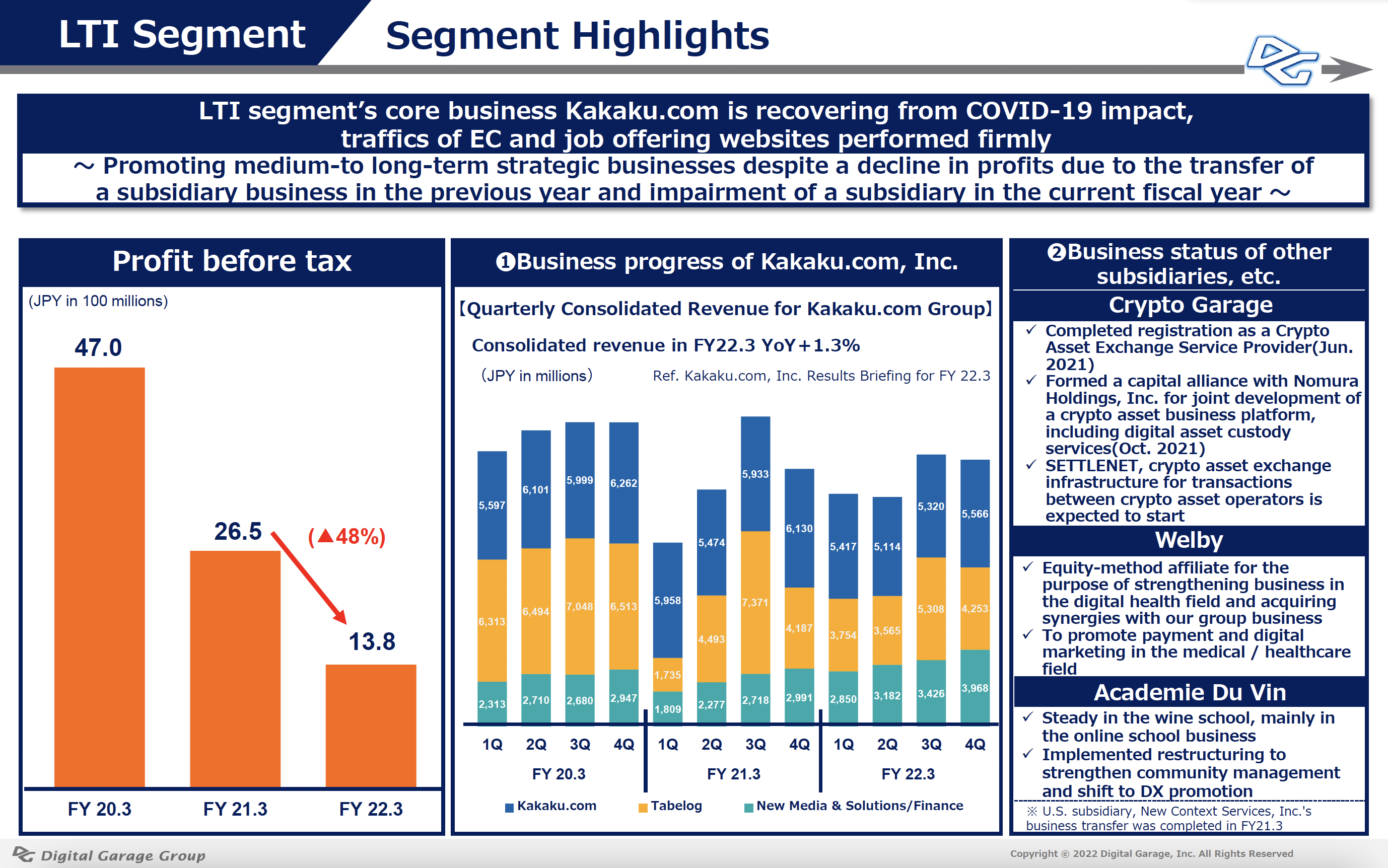 Ⅱ. Management Strategy from the New Fiscal Year to Accelerate the Group Strategy, "DG FinTech Shift"
〜Launched a new strategy, "Beyond 1000," for growth over the next three years〜
The Digital Garage Group's scale of operations has grown to approximately 1,000 employees, and Kakaku.com, a group company, has grown steadily as a similarly sized company. The issues that we as a public company must address are changing with the times, such as the shift to prime markets and changes in global investment, diversity in management as a global company, and ESG initiatives. At the same time, the evolution of technology is also showing signs that the great swell of web3 will change many things.
In line with these changes in the business environment and the company's growth, we think the need for a management style that can be aligned with the external stakeholders of shareholders, partners, and government, as well as the internal stakeholders of the company and employees. Therefore, we set a new slogan, "Beyond 1000," for the next three years of growth, keeping in mind the spirit of the company's founding. Based on FT, which has grown to become one of the largest PSPs in Japan, this slogan is centered on the group strategy "DG FinTech Shift," which aims to evolve into group management that can contribute to the growth of the entire DG group while each segment cooperates in a data-driven approach.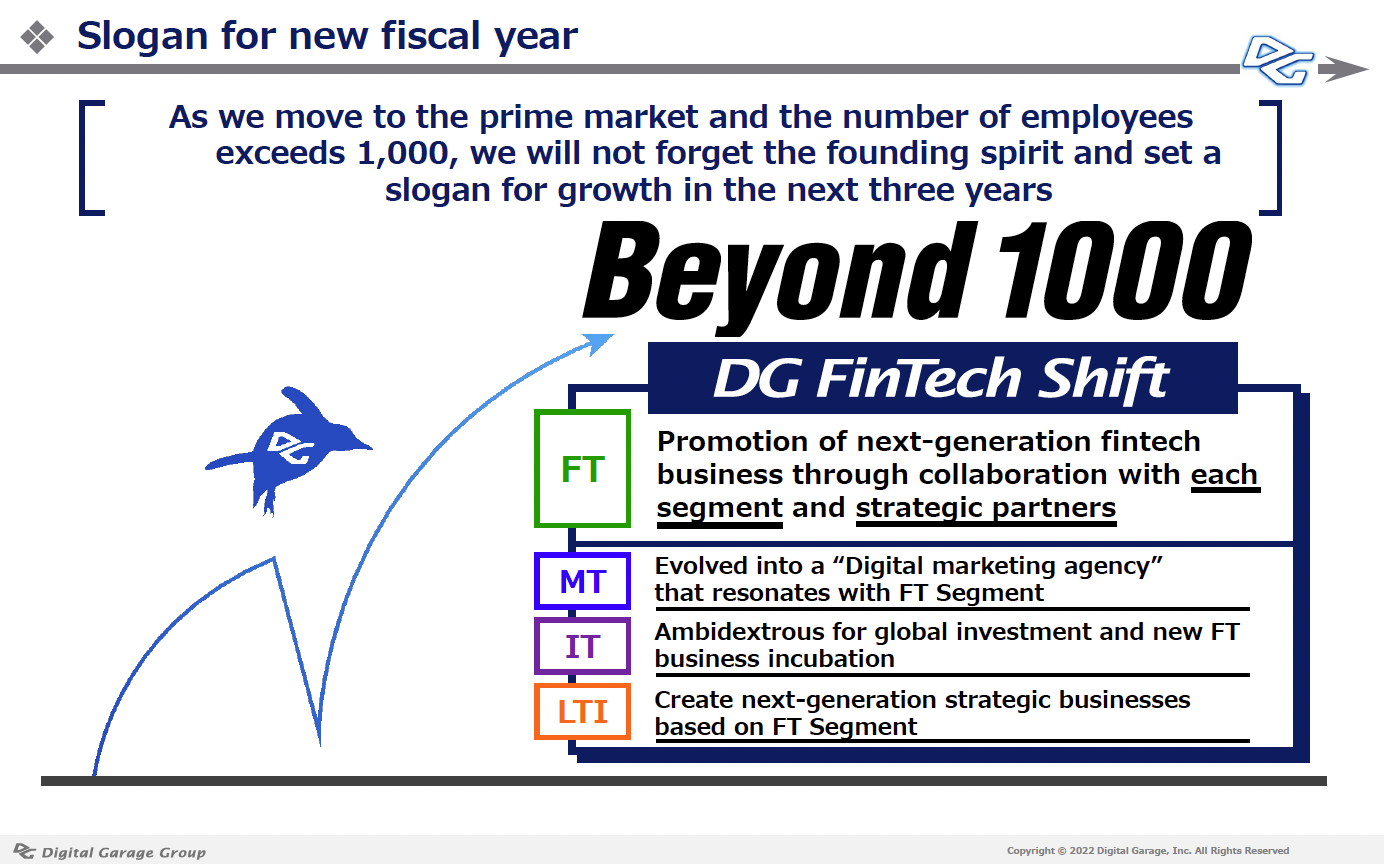 In addition, we have begun running our new fiscal year with two management concepts: [I] Ambidexterity Management and [II] New Architect Design. In [I]Ambidexerity Management, there are two aspects, "defense, deepening existing businesses" and "offense, creating new businesses." We will promote this with the First Penguin Spirit without forgetting our original intention. In [II] New Architect Design, Joichi Ito, Co-Founder, Board member, and Senior Managing Executive Officer and Chief Architect of DG, who has worked with DG in the development of the Internet from Web1.0, Web2.0, and web3 since its inception, will play a central role in designing the next generation of digital architects with an eye on the web3 and open-source era to contribute to the global society of the future.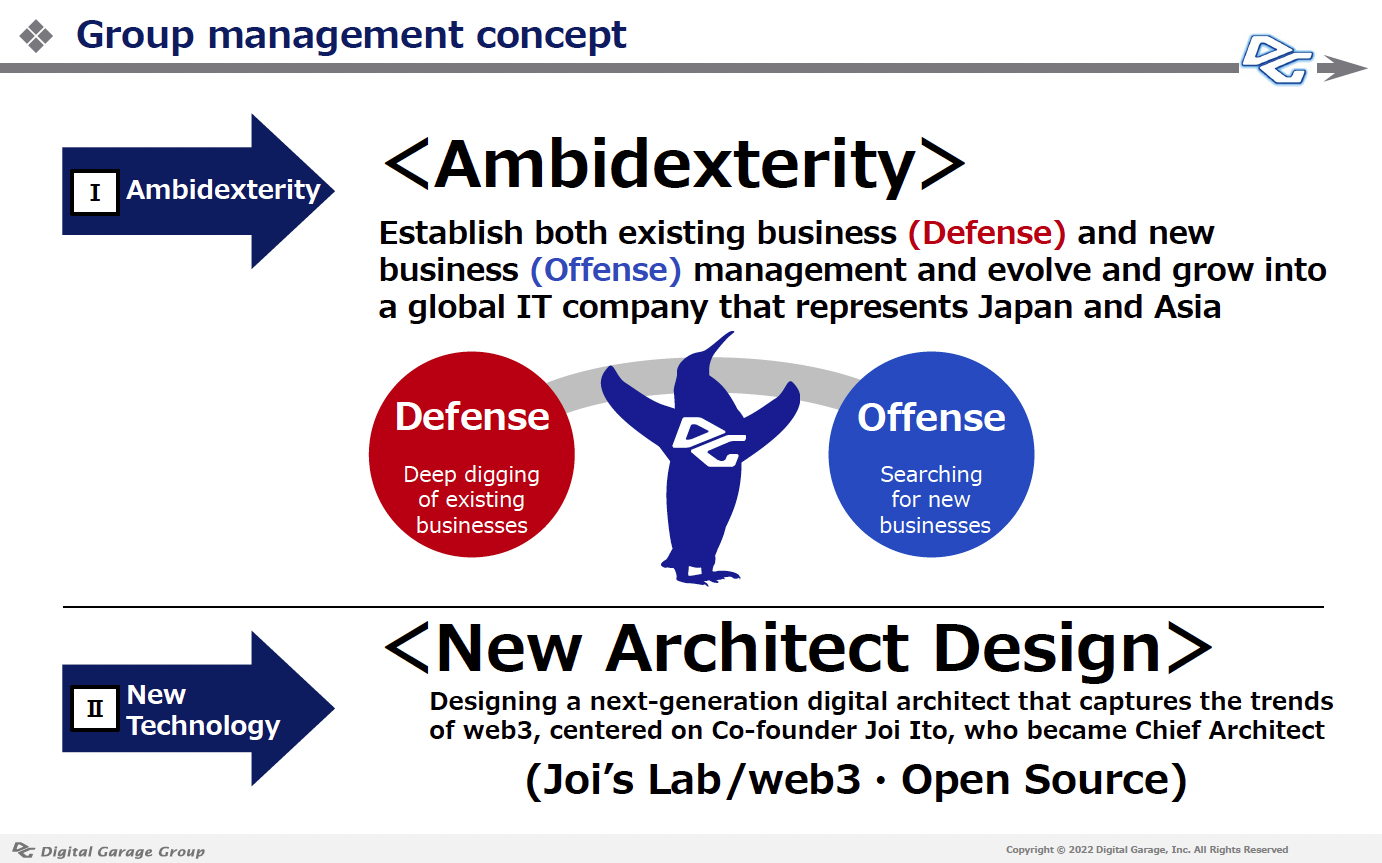 For information dissemination and networking for [II] New Architect Design, the following initiatives are being accelerated with Joichi Ito as navigator.
"Joi Ito's Podcast – Henkaku eno Michi" features web3, NFT, and other topics. The response to this podcast from both inside and outside of Japan has been far more enthusiastic than we could have hoped for. In addition, the TV program "Earthshot," delves into the latest technologies that will revolutionize society in the future, such as web3 and NFT, is now airing on BS TV TOKYO.
In June, he will publish "Technology ga yosoku suru Mirai (Technology Predicts the Future)." It is no exaggeration to call this book the bible of web3, mentioning about the transformation that cutting-edge technologies such as web3, Metaverse, and NFT are bringing to our society, economy, and personal way of being.
Also, he will host THE NEW CONTEXT CONFERENCE 2022 on June 14, 2022. This conference is aimed at those interested in cutting-edge internet technology and the businesses that emerge from it. This will be the twenty-second conference since the first one held in 2005.
This year's theme will be "web3 Summer Gathering ~Catch the Wave of Future Innovation Technology~". We will discuss the future of decentralized society and technology realized by web3 with experts in the web3 industry, including Mr. Yat Siu, Co-Founder and CEO of Animoca Brands, which has made investments in more than 150 Metaverse and NFT companies and projects worldwide.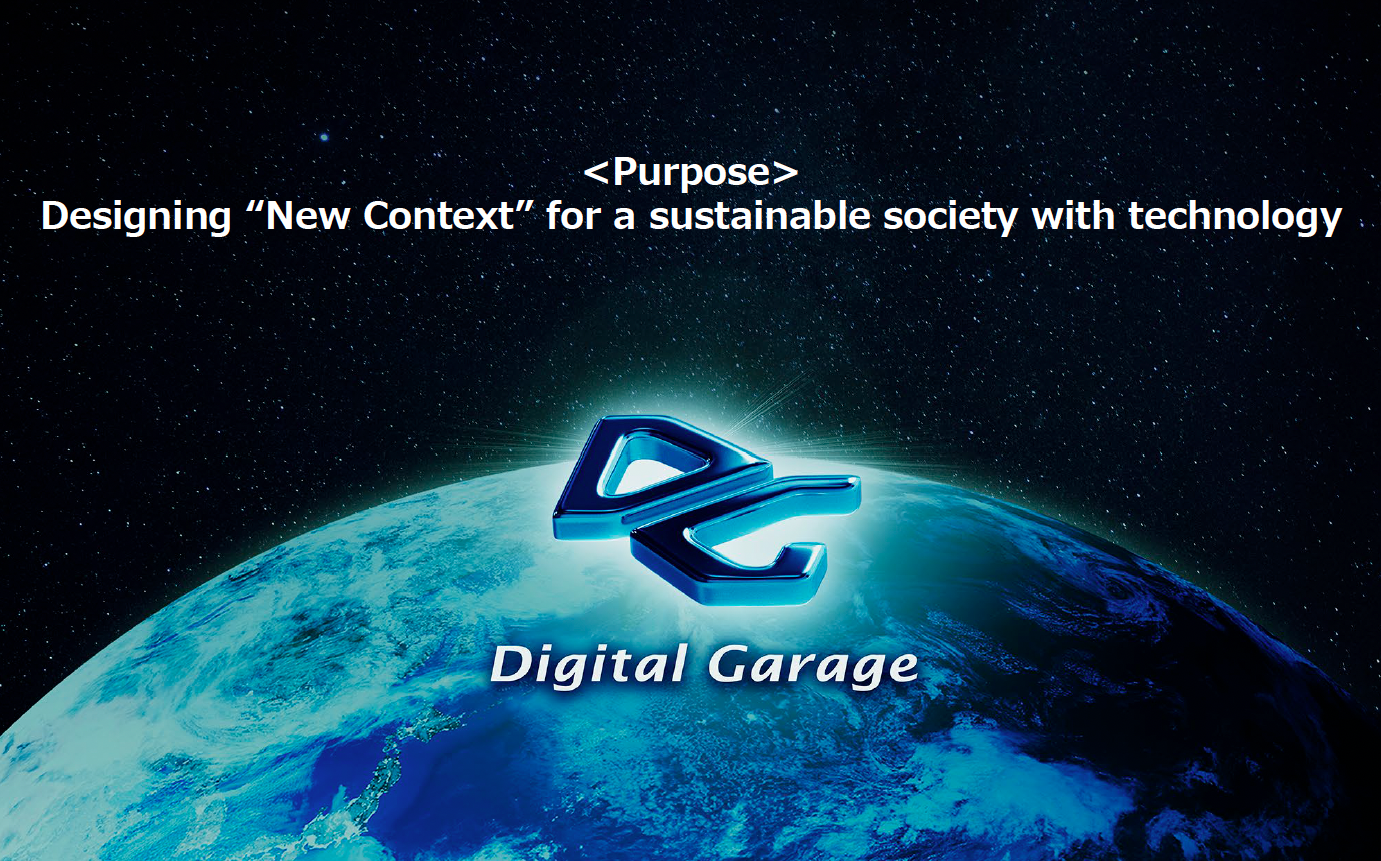 To conclude, in this uncertain social climate, where the future is difficult to predict due to geopolitical risks in addition to the prolonged COVID-19 pandemic, we will continue to contribute to global society, keeping in mind our corporate mission of "Designing 'New Context' for a sustainable society with technology."
We look forward to the continued support and encouragement of our stakeholders, including our shareholders.