Digital Garage, Kakaku.com, and Credit Saison establish open innovation-based R&D organization "DG Lab"
〜Preparing for 2020 with Blockchain, Artificial Intelligence, VR/AR, and more to create the next generation of businesses〜
Digital Garage, Inc. (TSE first section: 4819, HQ: Tokyo, CEO: Kaoru Hayashi, DG), Kakaku.com, Inc. (TSE first section: 2371, HQ: Tokyo, PRES: Shonosuke Hata, Kakaku), and Credit Saison Co.,Ltd. (TSE first section: 8253, HQ: Tokyo, CEO: Hiroshi Rinno, Credit Saison) have jointly established "DG Lab," (http://www.dglab.com) an open innovation-based R&D organization which strives to create businesses that will change and benefit the world. Today, in anticipation of the 2020 Olympics in Tokyo, DG Lab will start phase one of this organization.
With DG's history of creating cutting-edge businesses since the dawn of the Internet era, Kakaku.com's 160,000,000 monthly unique users from their "Kakaku.com" and "Tabelog," and Credit Saison's customer base of 35,000,000 users and diverse alliance network, the three companies can function as the core partners for DG Lab's operation. Using these unique traits to their advantage, DG Lab plans for its research to be paired with global businesses. In order for DG Lab to have a global perspective, it will have its bases in Tokyo, San Francisco, New York, and Boston.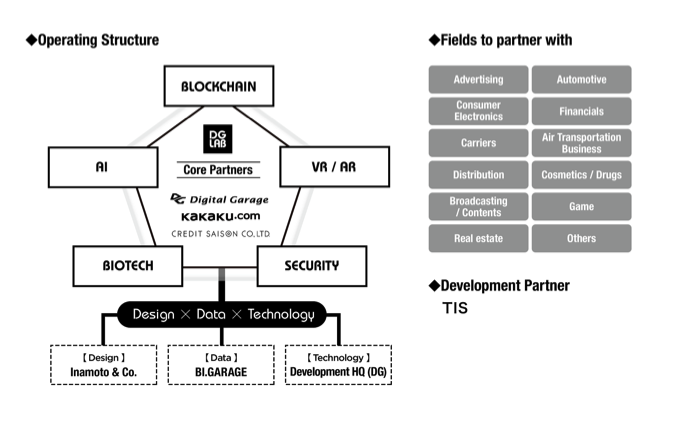 Through the medium of the Internet, the wave of open innovation has overflowed into fields such as hardware and biotechnology, which leads to accelerating developments in various fields. In such circumstance, rather than attempting to develop its own technology and turn it into a business as done in the past, have decided to reach out to those with most advanced technology in its field to collaborate together with on projects in various fields. We believe that this open platform-type will be most flexible in this wave of innovation.
With "Design x Data x Technology", DG Lab will focus its resources on five main areas: Blockchain, VR/AR, AI, Security, and Biotechnology. DG Lab plans to work with companies abroad to create a base for new products or services from its research. By utilizing technologies and advancements from its R&D work, DG Lab will implement them into each respective company as seen best fit. By gathering influential businesses from various segments such as advertisements, cars, major home appliances, communication carriers, broadcasting/contents, and real estate, it hopes it to make open innovation a reality.
From its five focus areas, DG Lab intends to start focus R&D efforts in Blockchain and Artificial Intelligence. Along with a recently DG invested company (February 2016), Blockstream, a company extending capabilities of Blockchain technology, continues its research and partnerships. Blockstream has many technical experts at the forefront of Bitcoin development in its team, and is renowned for carrying out advanced product development in order for Blockchains, the fundamental technology behind cryptocurrencies and bitcoins, to be used for a variety of industries and applications. While obtaining technical support from Blockstream, DG Lab will develop a generic smart contrast technology that will utilize Blockchain and hold functions such as points and values for credit cards, exchange systems for virtual currency, high-in-demand local currency, platforms for electronic money, contract execution and value transfer, and automation of rights licensing.
Similar to Credit Saison, we have many core partners working towards the research, development, and application of these ideas. Bank of Yokohama is aiming to contribute to the local growth by developing an innovative service. Parco plans to expand its department stores throughout Japan and create a new culture. Resona Bank spearheaded and successfully implemented a 24-hour payment system. DG Lab will examine each project's potential and work with fields within and outside of DG Lab. DG Lab is also working with Bengo4.com and iRidge with its development of Blockchain-related projects.
For Artificial Intelligence, we will develop the application of big-data-related services that are provided by BI.Garage, a joint-venture with Dentsu. Specifically, we plan to use Credit Saison's purchase and payment data, Kakaku.com's web-related behavioral data, and Dentsu's advertisement-related data, meld the data together, use Artificial Intelligence to analyze the data, and develop services and businesses based on the results. With the products from the Artificial Intelligence's analysis, we can apply them to the next generation of interactive agents. With VR/AR related projects, we will work with Dentsu ScienceJam, which was co-founded with Dentsu to make new businesses using research results of most advanced science and technology, to create new projects using Artificial Reality that bring new experiences to users by 2020.
DG Lab will also collaborate with Sony Computer Science Laboratories, which holds many cutting edge technologies, and Kondansha, which will launch cutting-edge global businesses with contents that represent Japan such as manga and fashion. In the stock field, Daiwa Securities Group, Inc will partner with DG Lab for Blockchain, Artificial Intelligence, and Security projects.
In order to make DG Lab's key concept "Design x Data x Technology" into a reality, Rei Inamoto from Inamoto & Co. will serve as the creative advisor, supervisor, and liaison to the global creators' network. DG Lab's technical development will be supported by its partner business TIS Inc., and it will strive to create a next generation hybridization of TIS's payment and card solutions. "We are excited to contribute as a technology development partner as we believe that this endeavor is a great representative of the fast technical development in fields like FinTech." (Toru Kuwano, President, TIS)
*We will separately announce partnered projects based on its progress.
Since DG will be co-sponsoring with DG Lab, we will be hosting THE NEW CONTEXT CONFERENCE 2016 TOKYO on 7/5/2016 and 7/6/2016.
The official conference site: http://ncc.garage.co.jp/en/
<Quotes from the leaders of operating companies>

"It has been 20 years since the popularization of the Internet, and there are waves of technological innovation affecting difference fields. Because we are in an era like such, it is important for an open innovation-type R&D organization like DG Lab to connect with all kinds of businesses representing various fields to create a global platform that will surpass the 2020 Olympics. " (Kaoru Hayashi, President and Group CEO, Digital Garage)
"Technology is becoming increasingly multi-disciplinary and the speed at which R&D and Science impact technology is increasing. So that means a company the size of DG will need to operate an open platform-type R&D organization bringing science closer to technology and collaborating with domain experts and established companies in a wide network of fields." (Joi Ito, Co-founder and Director, Digital Garage, Director of MIT Media Lab)
"Through the cooperation of DG Lab, I would like to create a new service that will follow the fast changing user's lifestyle and become something that will be a pillar like Kakaku.com and Tabelog." (Shonosuke Hata, President, Kakaku.com)
"I believe that technological evolution is something that will change financial settlement and consumption style, which will transform business itself. Through the participation in cutting-edge technological research, open innovation will accelerate, and I hope that will change the current business model." (Hiroshi Rinno, President and CEO, Credit Saison)
---