Japan's first preferred point service for cross-border EC malls aimed at members of "HAPPY GO", Taiwan's largest multi-store loyalty program, is launched
Digital Garage, Inc. (TSE first section: 4819, HQ: Tokyo, Representative Director, President Executive Officer and Group CEO: Kaoru Hayashi, DG) and Ding Ding Integrated Marketing Service Co. Ltd. (HQ: Taiwan, President: Jin-Lin Liang, DDIM) have jointly developed and launched on January 19, 2017 a preferred point service for cross-border EC malls, "HAPPY GO (Point Online Mall)", (hereinafter: HAPPY GO Mall) for the members of "HAPPY GO", a multi-store loyalty program that DDIM has deployed in Taiwan.

Approximately 14 million people in Taiwan are registered with "HAPPY GO", which is over half of Taiwan's population of 23.37 million people.*1 It is Taiwan's biggest multi-store loyalty program with over 16,000 affiliated stores such as major department stores and convenience stores. Since 2015, DG and DDIM have been developing inbound measures to offer points to HAPPY GO members when making purchases at stores during visits to Japan, and this time points will be awarded for purchases from Taiwan for EC shops in Japan, which is a preferred point type of cross-border EC mall called the HAPPY GO Mall. When this service is launched, it will be listed on 9 different sites, including Japan's largest EC stores and hotel booking sites, and the sales volume in the first year is expected to be about 800 million JPY.
HAPPY GO Mall will promote the use of cross-border EC by awarding points according to the purchase amount at EC stores and the reservation contract amount for hotel booking sites. In addition, because Taiwanese customers have had their identity verified for member registration, there is high recognition and safety for HAPPY GO Mall. Japanese EC operators who open stores have a reduced risk of entering the cross-border EC market and a high sales promotion effect can be anticipated. DG actively supports the entry of EC businesses into the cross-border EC market through HAPPY GO Mall.
The number of foreign visitors to Japan has been increasing in recent years, with the 3rd largest number, approximately 3.67 million, coming from Taiwan.*2 The consumer behavior for these visitors shows that besides in-store purchases in Japan, that they continue to make purchases after returning to Taiwan and that there is an expanding trend of purchasing from Japanese EC markets from Taiwan.*3 Against this backdrop, in response to the needs of HAPPY GO users, which are expected to continue to increase, DG plans to expand services so that customers can earn HAPPY GO points within Japan in a variety of contexts.
Going forward, DG will actively collaborate with Asian companies, support various marketing measures to promote overseas expansion and attract customers in Japan, and develop diversified inbound cross-border EC business.
HAPPY GO Mall: http://www.happygoonlineshop.jp/
*1. Source: Data on Taiwan from the Ministry of Foreign Affairs website
*2. Source: Japan National Tourism Organization (JNTO), data on number of visitors to Japan, by country/by purpose of visit for 2015.
*3. Source: Market Intelligence & Consulting Institute (MIC) in Taiwan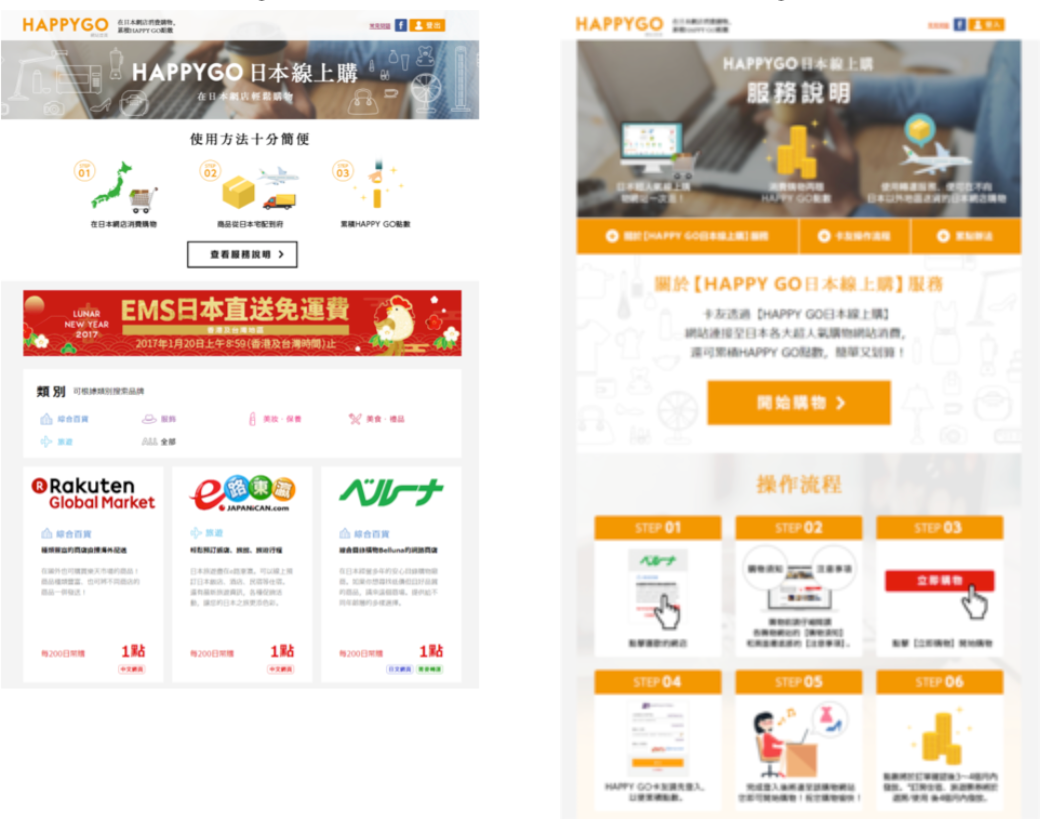 [Press Inquiries]
Ai Abe, Rie Tanaka
Marketing Technology Segment, Digital Garage, Inc..
E-mail: dgmt-pr@garage.co.jp
Tel: 03-6367-1317 / 03-6371-1849
---