Data Science Business to Be Launched by JV
Next Generation Ad Marketing in Collaboration with Dentsu, cci and ADK
Digital Garage, Inc. (TSE JASDAQ 4819, Head Office: Shibuya-ku, Tokyo, Japan, President & Group CEO: Kaoru Hayashi, hereinafter "DG"), Dentsu Inc. (hereinafter "Dentsu"), cyber communications inc. (hereinafter "cci") and ASATSU-DK INC. (hereinafter "ADK") are jointly launching data science business in order to optimize corporate marketing.
Specifically, the joint venture (JV) seeks to optimize customer communications in corporate marketing by integrating, processing and analyzing 1) settlement data that has been accumulated by DG, 2) purchase behavior data from Kakaku.com, Inc. of the DG Group, and 3) ad-related data retained by DG's major shareholder, the Dentsu Group, based on the philosophy that "data creates new marketing context." JV also creates new value from the customer data held by client companies.
Today, in preparation of this business launch, DG, Dentsu, cci and ADK changed the corporate name of the JV established by the four companies in August 2006, "CGM Marketing, Inc." (Head Office: Shibuya-ku, Tokyo, Japan, President: Kaoru Hayashi, hereinafter "CGMM") to BI.Garage, Inc. CGMM has been developing business as an ad business pioneer, taking advantage of information acquired from consumers in Japan, and focusing on media representative businesses targeting blogs, Twitter and other social media. BI.Garage will continue to work towards further business expansion with this accumulated knowledge under the new corporate name.
The new corporate name, "BI.Garage", refers to "Business Intelligence," which strategically uses data in business. BI.Garage's mission is to provide its client companies with "Serendipity" (recognition/unexpected luck) which has yet to be discovered, by analyzing various data available to the group companies and strategic partners from a broad range of perspectives. In this way, BI.Garage strives to expand business and develop the industry, proposing an ad marketing that provides support to consumers as their "strongest business partner."
"By combining Japan's largest class settlement data from the DG Group's settlement segment with consumption behavior data accumulated by Kakaku.com and data provided by the Dentsu Group and ADK, BI.Garage is determined to become Japan's representative data science business." (DG President & Group CEO: Kaoru Hayashi)
"Dentsu would like to contribute to the evolution of next-generation ad marketing by implementing its concept and methods in business intelligence." (Dentsu Executive Officer & Director of the Digital Business Division: Nobuyuki Tohya)
"We hope to create businesses which are valuable for both users and companies as a media-group supported by approx. 100 million Kakaku.com and Tabelog.com users." (Kakaku.com, Inc. President & Representative Director: Minoru Tanaka)
"It is our belief that this shift to data science business, which will further increase its importance in ad marketing, is the right choice for the JV." (DG Co-Founder, Board Director & Director of MIT Media Lab: Joichi Ito)
[Corporate Slogan]
Providing serendipity to your business
BI.Garage's mission is to logically discover value in marketing activities yet to be recognized by the company and which have only be found by accident thus far, by using data science to the full.
*Serendipity is a word coined by British author Horace Walpole in the 1700s. It refers to the ability to discover valuable things not originally sought by the seeker. Recently, the word is used to describe as unexpectedly experiencing luck and awareness.
[Corporate Logo]

[Business Framework]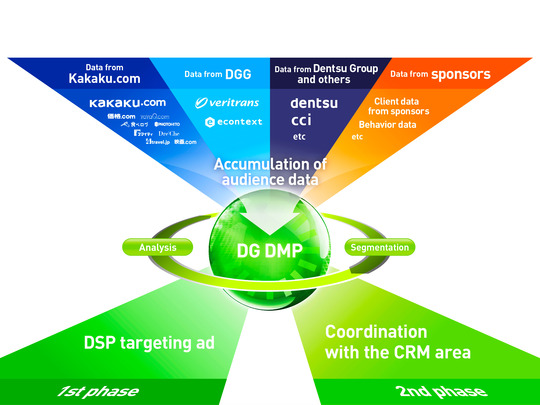 [BI.Garage Profile]
Company Name : BI.Garage, Inc.
Representative : Kaoru Hayashi, President
Head Office : Daikanyama DG Building, 3-5-7 Ebisu-Minami, Shibuya-ku, Tokyo
URL : http://bi.garage.co.jp/en/
Established : August 2006
Business area : Data science business, social media-related ad products based on audience data, and the development and marketing of Web advertising technologies
---