Digital Garage invests as lead investor in renowned creator Rei Inamoto's Business Invention Studio, Inamoto & Co.
- Creating new businesses by synchronizing design, data and technology -
Tokyo, February 2, 2016 – Digital Garage, Inc. (TSE JASDAQ: 4819, DG) has secured its position as the seed round lead investor and a member of the board in world renowned digital creator, Rei Inamoto's newly established company Inamoto & Co. (HQ: New York, CEO: Rei Inamoto).
Rei Inamoto comes from leading digital agency, AKQA, where from 2004 to 2015, contributed to the company's dramatic growth and served as Worldwide Chief Creative Officer. Most notably, overseeing the planning, launch the success in digital marketing efforts of global brands including Nike, Google, Audi, Chanel and American Express. During Inamoto's post at AKQA, the agency has also been elected "Digital Agency of the Year" from Campaign and Adweek numerous times.
The newly established, Inamoto & Co. will operate under the concept of "Business Invention Studio", where Inamoto will use his experience and knowledge to create new business opportunities with design, data and technology at its core for global brands and businesses.  Inamoto, will be joined by co-founder Rem Reynolds, former Managing Director of AKQA NY, Director of Technology: Will Turnage, former Senior Vice President of Technology at leading agency R/GA and Nathalie Torres, whom held positions at various firms, including AKQA and Digitals as a data science and business analytics will assume the position of Director of Data.
With DG as the lead investor in this round, will use DG Group's global networks (DG717: San Francisco-based incubation center, New York, Boston: MIT Media Lab), know-how in the data science field and business and Inamoto & Co.'s world class creative knowledge to create a global, incubation hybrid business. Kaoru Hayashi, Group CEO and President of DG Group explains "We are approaching an era where we should be spending costs in investment rather than marketing activities. By combining marketing activities drawn from actual data, world class data science and creativity we plan on surpassing the boundaries of global marketing by bringing in new IoT technologies such as AI (artificial intelligence), VR (virtual reality), FinTech and Incubation business in multi-faceted fields."
"In 20 years times it is said that artificial intelligence and machine learning will replace various jobs humans hold today. Under such said circumstances, artificial intelligence is unable to create new business from the ground up or act as entrepreneurs. At Inamoto & Co. with Design x Data x Technology at its core we will be creating news business that has never been done using methods that have never been used." Rei Inamoto
Henceforth, by connecting Inamoto & Co. with other DG portfolio companies, such Betaworks Studio, LLC (Head Office: New York, NY, United States, Founder & CEO: John Borthwick) who is known for their state of the art technology and business innovation, DG looks to strengthen their incubation led corporate value. In addition, looking forward to the possibility of welcoming Inamoto as guest mentor in the creativity field for its incubation program: Open Network Lab, garnered to the mentoring and support of promising startups.
About Rei Inamoto:
Rei Inamoto worked at leading digital agency, AKQA, from 2004 to September of 2015 assuming position of Worldwide Chief Creative Officer. In 2012, Inamoto was inducted into "The Hall of Achievement" by the American Advertising Federation, honoring the top young talent of the industry; additionally has been named in Creativity Magazine's annual "Creativity 50" as well as "the Top 25 Most Creative People in Advertising" in Forbes Magazine. In addition to being awarded top recognition at Cannes Lions, New York Art Directors Club to name a few. In 2015 October, he established Inamoto & Co. Currently based in New York.
About Inamoto & Co.
Company Name: Inamoto & Co.
Representatives: CEO Rei Inamoto / co-founder: Rem Reynolds
Headquarter: New York, USA
Business Description: Product and Business Development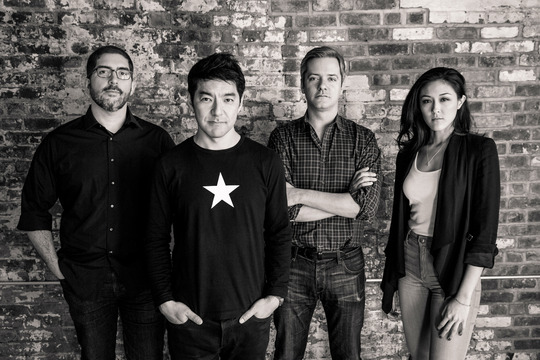 Inamoto & Co leadership: (L-R) Will Turnage, Rei Inamoto, Rem Reynolds and Nathalie Torres
Contact Details for Inamoto & Co.
Inamoto & Co. Japan Office
Business Representative: Reina Morise
Email: inamoto@garage.co.jp
---