Digital Garage and BEENOS join for investment operation in India
〜Joint investment made in Droom, operator of India's largest auto sales marketplace〜
Digital Garage, Inc. (TSE first section: 4819, HQ: Tokyo, CEO: Kaoru Hayashi, DG) and BEENOS Inc. (TSE Mothers: 3328, HQ: Tokyo; President and Group CEO: Shota Naoi, BEENOS), via their respective wholly-owned subsidiaries, DG Incubation, Inc. (HQ: Tokyo, President and CEO: Yasuyuki Rokuyata, DGI) and BEENOS Asia Pte, Ltd. (HQ: Singapore, BEENOS Asia), have jointly invested in Droom Technology Pvt. Ltd. (HQ: Gurgaon, Founder: Sandeep Aggarwal, Droom), which operates Droom, India's largest online marketplace for new and used automobiles. On May 30, 2016, with the goal of strengthening ties with BEENOS, DG acquired 267,000 of BEENOS's outstanding shares and is now its principal shareholder, holding over 10% of the company's stock. The recent joint investment in Droom is positioned as the first collaboration between the two companies following the strengthening of their relationship.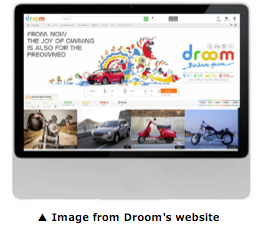 Droom is a company that operates India's largest online marketplace where both new and used automobiles (including two-wheelers) can be bought and sold. The company has achieved drastic growth by being one of the first to focus on mobile Internet access, which is much more widespread than computer-based Internet access in India. Currently, approximately 47,000 auto dealerships use Droom, roughly 25,000 two- and four-wheel vehicles are available for purchase, and transactions totaling roughly JPY 1.3 billion (approx. USD 12 million) are completed each month. In addition, the company's dedicated mobile app has been downloaded approximately three million times in total*. With the recent financial arrangement, Droom aims to further boost its usability, make an up-front investment in systems and personnel in order to improve its service framework, establish a commanding position within India, and expand into international operations.
*Performance values are accurate as of April 2016.
Following investments in Japan and the United States, the DG Group has spent the past few years strengthening its investment activities within Asia. In India, it joined with BEENOS Asia in 2013 to invest in online payment giant Citrus Pay via econtext ASIA, a DG Group subsidiary. Since 2015, it has become an investor in several promising startups that are developing services in several of India's rapidly expanding markets, including healthcare, real estate, and engineer recruitment. In the same manner, the company gauged that rapid growth could be expected from Droom's pursuits geared at India's automobile market, which has continually expanded in conjunction with the country's economic growth. Coinciding with Droom's future international development, collaboration is expected with Southeast Asian online payment services in which DG Group has a hand. "It is simply amazing how Sandeep Aggarwal, the founder of Droom, and his team have developed such a large-scale operation in such a short amount of time. Using the funds procured by this capital increase along with the company's unique business model, which has the potential to revolutionize the auto sales market in a big way, I am certain that Droom's operations will continue to experience explosive growth" (Kaoru Hayashi, DG President and Group CEO).
BEENOS has offered Droom financial and strategic support since its inception in July 2014. There are numerous cases of online auto sales marketplaces finding success in Japan, Europe, and the U.S. as specialized marketplaces, and with the abrupt expansion of the Indian Internet market, this is an area of business that also shows promise in India, where the prevalence of automobiles is certain to gain ground along with the growth of the economy. BEENOS has funded Droom since it was first founded, and the recent investment is an additional Series B contribution. BEENOS has turned its attention to India's Internet market, investing in several Indian ventures, including B2C online marketplace ShopClues in January 2013, online payment service Citrus Pay in November 2013, online store solution KartRocket in October 2014, price comparison service Buyhatke in April 2015, mobile fashion marketplace Voonik in December 2015, and C2C real estate marketplace NoBroker in February 2016. Through these investment activities, BEENOS has contributed to the growth of each enterprise.
By continuing to work together with a focus on investing in start-up enterprises in India and throughout Asia, DG and BEENOS will keep pursuing the creation of new enterprises through the cultivation of entrepreneurs and the cross-cutting collection of industry know-how in newly emerging markets.
[Droom Overview]
(1) Company name: Droom Technology Pvt. Ltd.
(2) Representative (Founder & CEO): Sandeep Aggarwal
(3) Location of headquarters: Gurgaon
(4) Date established: April 2014
(5) Website: http://droom.in/
[DG Overview]
(1) Company name: Digital Garage, Inc. (TSE 1st Section: 4819)
(2) Representative: Kaoru Hayashi, President and Group CEO
(3) Location of headquarters: DG Bldg., 3-5-7 Ebisu Minami, Shibuya-ku, Tokyo
(4) Date established: August 1995
(5) Stock capitalization: 7,435 million yen
[BEENOS Overview]
(1) Company name: BEENOS Inc. (TSE Mothers: 3328)
(2) Representative: Shota Naoi, President and Group CEO
(3) Location of headquarters: 4-7-35 Kita-shinagawa, Shinagawa-ku, Tokyo
(4) Date established: November 1999
(5) Stock capitalization: 2,725 million yen
---