Digital Garage, Fukuoka D.C., and Fukuoka Growth Next Launch the Smart City Incubation Program, "Open Network Lab FUKUOKA"
~Verification in Fukuoka to Actualize a Smart City with Tech Startups~
Digital Garage, Inc. (TSE first section: 4819; HQ: Tokyo; Representative Director, President Executive Officer and Group CEO: Kaoru Hayashi; DG), Fukuoka D.C. (Chairman: Yutaka Aso; FDC), and Fukuoka Growth Next (Secretary General: Yuichiro Uchida; FGN) launch "Open Network Lab FUKUOKA (https://fukuoka.onlab.jp/en/)" -Smart East Challenge (Onlab FUKUOKA), a smart city incubation program, in May 31, 2019. The application for the program is open for tech startups that aim for actualizing a smart city through collaboration with several renowned partner companies, with verifications carried out in the Fukuoka region.

【Open Network Lab FUKUOKA Introduction Movie】

Fukuoka City was designated a Global Foundation and Job Creation Specific District in May 2014. The city has actively worked to support startups, including Fukuoka City Startup Cafe opened in October 2014 to encourage consultations and communication among aspiring entrepreneurs. As a result, Fukuoka City has a high new business entry rate (7.65% in FY2016) compared to the rest of Japan, and many businesses are being established. The Tenjin Big Bang project for creating new spaces and jobs in the Tenjin area is underway until 2024, and a crucial issue is establishing new companies in Fukuoka and drawing corporations to the city.
Since 2010, DG has cultivated more than 100 of entrepreneurial teams from over 1,200 entries to Open Network Lab, Japan's first accelerator program. To contribute to job creation and regional economic development in Fukuoka City, DG and FDC concluded an agreement in September 2017 to promote entrepreneurship and support startup business management in the Fukuoka region. This program is based at Fukuoka Growth Next (https://growth-next.com/en/), Fukuoka City's startup support facility through public-private cooperation. Innovation will be accelerated in the Fukuoka region through the joint planning and implementation of proof-of-concepts by startups and major companies, with verification at FUKUOKA Smart EAST (https://en.smartcity.fukuoka.jp/), one of Japan's largest Greenfield Smart Cities.
This program is aimed at discovering and developing services and products that provide secure, comfortable, and high-quality lifestyles and urban spaces. This includes smart buildings, smart healthcare, and public security using mobility, security, energy, and other cutting-edge technologies, as well as 3D data and other types of open data. Excellent companies in a range of fields, starting with influential enterprises based in Fukuoka, will serve as partner companies to offer startup mentoring and lectures on business expertise for planning and implementing proof-of-concepts.
DG will help Fukuoka-based startups expand overseas, and provides assistance for overseas startups to take part in this program, through its Global Incubation Stream linking Japan, the United States, Europe, and Asia. DG also plans to provide proof-of-concept and collaboration opportunities with DG Lab, an open innovation R&D organization with five focus areas (Blockchain, AI, VR/AR, Security, and BioHealth).
Going forward, DG will continue building ecosystems to support new business creation, and will keep cultivating and supporting more startups, through locally-rooted programs in collaboration with major Japanese cities like "Onlab FUKUOKA". DG will also start programs in specific domains, such as "Open Network Lab BioHealth" and "Open Network Lab Resi-Tech".
■ "Onlab FUKUOKA" fields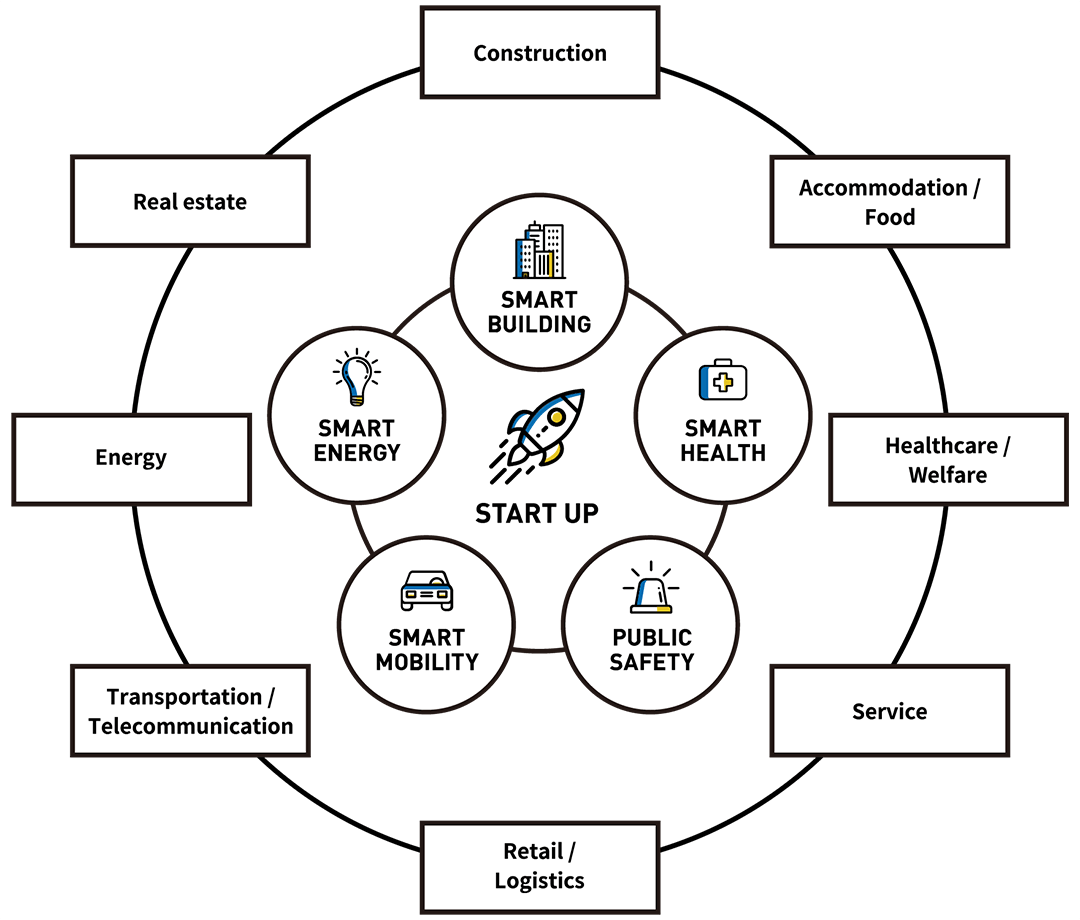 ■ Partner companies *As of May 31, 2019

【Onlab FUKUOKA outline】
・Support
– Mentoring and lectures by a diverse range of specialists
– Office space usage rights during the program
– Access to domestic and international network
– Fundraising opportunities
・Eligible candidates
– Companies with services, products, or ideas that are likely to result in cooperation and synergy with partner companies, and that can positively consider funding, business, and other types of collaboration with partner companies over the mid-to-long term
– Companies that can allocate resources to carry out co-creation initiatives with partner companies after selection
・Schedule
 Applications accepted: From May 31 (Friday) to July 8 (Monday), 2019
 Teams selected: Late July 2019 (TBD)
 Program provided: August to October 2019 (TBD)
 Demo Day*: Late October 2019 (TBD)
*Demo Day: Japanese and international investors, as well as business companies, are invited to this pitch event that is an opportunity for fundraising, joint research, and collaboration.
---