DG Financial Technology Provides Credit Card Payment Service for Japan Patent Office Counters from April 1
~Supporting to Improve Payment Convenience for Applicants as One Facet of Digitalization Policies According to the Amended Patent Act~
DG Financial Technology, Inc. (HQ: Tokyo; Representative Director, President and Co-COO: Hiroshi Shino; DGFT), a payment service provider and a subsidiary of Digital Garage, Inc. (TSE first section: 4819; HQ: Tokyo; Representative Director, President Executive Officer and Group CEO: Kaoru Hayashi; DG), provides its credit card payment service to the Japan Patent Office (JPO). This service will take credit card payments for patents and other types of fees at JPO counters from April 1, 2022.
Based on the DG Group strategy "DG FinTech Shift," DG accelerates the support for promoting cashless payment and DX of government services in the public money domain*1, including the JPO, Ministry of Finance, Ministry of Land, Infrastructure and Transport, and other government agencies through DGFT.
■ Background
The JPO started its "Paperless Project" in 1984 to digitalize administrative affairs to improve convenience for patent applicants and reduce application processing costs. It has implemented digitalization before other government ministries; for instance, the JPO became the first in the world to offer online patent applications in 1990*2. The JPO introduced DGFT's credit card payment service in 2019, when it added credit cards as a fee payment method for online applications using online patent application software.
Based on the "Act of Partial Revision of the Patent Act and Other Acts" that will be enacted on April 1, 2022, the JPO is discontinuing its advance payment system using patent revenue stamps as an effort to digitalize procedures during the COVID-19 pandemic. Instead, it will take credit card payments at counters and advance payments via bank transfer. This will help cut costs and labor for both applicants and the JPO when processing patent revenue stamps*3, which comprise 70% of patent fee income. The JPO decided to introduce DGFT's credit card payment service at its counters due to the system's stable operation for online patent applications and because no major changes are necessary for the operational process. The JPO also highly evaluated this service for its lack of initial or operating costs and the fact that no development is required to install payment terminals or automatic ticket machines.
■ About credit card payments at JPO counters
Credit card payments at JPO counters will use a QR Code and the applicant's mobile device.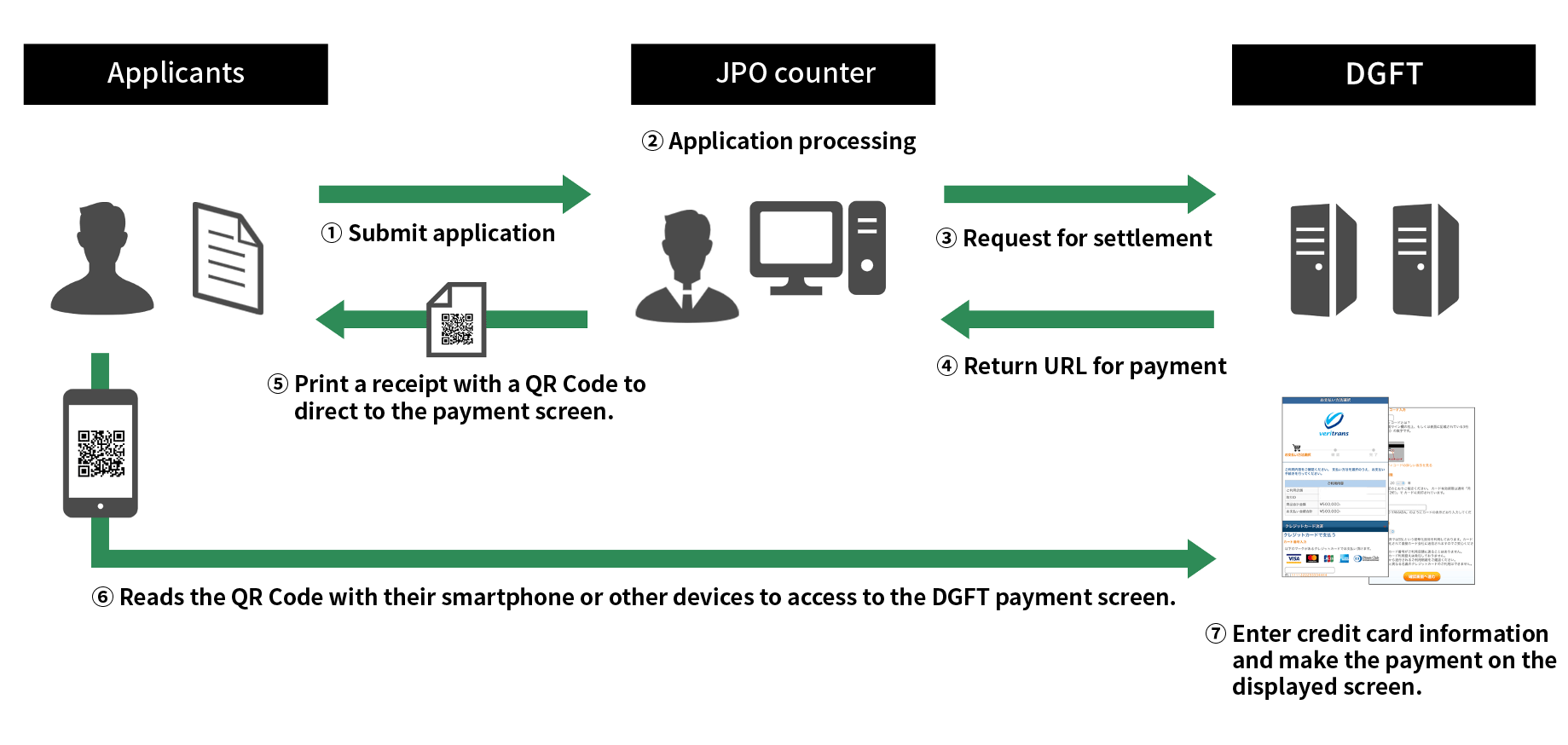 The staff member does the processing to accept the application from the applicant at the counter, then prints a receipt with a QR Code to direct the applicant to DGFT's payment screen. The applicant reads the QR Code with their smartphone or other devices to enter their credit card information and make the payment on the displayed screen. When the payment is completed, their application is accepted.
■ Future development
DGFT will continue to support the cashless promotion of the public money domain by providing safe and secure payment services. In addition, the DG Group is promoting the "DG FinTech Shift," a group strategy that integrates payments and data. With DGFT, which is active in the payment industry, at the core, DG will continue contributing to sustainable social development by creating next generation DX businesses not only with the Group but also with strategic partners in various fields.
■ About "VeriTrans4G" credit card payment service
"VeriTrans4G" is a next-generation comprehensive payment solution compatible with the most significant number of payment methods in the industry, including not only basic payment methods using credit cards, convenience stores, and banks, but also e-money, carrier payments, various ID-based payment methods such as PayPay, and international payment methods such as UnionPay and Alipay. Based on a system with Japan's highest level of security and fully compatible with the non-retention of card information, "VeriTrans4G" includes essential functions such as recurring billing and card information update functions. It also comes standard with various security options to prevent fraudulent use. Moreover, it allows business to choose from 3 types of system connection methods: Web-Link Payment, Mail-link Payment, Tokenized Payment, depending on their system environment, transaction scale, and usage scenario.
【About DG Financial Technology】https://www.dgft.jp/
DGFT is a payment service provider offering comprehensive payment services to online business operators, including E-Commerce, as well as stores and other face-to-face business operators. Annual transaction volume exceeds 3.3 trillion yen, with more than 160 thousand participating merchants utilizing our payment services. VeriTrans Inc. was renamed "DG Financial Technology, Inc. (DGFT)" in April 2021. Focusing on "DG FinTech Shift"—a Group strategy to integrate payments and data—DGFT provides support in the payment and financial fields for cashless payments and DX by business operators. DGFT will continue contributing to the sustainable growth of society through its infrastructure businesses that are useful to society, by providing highly convenient functions and services to participating merchants and consumers (who are the end users), as well as reliable, safe, and pleasant payment experiences.
*1: Related press release:
"VeriTrans Launches Credit Card Payment Services for Patent and Other Fee Payments to the Japan Patent Office" (April 1, 2019)
"DG Group Provides "Cloud Pay," a Unified QR Code Payment Solution as a Customs Duty Payment Method at 6 Major Japanese Airports" (July 16, 2021)
"DG Financial Technology Provides Credit Card Payment Service for MLIT's UAV Registration Fee Payment System" (December 17, 2021)
*2: Source: JPO "125th Anniversary Magazine of Japanese Industrial Property System 〜15-year history of Japanese Industrial Property System〜" (2010)
*3: Source: JPO "Annual Settlement (Patent Special Accounts)"
---