~Groupwide Support for Fukuoka City's Digital Transformation (DX) Promotion~
The DG Group, centered on Digital Garage, Inc. (TSE first section: 4819; HQ: Tokyo; Representative Director, President Executive Officer and Group CEO: Kaoru Hayashi; DG), provides "Cloud Pay," a unified QR Code payment solution, as a payment method to expand cashless payment options for handling fees and usage charges at Fukuoka City facilities starting on September 1, 2021. "Cloud Pay" will be taken at 7 counters and 43 facilities, such as the Fukuoka Zoo & Botanical Garden, bicycle parking areas in the city, youth facilities, and gymnasiums. Visitors and users can choose from five types of QR Code payments at these counters and facilities: LINE Pay, d Barai®, au PAY, Alipay, and WeChat Pay*1.
【Counters and facilities that take Cloud Pay】(7 counters, 43 facilities)
Fukuoka Zoo & Botanical Garden, some bicycle parking areas in the city, some impounded bicycle storage centers in the city, municipal ferry waiting area counters, AMIKAS (Fukuoka City Gender Equality Promotion Center), Uminonakamichi Seaside Youth House, Sefuri Youth House, gymnasiums and public pools in various wards, Fukuoka City Public Gymnasium, Momochi Gymnasium
■ About "Cloud Pay"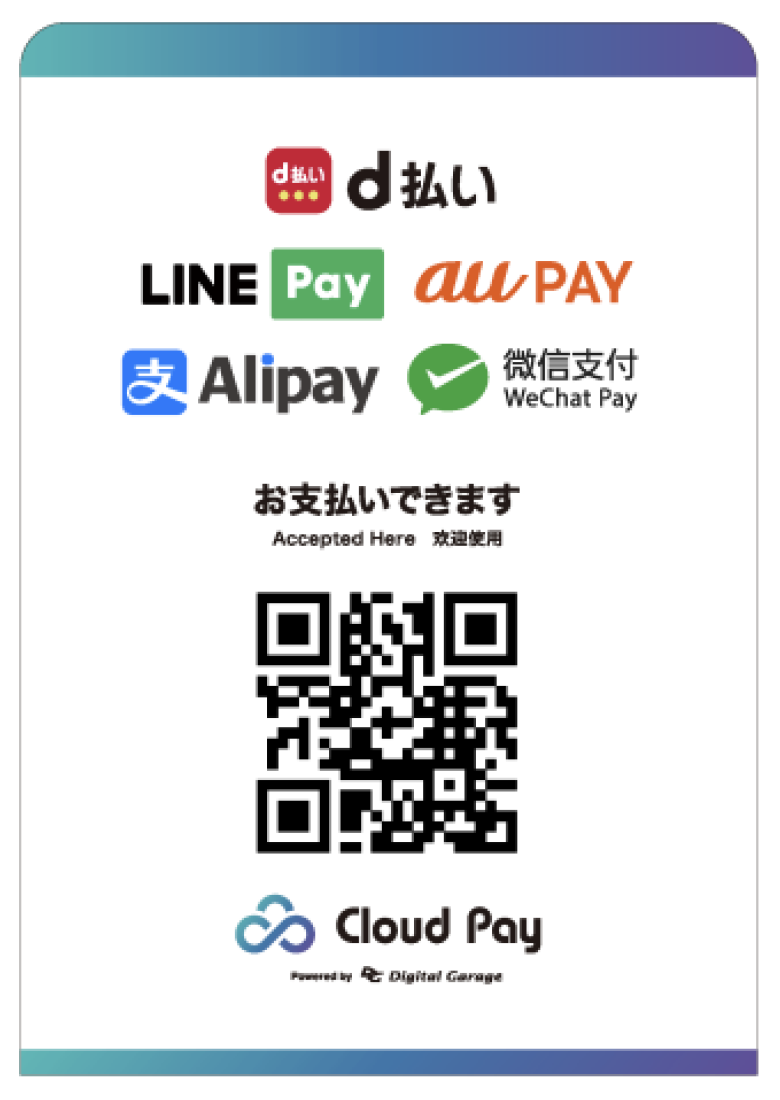 With "Cloud Pay," multiple types of QR Code and barcode payment services can be offered just by displaying a single QR Code in the store.
This service utilizes the MPM format*2 in which customers scan a QR Code at the store to pay. Since this requires no new equipment including POS terminals and no system upgrades, participating merchants can introduce multiple Japanese and overseas QR Code payment services at once without any installation burden or costs.
This format offers many benefits. For instance, transactions for various payment methods can be managed on the app for participating merchants, which helps reduce the number of people required for administration and accounting tasks. In addition, consumers feel no confusion about which QR Code to scan when paying.
■ Future developments
The DG Group has collaborated with Fukuoka City since 2017, including promoting entrepreneurship in the Fukuoka region, operational support for and investment in startups*3, and a healthcare proof-of-concept*4. The DG Group is currently supporting Fukuoka City's Digital Transformation (DX) Promotion in the cashless payment field.
The DG Group has worked to support DX by local governments and to resolve environmental and social issues by providing payment services to multiple local governments and government ministries*5. It began implementing "DG FinTech Shift," a Group strategy that integrates payments and data, in 2021. With DG Financial Technology playing a central role in the payment business, DG will create next-generation businesses across the Group combining strong payment infrastructure with the Group's many businesses and services, and implement co-creation with stakeholders, to promote DX in Japan (including at local governments and ministries) and contribute to a sustainable society.
*1: PayPay is not available as of September 1 but will be available to use in the future.
*2: MPM: A type of QR Code payment format in which users scan in-store QR Codes with their mobile devices
*3: Related releases:
Digital Garage Begins Support for Startups in Fukuoka Region in Cooperation with the Fukuoka Directive Council (9/21/2017)
Digital Garage, Fukuoka D.C., and Fukuoka Growth Next Launch the Smart City Incubation Program, "Open Network Lab FUKUOKA" (5/31/2019)
*4: Related release: Digital Garage and Welby Launch a Proof of Concept Project for PHR Lifestyle Disease Prevention Program in Fukuoka City to Build a Personal Health Record Platform (5/13/2019)
*5: Related releases:
VeriTrans Launches Credit Card Payment Services for Patent and Other Fee Payments to the Japan Patent Office (4/1/2019)
ECONTEXT Launches the QR Code-Based National Tax Collection Service at Convenience Stores to the National Tax Agency (12/19/2018)
* "Cloud Pay" is the only unified QR Code payment solution in Japan provided in the BtoBtoC model. "Cloud Pay" is a registered trademark of Digital Garage, Inc.
* "d Barai" is a registered trademark of NTT DOCOMO, INC.
* "QR Code" is a registered trademark of DENSO WAVE INCORPORATED.
【About DG Financial Technology】 https://www.dgft.jp/
DGFT is a payment service provider offering comprehensive payment services to online business operators, including E-Commerce, as well as stores and other face-to-face business operators. As a member of the DG Group, it provides support in the payment and financial fields for cashless payments and DX by business operators. VeriTrans Inc. was renamed to "DG Financial Technology, Inc. (DGFT)" in April 2021. DGFT will continue contributing to the sustainable growth of society through its infrastructure businesses that are useful to society, by providing highly convenient functions and services to participating merchants and consumers (who are the end users), as well as reliable, safe, and pleasant payment experiences.
---