Kaoru Hayashi
Representative Director,
President Executive Officer and Group CEO,
Digital Garage, Inc.
CEO Comment "FYE June 2016 Financial Report Summary"
Today we announced our FY16.6 financial results (PDF in Japanese only) after the board's approval. At the same time, we have resolved that we will change our financial term from June to March only if we get an approval from our shareholders at the general meeting in September (change of fiscal term PDF).
【FYE June 2016 financial report summary (cumulative)】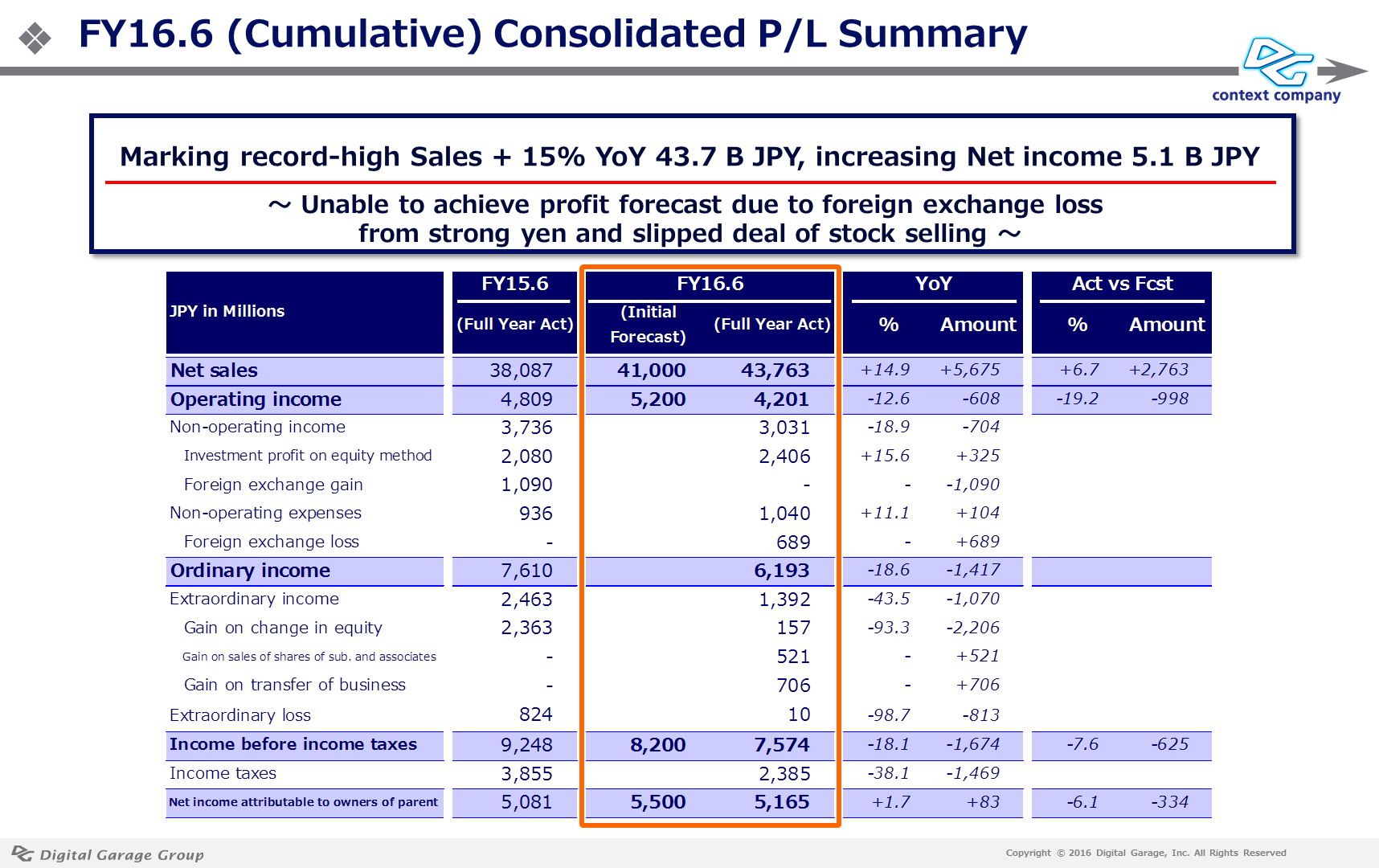 FY2016.6 results marked 43.763 billion JPY (+14.9% YoY) net sales, 4.201 billion JPY (-12.6% YoY), 7.574 billion JPY (-18.1% YoY) current net income before income taxes, 5.165 billion JPY (+1.7% YoY) net income attributable to parent company shareholders. Net sales marked incredibly higher results than the initial forecast of 41.000 billion JPY. This was mainly due to the success of MT's (Marketing Technology segment) performance ads, especially in smartphone/app areas that contributed to achieve a significant income increase. On the other hand, the current net income before income taxes, which we consider as significant, did not reach our initial forecast 8.200 billion JPY by 625 million JPY short.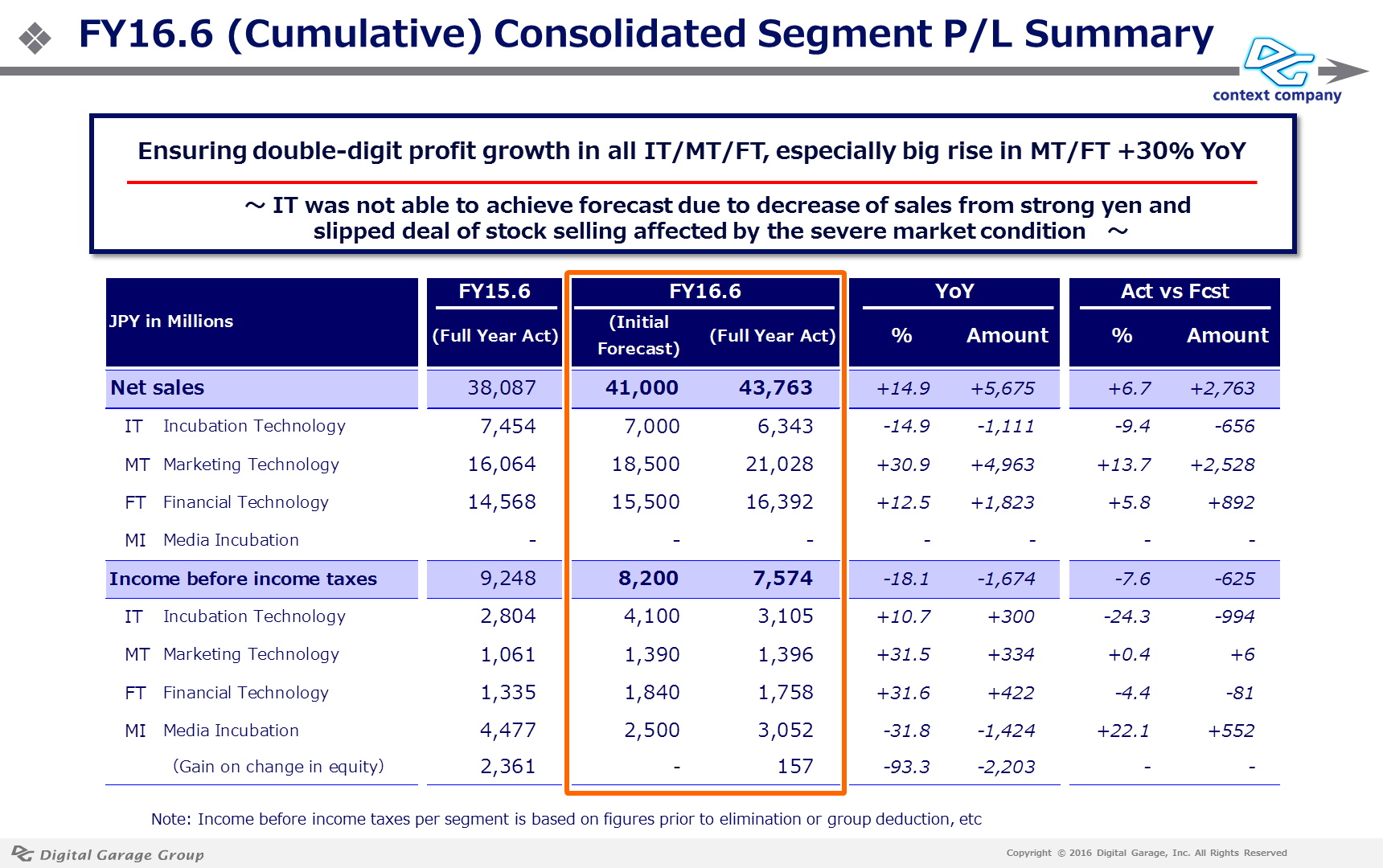 Both MT/FT (Financial Technology segment) achieved a remarkable 30% increase in profit. The annual billing for FT marked 1.1542 trillion JPY(+18% YoY), growing faster that the market average. On the other hand, IT (Incubation Technology segment) did not reach its initial forecast; confusion of financial capital market such as Brexit issue, led to the delay of some of its portfolio's shares sales timing. Moreover, due to the drastic and rapid move in stronger JPY, foreign currency receivable became 689 million JPY exchange loss (FY16 was 1.090 billion JPY exchange profit).
【Forecast for FYE March 2017 consolidated results】
~foreseeing record-high profit in spite of the change in fiscal term~
The FY2017.3 would have irregular nine month results as we are expecting to change our fiscal term from June to March (on the premise of getting approval at the shareholders general meeting in September). With this fiscal term change, standardizing the entire group's fiscal term, we aim to drive efficient business operation, timely and appropriate disclosure of management information, and moreover with future view on implementation of IFRS. In spite of forecasting only for the nine-month performance, we are expecting this year, on a 12 month basis, to mark record high profit with +14% YoY for sales and +18% YoY for net income.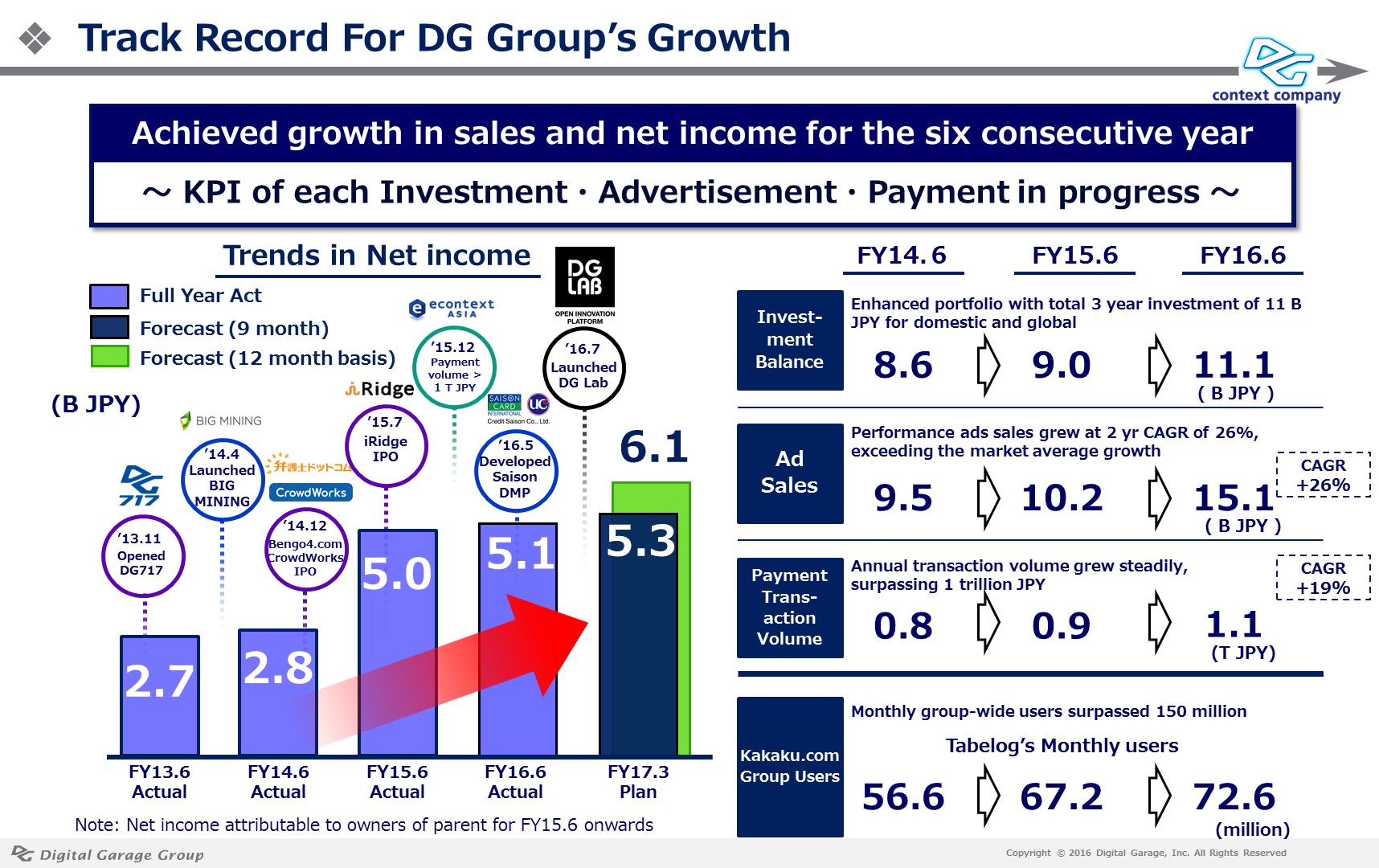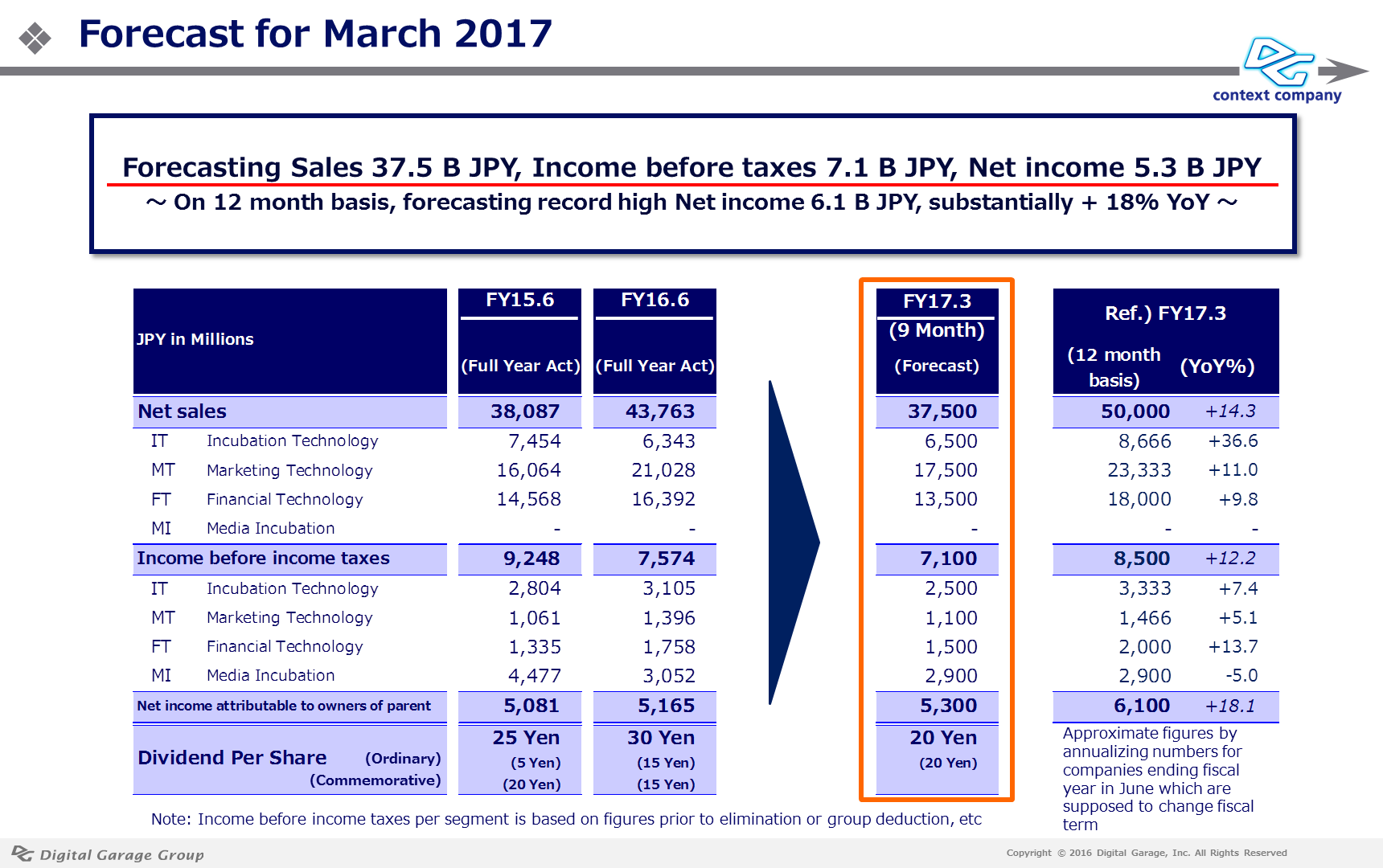 【Launch of DG Lab】
An open innovation-based R&D organization "DG Lab", with the aim to create businesses that will become a next generation pillar business surrounding DG Group and our strategic partners, was officially established on July 4, 2016, with consent of Kakaku.com and Credit Saison. Mainly focusing on "Blockchain", "AI", "VR/AR", "Security", and "Biotechnology", DG Lab has already begun its phase one, in anticipation of the 2020 Olympics in Tokyo. Please see the concept video below.
Regarding Blockchain, DG will collaborate with Blockstream, a DG-invested company via our subsidiary in February 2016, extending capabilities of Blockchain technology. Blockstream has many technical experts at the forefront of Bitcoin development in its team, and is renowned for carrying out advanced product development in order for Blockchains to be used for a variety of industries and applications. While obtaining technical support from Blockstream, DG Lab will develop a generic smart contrast technology that will utilize Blockchain and hold functions such as points and values for credit cards, exchange systems for virtual currency, high-in-demand local currency, platforms for electronic money, contract execution and value transfer, and automation of rights licensing. DG is considering of fully supporting Blockstream's business in Japan.
For Artificial Intelligence, we will develop the application of big-data-related services used at Kakaku.com and our subsidiary Naviplus, that are provided by BI.Garage, a joint-venture with Dentsu. Specifically, we plan to use Credit Saison's purchase and payment data, Kakaku.com's web-related behavioral data, and Dentsu's advertisement-related data, meld the data together, use Artificial Intelligence to analyze the data, and develop services and businesses based on the results. With the products from the Artificial Intelligence's analysis, we can apply them to the next generation of interactive agents byrecommending products based on respective user's preference on EC sites.
With the cooperation of influential businesses from various segments such as advertisements, cars, major home appliances, communication carriers, broadcasting/contents, and real estate, whom agree with DG Lab's concept and decide to become sponsorship partners, we strive to create innovation that will surpass the framework of the industries.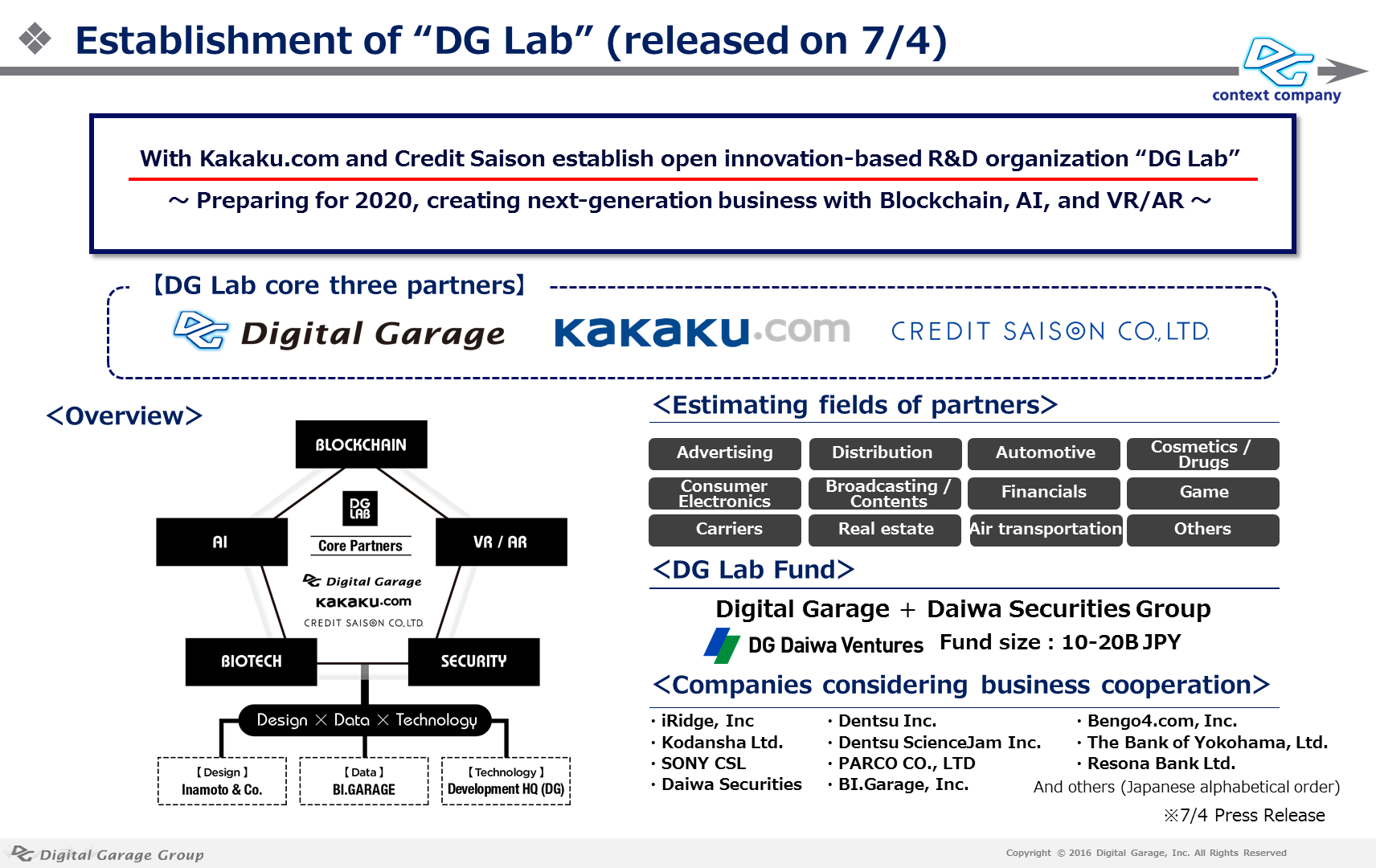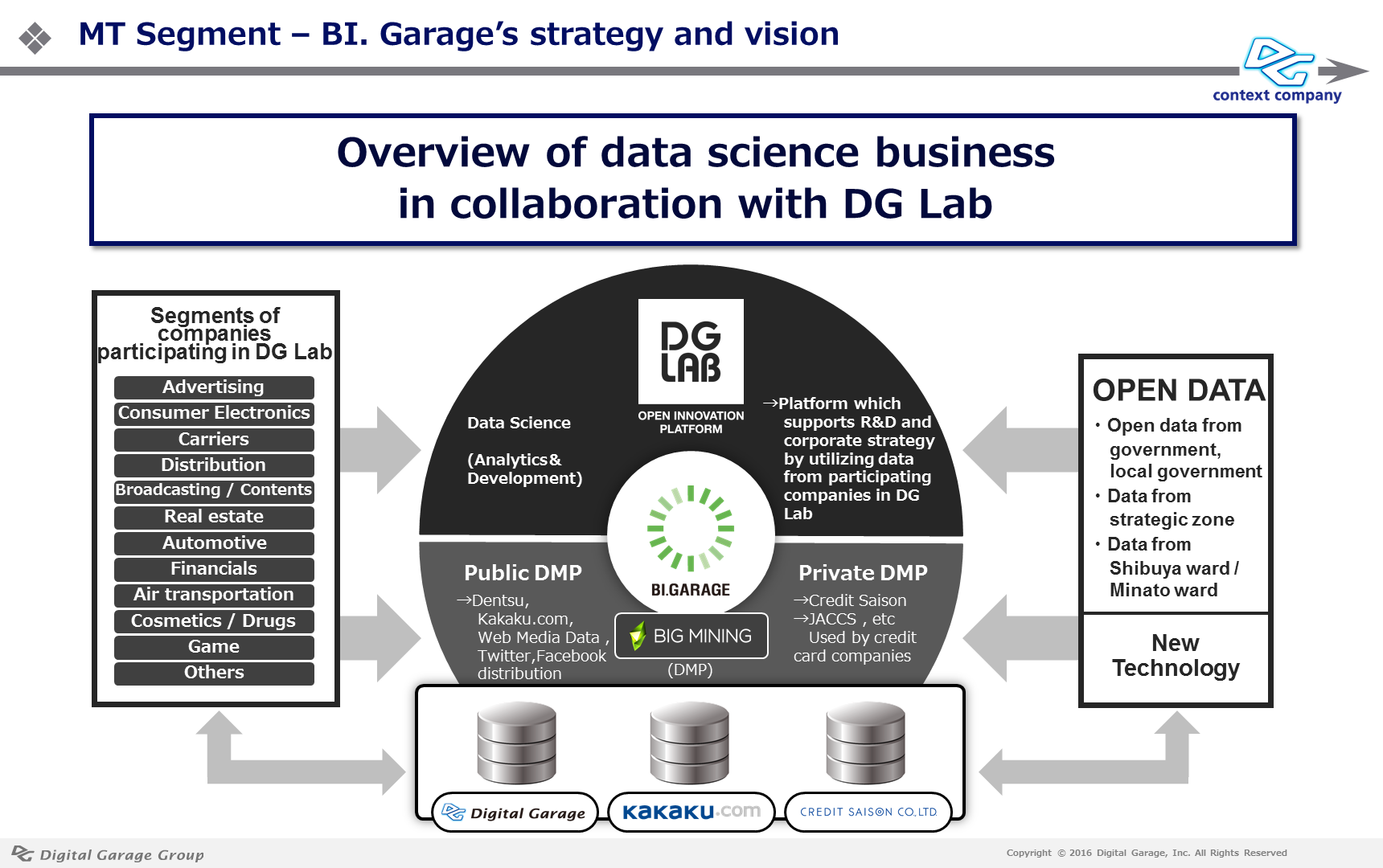 Along with DG Lab, DG Lab Fund was jointly established with Daiwa Securities Group; it will focus its investments to outstanding startups based on DG Lab's five focuses: Blockchain, AI, VR/AR, Security, and Biotechnology. DG Daiwa Ventures, a joint venture created by DG and Daiwa Securities Group, will run the operation of DG Lab Fund. This fund created between a major stock company and an investment business company is very rare, which we are very proud of. For DG Lab Fund, we aim to increase the fund size from 10 billion yen to 20 billion yen, and increase the number of investors from around 30 investors to 50 investors. By incorporating DG Lab Fund into DG Incubation, a wholly-owned subsidiary that specializes in venture capital investment and startup incubation services, it will increase DG's investment business through the expansion of investment scale and capitalization areas as well as accelerate innovation from Japan with the help of the people's vitality.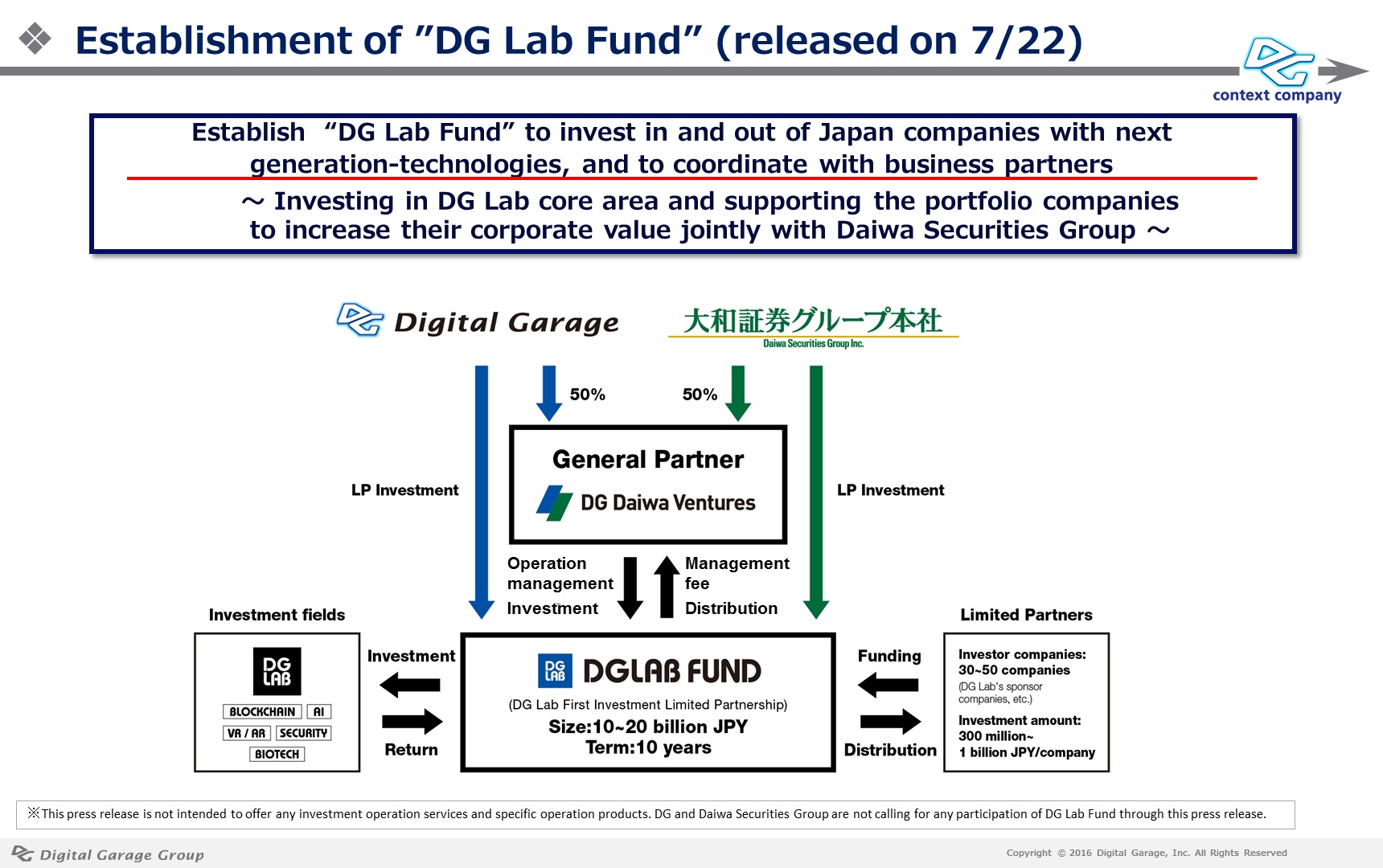 【Establishment of the First Penguin Award】
 From the time of foundation, Digital Garage has professed an attitude that strives towards new challenges without fear of failure and continues to cultivate something new. We call this "First Penguin Spirit". With the goal of spreading this spirit globally to those who are actively participating in the world with courage and originality, and also actively contributing in nourishing younger generations to pass on their spirit, we established the "Digital Garage First Penguin Award," and selected Mr. Keisuke Honda, a successful professional footballer actively playing at Japan national football team, as its first recipient. Mr. Honda nurtures young football players' talents through the acquisition of SV Horn of Austrian third division and owns the club through his management company, as well as manages four teams for junior high school students and one for high school students. These activities and attitude to nourish younger generations through his global mind and his experiences tell that he now goes far beyond of being just an active footballer; therefore, we consider that he well deserves for the first ever Digital Garage First Penguin Award.
Mr. Honda was awarded the "Digital Garage First Penguin Award" on July 5, 2016, and was rewarded 50 million JPY. With this, he stated on his Instagram that he will "become an angel investor and invest the money in approximately 10 smart and brave entrepreneurs that have the 'first penguin spirit' and are seeking start up or venture capital." He also stated that along side these initial investments, he will "continue to invest in early stage companies that seek to create a brighter future for the next generation through the KSK Angel Fund." We are very content to hear that the First Penguin Spirit, the source that will represent talents from Japan, will spread across the globe through these efforts.
Since we announced the establishment of DG Lab, we have received contacts from various fields both in and out of Japan for collaboration, and we realize the high interests in open innovative R&D. Through DG Lab activities and by embodying the First Penguin Spirit, DG will continue to strive to build new businesses that benefit the world in order to contribute to the development of the Internet business in Japan and the world.
We look forward to your continued kind support and encouragement.