Kaoru Hayashi
Representative Director,
President Executive Officer and Group CEO,
Digital Garage, Inc.
CEO Comment Vol.80 "FYE March 2024 Second Quarter Financial Report Summary"
The revenue showed a significant increase by 54% due to strong performance of payment business and a rebound from the fair value evaluation loss on investee companies.
〜The consolidated profit before tax for 2Q cumulative period of FY 24.3 was 8.3 billion JPY (+14.9 billion JPY YoY).〜
With the approval of the Board of Directors today, we have announced FY24.3 second quarter financial results (IFRS).
Ⅰ. Summary of FY24.3 Second Quarter Financial Report Summary
As for the business performance for the cumulative period of 2Q (2Q cumulative) of FY 24.3, revenue was 22,370 million JPY (+53.6% YoY) and profit before tax was 8,266 million yen (loss of 6,642 million JPY for the same period in the previous fiscal year). The Company recorded substantial loss due to the fair value evaluation loss on investee companies in the same period of the previous fiscal year. However, the profit for 2Q cumulative of the current fiscal year increased significantly primarily as the payment business in the Platform Solution (PS) segment, the Group's core business, performed better than expected and the fair value of the investees has been moving smoothly.
First of all, let me explain the business overview by segment.
In 【Platform Solution (PS) Segment】, the containment of the COVID-19 pandemic resulted in an increase in the payment transaction volume, particularly in the travel and restaurant sectors. Additionally, developing merchants in offline area has progressed due to alliance strategies with Toshiba Tech Corporation or ALL NIPPON AIRWAYS CO., LTD. as well as the fraud detection services, which are indispensable to the supply chain of the payment business, have also grown. As a result, the payment business increased profit by 23.3% compared to the same period of the previous fiscal year. We are going to strengthen and implement the solution, such as launching of e-commerce site development area and starting to provide "OpenAPI" announced today, which is directly connected with the payment business as described in detail later.
In the marketing business, strategic structural changes were implemented, such as establishing a new cross-organizational structure to enhance collaboration with the payment business. As a result, the profit decreased by 11.5%. However, the current performance is showing signs of recovery, and in the overall PS segment, it has progressed smoothly towards the full-year outlook of 15% or more growth for the current fiscal year, reaching 3,298 million JPY (+17.3% YoY).
【The Long-term Incubation (LTI) segment】 is positioned as the early investment phase into new businesses that will drive our company group's medium to long-term growth. In the B2B payment area, we are seeing promising results as expanding business operations through collaborations with business partners.
In 【Global Investment Incubation (GII) segment】, we have generated investment business income of 2.5 billion JPY through the sales of holding shares and distributions from funds, setting a promising start as the first half of the current fiscal year.
Please see the following slide for "FY24.3 Second Quarter Financial Report Summary." The main business topics in the lower section will be explained in the upcoming section on 【II. Progress of the "DG FinTech Shift" Strategy】.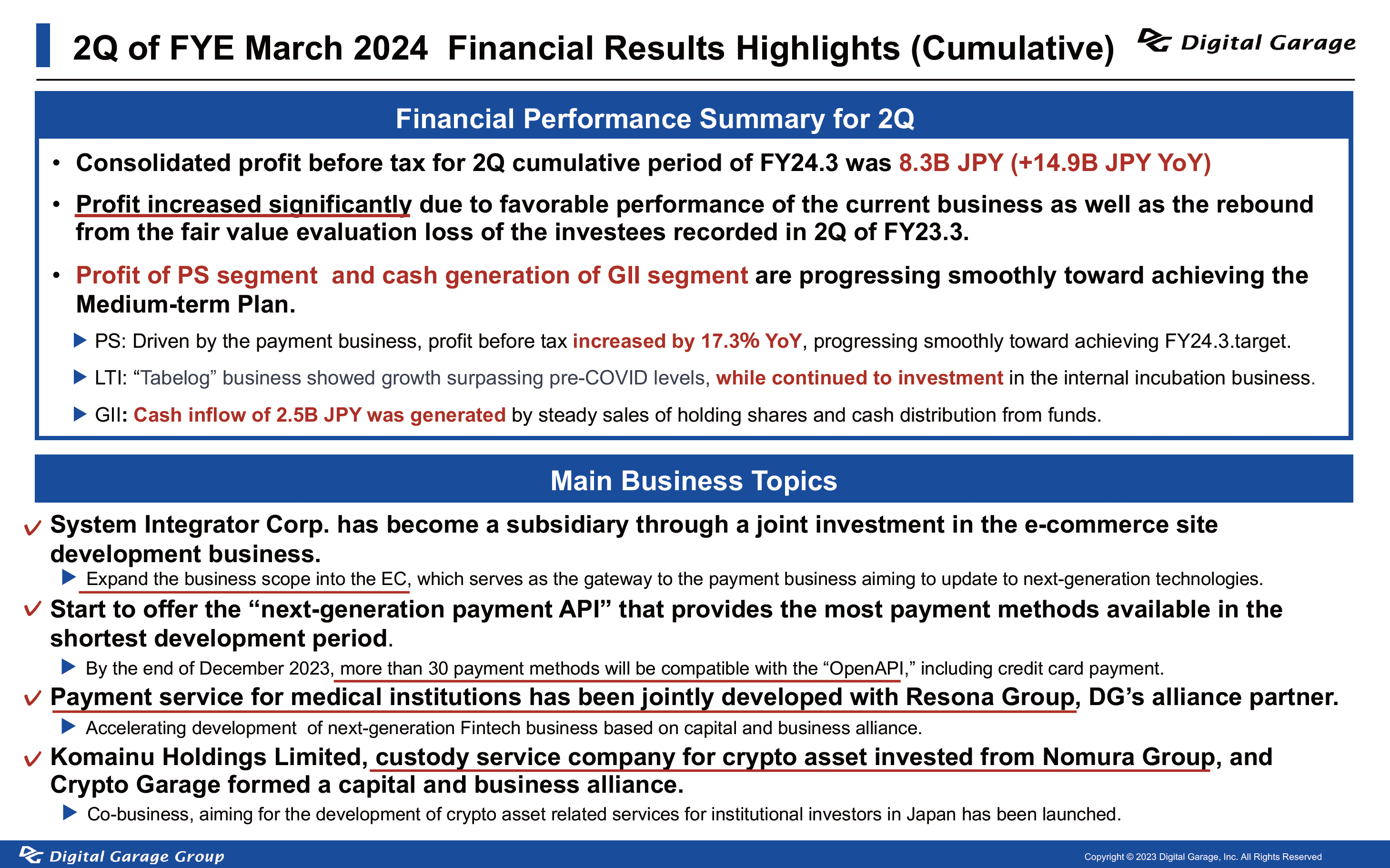 Please see the following slide of 【Consolidated Financial Results Highlights – Profit by Segment】 and 【Highlight – KPI】 for details.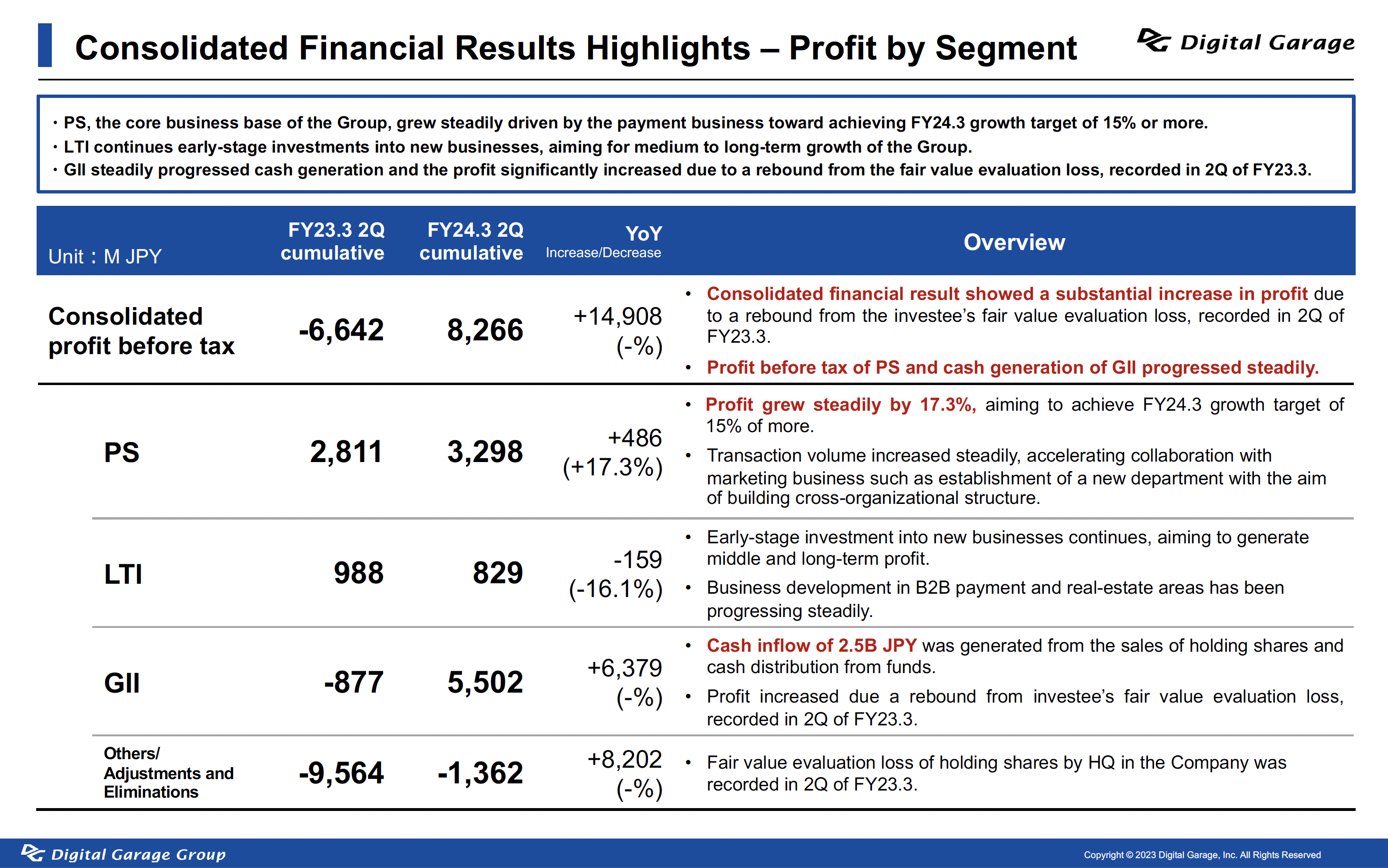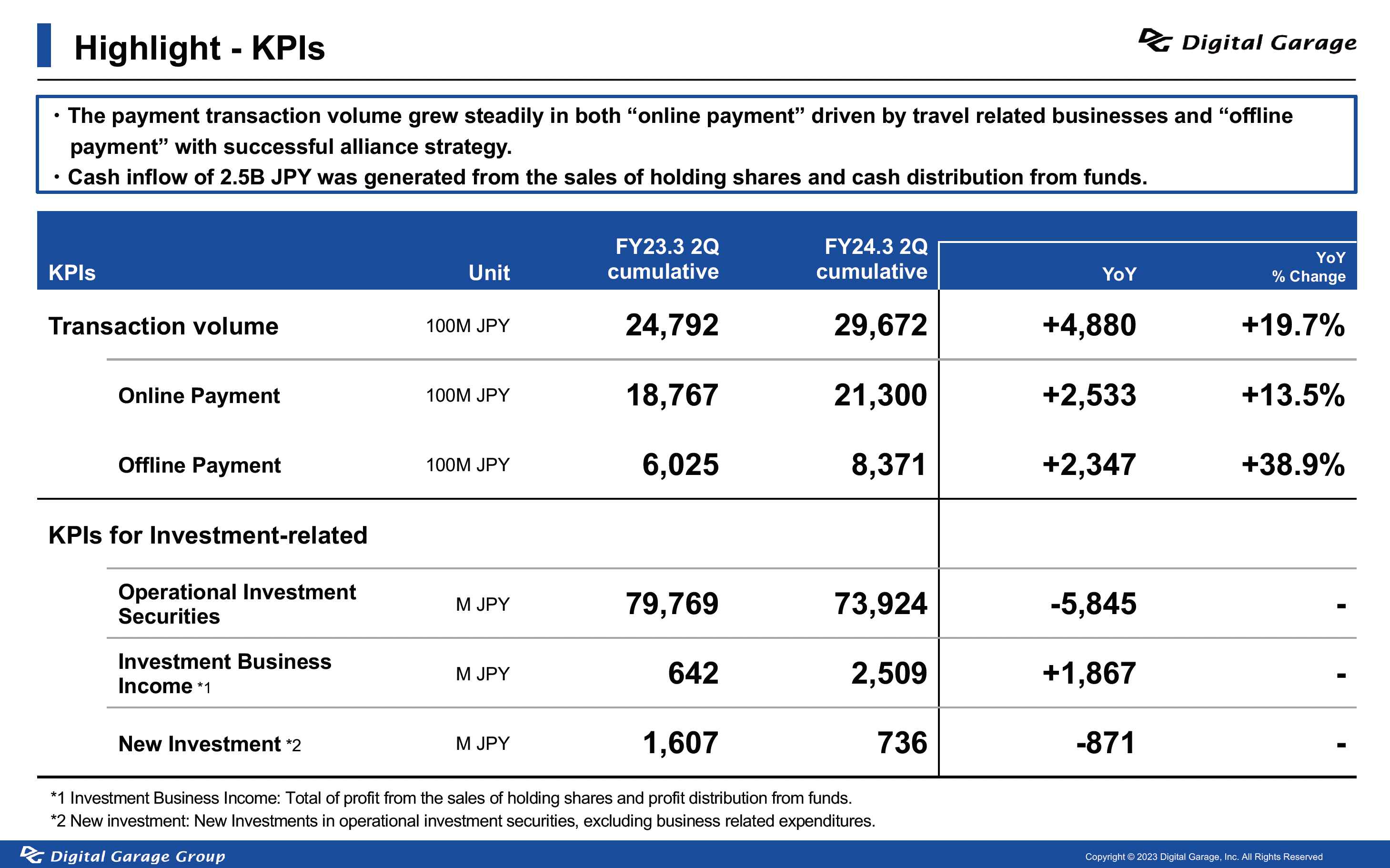 II. Progress of "DG FinTech Shift" Strategy
Starting with an overview of DG Financial Technology (DGFT), the core of the DG Group's Fintech business. DGFT's number of payment transactions expanded to 1.1 billion, and the payment transaction volume exceeded 6 trillion yen as of September 30, 2023. It continues to grow as a leading player in the domestic market. In addition to the payment service provider (PSP) business, we have built a structure to support the business growth by establishing "DG Commerce Inc." an e-commerce site development and operation support company, newly announced today as a subsidiary. Our partner is System Integrator Corp. (hereafter referred to as SI), Japan's leading technology group in the e-commerce business domain.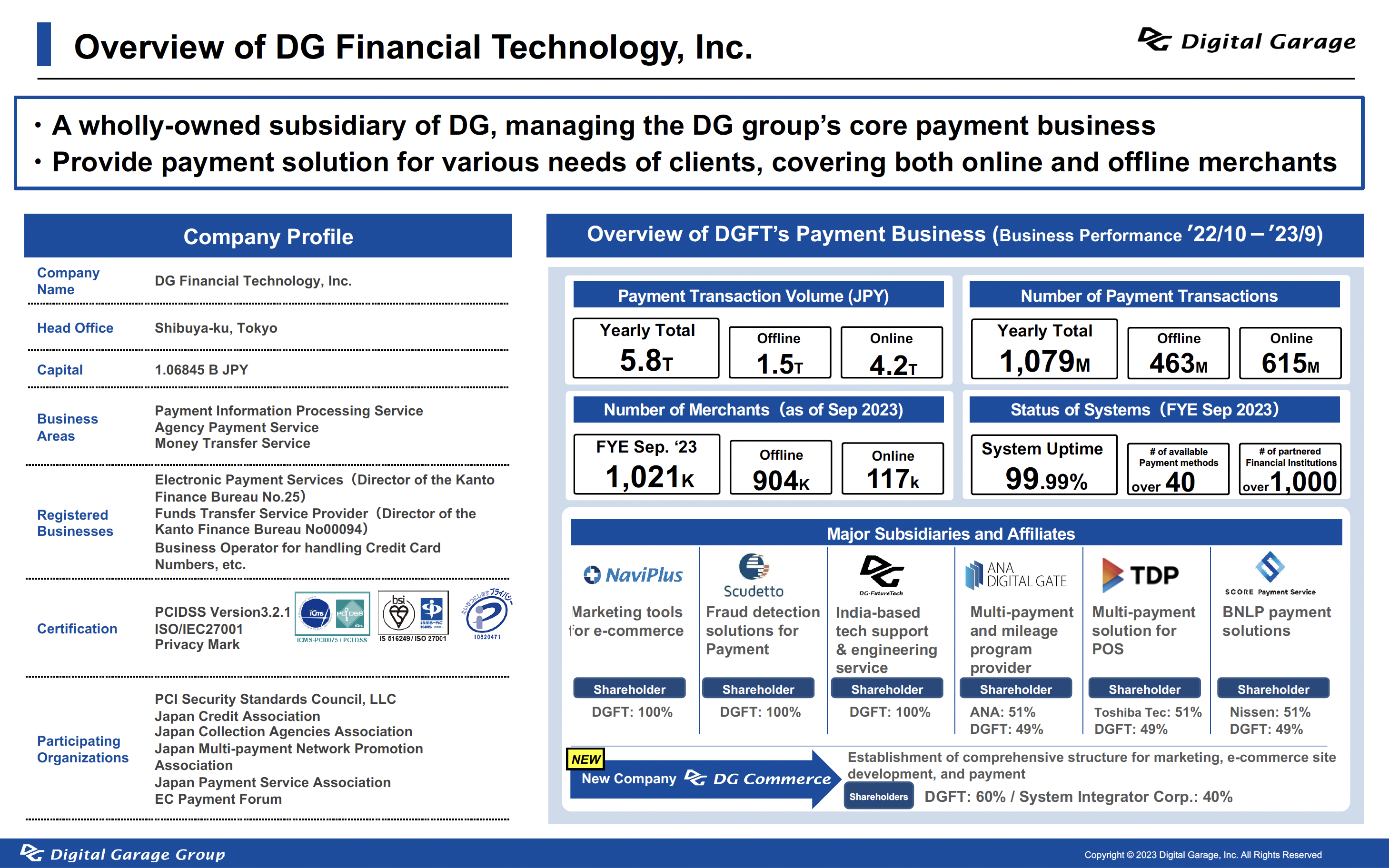 We are carrying out strategic initiatives in each of the following areas: [I] Initiatives with Strategic Business Partners, [II] Enhancement of Business Foundation, and [III] Next-generation Technologies.
Please see the following slide for details.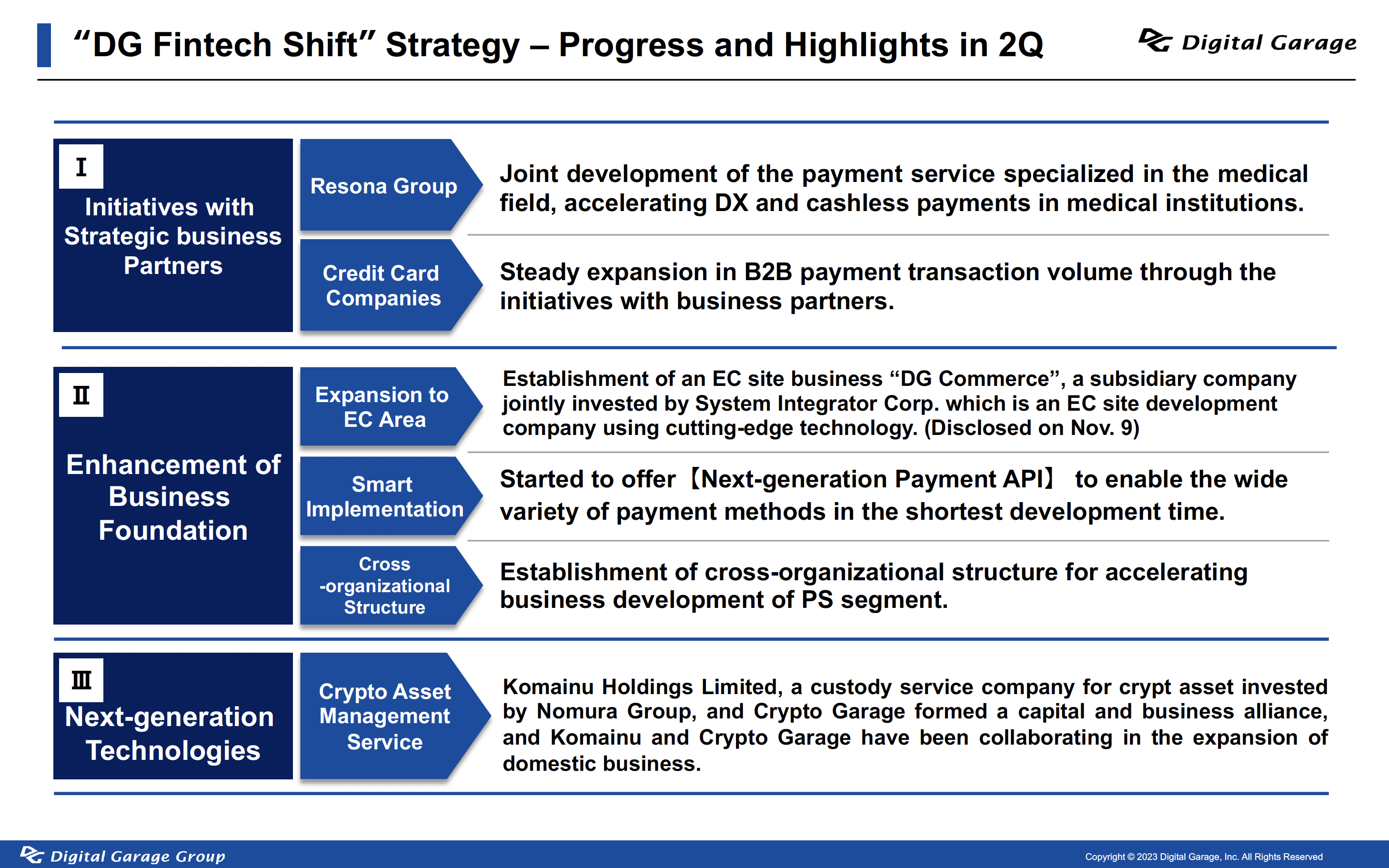 (1) Initiatives with Strategic Partners / Progress of New Businesses
<Initiatives with Resona Group / Healthcare Industry>
New Fintech businesses are currently under development, including alliances with business partners. DG and Resona Group jointly developed a payment service specialized in the medical industry utilizing Resona Group's corporate customer platform in Japan.
While the annual cost of medical care in Japan has reached 45 trillion yen in FY2021, cash is still the mainstream payment method for medical expenses. Compared to other industries, the medical industry has lagged far behind in going cashless. This service provides an application to patients and medical institutions to build a platform that enables online management of everything from reception to accounting operations on the day of a medical appointment. By implementing this service, medical institutions can significantly reduce the time patients spend waiting to pay their bills. This service can be connected to the medical billing system, thus reducing the workload of the medical institution's accounting staff. This is Japan's first joint service development initiative with a financial group for patients and medical institutions.
<Major credit card companies / B2B payment>
In the B2B payment business domain, the transaction volume of "DGFT Invoice Card Payment" is also expanding steadily. This B2B payment service allows customers to move out the actual payment due date by replacing bank transfer invoices with payment by credit card. We are growing with partners that have many corporate customers, such as Resona Group, which issues Visa and Master brand cards, Diners, Orico, and TOKYU CARD, as well as JCB and our group company Kakaku.com, which operates "Tabelog." Given the variety of businesses in the B2B Fintech domain, we are preparing some other products.
Please see the slide below for the market environment and progress of the two initiatives.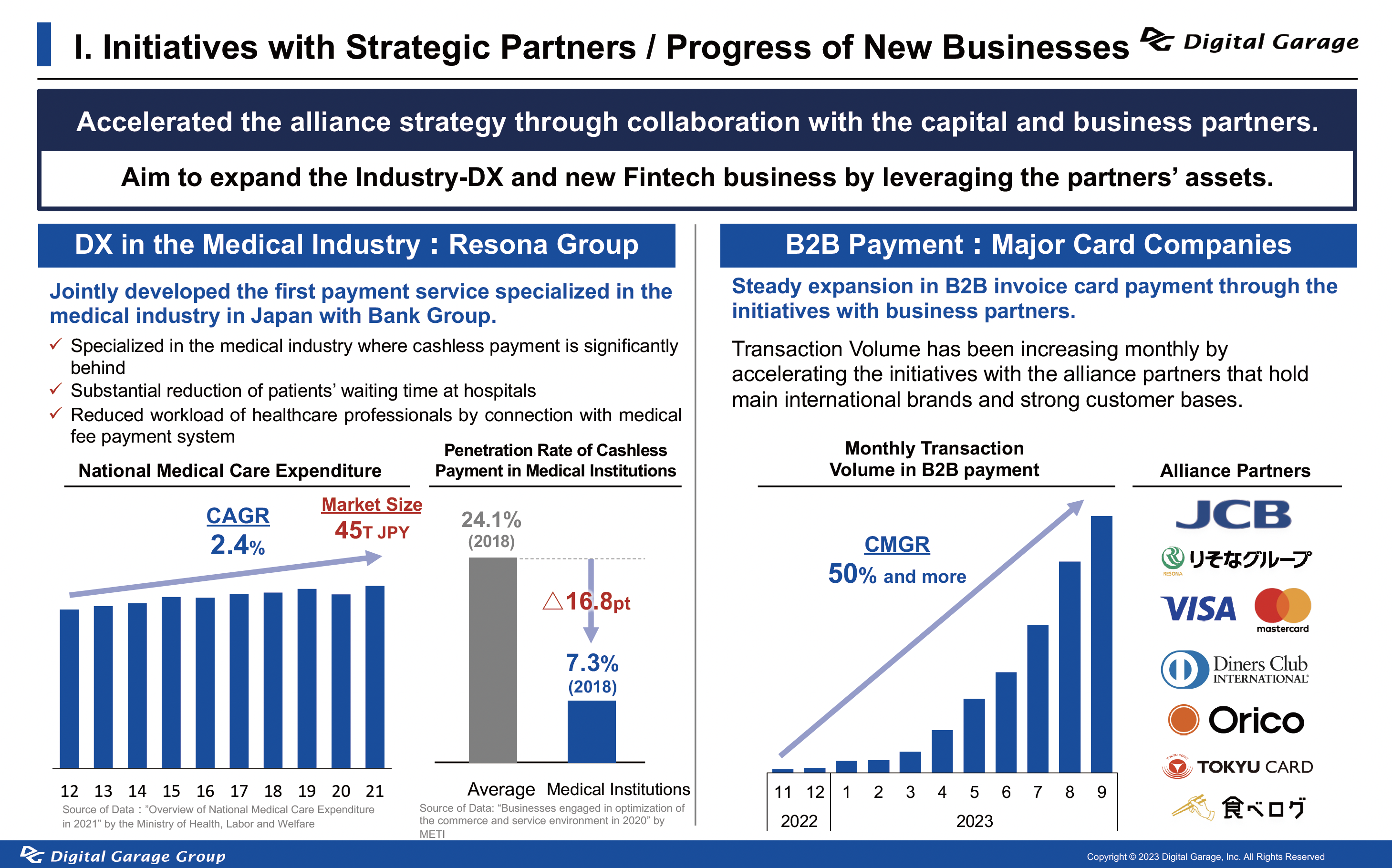 (2) Enhancement of Business Foundation / Strategic EC Business Company
Today, DG and SI, a pioneer in the e-commerce system development company founded in 1995, announced the establishment of "DG Commerce." The e-commerce site development business of SI will be formed as a joint venture as a subsidiary of DG. It will engage in the e-commerce business strategy business.
SI's e-commerce site construction business offers the latest e-commerce platforms and technologies to support various online businesses, including omnichannel and cross-border e-commerce and has approximately 1,100 installations. DG, on the other hand, in addition to its strength in the PSP business, can effectively support all activities related to the e-commerce business, including marketing tools and fraud detection solutions and analysis and utilization of customer behavior and purchase data. Also, DG will provide e-commerce site development solutions that combine its strengths in cutting-edge technologies such as web3, blockchain, and artificial intelligence (AI). The new company will also provide a next-generation payment API compatible with "OpenAPI," currently under development. This will shorten the development period for installing payment services for e-commerce sites. SI's company vision is to "Create Time with the Power of Software," we believe they are the best partner for OpenAPI-based innovations.
By bridging DG's PSP and digital marketing businesses and connecting them with the provision of marketing tools for e-commerce businesses (NaviPlus) and the development and sale of fraud detection solutions (Scudetto), DG implemented a new next-generation e-commerce development function. With the addition of operation and support centers in India and Japan, the groundwork has been laid to achieve a transaction volume in the tens of trillions of yen.
Below, we have organized the Group's solution structure and functions, starting with "DG Commerce."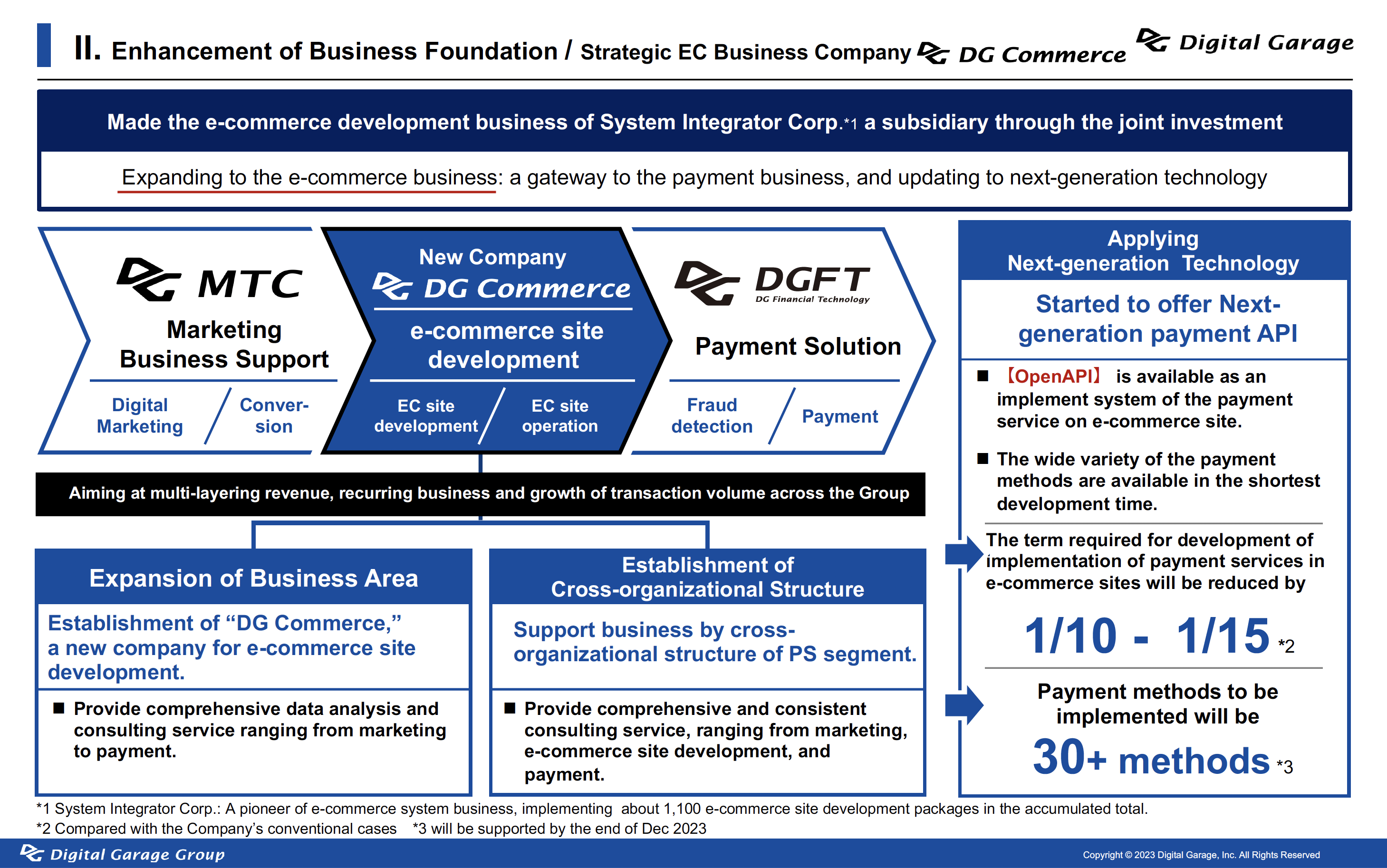 (3) Next-generation Technology / Crypto Assets Related Business
DG's initiative in the next-generation technology crypto asset business is also in progress. Nomura Group and DG have invested in Komainu, a digital asset custody service provider. At the same time, DG's subsidiary Crypto Garage and Komainu have signed a Capital Alliance Agreement.
The crypto asset market has significant volatility and issues that need to be resolved internationally, such as AML/KYC. Meanwhile, Bitcoin ETF is expected to be approved soon in the U.S. Therefore, we consider that the crypto asset market is entering a new growth stage due in part to factors such as the prospect of healthy market formation in the medium to long term and the expected halving of Bitcoin in the first half of 2024.
 
In the web3 business, use cases for NFT are spreading and are expected to enter a more practical stage. In Japan, on June 1, 2023, the revised Payment Services Act and other laws came into effect, defining stablecoins. With this, it is expected that stablecoin will be used in circulation and payment situations in the future, and the digital asset domain is growing.
The Capital Alliance with Komainu is to provide custody, an essential part of the growing digital asset market. Komainu, a subsidiary of Nomura Group with a large number of corporate clients and one of the leading companies in the digital asset domain, and Crypto Garage, the only licensed Crypto Asset Exchange Service Provider for B2B custody in Japan, will work together to provide world-class cryptocurrency services to corporate and institutional clients in Japan. To expand our business in the payment domain, we will continue our efforts to grow our business in crypto assets.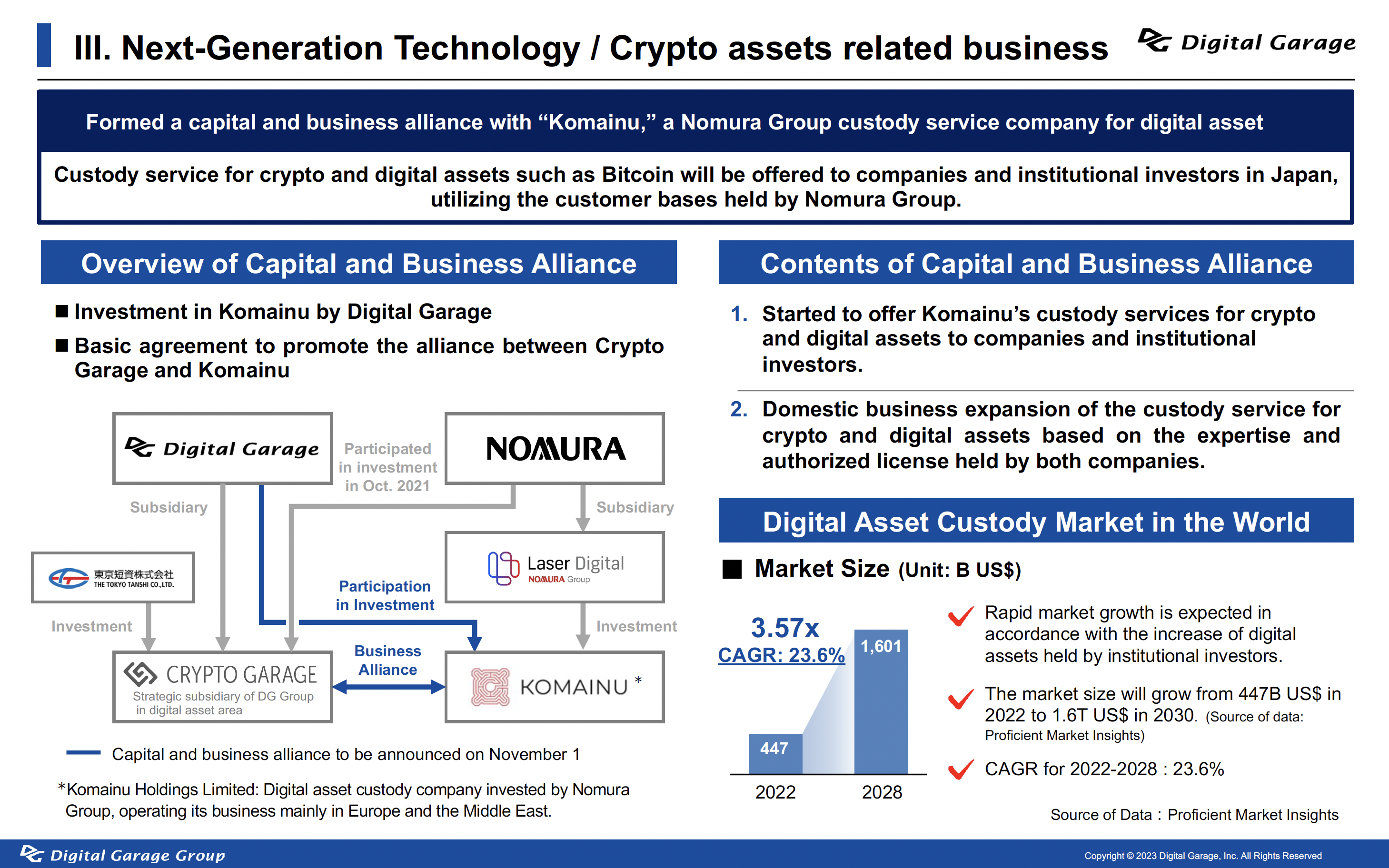 III. Sustainability Initiatives and Social Implementation Track Records
Through "Open Network Lab," Japan's first seed accelerator program launched in 2010, the DG Group has continued to support more than 140 startups to date. Program participant "Pirika," an environmental data service provider, received the "Minister of the Environment Award" at the first Environmental Startup Awards established by the Ministry of the Environment for its achievements in facilitating environmental improvement activities in which citizens can participate in over 100 countries and regions. With investments in ESG and Greentech in addition to Pirika, the DG Group is building a portfolio of environmental startups from Japan and establishing itself as a new incubator specializing in Greentech. Additionally, the "Open Network Lab" pitch event held in October was our first carbon-neutral event and was born in collaboration with ESG startups in which we have invested. Through the Open Network Lab & ESG I "Earthshot Fund," we will continuously contribute to ESG initiatives on a global scale, conducting investment activities with an eye to the significant social, technological, and environmental changes occurring.
As a company that has been working on the social implementation of next-generation technologies, we will continue to strengthen our ESG initiatives as well.
For more information, please see the following slide.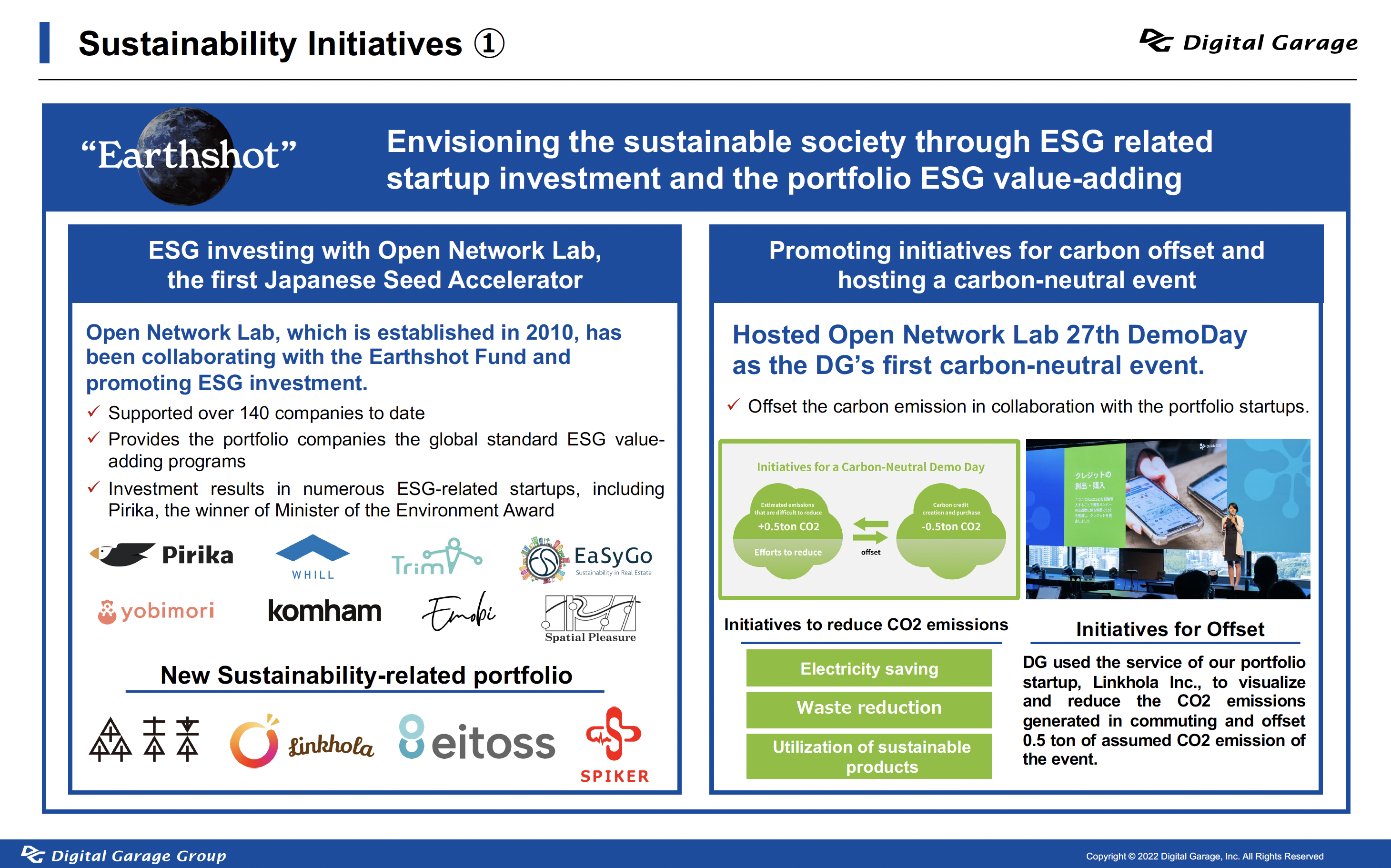 To strengthen the DG Group's sustainability management, we have established a system to promote sustainability management and started the materiality identification process in June 2023. We will be releasing more information as needed on our website.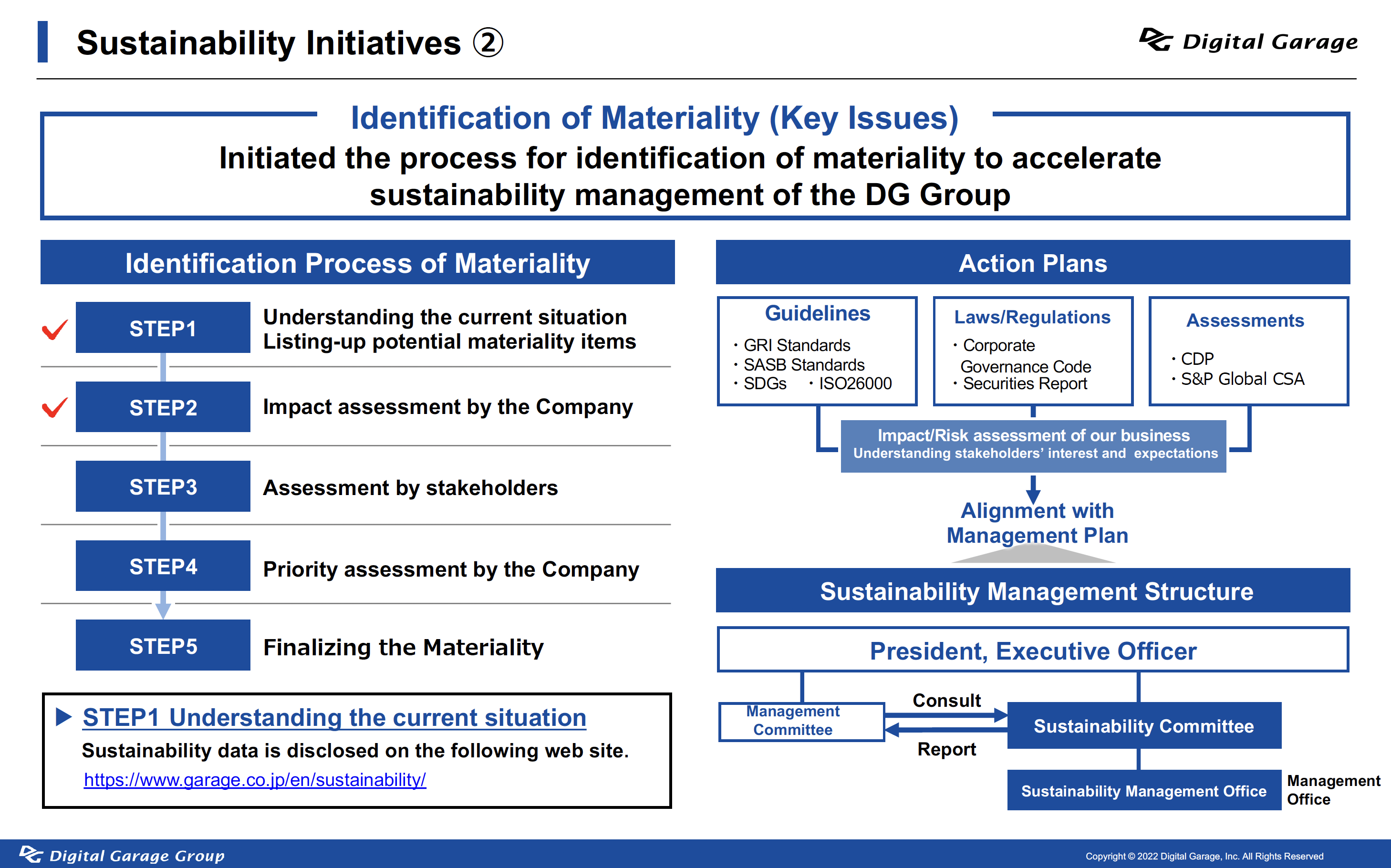 Let me next explain the history of the DG Group's contextual design and social implementation efforts, as well as our current initiatives.
Since founding in 1995, we have been implementing technology into society based on our purposes of "Designing 'New Context' for a sustainable society with technology."
【Ⅰ】Around 1995, at the beginning of the Internet's history, we used basic technologies such as TCP/IP and HTML to launch Japan's first homepage and expand a robotic search engine.
【Ⅱ】By combining user feedback with payment and logistics, we distributed vertical media and e-commerce such as "Kakaku.com" and "Tabelog," pioneering Japanese-style CGM, and are still leading the industry as the main business in the Long Term Incubation (LTI) segment.
【Ⅲ】When social media emerged, we popularized the semi-real-time media we now take for granted, such as Facebook and Twitter (now X).
Since 2016, we have been working on the practical application of new technologies such as blockchain, AI, and xR, which have led to our current business portfolio. Currently, we are focusing on Generative AI and web3, collaborating with payment businesses and startups to nurture businesses with cutting-edge technologies. We are also continually growing as a business and contributing to society by developing non-linear businesses of DG.
Please see the following slide.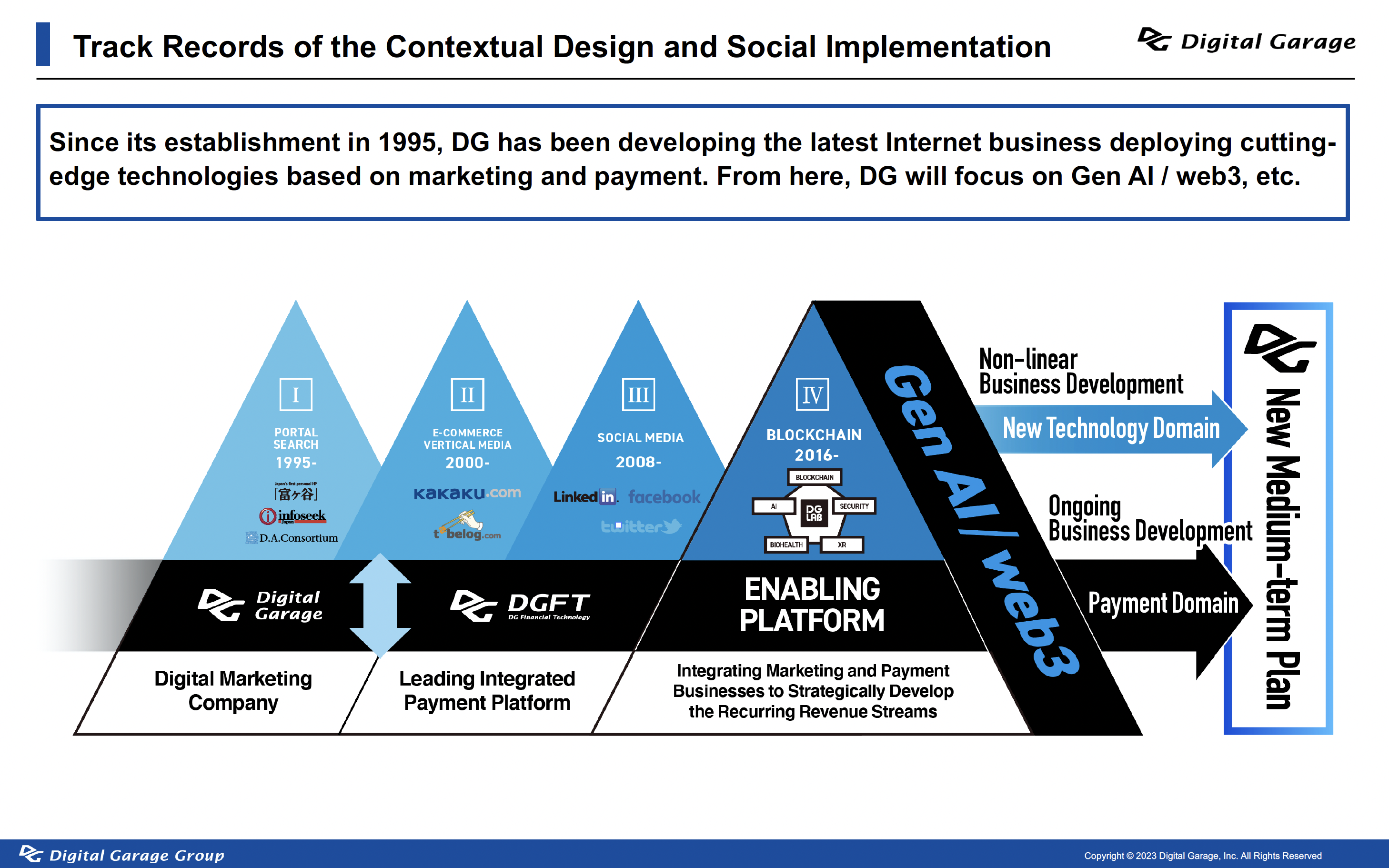 Finally, I would like to explain our current initiatives. Initiatives related to Generative AI, which is gaining global attention as a new technology, are also in progress, centered on "DG717," an incubation center in San Francisco.
STARTUP STUDIO "GenLab" based in "DG717" was launched in June 2023 to support startups that create new value with Generative AI. The "Generative AI Hackathon" held in September gathered approximately 100 participants, including engineers and designers, and they worked intensively to develop unique software and services using Generative AI. New developments include an AI-based system that reads emotions from the volume and intonation of a person's voice during speech, suggests better ways to speak, and a service that helps companies recruit more appropriately and quickly. The second "Generative AI Hackathon" will be held on November 15 at "DG717."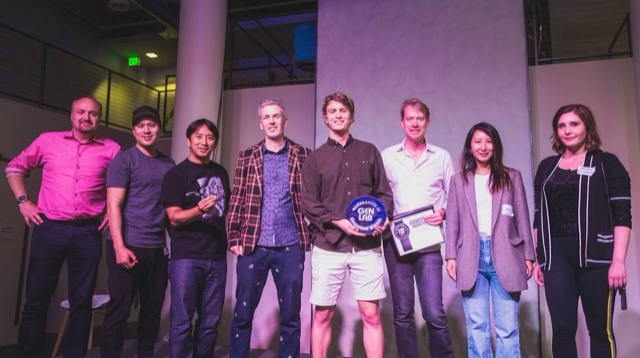 On November 17, we will host THE NEW CONTEXT CONFERENCE San Francisco 2023 Fall "Building Useful and Trustworthy AI." We will discuss with experts how trustworthy AI should be implemented in society, considering the latest AI application cases, from the viewpoints of AI regulations and technologies to be combined with AI that takes approaches other than LLM. Please join us at "DG717." The archive will be released shortly, so please visit the website.
DG aims to build on the global incubation stream built over the past 20 years with entrepreneurs and engineers from Silicon Valley while building a community that includes a wide range of companies from Japan, the U.S., Europe, and other regions.
The second quarter of this fiscal year, the first year of the new Medium-Term Plan, is progressing successfully. With a keen analysis of the rapidly changing technological landscape, we will continue to implement cutting-edge technologies into society continuously through Internet business incubation. Furthermore, based on the payment business, we will create a next-generation global IT ecosystem.
We look forward to your continued support and encouragement.