Kaoru Hayashi
Representative Director,
President Executive Officer and Group CEO,
Digital Garage, Inc.
CEO Comment Vol.75 "FYE March 2022 Third Quarter Financial Report Summary and FinTech Shift"
〜 Profit before tax for FY 22.3 1Q-3Q renewed record high profit. Accelerating "DG FinTech Shift" through capital and business alliance with JCB Co., Ltd., following Toshiba Tec Corporation 〜
With the approval of the Board of Directors today, we have announced FY22.3 third quarter financial results (IFRS).
Ⅰ. Summary of FY22.3 Third quarter Financial Results/DG Group Overview and FT Segment
 
For the first nine months of the fiscal year ending March 31, 2022, consolidated revenue was 52.888 billion JPY (up 84.2% YoY) and profit before tax was 33.679 billion JPY (up 259.8% YoY), significantly reaching a new record high profit. In addition, we were able to achieve a year-on-year increase in profits in all segments. The transaction volume of the Financial Technology (FT) business continued to grow steadily. In the Incubation Technology (IT) business, the fair value of investee companies increased significantly following 2Q. In the Marketing Technology (MT) business, the mainstay digital promotion business continued to expand, mainly in financial-related. In the Long-term Incubation (LTI) business, the business performance of Kakaku.com was on a recovery trend.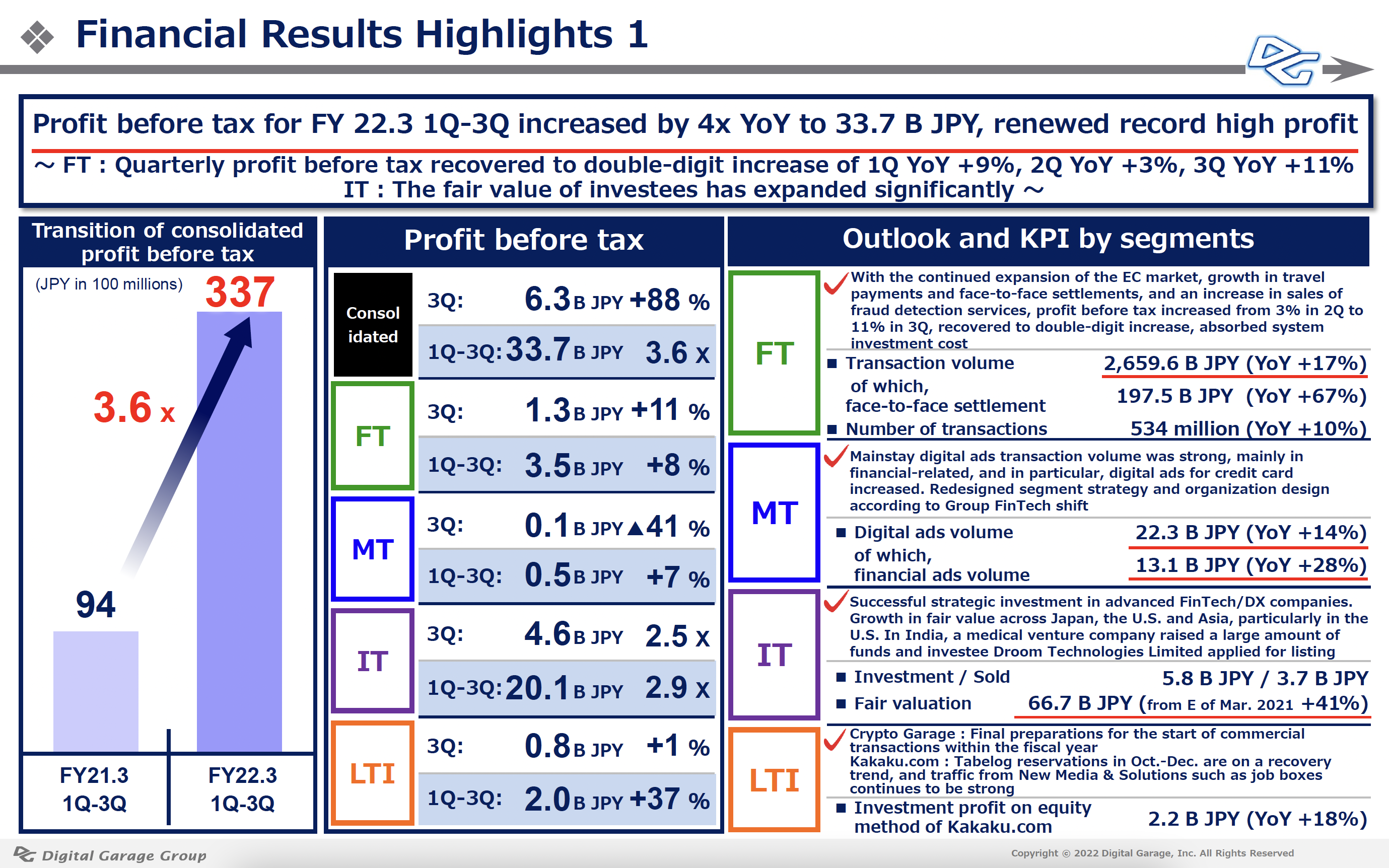 Next, please look at the slide focused on the FT segment.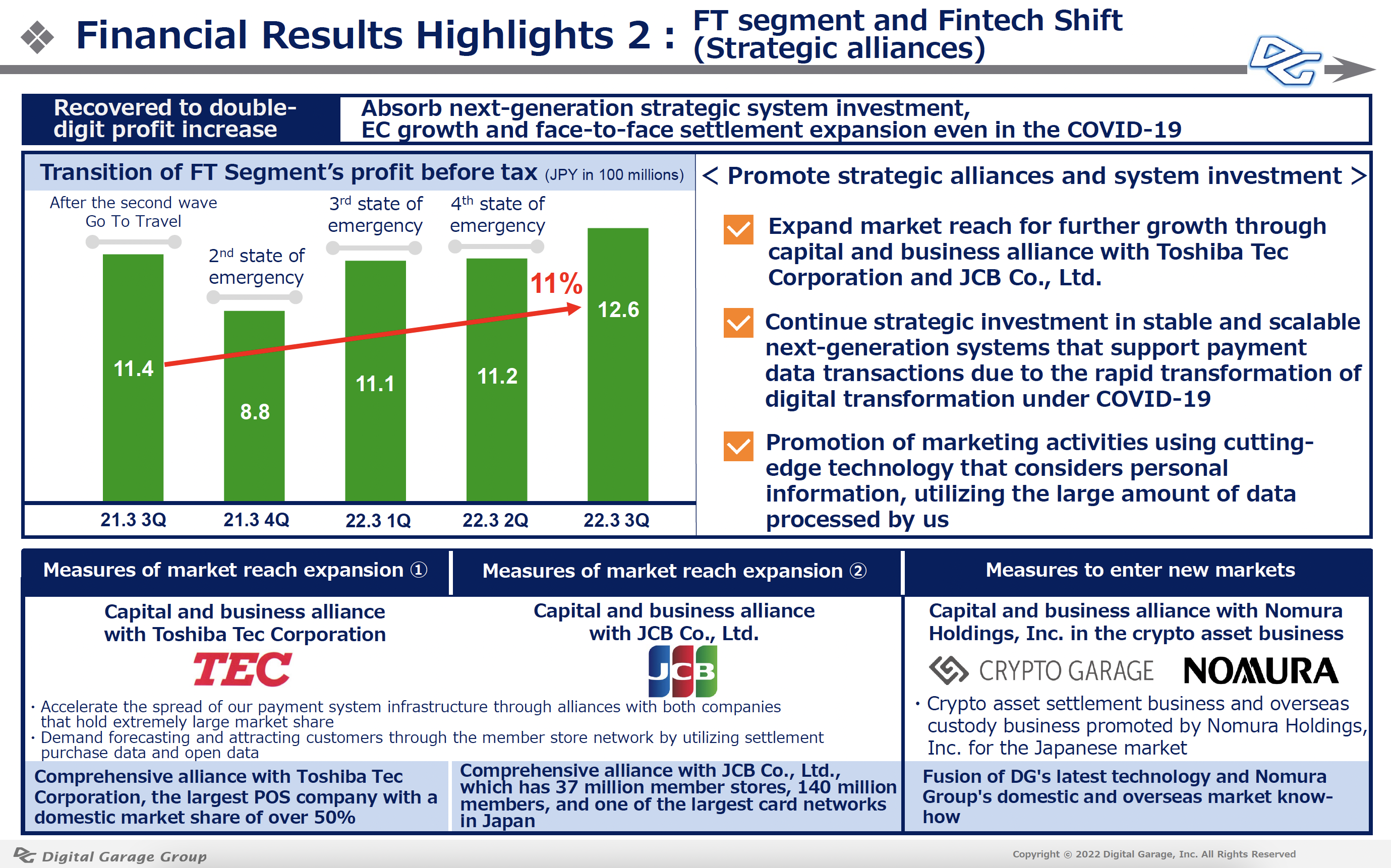 In the FT segment, double-digit growth continues in both transaction volume and number of transactions. In addition to e-commerce payments, face-to-face payments, which we are focusing on, are growing steadily due to the wave of DX conversion. On the other hand, we continued next-generation strategic system investment which stably supports these rapidly growing transactions, but we absorbed these costs. Profit before tax in the FT segment was +9% in 1Q (April-June) and +3% in 2Q (July-September), while it was +11% in 3Q (October-December). It recovered to a double-digit sales and profit growth.
In addition, we are steadily accelerating "DG FinTech Shift" through alliances with strategic partners. Last year, we entered into a capital and business alliance with Nomura Holdings, Inc. (Nomura HD) in the crypto asset business, which is one of our measures to enter into new markets in the FT segment. As a measure to expand our market reach in our mainstay business areas, following the capital and business alliance with Toshiba Tec Corporation (Toshiba Tec) in December 2021, we announced a capital and business alliance with JCB Co., Ltd.(JCB), the market leader in the credit card industry, which has one of the largest networks in Japan.
(Please look at II for details)
Below is a review of Segment.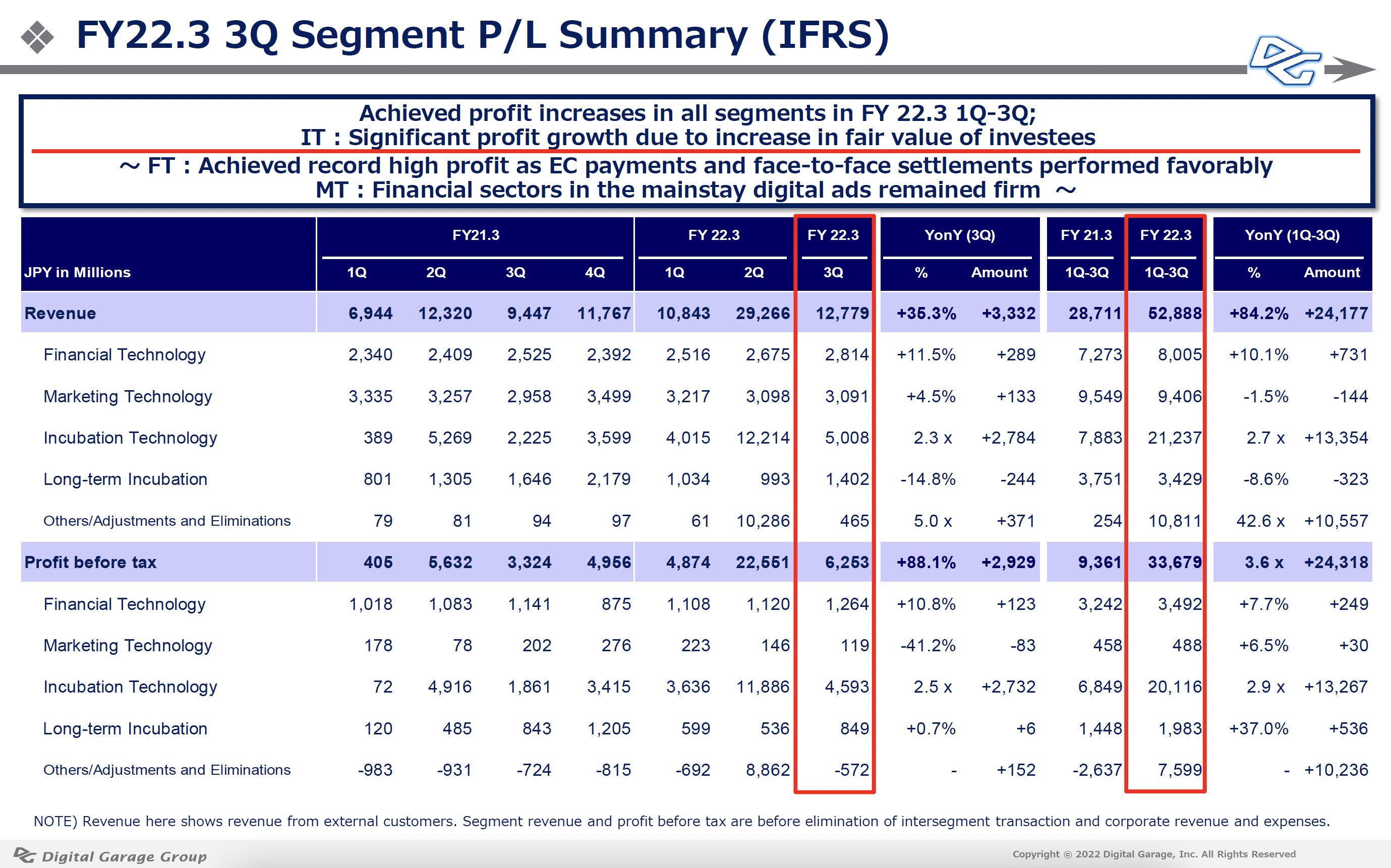 <FT>Financial Technology Segment
~ Transaction volume (1Q-3Q) increased by 17% YoY, continuing high growth ~
In the FT segment, 1Q-3Q (April-December) revenue was 8.005 billion JPY (up 10.1% YoY) ,among them, the Payment Service Provider (PSP) business performed well, up 13% YoY. We continued investment for stable system operation and expansion, 1Q-3Q (April-December) quarterly profit before tax was 3.492 billion JPY (up 7.7% YoY).
In addition, profit before tax in 3Q (October-December) increased 11% YoY to 1.264 billion JPY, achieving double-digit increases.
Transaction volume was 2,659.6 billion yen (up 17% YoY) and the number of transactions was 534 million (up 10% YoY), both KPIs continue to grow in double-digit. Transaction volume of EC was 2,462.1 billion yen (up 14% YoY) , transaction volume of face-to-face settlement that we are focusing on was 197.5 billion yen (up 67% YoY), the ratio to the total transaction volume was 7.2%, up 2.1 points from the same period of the previous year. As for face-to-face settlement, domestic face-to-face settlements are expanding significantly, and our original multi-QR code solution "Cloud Pay" is also performing well. By industry, although there was still the impact of COVID-19, at-home consumption such as payment in the auction applications and digital contents has steadily expanded, and transportation/travel related payments are also on a recovery trend from the bottom.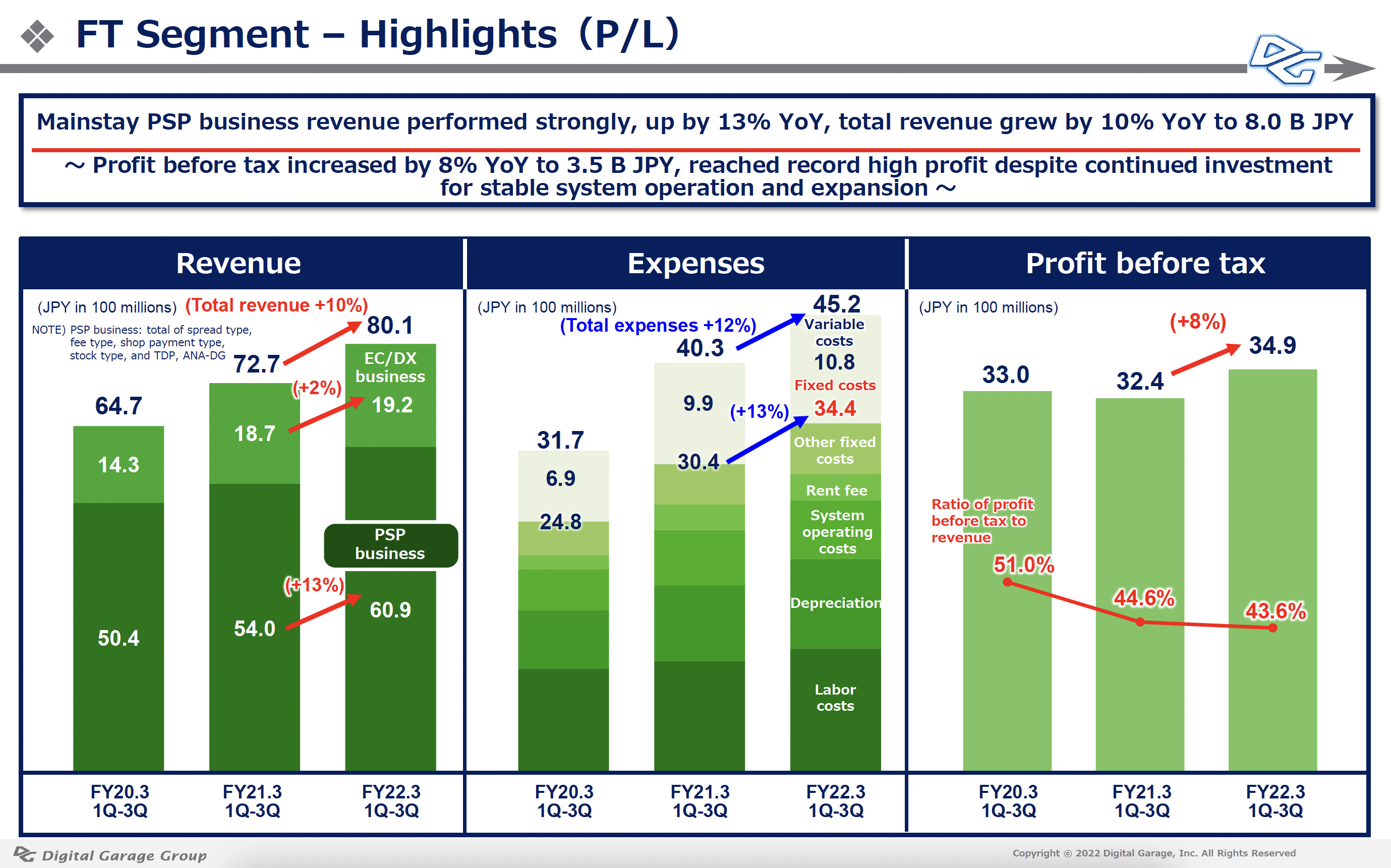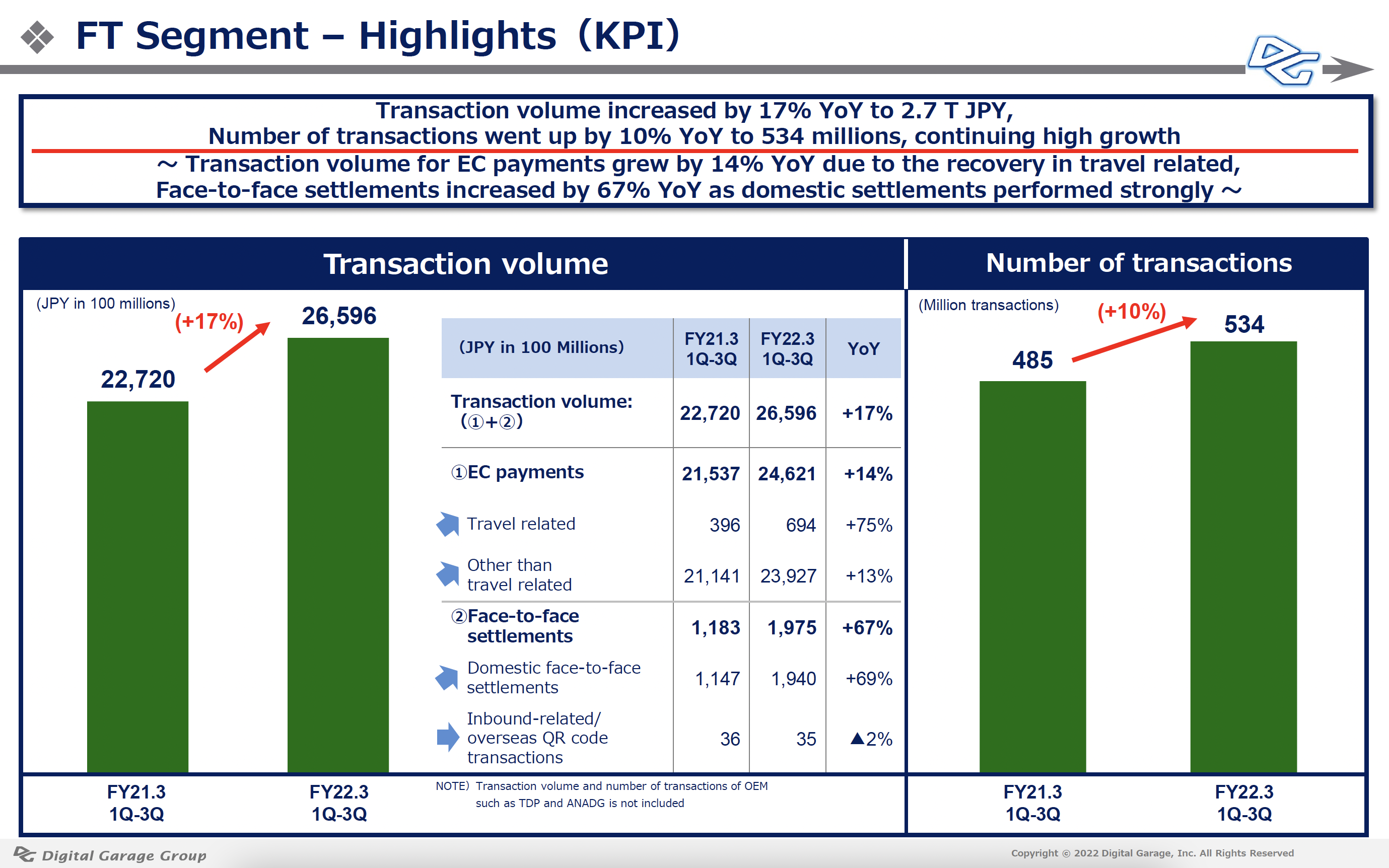 <MT>Marketing Technology Segment
~ Advertisement volume of Digital ads steadily increased by 14% YoY ~
In the MT segment, 1Q-3Q (April-December) revenue was 9.406 billion JPY (down 1.5% YoY) and quarterly profit before tax was 488 million JPY (up 6.5% YoY). Advertisement volume of our mainstay digital ads increased steadily to 22.3 billion yen (up 14% YoY), and in particular, financial-related advertisement volume, which is our strength, increased steadily to 13.1 billion yen (up 28% YoY).
On the other hand, although sales decreased due to a decrease in entrusted development of applications such as CRM etc., profit before tax increased by absorbing the cost increase due to upfront investment of next-generation DX solutions.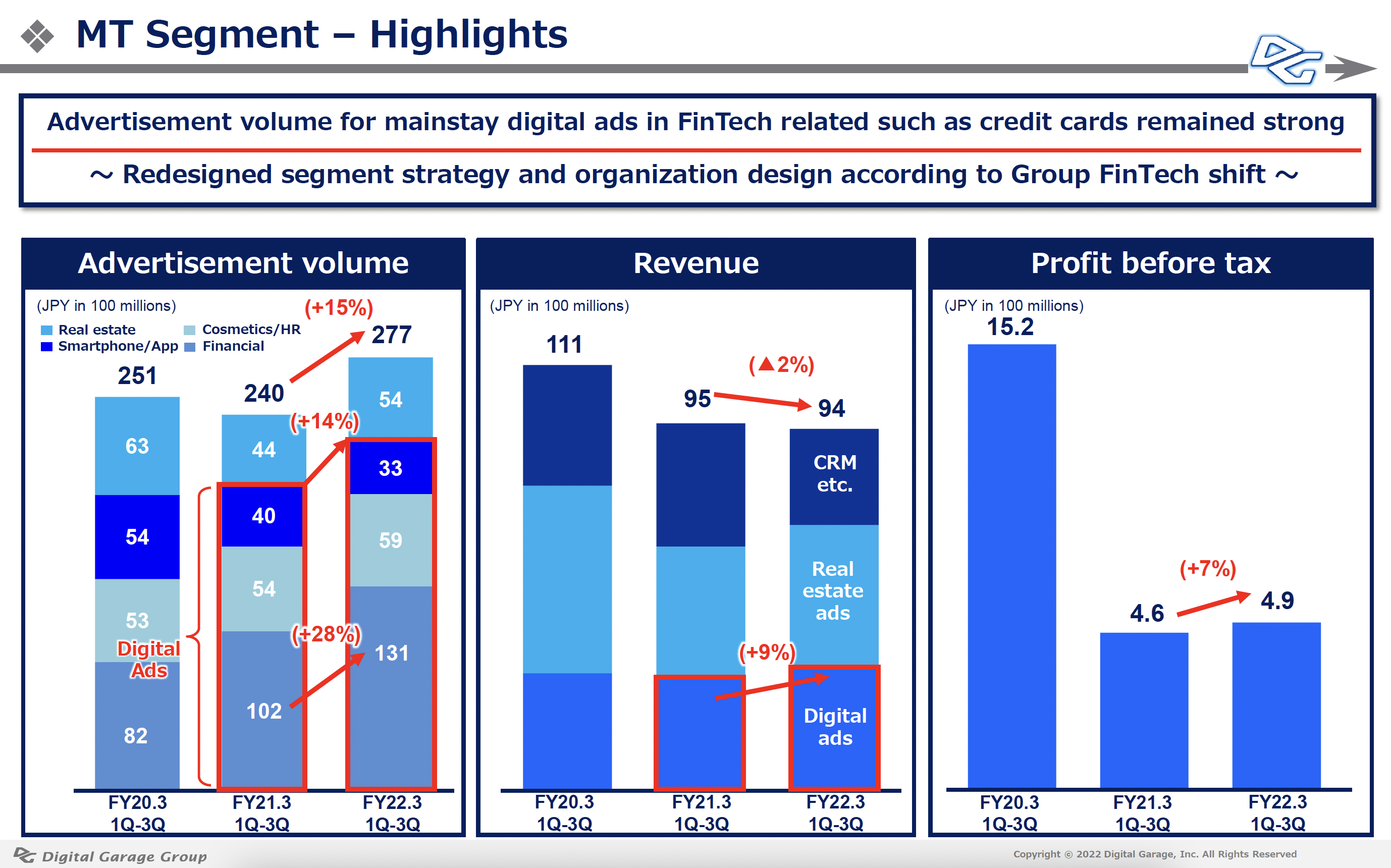 <IT>Incubation Technology Segment
~ The balance of operational investment securities increased significantly by 41% from the end of the previous fiscal year to 66.7B JPY ~
In the IT segment, 1Q-3Q (April-December) revenue was 21.237 billion JPY (up 169.4% YoY) and quarterly profit before tax was 20.116 billion JPY (up 193.7% YoY).
In 2Q (July-September), Blockstream Corporation Inc. of the United States posted a large fair value gain due to a large-scale financing of 210 million dollars, and in 3Q (October-December), the fair value of the investment portfolio increased, we were able to record 4.4 billion yen of revenue in operational investment securities.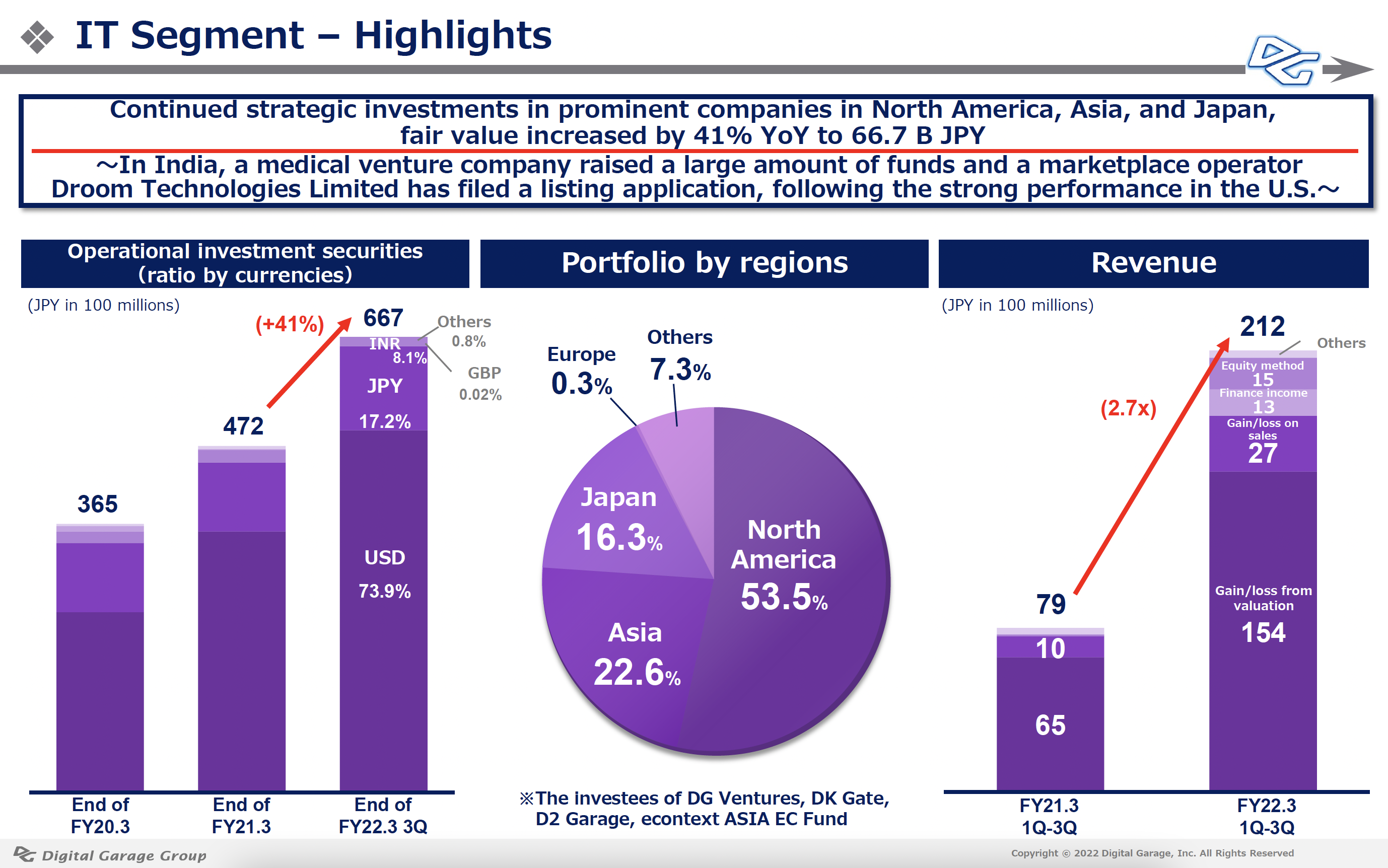 <LTI>Long-term Incubation Segment
~ Kakaku.com is on a recovery trend ~
In the LTI segment, 1Q-3Q (April-December) revenue was 3.429 billion JPY (down 8.6% YoY) and quarterly profit before tax was 1.983 billion JPY (up 37.0% YoY).
Kakaku.com, Inc., which is an equity-method affiliate, is performing well in the Tabelog business and the new media & solutions business such as job information websites.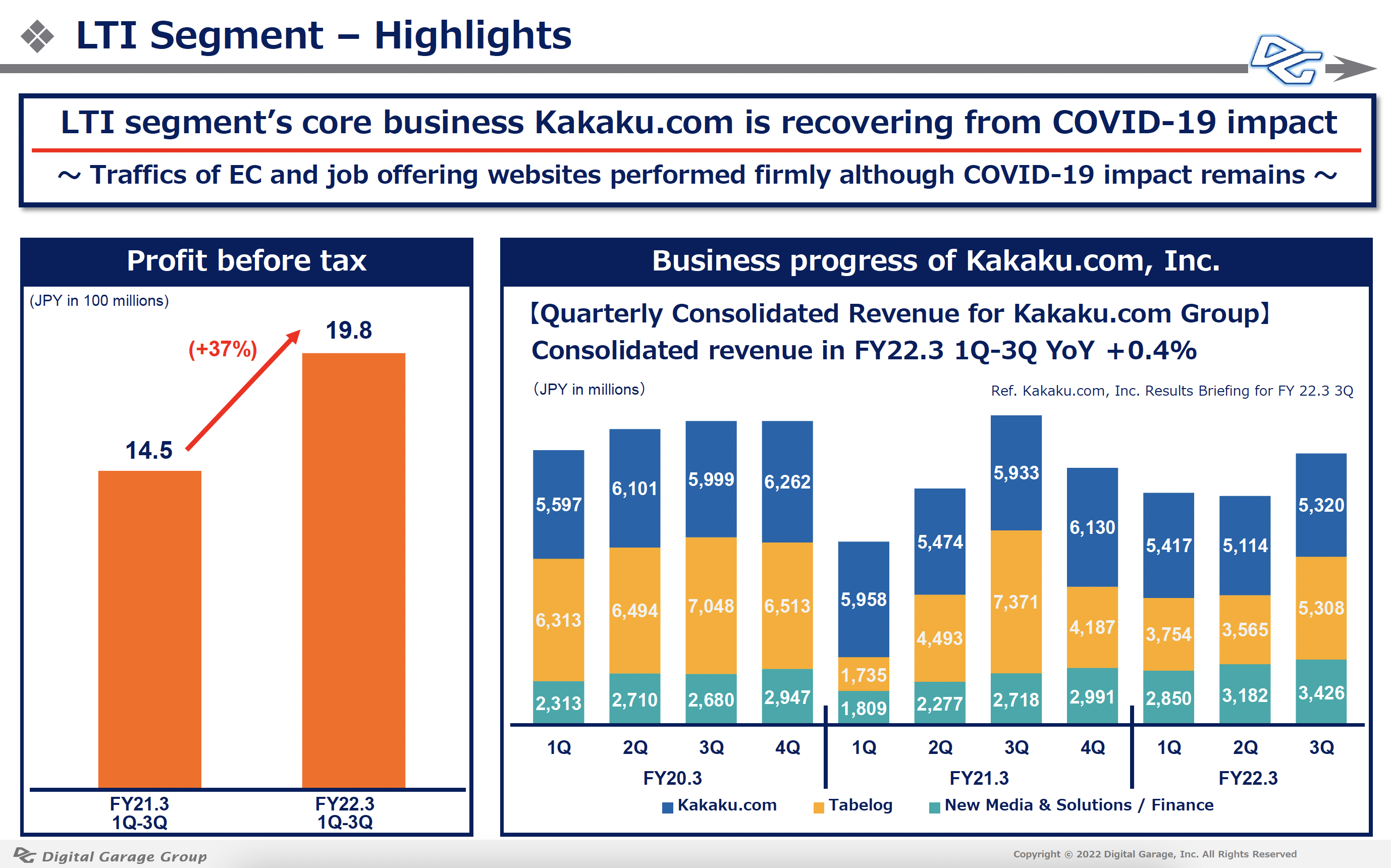 Ⅱ. Capital and Business Alliance with Nomura HD, Toshiba Tec, and JCB Accelerate "DG FinTech Shift"
DG announced a press release titled "Digital Garage Form Capital and Business Alliance with JCB." Digital Garage is currently working on developing various value-added businesses related to the payment and data business under the Group strategy "DG FinTech Shift." As a long-time partner of JCB, we have been leading the combination of Japan's payment infrastructure and the Internet, such as the credit card payment business and JCN (JAPAN CARD NETWORK Co., Ltd), one of the largest card payment infrastructures in Japan that support credit card payment business, since the early days of the Internet. With the full-fledged opening of the Digital Agency, a variety of next-generation Fintech services connected to credit cards and Individual Number are being created. Through this capital and business alliance, we will contribute to the further development of DX in Japan by combining the data and next-generation Fintech technologies owned by both companies.
The main contents of the business alliance are as follows.
① Further expansion of the payment business through cooperation in payment infrastructure and acquiring participating merchants with cashless payments.
② Co-creation of new services for participating merchants and cardholders, including next-generation payment and FinTech marketing services.
③ Collaborative development of marketing business, and new business development and services in R&D, utilizing both companies' development systems and customer bases.
※We are now in the final stages of discussions to integrate JCB's network with the Group's Fintech projects utilizing various technologies in Japan and overseas. We will announce the specific project soon after the details are finalized.
Since advocating "DG FinTech Shift," a Group strategy that integrates payments and data, about a year ago, DG Group has accelerated its efforts with various strategic partners, including the completion of Crypto Garage's registration as a crypto asset exchange service provider; the capital alliance with Nomura HD and the joint development of a crypto asset business platform; and the capital and business alliance with Toshiba Tec and the joint promotion of cashless and DX in the retail market.
We will promote "DG FinTech Shift" to realize the next-generation DX business with the new strategic business groups planned for the next fiscal year and strategic partners in various domains.
Ⅲ. Joi Ito, Board of Directors Member and Co-Founder, Becomes Senior Managing Executive Officer and Chief Architect, and Establishes Lab
~Preparing a Lab for researching and developing next-generation technologies and businesses with a focus on Web3, NFT, and 4th generation AI for Social Implementation~
From the time of the company's founding, through being the Director of the MIT Media Lab to the present, Joi Ito has served as an important compass for DG's global technology decision-making as a member of the Board of Directors.
Having moved to Japan from Boston, USA, Joi Ito takes on the role of Managing Executive Officer and Chief Architect, in charge of Digital Architect Design for next-generation technologies. From my point of view, Joi Ito is one of the world's Internet leaders, uniquely able to connect technology, politics, the legal profession, academia, NPOs, and open source communities. In addition, he has been the main host of "THE NEW CONTEXT CONFERENCE" since 2005, which focuses on the latest technology trends worldwide. The conference theme last year was "Earthshot," and participants included Whole Earth Catalog founder Stewart Brand, Professor Jun Murai, along with former ministers from the Digital Transformation, Administrative Reform, and the Ministry of the Environment. The event has evolved and grown to communicate new concepts for the ESG era. For 2022, we plan to hold two sessions, one in spring and one in fall, on the themes of Web3, NFT, and OSS.
Another recent project by DG and Joi Ito is the launch of "Joi Ito's Podcast – Henkaku eno Michi," which covers Web3, NFT, and other topics. The response to this podcast from both inside and outside Japan has been far more enthusiastic than we could have hoped for. Looking ahead, we intend to strengthen the connections between Joi Ito's activities as Director of the Chiba Institute of Technology's Transformation Center, which he was appointed to in 2021, his role as Chief Architect at DG, "Earthshot TV" (BS TV TOKYO・YouTube), the owned media "DG Lab Haus," and various publications. Through industry-academia-government collaboration, we would like to send a message from Japan to the world about DG's contribution to the core of the Architect design movement in next-generation DX.
 
We are currently preparing to open a Lab connected to the global community, led by Joi Ito, Chief Architect of DG. The concept is "New Architecture Design with Web3." With the emerging NFT technology at the core, we will focus on Privacy Enhancing Tech that utilizes OSS with privacy and security, next-generation data science business with 4th generation AI, and other such areas. This lab will bring together Japan's leading Fintech companies, government agencies that utilize Open Data, and academia from Japan and abroad, with the aim of co-creating a next-generation data-driven society. Official details will be announced when they are finalized.
 
Finally, with an eye on Web3, which represents the front line of Internet development, in our next medium-term plan we will design "Ambidexterity." This is our response to the ongoing evolution of the Internet, and comprises two key themes: an operations-based approach to areas that continue to grow while protecting existing businesses, and a project-based approach to new areas in which we can play offense. In this way, we will contribute to next-generation society by using technology to create and implement a new context for DX in Japan.
We look forward to the continued support and encouragement of our stakeholders, including our shareholders.