Kaoru Hayashi
Representative Director,
President Executive Officer and Group CEO,
Digital Garage, Inc.
CEO Comment Vol.72 "FYE March 2021 Second Quarter Financial Report Summary"
~Record-high quarterly profit before tax after application of IFRS~
With the approval of the Board of Directors today, we have announced FY21.3 second quarter financial results.
Although the impact of the COVID-19 remained, results recovered significantly after bottoming out in the 4Q of FY20.3, and quarterly profit before taxes reached a record high. This was mainly due to a significant increase in the fair value of shares held in the Incubation Technology (IT) business, mainly by DX-related companies, and to the continued strong performance of transaction volume in the Financial Technology (FT) business. The following is the slide of financial results highlights.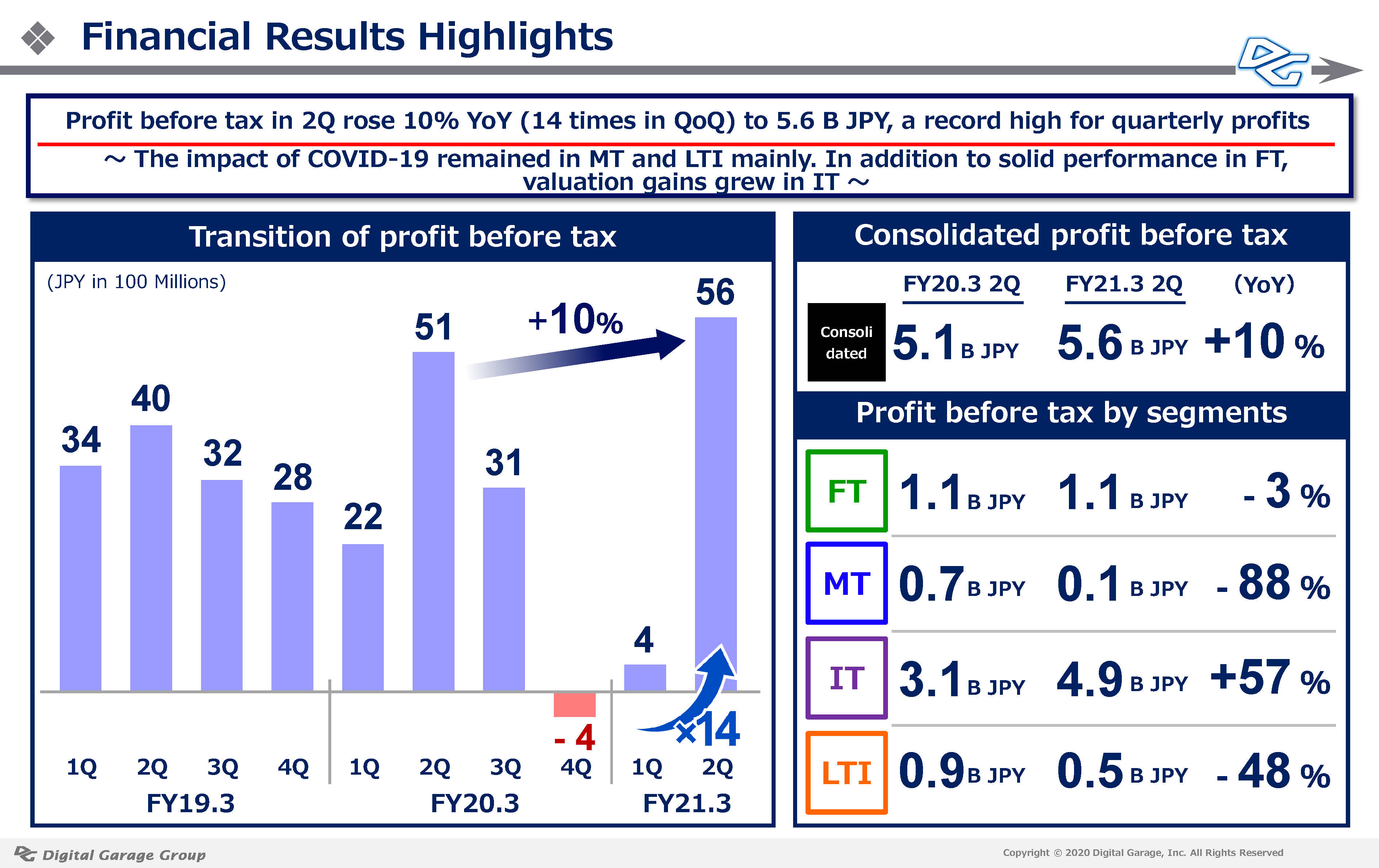 Overview of consolidated performance
For the first six months of the fiscal year ending March 31, 2021, consolidated revenue was 19.264 billion JPY (down 1.7% YoY) and profit before tax was 6.037 billion JPY (down 17.6% YoY). Revenue for the 2Q (July-September) of FY21.3 was 12.32 billion JPY (up 8.3% YoY), and profit before tax was 5.632 billion JPY (up 10.2% YoY). This was a significant increase in revenue compared with the 1Q (April-June) of FY21.3, and we also achieved year-on-year increases in both revenue and profit.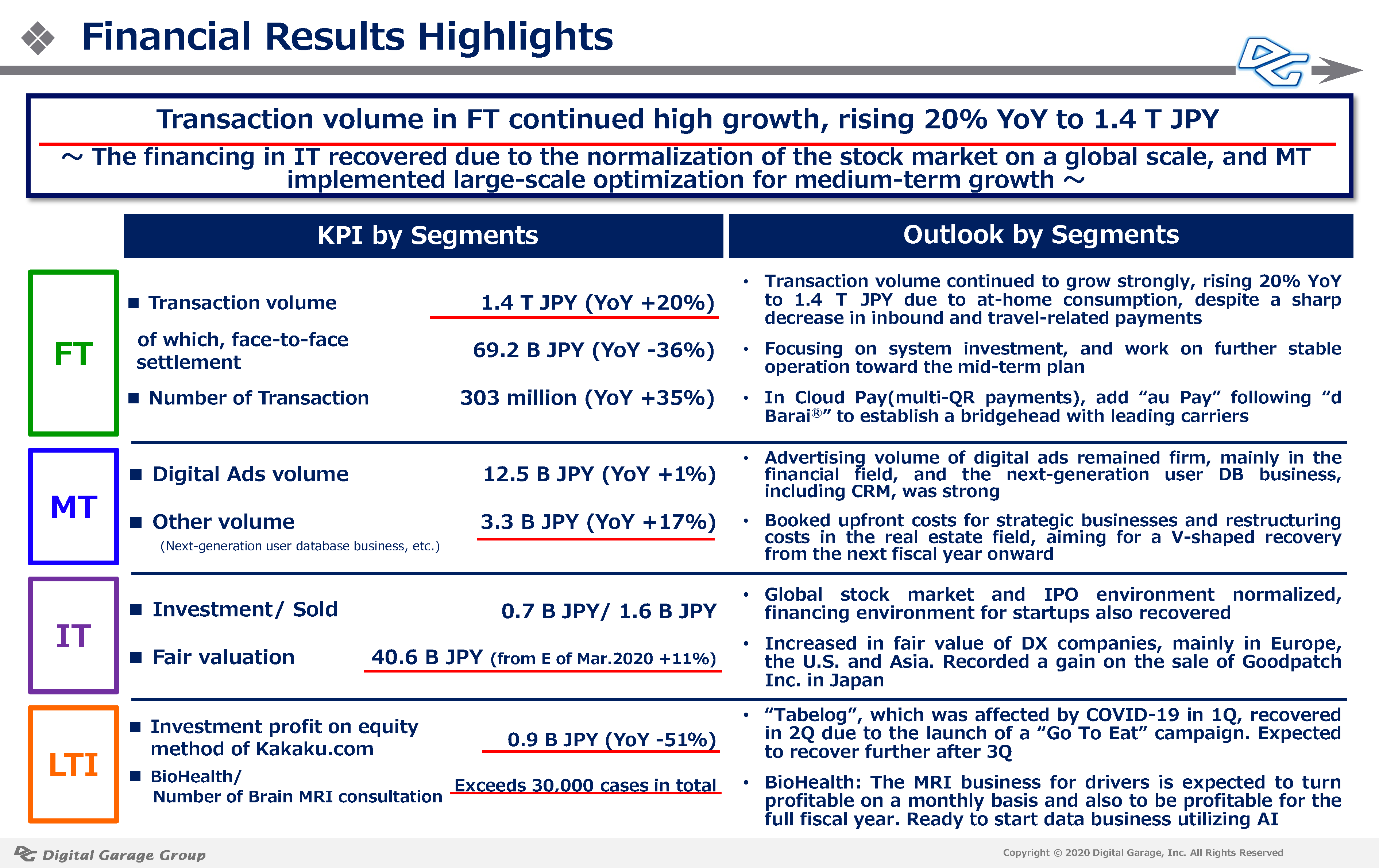 FT: Financial Technology Segment
In the FT segment, 1Q-2Q (April-September) revenue was 4.749 billion JPY (up 10.8% YoY) and quarterly profit before tax was 2.101 billion JPY (down 3.3% YoY). Transaction volume was 1,421.3 billion yen (up 20% YoY) and the number of transactions was 303 million (up 35% YoY) .
The breakdown of transaction volume shows that although inbound and travel-related payments decreased significantly, they maintained a high growth rate of 1.4 trillion JPY, up 20% YoY, thanks to growth in at-home consumption such as digital contents and e-commerce. In terms of costs, we are working on the system integration of the two main companies to further stabilize operations by fully redundant systems, aiming to achieve the Mid-term Plan as a critical infrastructure company designated by the country, which needs 24/365 operation. The payment and settlement business, which is conducted jointly with Toshiba Tec Corporation using TD Payment Corporation as the contact point, is also growing steadily. Payment terminals have been introduced mainly by major retailers, and the number of transactions has expanded to tens of millions of cases. In QR payments, where the market is expanding in a manner, led by PayPay, the OEM-type is compatible with all payments, including PayPay. Meanwhile, for "Cloud Pay" (multi-QR payments) under our own brand, we have added KDDI, au PAY following on from the DOCOMO d-BaraiⓇ to build a beachhead with leading carriers and cashless payment providers, and in the medium term, we are contributing to the building of markets for this payment category.
Please see the slide for face-to-face settlement below.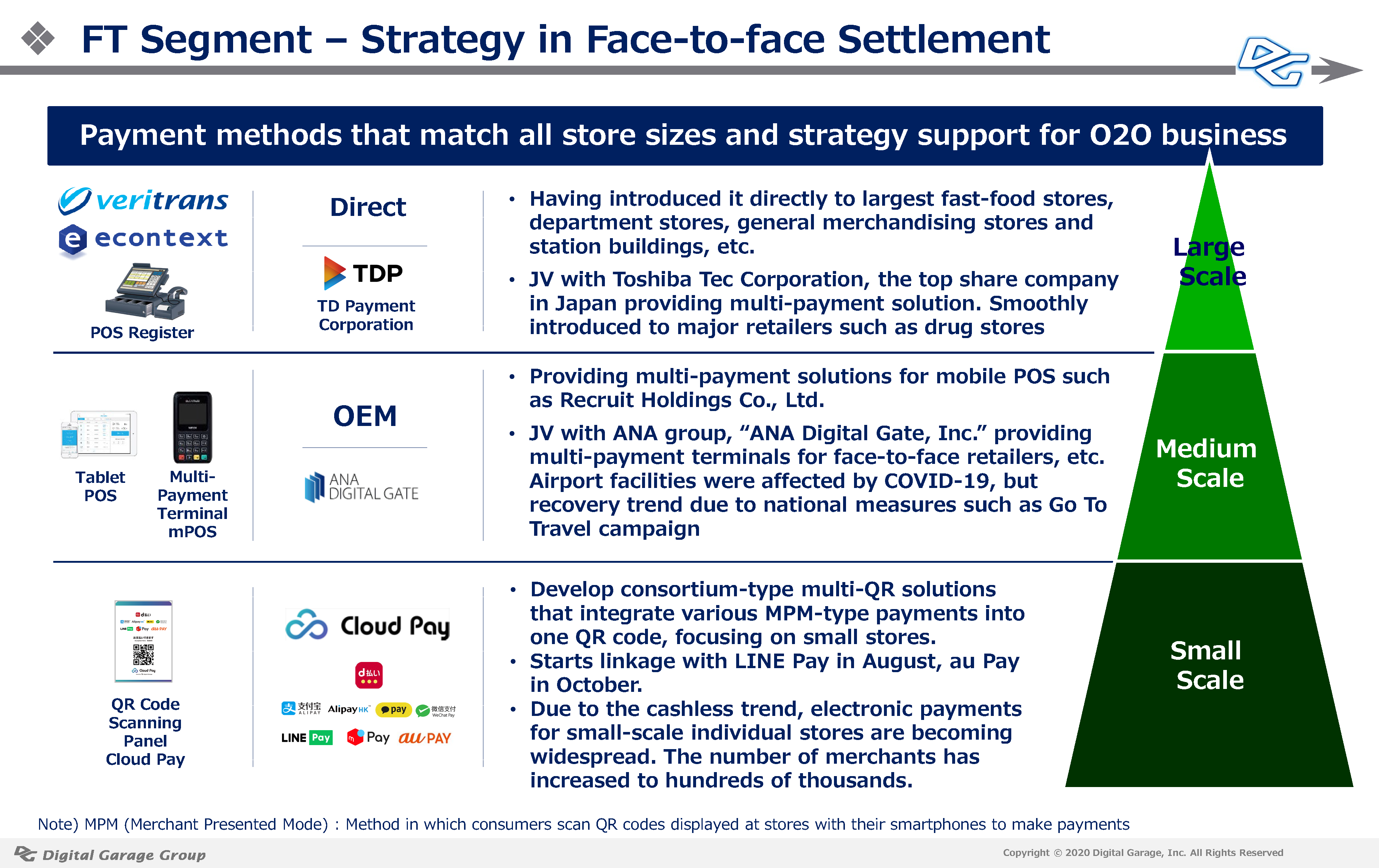 This is an overview of the Mid-term Plan for the FT segment, our group's main segment.
We will continue to grow based on strategic capital expenditures with the aim of achieving transaction volume of 10 trillion JPY (CAGR:30%) in 2025.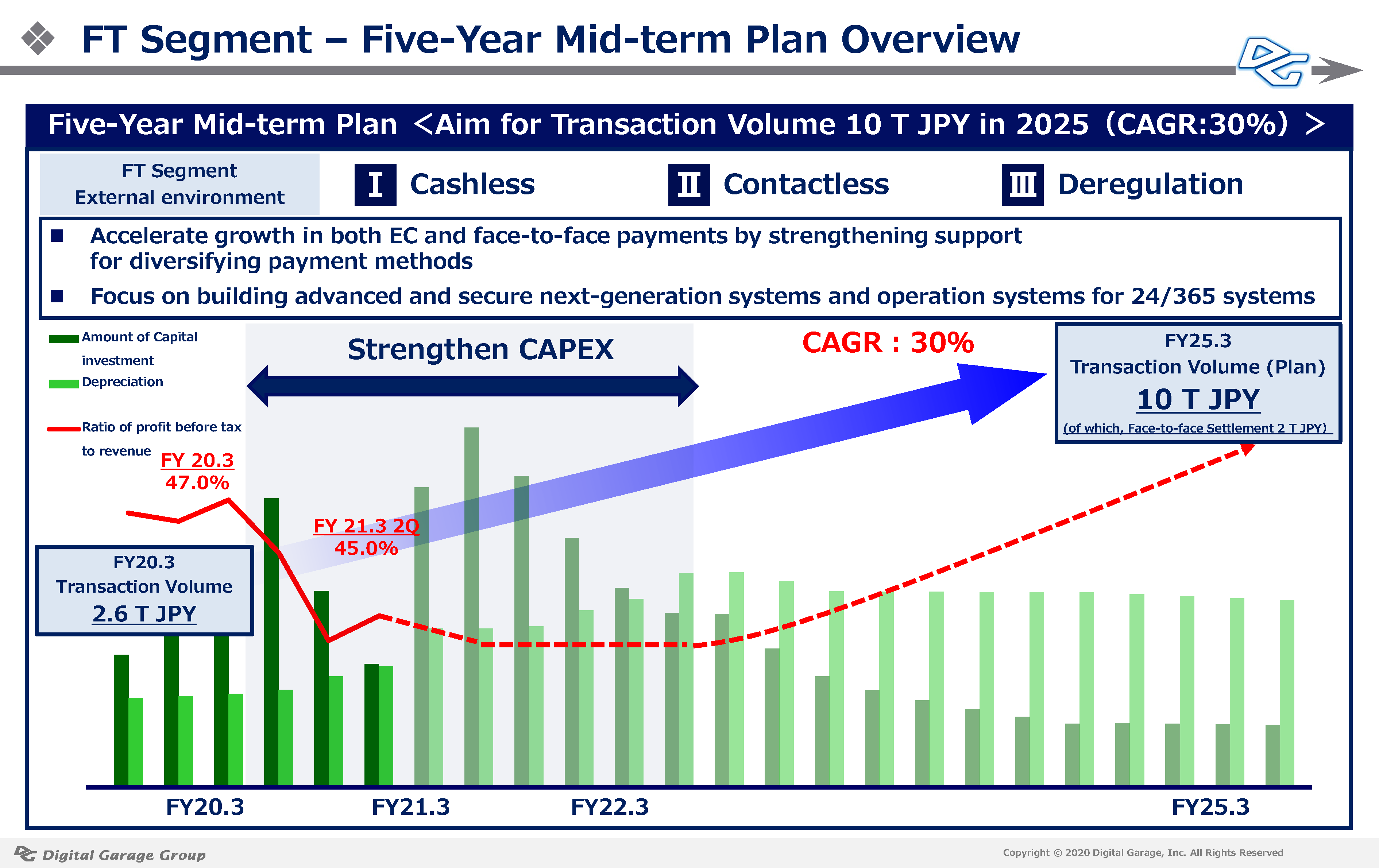 MT: Marketing Technology Segment
In the MT segment, 1Q-2Q (April-September) revenue was 6.591 billion JPY (down 10.4% YoY) and quarterly profit before tax was 256 million JPY (down 74.5% YoY). Both revenue and profit decreased. Although the volume of transactions in the mainstay digital ad business increased, real estate sales advertising decreased significantly due to the COVID-19. We are focusing on large-scale cost optimization for the next fiscal year and beyond. On the other hand, we continue to invest in new businesses. We will rapidly implement structural changes through both defensive and offensive wings. Major new strategic projects are described below.
1) First of all, there is the "Content Media Consortium" conducted by BI.Garage, Inc., which is Japan's first cross-media consisting of 28 leading media companies. This project is a global action that has been launched at the same time worldwide, and incorporates measures to deal with GAFA. It is a next-generation ad-platform that has already become the de facto in Germany, which is the most rigorous for personal information, achieves marketing in a context (user interest, cluster context) across participating content media, utilizing the latest technology. We plan to announce the new alliance by the end of the year.
2) Next is the real estate Legal Tech gateway business, "Musubell". To begin with, we have introduced the digitalized new real estate contracts into Nomura Real Estate Development Co., Ltd. (As the first step, we are utilizing the APIs with "CloudSign" provided by Bengo4.com, Inc.). We are also planning to adopt the system for major real estate and developers in the future, and we are promoting a group-wide project to realize open API connectivity tailored to SaaS solutions used by each company and to become a de facto for the real estate industry. We will establish the Legal Tech domain of real estate, which covers newly built, used and leased properties in all directions, and contribute to the next development of the new real estate industry.
3) The next-generation DOOH business was launched by "SAKIZAKI TERUKO", a digital signage media specializing in beauty salons. We install 18,000 terminals at approximately 3,000 beauty salons across Japan. In particular, among these targets, a large amount of fashion and lifestyle information is circulating as free contents, using smartphones as gateways. We are convinced that the establishment of a new business model will be the next large market after taxi DOOH. 
The following is a strategic overview of the MT segment.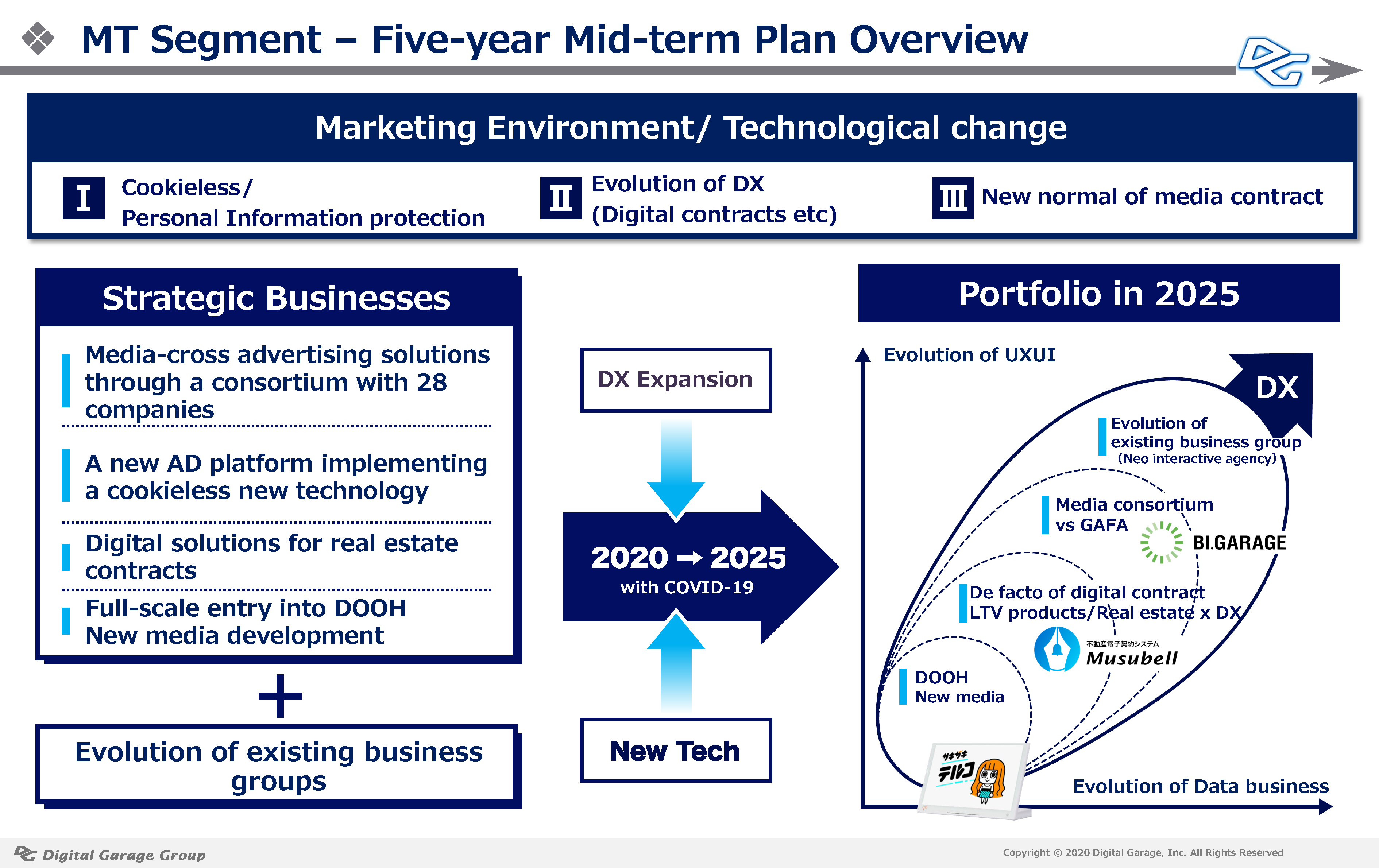 IT: Incubation Technology Segment
Beginning of the term, conservatively announced an impairment risk of around 10%. Conversely, balance sheet values and operational investment securities, which are indicators of the IT business, as of the end of the 2Q, were 40.585 billion JPY, an increase of 4.038 billion JPY, or up 11%, from the end of the previous fiscal year. Accumulated 2Q revenues increased significantly to 5.658 billion JPY (up 42.6% YoY) and quarterly profit before tax of 4.988 billion JPY (up 51.9% YoY), resulting in a substantial rise in the fair value valuation of operational investment securities held. The equity market and IPO environment have become normalized globally, and the financing environment for startups has recovered. In particular, the corporate value of DX/Fintech companies in the United States has risen significantly, and e-commerce-related companies in Asia have continued to grow. We will continue to strategically optimize our global portfolio in the growth stages of regions and companies, based on our barbell investment strategy, and leverage the network built over the 25 years since our foundation to build an investment ecosystem based on a global vision.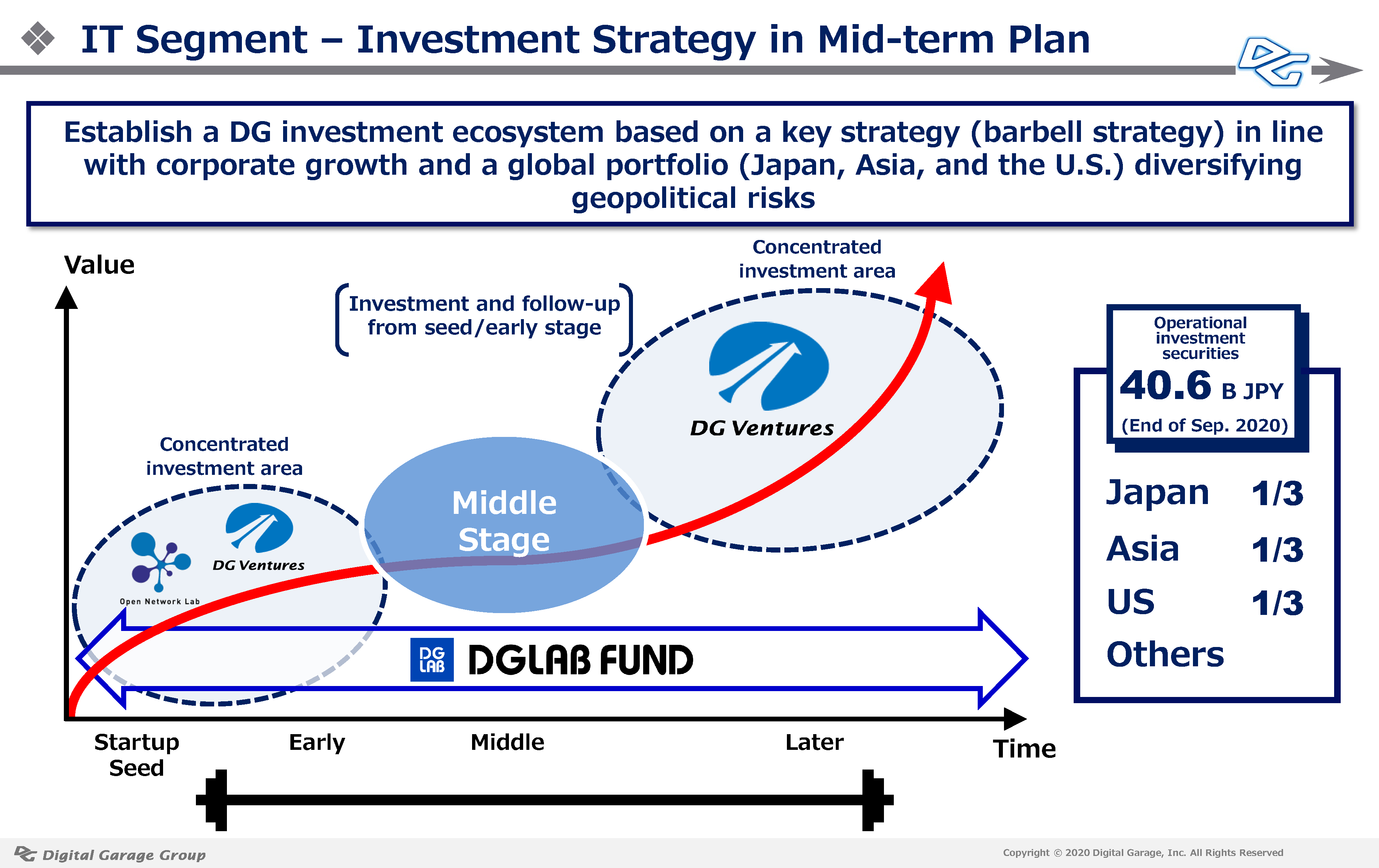 LTI: Long-term Incubation Segment
In the LTI segment, 1Q-2Q (April-September) revenue was 2.105 billion JPY (down 46.4% YoY) and quarterly profit before tax was 605 million JPY (down 75.1% YoY). Both revenues and profits decreased.
1) The main reason for this decrease in profit was that the performance of Kakaku.com, Inc. which is an equity-method affiliate showed significantly decrease due to the COVID-19, mainly in Tabelog business. However, the number of bookings via websites turned positive at the end of 2Q partly due to the impact of Japanese government-sponsored "Go To Eat" campaigns, and the number of bookings via websites has steadily recovered to around three times that of the previous fiscal year.
2) In addition, as a medium-term growth business, Brainscan Technologies, Inc. (a wholly owned subsidiary), which has been promoting a brain MRI business for drivers since 2015, and the number of brain MRI consultations exceeded 30,000 in October. It is expected to be profitable in this term. From now on we will grow into a core business in the biohealth category through collaboration with AI.
Please see the slide below.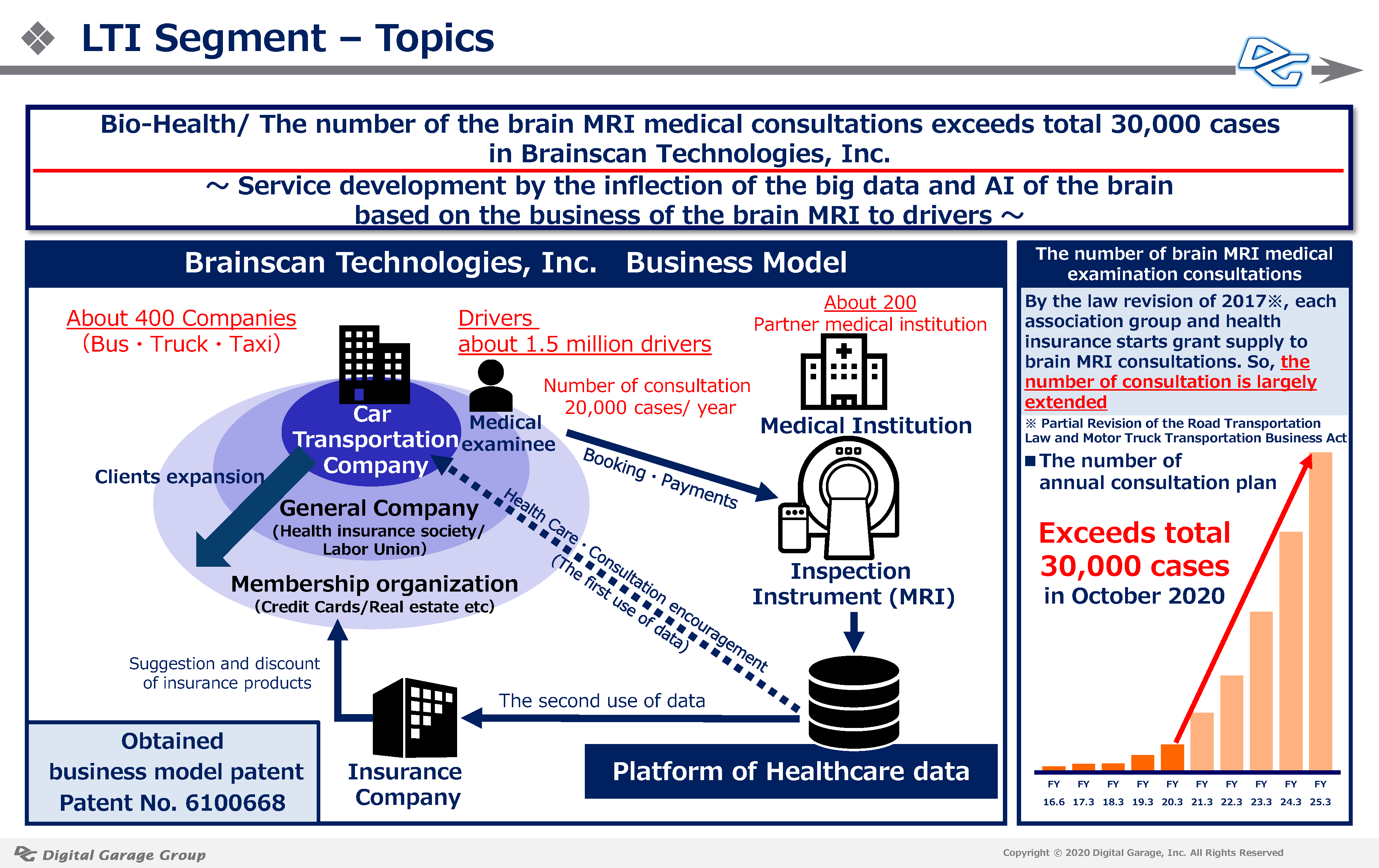 3) Crypto Garage has completed a demonstration as the first project of the FinTech Sandbox of the Cabinet Office. Toward the official commercialization, we have finished system connections with leading crypto assets exchanges both in and outside Japan, and it is finally the countdown phase of the grand opening. In addition, as a related business, demonstration in the STO (Security Token Offering) area will begin.
Please see the slide below.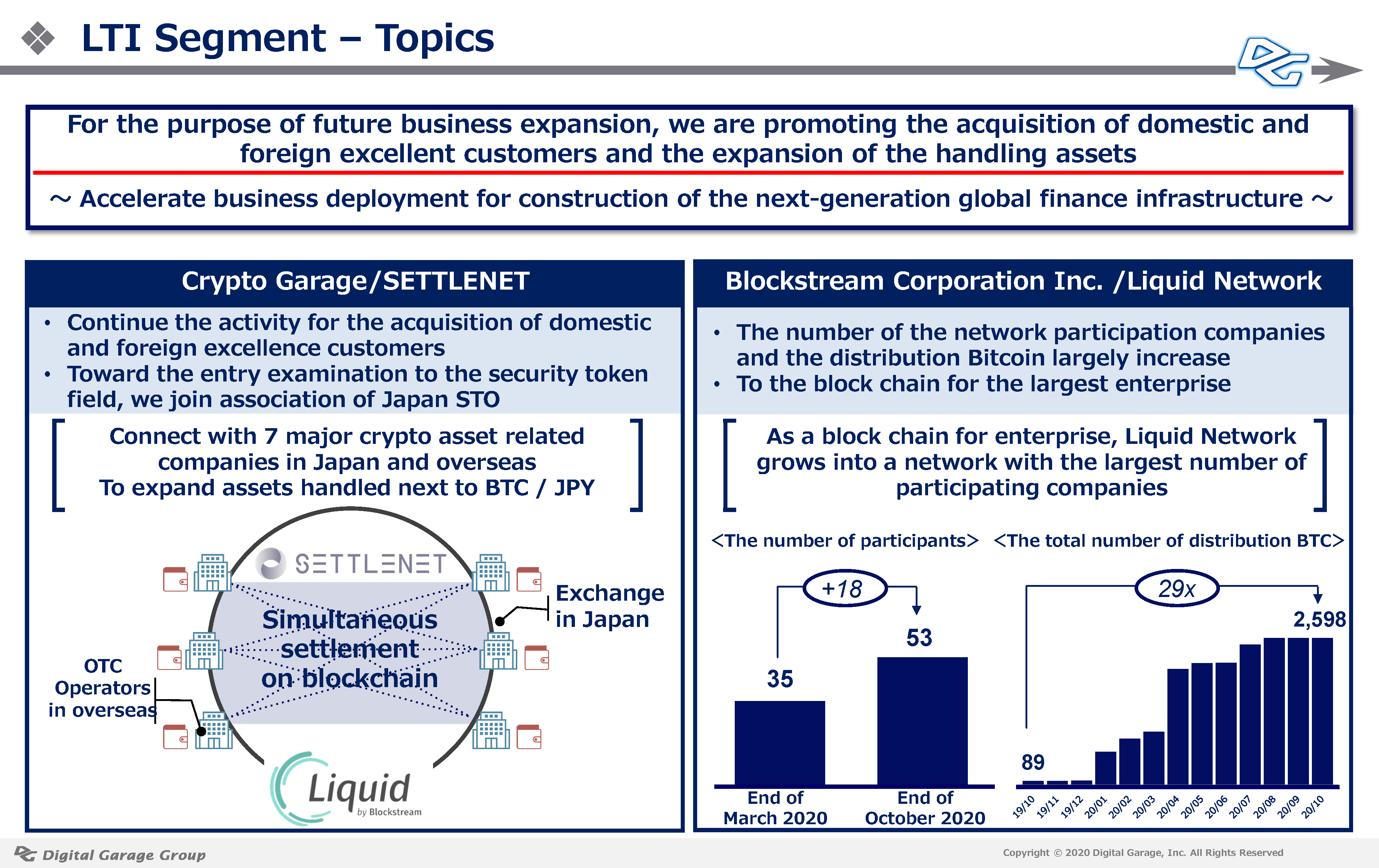 DG Lab, started in 2016, is evolving into its second stage. In the blockchain area, we will continue to build a global crypto asset settlement business and crypto asset systems for the financial industry. In the BioHealth area, based on Brainscan Technologies, Inc.'s brain MRI business for drivers, we are developing a data linkage business using big data of brain and AI. In the AI area, we are creating next-generation businesses based on data held by DG Lab partners. From a DX perspective, we are envisioning a next-generation data distribution platform through the use of deep learning-based clustering technology to promote linkage of data from different industries. Additionally, DG Daiwa Ventures, which is investing in DG Lab's five R&D technology fields, has completed the establishment of "DG Lab Fund II" with approximately 12.5 billion yen, and together with "DG Lab Fund I," will robustly invest and incubate leading global start-ups with a total of approximately 20 billion yen. We aim to grow into a leading domestic technology lab with both practical R&D and investment functions.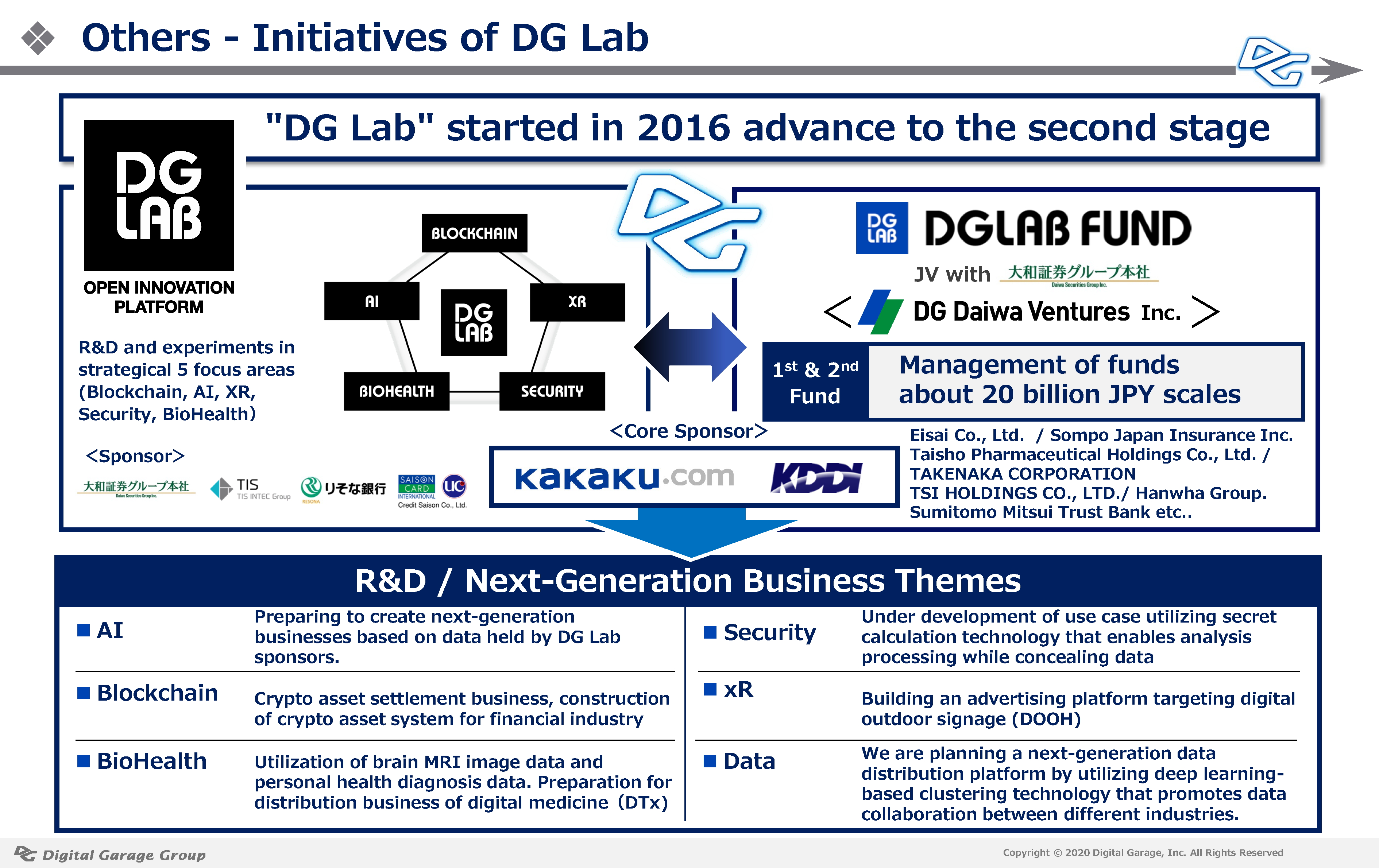 As a company that would create "contexts" useful for the world, we will continue to contribute to global society under the concept of "Designing our New Normal Context" for the next five years, based on our four business segments.
We look forward to the continued support and encouragement of our stakeholders, including our shareholders.